Step Into a Dream World With Visionary Furniture From Winston Cuevas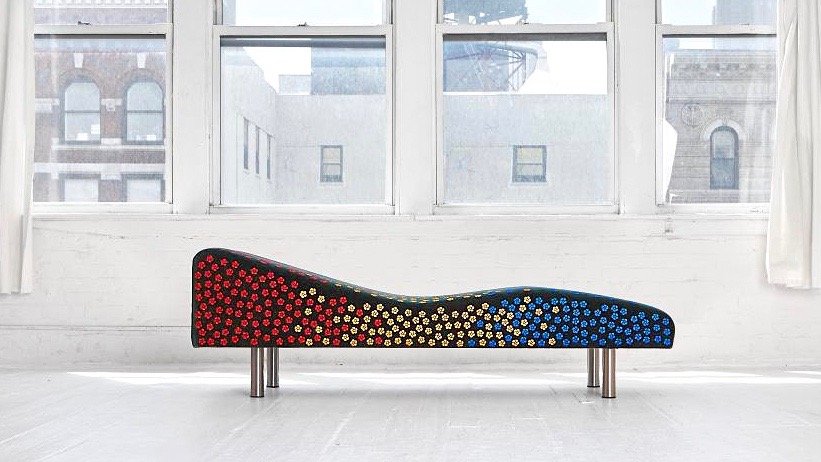 After working in the fashion industry for several years, Cuevas changed creative lanes with the launch of his eponymous collectible design studio. The
Garden of Eden Chaise
is pictured above. Photo by Brit Worgan.
| | |
| --- | --- |
| | |
| | Winston Cuevas. Photo by Blaine Davis. |
I
n the work of Winston Cuevas , furniture offers an imaginative way to experience the world. Covered in lush green velvet and embroidered with nearly 1,000 flowers, his aerodynamically- profiled Garden of Eden chaise lounge contrasts minimalist form with maximalist ornament, to create a thought-provoking vision of paradise. In a contemporary chair, a silk rose is suspended, forever in full bloom within a resin chairback, to evoke a dream of eternal youth. Channeling the tenets of surrealism and other radical art movements to tap into the unconscious and the unexpected, his pieces contest the habitualness of everyday life to create designs that resonate deeply with his clients through their layered meanings and consummate craftsmanship.
A graduate of the Rhode Island School of Design, Cuevas worked in fashion for several years, before launching his first collection in New York in 2020. His recent designs have explored archetypal themes like youth, death, and nature. With his upcoming collection, America, Cuevas hopes to build a series that is less universal, and more focused: for example, America incorporates the board game "Monopoly" across multiple pieces. This year, the designer is also preparing to open workshops in Paris and Tokyo. "Most of my time right now is being spent on the studio expansion and the creation of America," he says.
Below, Cuevas tells Incollect about the motivations behind his visionary collections, and what to expect from him next.



With nearly a thousand small flowers embroidered into rich forest green Turkish velvet, the

Garden of Eden Chaise offers a fresh take on a floral lounge. Photos by Brit Worgan.
How do you conceptualize fantasy in your work?

The role of imagination is the life-force behind my work. It's the only way to think beyond all the worn-out cliches in design that are everywhere about us. In Radical Design [an Italian art movement reaching its apex in the 1960s and 70s], there is a "fantastic," almost "spectacular" quality to the work, bordering on the utopian. In my pieces, which are often inspired by Radical Design, transcending the mundane is also a kind of fantasy. I aim to make works that feel like they have come from some dimension outside of reality.



From the collection

Memento Mori, Simple Machine #1 combines a seat and table into a single unique object featuring Turkish velvet, lacquered hardwood, and rubber. Photos by Blaine Davis.
The Simple Machine #1 seems particularly indebted to Radical Design. Could you tell more about how your pieces find inspiration in that movement?
True Radical Design gives you a feeling, almost like a film, that anything can happen. It's liberating. There is not much design work being done today that gives me this feeling. The Simple Machine #1 borrows a certain sensibility from these radical designers, who derived concepts for functional objects from unexpected sources. Novelty, comedy, utopia, and the surreal quality of everyday objects shaped their work. Many times their work referenced pop culture. In the case of Simple Machine #1, it's inspired by a trope in cartoons — that iconic image of dynamite linked to a fuse. The scale is also important to the design: by making it large compared to average seats or tables, it ends up possessing a commanding, monumental quality. It is difficult to communicate the scale of Simple Machine #1 because there are no common cues like chair or table legs. This is why it is important for us to shoot our objects with models, like the radicals did. It gives clients a true understanding of scale.
You also have a relationship with Ugo La Pietra, one of the leading figures of Radical Design. How did that come about?
In 2016, I was living in Paris and reached out to Ugo La Pietra's assistant. I explained to her that he was my design hero and that I had studied all his work. I flew to Milan to meet him. In our first meeting, we spoke about how he viewed the history, legacy, and future of Radical Design. I showed him a catalog of thousands of drawings I was making in a sketchbook. He then pulled out drawings of his own from different decades and compared them with mine. A year later, when that particular project was finished, he wrote an introduction for the catalog. The day I received his draft I remember reading it in my apartment in Chinatown — it felt like the greatest day of my career. My most recent visit with him was during a trip to Europe when I was attending exhibitions in Brussels and Paris.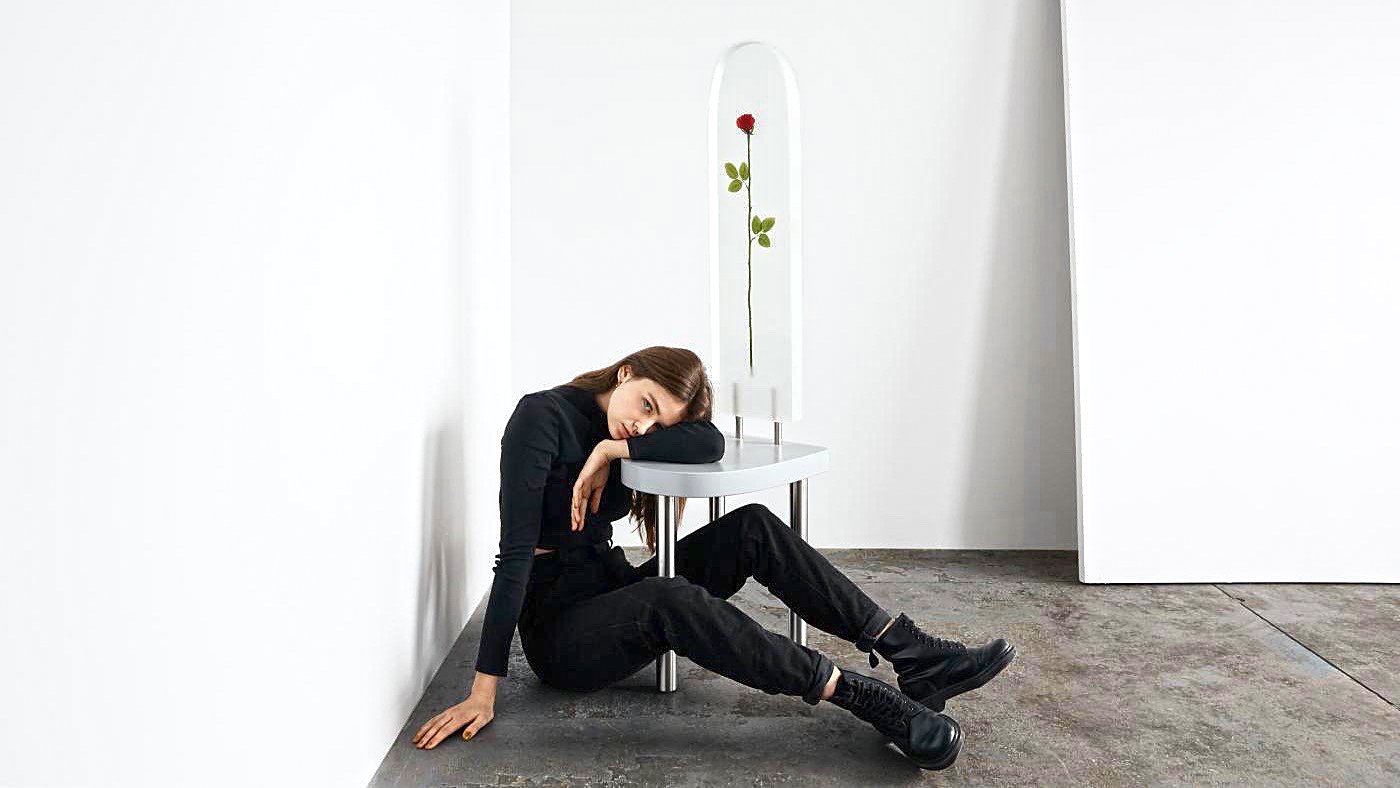 The Mono Rose Chair from the Fountain of Youth collection, the first line of pieces Cuevas designed upon leaving the Rhode Island School of Design.

With a lacquered wood seat and brushed stainless steel legs, the sculptural piece

features a single-stem silk couture-style rose embedded in a semi-frosted resin chairback. Photos by Blaine Davis.
What will the America collection be like?
It's new territory for me. People have been encouraging me for years to explore smaller objects, but I've been hesitant. I simply couldn't find a way to preserve the quality and character of my work in a smaller format. My "America" collection resolves those concerns. Like my other collections, it focuses on a central theme. However, "America" is less focused on philosophical subjects, and instead is derived more directly from concrete American concepts. In the pieces, I focus on the capitalist and monopolistic dimensions of the USA that made it the richest and most powerful country in the world, especially railroad and property conglomerates. I have been studying the board game "Monopoly", which is really the project of America transfigured into a board game. A lot of the collection will flow from the system of this game.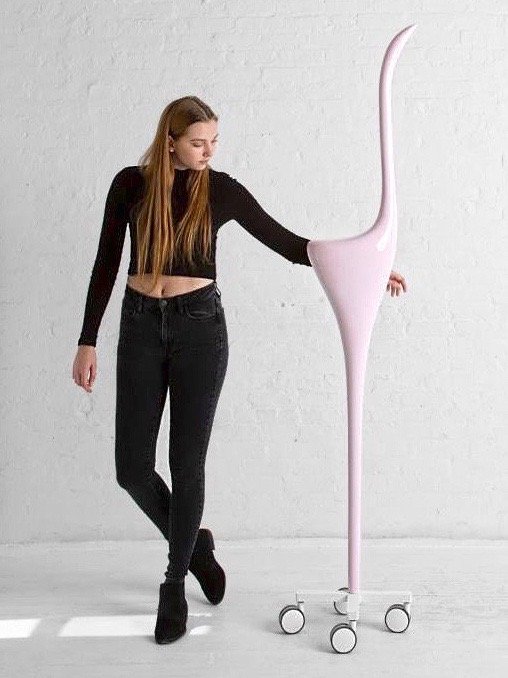 Referencing the 1950s lawn ornament, the
Garden Flamingo
is intended for use as an indoor sculpture ...or however else the client imagines. Photo by Brit Worgan.
How did your current work, such as the Garden Flamingo, progress toward the concept of an America collection?
At its core, the Garden Flamingo is about the proletarian dream of paradise. The idea of taking the ubiquitous hot pink rotation-molded lawn flamingo from an American front yard and transfiguring it into a pristine piece of indoor sculpture was the vision for that notion of paradise in my Natural Allusions series. The creation and development of my first three collections has exhausted me, and I've taken a break from design for a number of months to focus on my poetry. Going forward, I want to work less with all-encompassing poetic and philosophical subjects like nature, youth and death, and instead work with more specific subjects, such as America.
How does your fashion background show up in your designs?
My fashion background has given me a window into how visionaries and ateliers work together to achieve perfection, which involves a lot of time, economy, patience, and failure. I re-experienced these lessons from the maisons in working on the Garden Flamingo. To date, the Garden Flamingo is the most expensive project I've ever undertaken. In 2017, I began working with Marc, 80-year-old yacht builder in Long Island, on the fiberglass for the flamingo body. We worked back and forth between digital and physical modeling to get the curves right, but six months into the project, he scrapped the whole object and started over because the curve on the neck was slightly imperfect. Then when it came time for paint, he introduced me to a specialty auto painter who focused on Ferraris and Lamborghinis, to mix and spray the ultralight pink for the first flamingo. The base was welded and powder-coated in Brooklyn, and the casters came from Italy. The process took two and a half years from start to finish. Marc died just after we produced the fourth flamingo, and the mold was accidentally destroyed by the company that took over his business. So there will only be four of them in the world, and I will never attempt to make more.



Left: This drawing,

Death Forms B, is a stylized study of objects and inspiration from the collection Momento Mori. Right: Castle E pairs with the collection Fountain of Youth.
What are some of the drawings you'll be releasing in the fall?
These drawings are roughly centered on the themes from my collections. Some are detailed and complicated, while others are immediate and minimal. They give my clients a different way to collect my work. Since everything begins with drawing for me, it feels like it completes the circle — I draw out an object, create the object, and then I am now returning to those drawings.



Blending the concepts of faux plants and floor lamps, the Palm Row Lamp functions as an architectural light object. The base of the lamp is white marble concrete, while the frame is powder-coated steel; frosted glass diffusers with brass casings offer a touch of brightness that contrasts with the verdant green of the palm fronds. Photos by Blaine Davis.
How do you represent nature in works like the Garden of Eden Chaise and Palm Row Lamp?
Nature appears in my work in a highly filtered stylistic way, and bridges more into the realm of fantasy. I'm a-la-carte with the natural images I select for my pieces. For the Garden of Eden, it's this vision of a primary colored flower field, but the flowers became more cartoon and graphic in the end result. For the Palm Row, we crafted realistic palms out of patinated brass. However, they're placed in a gridded architectural pattern on the lamp, not at all like you would find them on a palm tree.
Could you talk a bit about how you select your materials?
Each object takes me on its own odyssey. At first, hand sketches govern the color and material choices. Then, I will spend time on material research and trials with my craftspeople to look at the prototypes as they evolve. In the case of the Garden of Eden, I selected a durable dark green velvet from Turkey that would contrast against the embroidered flowers, and I found metallic-finish threads for embroidery that would make the flowers shimmer. The brushed steel legs give the lounge an everyday quality — they seem to "float" below the flower field. Maintaining the immediacy of the original sketch regardless of all the materials and crafting techniques is key. There is no science to this, it's a difficult balance to strike.
You're expanding to Tokyo and Paris in 2022. What motivated your decision to expand in those cities, and how do those cities influence your designs?
New York, Paris, and Tokyo have been my urban circuit for years. Although we just launched in NYC last year, the expansion is natural because of client demand, and also because of my love for these cities. I feel at home and creative whenever I'm in New York, Paris, or Tokyo. Additionally, we are building our relationships with a completely new set of international craftspeople who produce work that is among the finest in the world – embroidery in France and lacquer work in Japan. I can see myself producing pieces that directly reference these cultures as well.