Suzanne Tucker's Pro Tips for Shopping and Decorating with Art & Antiques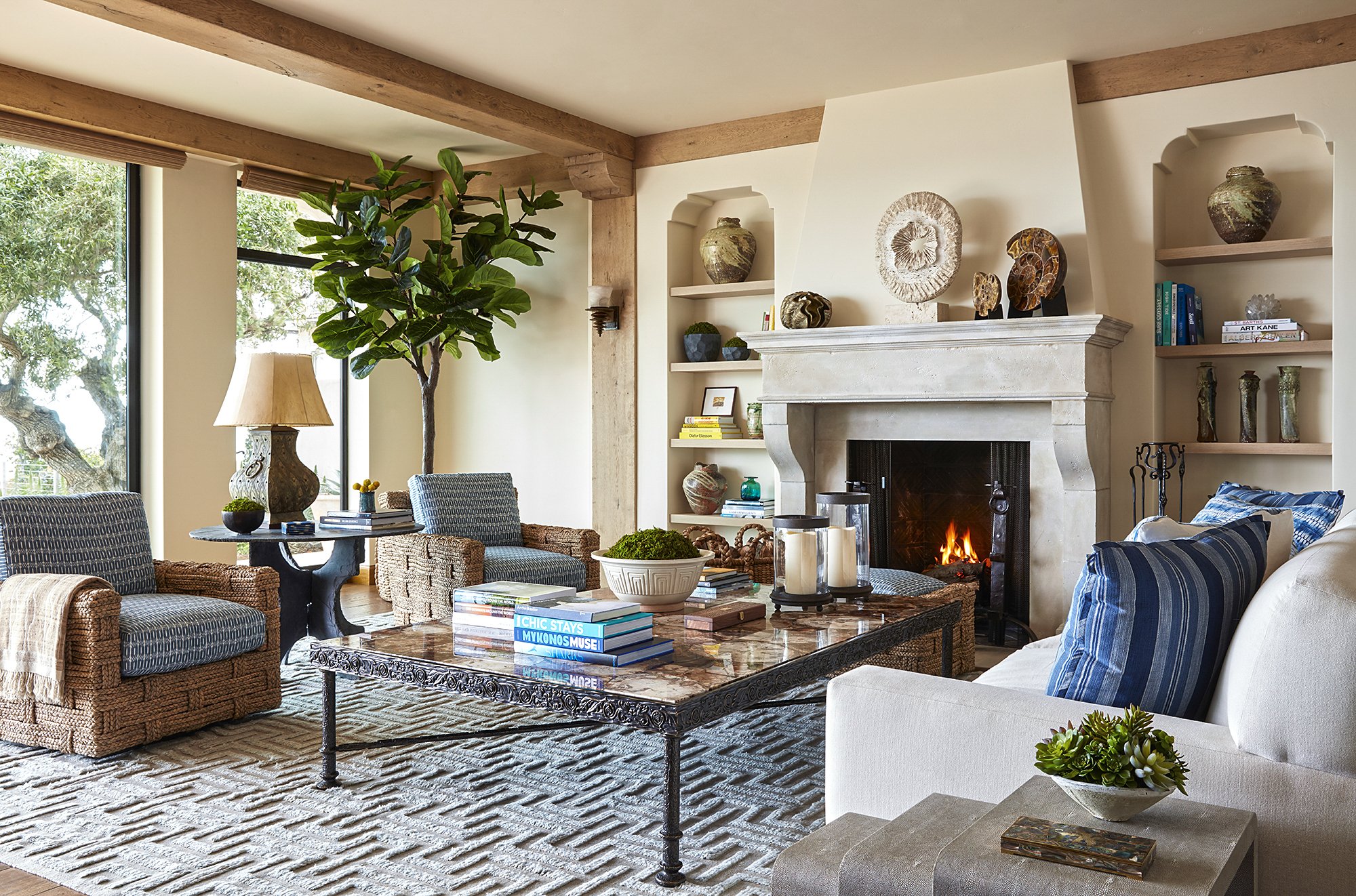 Antiques and collections bring warmth and nuance to a Northern California beach house, mixed with comfortable contemporary seating. Scale and proportion are key, Suzanne says. Interior design by Suzanne Tucker/Tucker & Marks, photo by Roger Davies
| | |
| --- | --- |
| | |
| | Suzanne Tucker, photo by Michael Venera |
With the same talent, passion, and dedication she brings to designing beautifully personalized dream havens for her clients, Suzanne Tucker, interior designer and founder of San Francisco firm Tucker & Marks has once again picked up the reins to chair the 40th edition of the designer-favorite San Francisco Fall Show, which opens at 9 am PST, 12 pm EST tomorrow, October 15th and runs through Sunday, October 24th, exclusively on Incollect. The show will be presented entirely online, with over 60 dealers offering a dazzling array, spanning time periods from antiquity to the twenty-first century. Beauty, splendor, and uniqueness will abound, with venerable favorite dealers and intriguing newcomers unveiling never-before-seen finds.
"For anyone interested in art and design, furniture and the decorative arts – buying, collecting, or simply learning about art and antiques – this 10-day event on Incollect is not to be missed."



Left:

Shown here on tabletops in Suzanne Tucker's own home, a few choice examples from her "inadvertent" collection of frogs. Interior design by Suzanne Tucker/Tucker & Marks. Right: A large gilt-bronze frog from Tony Duquette's estate, a traditional symbol of transition, good luck and abundance. Photos by Edward Addeo.
How do you incorporate antiques into your personal decorating style? Do you have a favorite piece you can tell us about?
In my own home, I definitely practice what I preach to my clients, which is to mix it up, break those antiquated rules, and live with what you love. I've been known to treat my own spaces like a decorating "laboratory" where pieces are studied, moved about, and come and go. But there are certain pieces I won't part with as they speak to my heart on a personal and sentimental level — those I've inherited or from designers/people whom I admire — Michael Taylor, Tony Hail, Pamela Harriman, Bunny Mellon — and I am loving spending time with these treasured possessions. Someone pointed out to me that I seem to have developed a penchant for frogs which was not intentional on my part. But the frog is revered in many cultures because its entire life is a symbol of transition, good luck, and abundance. My inadvertent collection now consists of a pair of Thai frogs at my front door from a long-ago dealer, a large Chinese gilt-metal frog that came from Tony Duquette's estate (as do my white ceramic frog planters), while my smaller bronze frog family was picked up at the Brooke Astor auction a few years ago in NYC. All are permanent treasures and a source of delight whenever they catch my eye.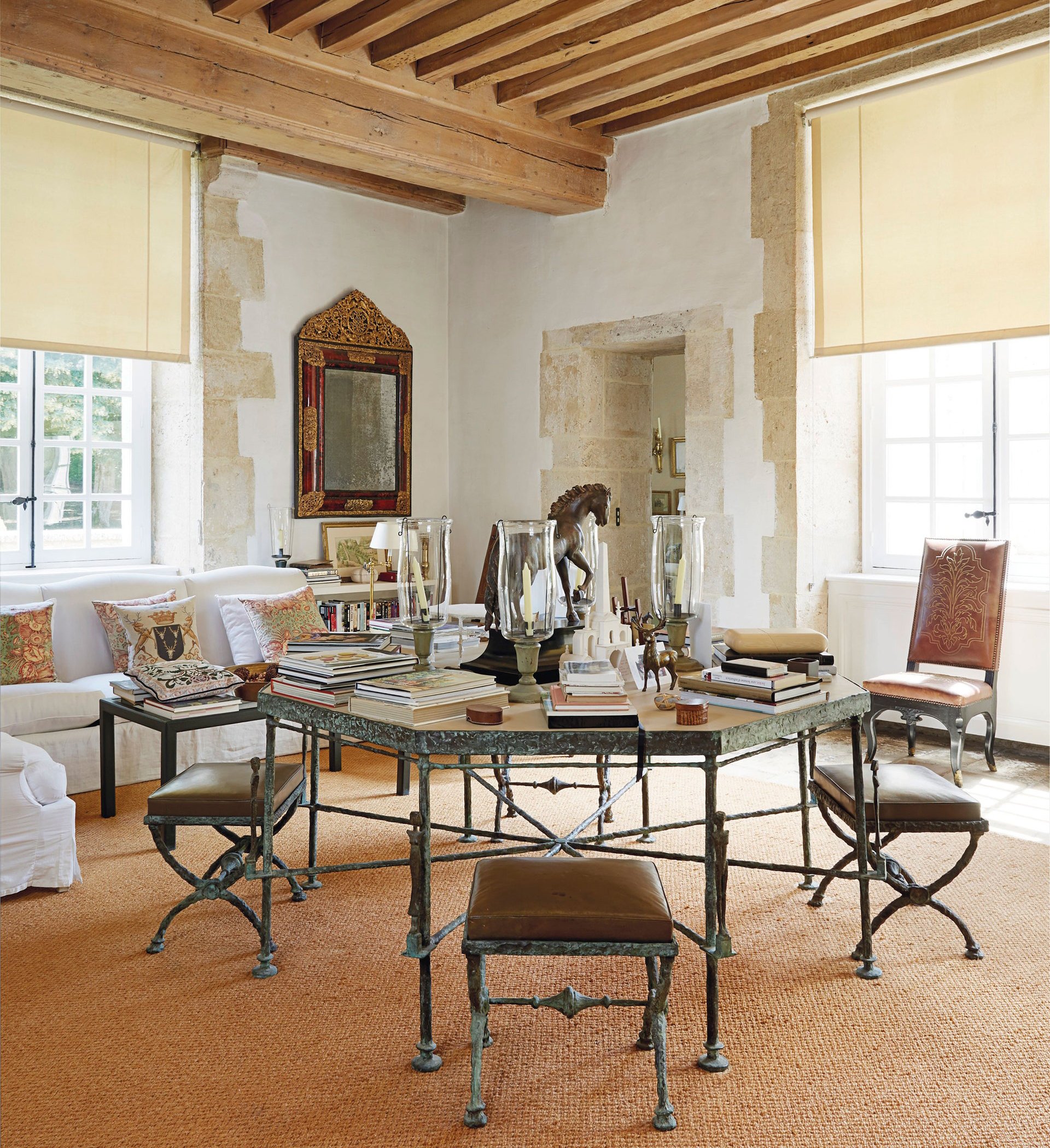 From Suzanne's "holy grail" list, the Giacometti octagon table of her dreams, at Hubert Givenchy's Loire Valley home. Photo courtesy Christie's.
What is your "holy grail" — the special piece you are still looking for?
A few of the pieces that "got away" still haunt me so I'll forever keep an eye out for those. But the Giacometti-designed octagonal table would definitely be in my top ten of dream "gets". Hubert de Givenchy commissioned Giacometti to create the octagonal version for his Château de Jonchet in France's Loire Valley. It was a variation on the "Table Torsade" which Giacometti had made for the legendary decorator Henri Samuel in 1976. It was a midsize rectangular table, but Givenchy preferred an octagonal shape. It is such a timeless piece and I have a thing about octagons.
We often hear "if you love it, buy it" — is that your advice? Tell us about "the one that got away" — something you wish you'd purchased and didn't.
The "one that got away" was a set of four 18th century carved barrel chairs from the Nancy Dollar auction. Michael Taylor had found them. When it comes to buying vintage pieces or antiques, I would say to look for pieces that resonate with you personally — are you drawn to it, is it pleasing to your eye, does it have good lines, a yummy finish, a rich patina, an interesting provenance, does it make you smile? Don't be afraid of putting a piece of great value next to a flea market find. I'm not a purist and I definitely believe in mixing contemporary pieces with vintage, modern elements with antiquities. But regardless of style or era, flea market find or auction acquisition, the scale and proportion of each and every piece is always the most important thing in a room. Does it fit? Does it look out of place? Look at the lines, study the bones, consider the balance and If it speaks to you, buy it! Live with it and love it, don't forget to light art with good lighting and feed furniture with a good wax, passing it on one day to the next lucky person.
Are you seeing a resurgence of appreciation for any specific styles? Is "brown furniture" becoming more sought-after?
I honestly don't think "brown furniture" was ever out of style — though not all "brown furniture" is alike. As I said before: it's all about the mix, and the design tension you can create by juxtaposing key items from different periods, different countries, and different styles. Having said that, these days I am particularly intrigued by iconic hand-crafted furniture design from the sixties — such as the work of father/son duo Philip and Kelvin Laverne — and Brutalist early seventies.
We're seeing more untraditional ways antiques are being used. What are some interesting ways you have used a great piece tor other than its original intended purpose? (such as a chest of drawers used as a vanity, a secretary desk used as a bar, etc.)
I often have oversized antique Chinese vessels and containers repurposed as table lamps: they are the right scale and add such presence and personality to any room.


Antique Chinese vessels converted to lamps add personality and a sense of history to interiors. Left: Northern California beach house. Interior design by Suzanne Tucker/Tucker & Marks, photo by Roger Davies. Right: On offer at the San Francisco Fall Show:

Han Dynasty Jar

.

206 B.C. – 220 A.D. from J.R. Richards.



Also, recently, I incorporated a client's favorite antique stone coffee table top into the floor of their new wine cellar. I loved repurposing and showcasing their much-loved piece in an unexpected but eye-catching way.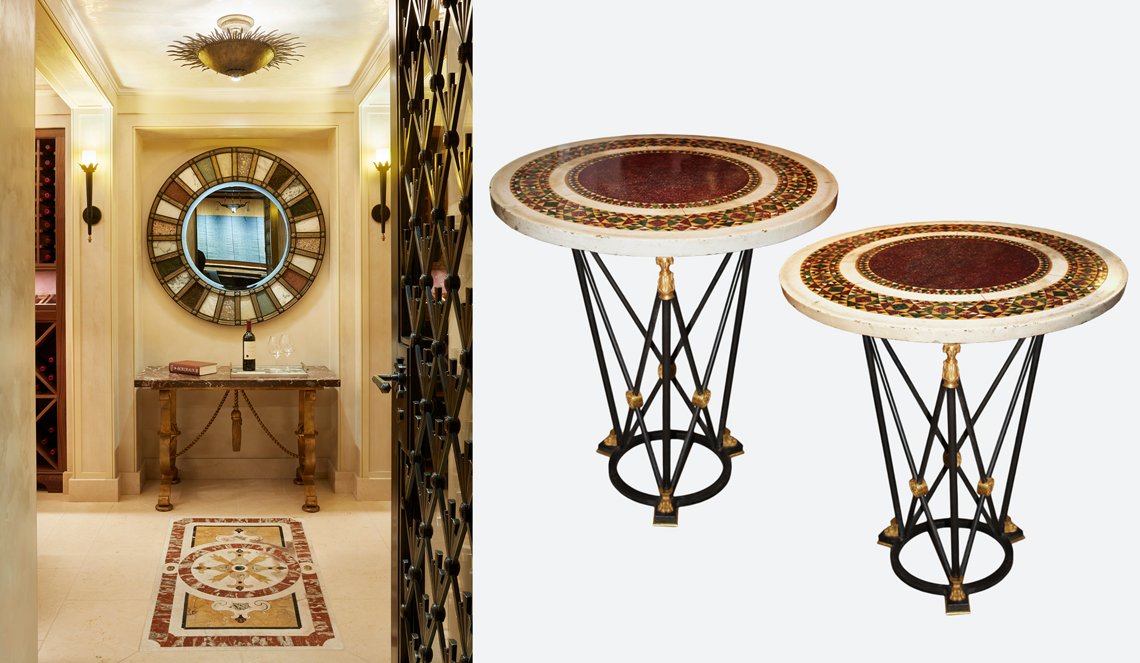 The passion to beautify our environment is timeless – an antique mosaic tabletop is transformed into a floor detail, and pieces of an ancient Roman mosaic floor are repurposed as tabletops. Left: A wine cellar in a San Francisco house, interior design by Suzanne Tucker/Tucker & Marks, photo by Roger Davies. Right: From C Mariani Antiques,
A Rare and Unusual Pair of Gueridons
with 12th Century Roman Porphyry and Intricate Geometric Intarsia Parquetry Marble Tops, once part of a Roman villa floor created by the Cosmati family.

What one piece can completely transform a room?
An antique lacquer or embossed leather room screen — instant drama!
What are you always looking for, tried-and-true "foundation pieces"?
I am always looking for great antique textiles to incorporate into my interiors: either as framed pieces or repurposed for pillows or upholstery. I also have a soft spot for 18th-century Venetian mirrors, detailed marquetry pieces, Han pottery, alabaster pendants... the list goes on!


Suzanne always keeps a sharp eye out for sumptuous antique textiles, Left: Antique embroidered textile on an early 18th-century Flemish walnut bench. Interior design by Suzanne Tucker/Tucker & Marks. Right: An unusual

18th century French brocaded cover

with flowers in pale peach and blue colors and a heavy couched metallic ground. Offered by Kathleen Taylor/The Lotus Collection.



What do you look for when purchasing art and antiques? Do you have any tips on how to talk to dealers?
Don't be intimated and ask lots of questions: they are always welcome and encouraged. Subjects to address can include age, provenance, condition, design, technique/artistry. The dealer/client relationship is so much more than pure commerce. And here's a tip: really get to know your dealers, stay in touch and they will seek out specific things for you.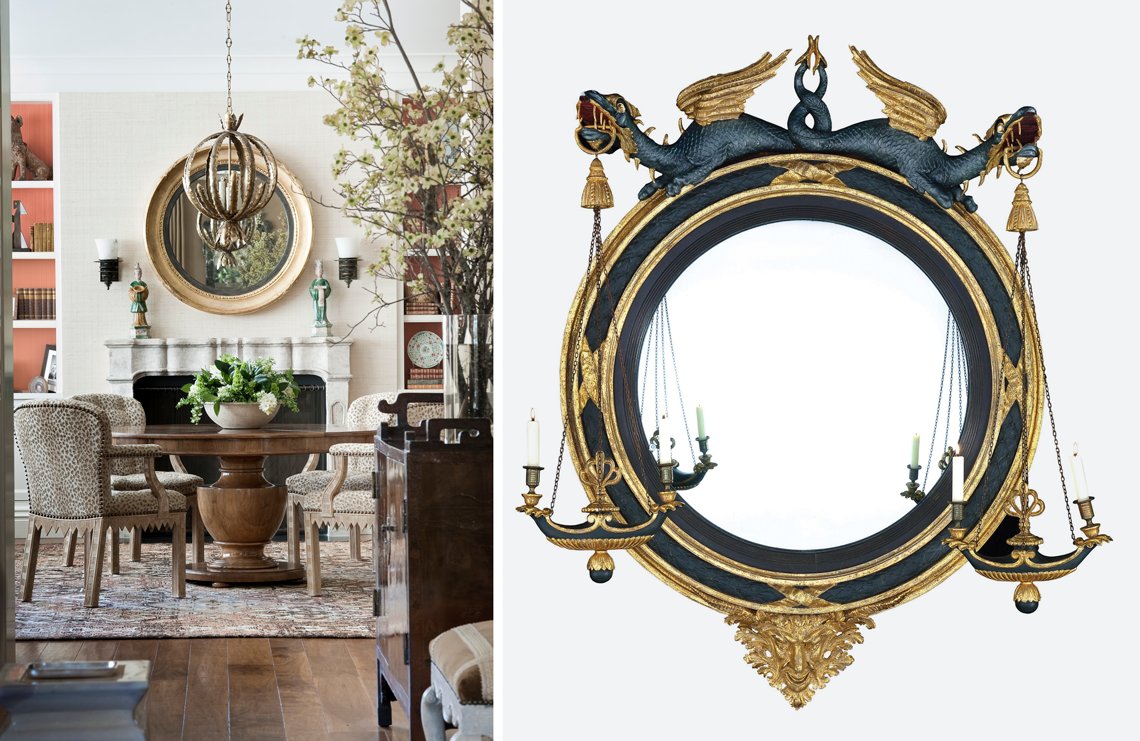 Suzanne advises careful consideration of scale and proportion; an oversized mirror can be a dramatic focal point in a room. Left: A Pacific Heights house, interior design by Suzanne Tucker/Tucker & Marks, photo by Roger Davies. Right: A
George III giltwood and bronze painted mirror
attributed to Peter Bogaert, offered by Ronald Phillips.
What is your strategy when attending shows — do you get an overview and then revisit, or do you have an advance plan and visit specific booths? Do you take many photos? Have a shopping list with particular projects in mind?
My strategy is to peruse a show — either digitally or in person — at least two or three times first by myself and then with my staff, as there is always something else that will catch my eye. I always have a shopping list but that will not stop me from being open to the unexpected "coup de foudre" I am bound to come across. As my dear friend Charlotte Moss said: oftentimes, you can't even describe what you're looking for, but you hope it's looking for you."



Left:

A powder room in Suzanne's home celebrates a shell motif in an exuberant fashion. Interior design by Suzanne Tucker/Tucker & Marks, photo by Edward Addeo. Right: Suzanne envisions this as a perfect dramatic piece for a powder room: A large

French Louis XVI style bronze doré 4-light lantern

with applied porcelain flowers, circa 1900 offered by epoca.



What is it about the San Francisco Fall Show that makes it unique, and what are you especially looking forward to this year?
Our show is unique because we have the finest dealers who bring the best quality and exquisite pieces, uniquely curated for the show. I try to shop all of the major US and European shows and the San Francisco Show is truly one of the best, being one of the oldest and most revered shows in the country.