The Inimitable Creations of Irish Maker Zelouf & Bell
Like much of their furniture, the Torii bar was built as a one-of-a-kind commission. Its intricate design suggests the quality of work by Zelouf and Bell, especially when they are matched with a thoughtful and art-curious client.
| | |
| --- | --- |
| | |
| | Susan Zelouf & Michael Bell |
W
hen Susan Zelouf met her future husband and business partner, Michael Bell, at the famous Café de Paris in Rome, where she was singing beside the piano, she was making a living as a singer and screenwriter. Bell was in Rome on overseas business for a tobacco company as a production supervisor. Months later, Zelouf found herself flying to Belfast to live with him, as they both began to explore new careers that would allow them to live in the same country. Neither of them had formal training, but a deep passion for beautiful design and art-world references, and for each other, inspired them to collaborate on their own namesake brand of furniture.
The brand Zelouf and Bell was formally launched in 1992. At first, Bell was building the furniture in the front room of their townhouse in Belfast, before they moved out to the midlands of Ireland 50 miles outside Dublin. A former New Yorker, Zelouf brings a wealth of artistic knowledge to the partnership, while Belfast-born Bell offers skills in math, science, and engineering. Their works encompasses various tastes and reference points: "No house style, only high standards," as Zelouf likes to remark. Each piece is carefully designed to match the client's life and collection of art. "Our clients come to us for a special piece of furniture, but what we find is that they're looking for a deep connection," she says. "While always functional, we believe our work resonates on a deeper level."
While the aesthetic is shaped to the specific brief, their furniture tends to be built from luxurious and sumptuous materials like Macassar ebony, shagreen, and mother of pearl, and is always paired with a suggestion of wit. Many of their pieces include intricate marquetry and hidden details, from a gold-leaf inscribed quote about the contemporary limits of human knowledge tucked away into the underside of a shelf, to secret compartments that allow clients to surprise party guests. Zelouf and Bell pieces "unfold" over time, as Zelouf explains, through the client's exploration. Their furniture betrays an intimacy with their clients that enriches the interior lives of whomever commissions it. The range of previous work, demonstrated below, reveals not only what they are capable of, but how much more they can do.
Stones in a Pond Cocktail Cabinet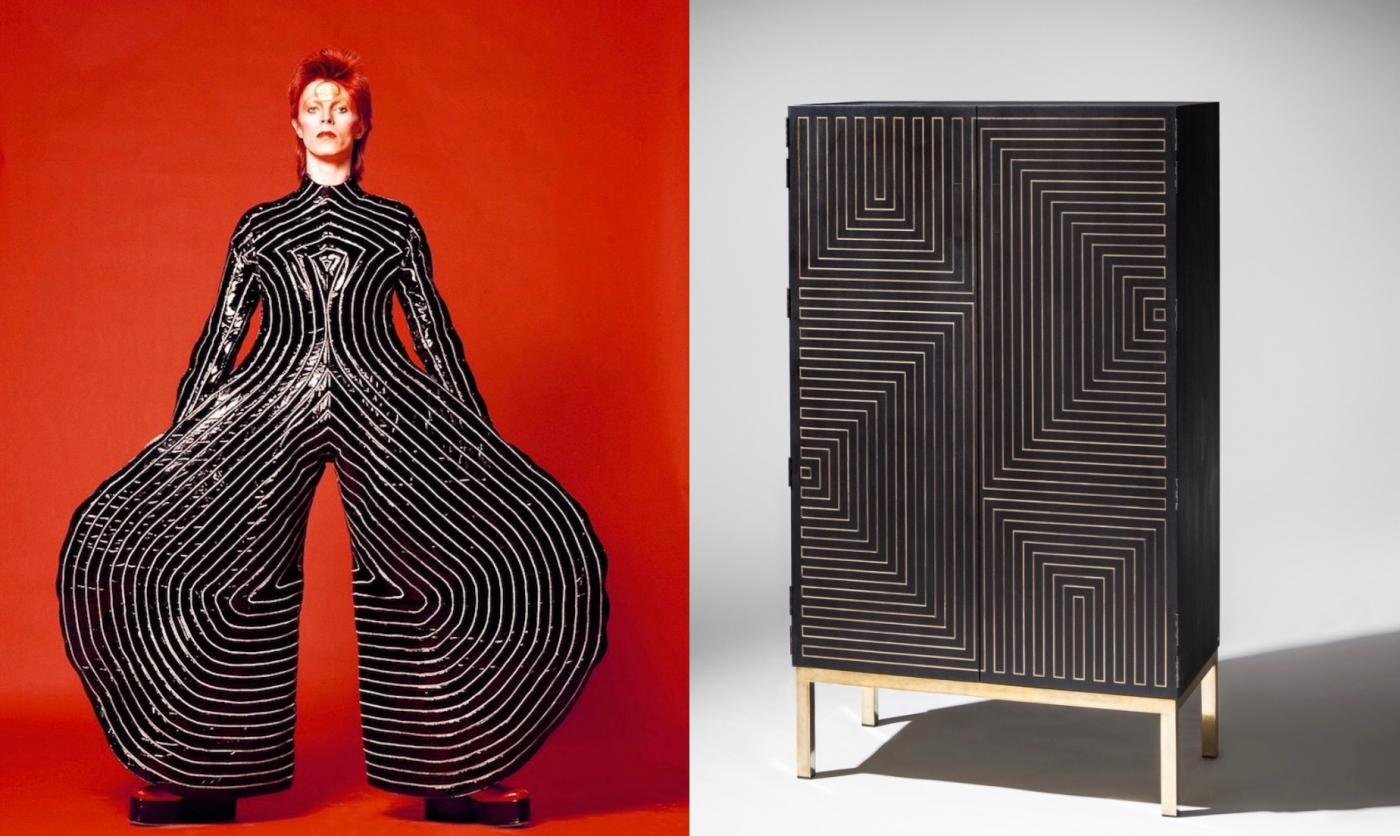 Their pieces are not meant to be the "antiques of tomorrow," Zelouf says. "They're for enjoying in the present." Fittingly, many of their recent commissions have been for cocktail cabinets.
The Stones in a Pond Cocktail Cabinet, pictured above, was inspired by the vinyl jumpsuit that Kansai Yamamoto
designed for David Bowie's 1973 "Aladdin Sane" tour, which was featured in the widely shown 2018 "David Bowie Is" exhibition. Often, when a piece is truly luxury, its references travel across time and space: for the outfit, Yamamoto was influenced by an early 20th-century Oskar Schlemmer costume for a Bauhaus ballet in Germany. For the cabinet, Zelouf and Bell selected sleek, black bolivar and inlay with metal arranged in graphic, optical pattern. The structure is balanced delicately on metal plinth in brass, stainless steel, or patinated bronze To achieve a glistening, rich appearance, its surfaces are hand rubbed with a satin lacquer finish.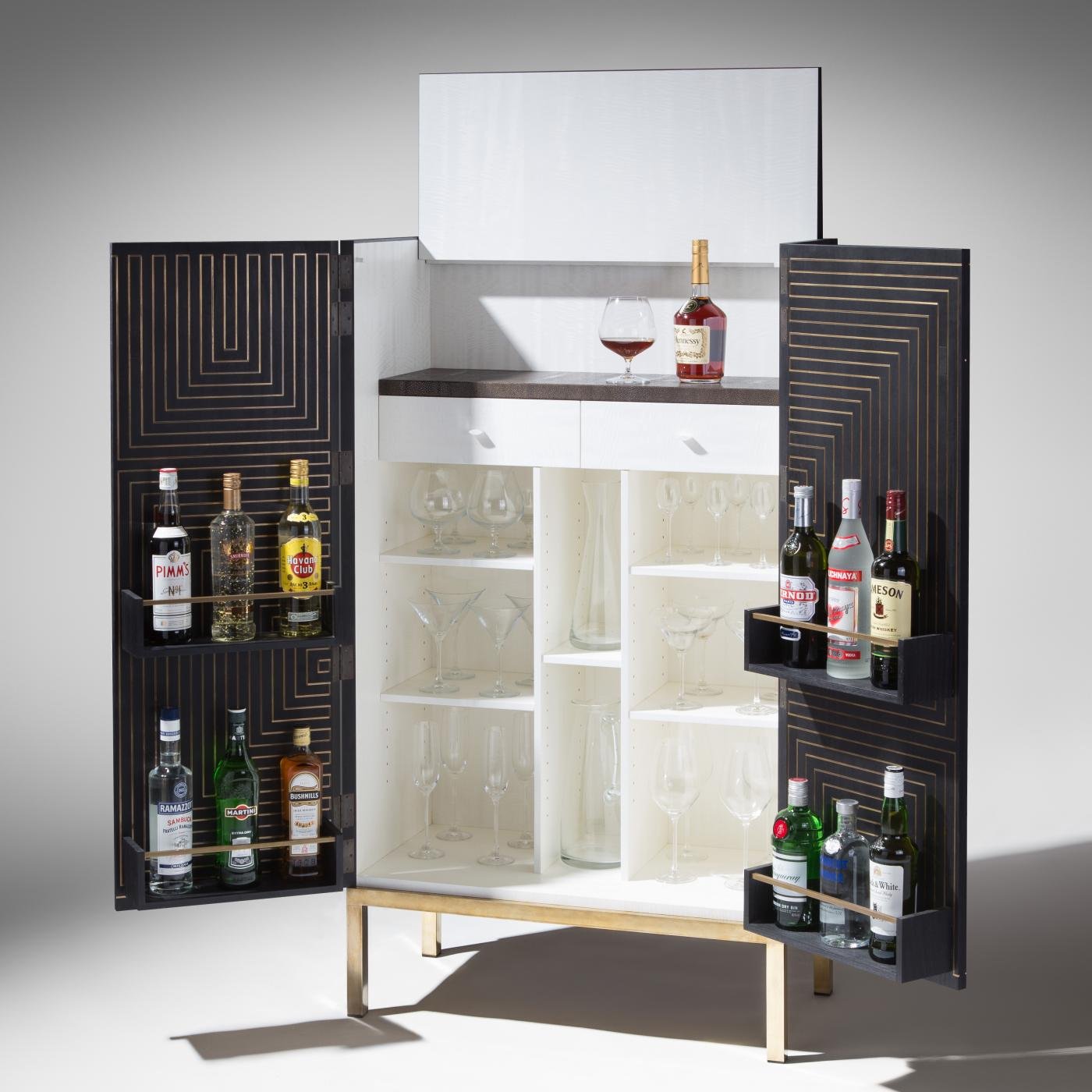 Rotating along patinated hinges, the doors of the cabinet glide open effortlessly to reveal creamy white anigre walls and a harmonious assemblage of lamb nappa-lined drawers, shelves, and alcoves. The top folds open, allowing clients and party guests to make use of the charcoal shagreen bartop. An oil-filled rotary damper ensures that the doors fall closed gently.
WATCH: In the video above, a craftsperson carefully inlays metal into grooves in the black bolivar. The cabinet was originally made as a limited-edition set of six and is available through Zelouf and Bell.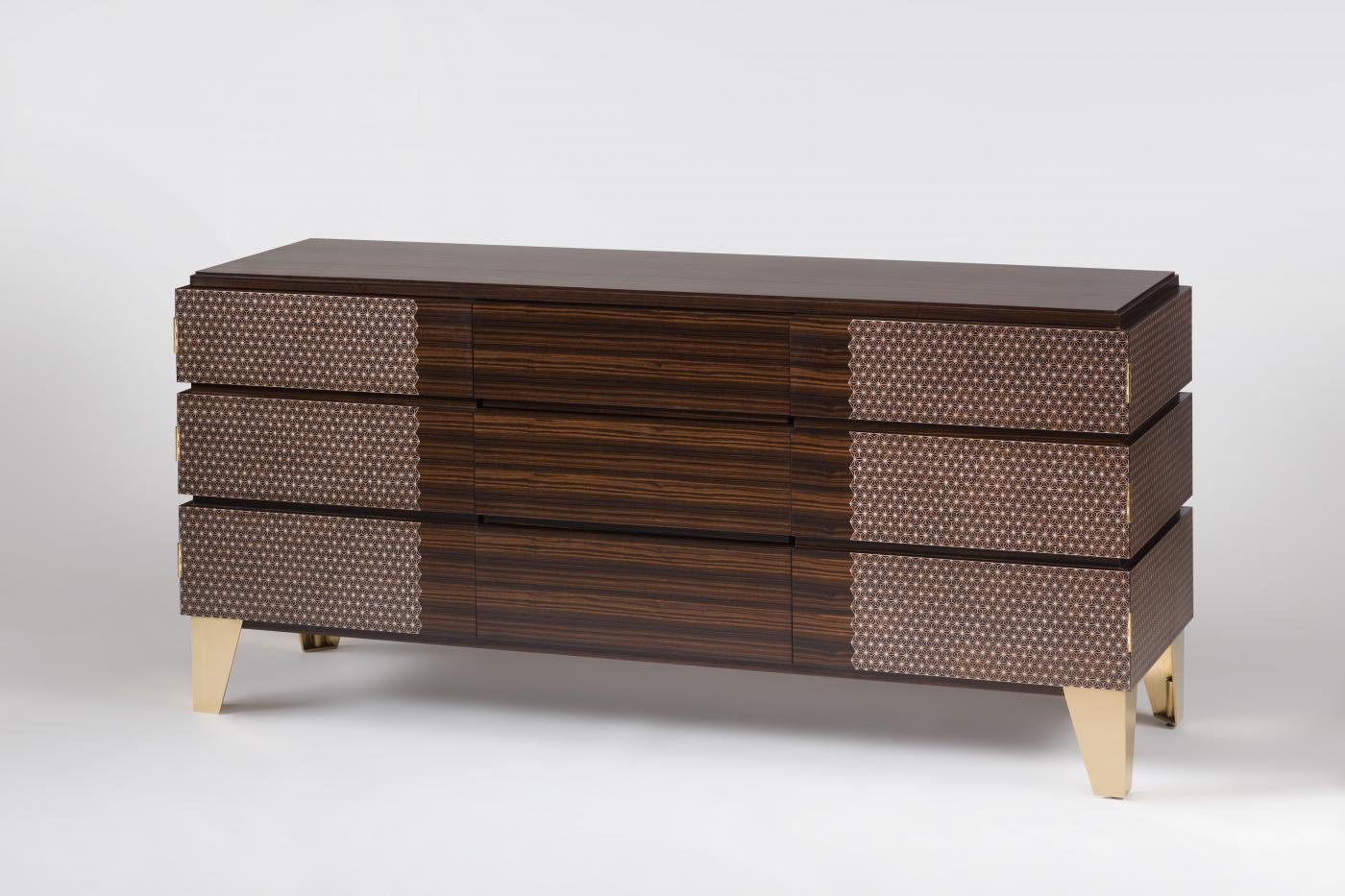 The
Othello Credenza
features wrap-around marquetry, in which 22,000 Macassar ebony triangles are inlaid by hand, using a scalpel, in a starburst pattern in a grid of pale pink ripple sycamore. Aged brass feet support the cabinet. Although the version pictured above is available and ready to ship, the credenza can be customized to match the aesthetic of the client and personality of the space.



The interior of the cabinet is crafted from pink sycamore, contrasting with the Macassar ebony of the exterior. The star motif wraps around the corners. As the visual intricacy here suggests, many of Zelouf and Bell's clients are art collectors and appreciators.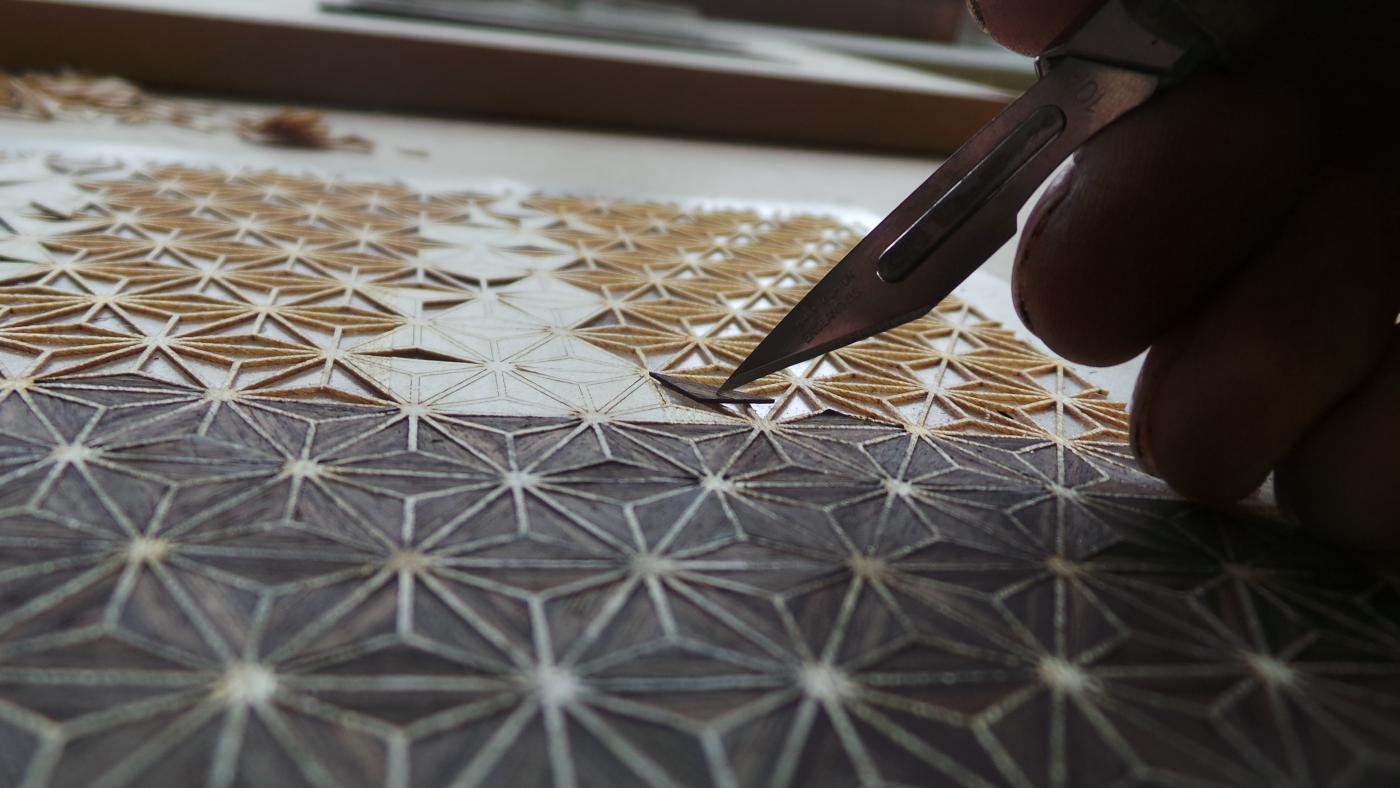 Above, a craftsperson uses a scalpel to lay out the intricate marquetry.
Castle Games Table with Edge Director's Chairs



This octagonal

games table features both a marquetry chess board and backgammon board. The table itself is built from Macassar ebony. Custom accessories include black and magnolia leather dice cups, two pairs of dice in black and ivory, and a leather doubling cube embossed with gold leaf. Zelouf and Bell will build out six versions of the table as part of a limited-edition set.

Ginkgo Cocktail-cum-Games Cabinet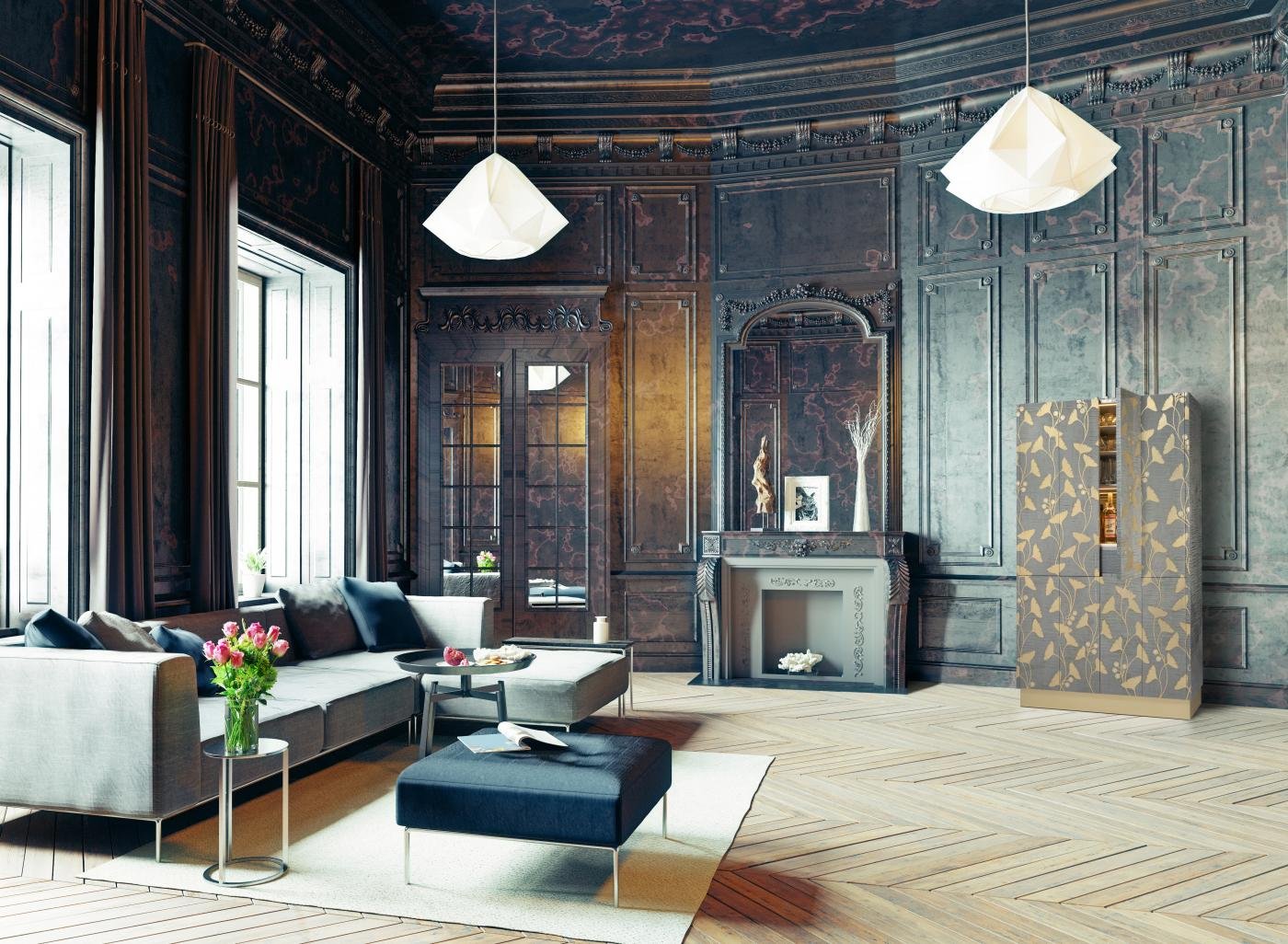 Zelouf and Bell modeled the marquetry of the
Gingko Cabinet off a gold and diamond-inlaid Fabergé cigarette case that Zelouf had come across years before. Inspired by objects and artifacts, nature, fashion, literature, and architecture, she stashes them away, to be incorporated into a piece when the right project materializes.




In the Gingko cabinet, the Fabergé case is transformed into brass and mother of pearl gingko inlay that decorates the ripple sycamore surfaces. The wood is pressure dyed with silvery blue pigment for an ethereal effect. Zelouf and Bell is currently working on another cocktail cabinet inspired by a Fabergé cigarette case. The cobalt-figured eucalyptus cabinet is inlaid with a brass serpent, whose scales are decorated with a pattern of mother of pearl hexagons. The interior features a white quartz bartop and a white faux snakeskin back panel.
WATCH: The cabinet doors open using concealed handles; inside, bar-style shelving sits above a games table and boards. Dimmable LED lighting glows onto the curved, chamfered adjustable-height shelving and a quartz bartop. Hidden details include an inlaid tray stowed away in a drawer lined with bronze lamb nappa; the brass Napoleonic bees are significant to the clients who originally commissioned the cabinet. The interior of the cabinet is finished in satin lacquer, and its exterior features a hand-rubbed, high-gloss mirror finish.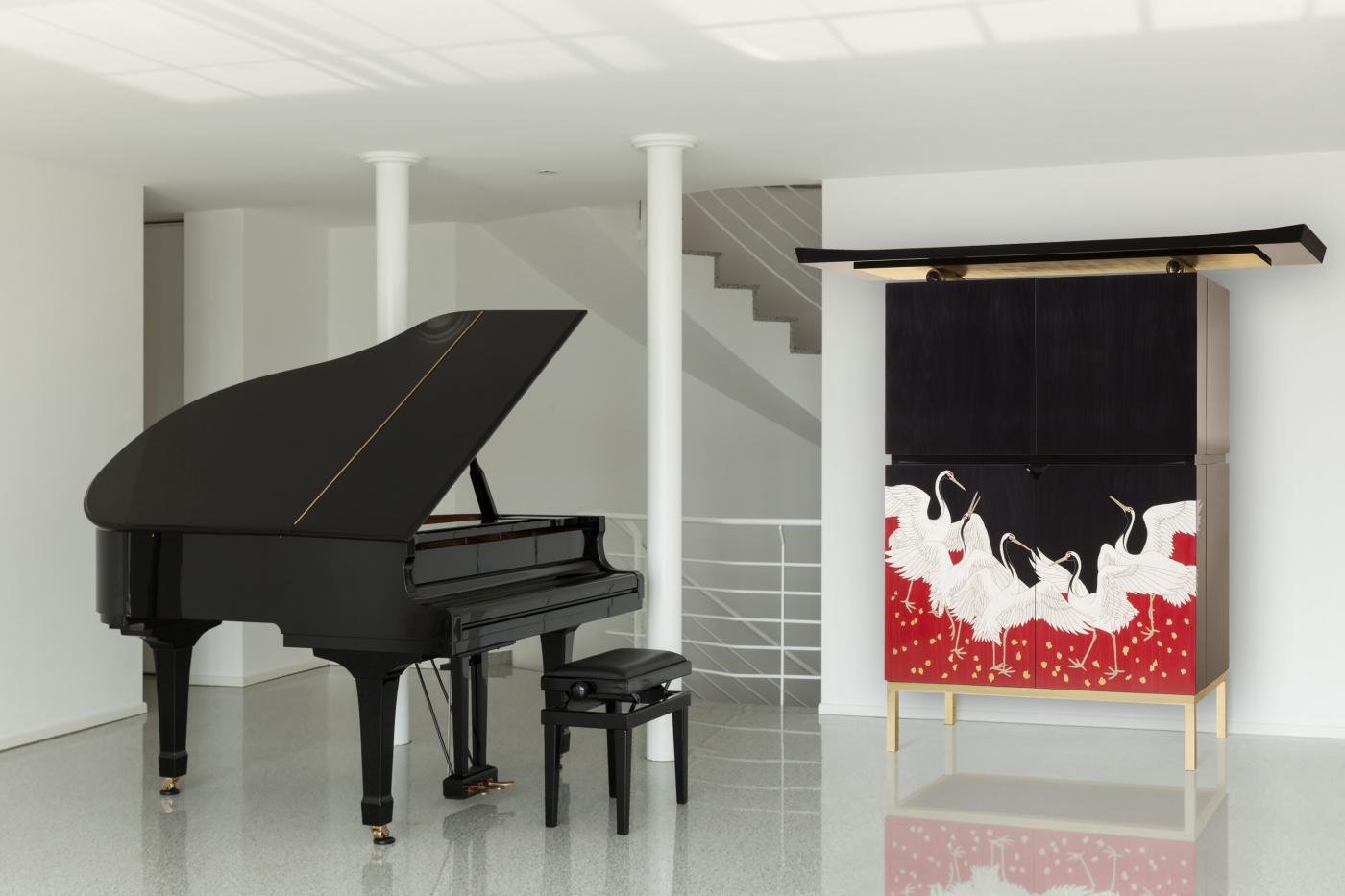 The
Torii Bar
, pictured above, was designed for a private client based out of London.
The client was fascinated by torii, an elegant Japanese gateway often appearing within Shinto shrines and connoting the transition between the sacred and the profane. Because torii also translates as "bird perch," Zelouf and Bell introduced the idea of featuring cranes, considered a symbol of good fortune in Japan. Zelouf had already collected images of a Meji-era (late 19th to early 20th-century) Tomesode kimono, a formal garment often featuring auspicious symbols, that they used as a reference for the piece. To create the marquetry, Zelouf and Bell used white anigre, gray ripple sycamore, red birch, and yellow tay, which stands out against the black bolivar and crimson Tanganyika background. Across the red ground, they applied gold-leaf leaves that complement the aged brass base after hand rubbing the cabinet with a high gloss lacquer.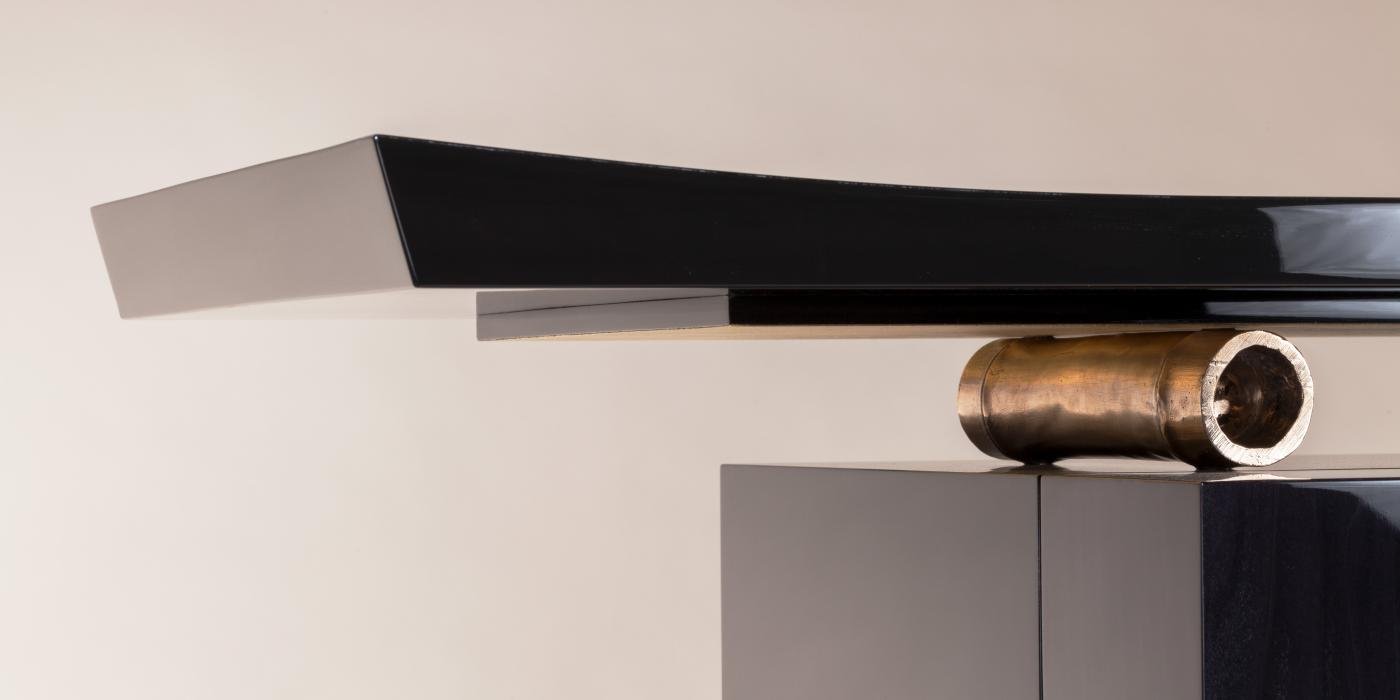 The curved top of the cabinet references the sloping silhouette of a torii, as well as a bird's wingspan. The underside is gilded as a nod to the resplendent linings of certain kimonos and couture works. Cast bronze bamboo stretchers add thoughtful detailing to the piece.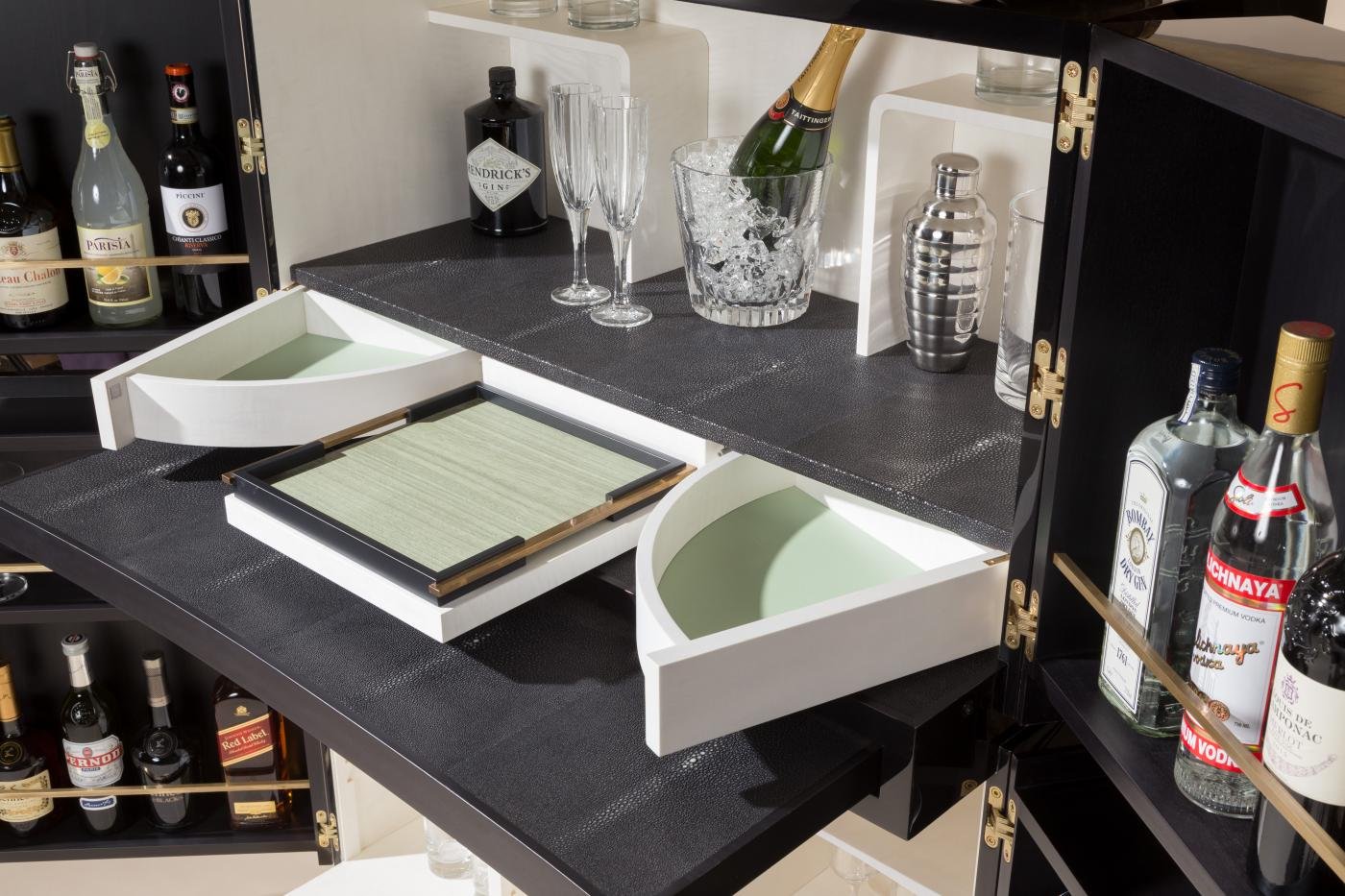 The bartop is constructed from black shagreen; underneath, drawers extend to reveal celadon lambskin drawer bottoms. The celadon was chosen to reflect the color of the collector client's pair of Ming vases. Rather than wire the cabinet lighting through the parquet floor, the designers adapted a battery pack to power the dimmable LEDs.



Clever and colorful, the

Kiku collection reimagines the floral imagery of vintage kimonos and pop art icons like Andy Warhol, as well as their more contemporary incarnations, including the work of Takashi Murakami. Both Murakami and Warhol wove chrysanthemums into their art. "We used to kid ourselves that we ran a business," says Zelouf. "Now we embrace being artists, and we feel grateful to have visionary collector clients who support our habit." In the nesting tables (above left), brass bases and colorful surfaces are hand rubbed with a high gloss lacquer finish. The nesting tables are ready to ship; the cabinet to the above right was a commission.
"Here, on the edge of what we know" Cocktail Cabinet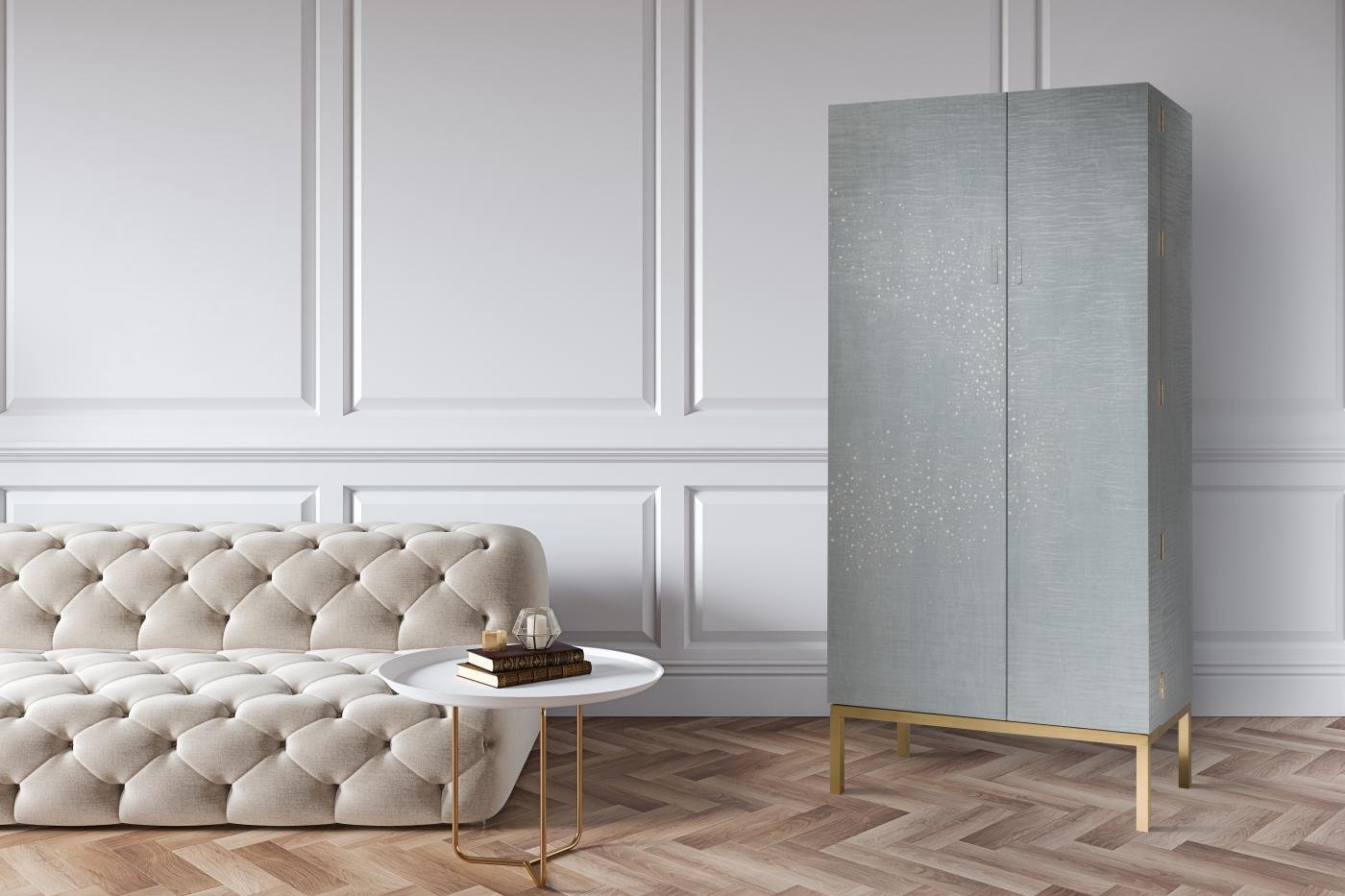 In 2014, Italian physicist Carlo Rovelli published a book called
Seven Brief Lessons on Physics
that famously condensed the density of post-Newtonian physics into brief, comprehensible explanations for various phenomena. Translating scientific topics for a broad audience with beautiful and compelling language, Rovelli wrote, "Here, on the edge of what we know, in contact with the ocean of the unknown, shines the mystery and beauty of the world. And it's breathtaking." Zelouf and Bell worked closely with the clients and their interior designer to create several important pieces for a redesigned living room in shades of blue, and the cocktail cabinet, inspired by Rovelli's writing on the earth and cosmos, played with the theme through an arrangement of mother of pearl stars and planets inlaid across the doors.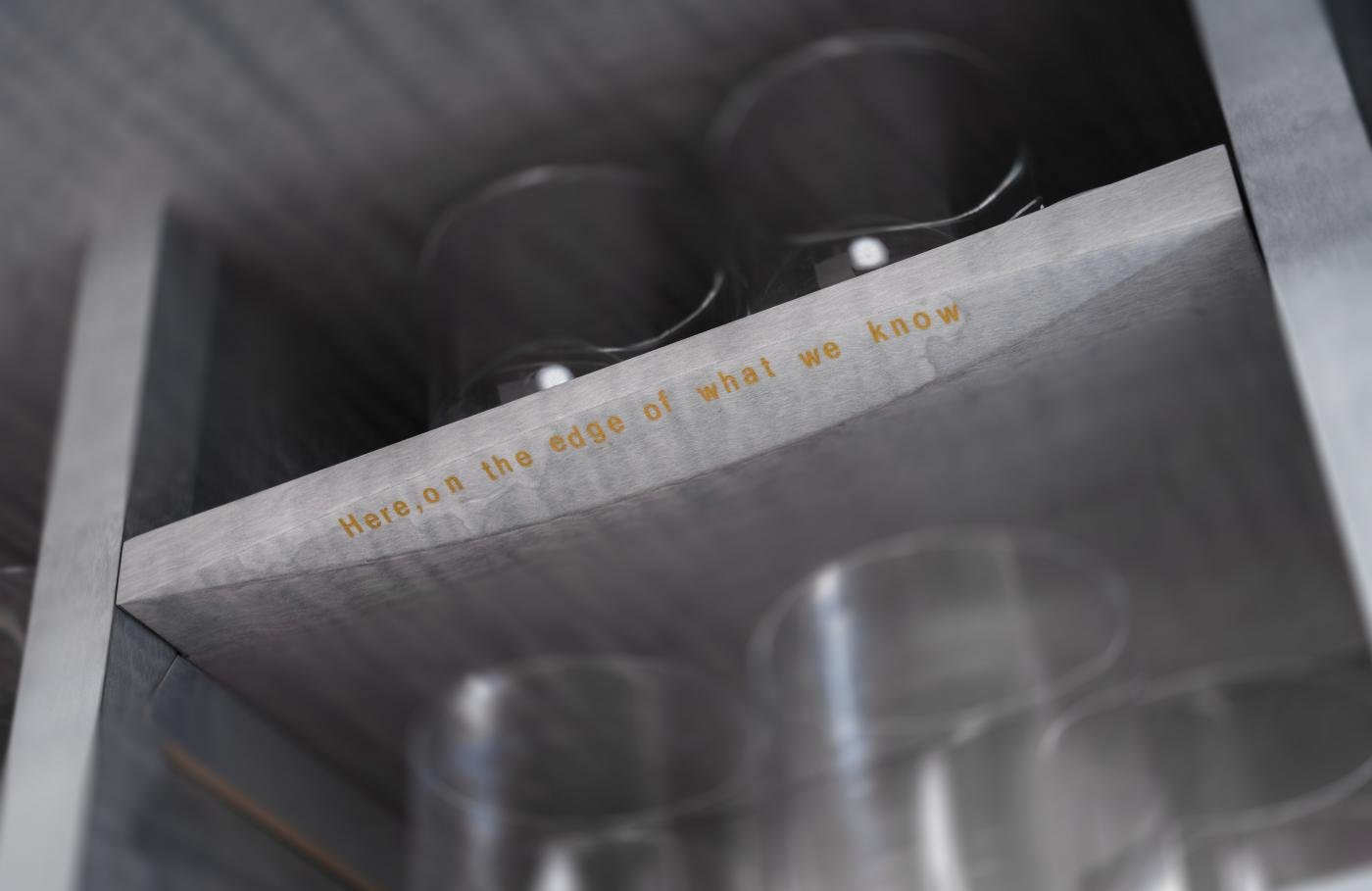 The clients loved the name of the cabinet and asked that it be featured in the cabinet. Zelouf and Bell inscribed it onto the chamfered edge of one of the shelves.



Concealed handles open the doors. Inside the limited-edition cabinet, brass rails enclose shelving for bottles, and three drawers lined with Irish goatskin vellum hold accessories as well as a tray, inlaid with a scattering of mother of pearl stars. Dimmable LED lighting helps clients navigate the cabinet, which is set on a brass base.
Photography: Roland Paschhoff, courtesy Zelouf & Bell
SEE MORE OBJECTS FROM ZELOUF & BELL ON INCOLLECT