The Joy of Movement Comes Alive in Sculpture by Richard MacDonald
The Joy of Movement Comes Alive in Sculpture by Richard MacDonald
by Benjamin Genocchio
Incollect Magazine sat down with sculptor Richard MacDonald to find out what motivates him to make his popular figurative sculptures in bronze.
Richard MacDonald





Joie de Vivre

was c

onceived early in Richard MacDonald's career, the ideas involving three carefree figures of seemingly enchanted origin continue to stir the artist's imagination. Expressed as three figures playing a trumpet, a horn, and a flute while they dance with the exuberance of child-like joy.

What are your initial sources of inspiration?
Richard MacDonald: Nature and life are my initial sources of inspiration. I have a fascination with the mental, spiritual and physical aspects of humanity — you could call it a connection through beauty — to our primal beings.
Tell me about the process of making a work. How do you begin?
Richard MacDonald: I allow the artwork to evolve over time. I work solely with live models. I do also on occasion use video in studying movement. I usually begin with a small wire, shaping it into a formal gesture and then quickly adding clay. A gesture can take a few minutes to a couple of hours to make. The sculpture then evolves to a larger facsimile with the introduction of other forms and symbols. If something about the work is inspirational and attractive to me, I will take as much as 3 to 6 years to complete a heroic version.



Left:

Among his greatest achievements are historically significant public monuments, including the 26-foot bronze sculpture The Flair, installed at Georgia International Plaza in Atlanta for the Olympic Games in 1996, where it still stands today. Right: Three Graces, Half Life, Column Fountain, 2003.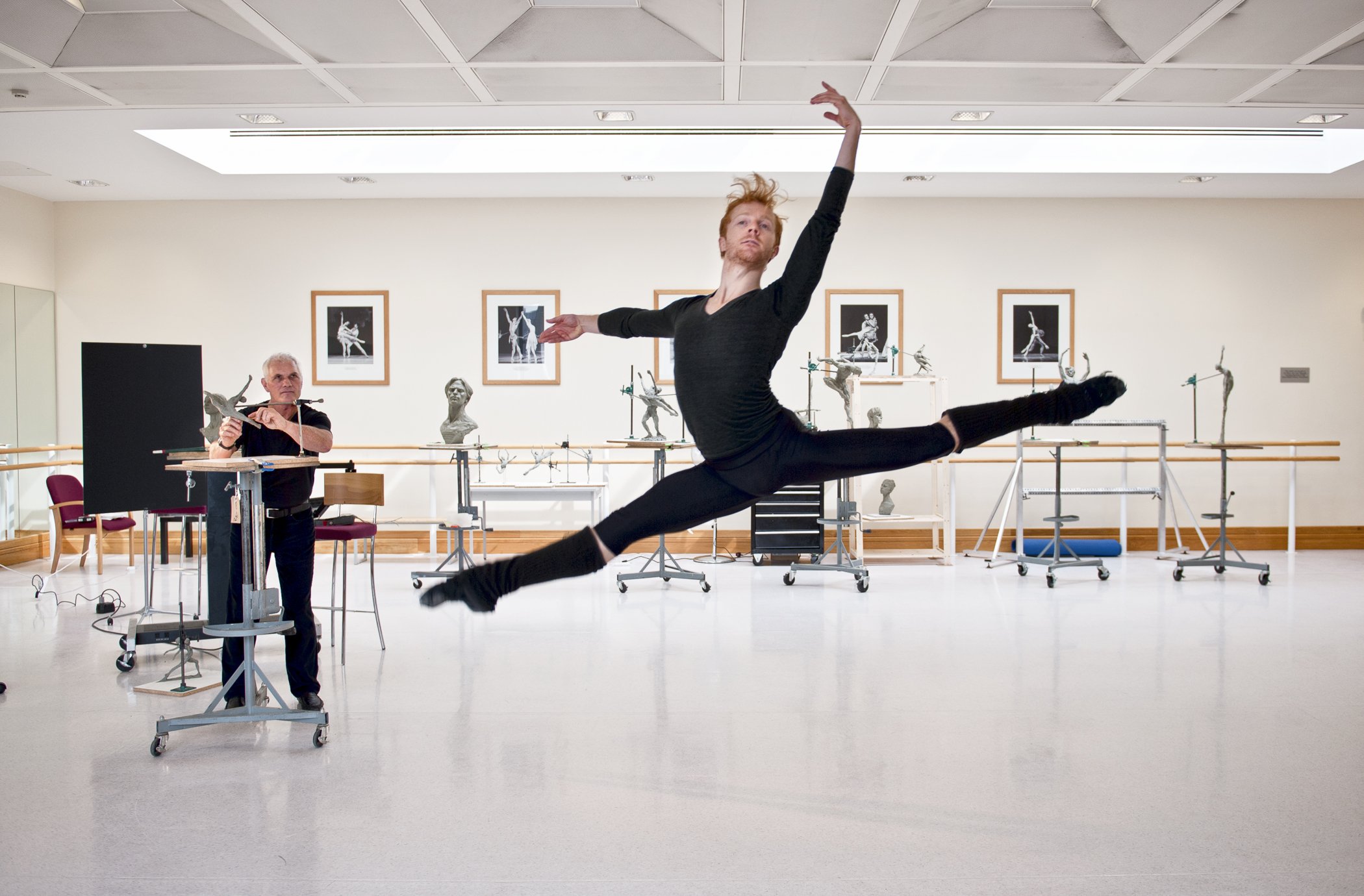 Working in his London studio at White Lodge, home of the Royal Ballet Upper School. MacDonald has had the privilege of working with several principal dancers with the Royal Ballet, including Steven McRae.




Left:

Richard in his studio with London Royal Ballet principal dancer Sergei Polunin. Right: Applying patina to Allonge, Third Life, Male.
How do issues of scale factor into the creation of a work?
Richard MacDonald: When the works are done at small scale and then enlarged to significant heroic or colossal sizes there are many complex considerations as to proportion and perspective. There are also architectural considerations with respect to positions, angles, installations, water and lighting. All of these are part of the considerations from the beginning and during the creation of the work of art.
What are you working on now?
Richard MacDonald: I usually work on as many as 20 to 40 pieces at a time and move from one work of art to another. Some pieces are completed in hours and others over many years. The artwork is not finished until it's ready to be finished, as odd as this may sound to others. The pandemic has interfered with my work over the last couple of years because I work with live models. As such, I've used this time to create some ideas, concepts and to organize. I have many works that are in process and are being fabricated at this time.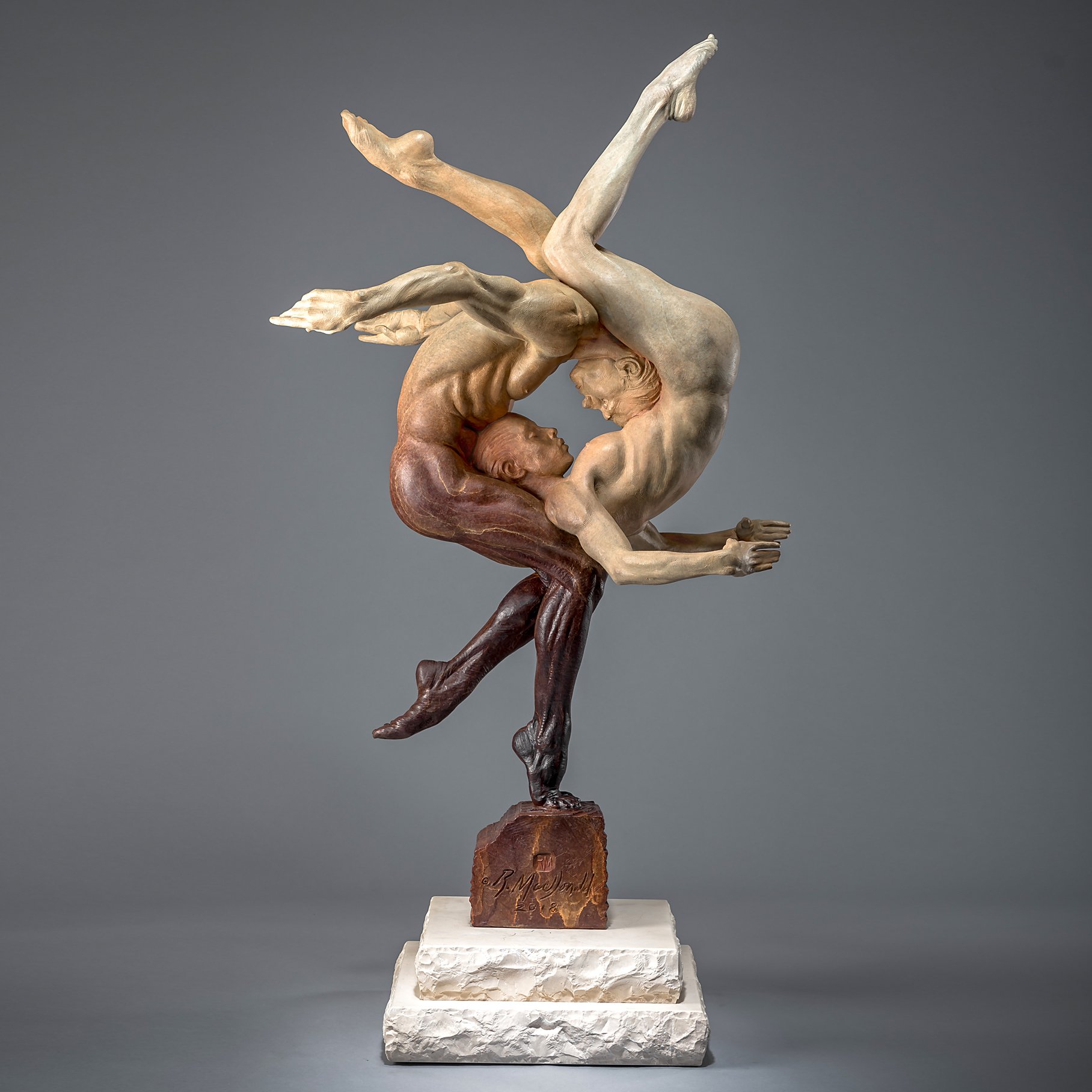 Dualit
y
(Yin & Yang) exemplifies the idea that the melding and balancing of opposites creates balance and harmony.

| | |
| --- | --- |
| | |
| | Working on Duality (Yin and Yang) with Cirque du Soleil performers Stephan Choiniere and Ekaterina Alexandrovna. |
What is your preferred material and why? Is there another material that you would like to work with in the future?
Richard MacDonald: I started as a painter and illustrator, and I love to paint with oil paints and with watercolor or other media. I like to work with anything I can get my hands on! Sticks, paint, paper, it doesn't matter, but currently, I mostly work with clay and the lost wax process to cast in bronze. I have carved marble, but prefer to work in clay.
Do you remember the first work of art you made?
Richard MacDonald: I drew a little in high school and had a very sophisticated teacher at one high school. My first sculpture was done at a different high school and a clay sculpture I was working on was destroyed by the teacher. Apparently, she didn't like it. I think that inspired me to do better sculpture! If I ever recall who she was, I will send her one of my books in appreciation.
What one place would you like your work to be shown if you could choose and why?
Richard MacDonald: I don't really have one place where I would like my work to be shown. I guess museums are the ultimate respect for an artist, but I very much enjoy the connection with the individuals and collectors who live with my art on a daily basis.



Left:

Aurora, 2014. Right: Elena III, Platinum, 2010.