The Philadelphia Show Returns to the Philadelphia Museum of Art with New Dealers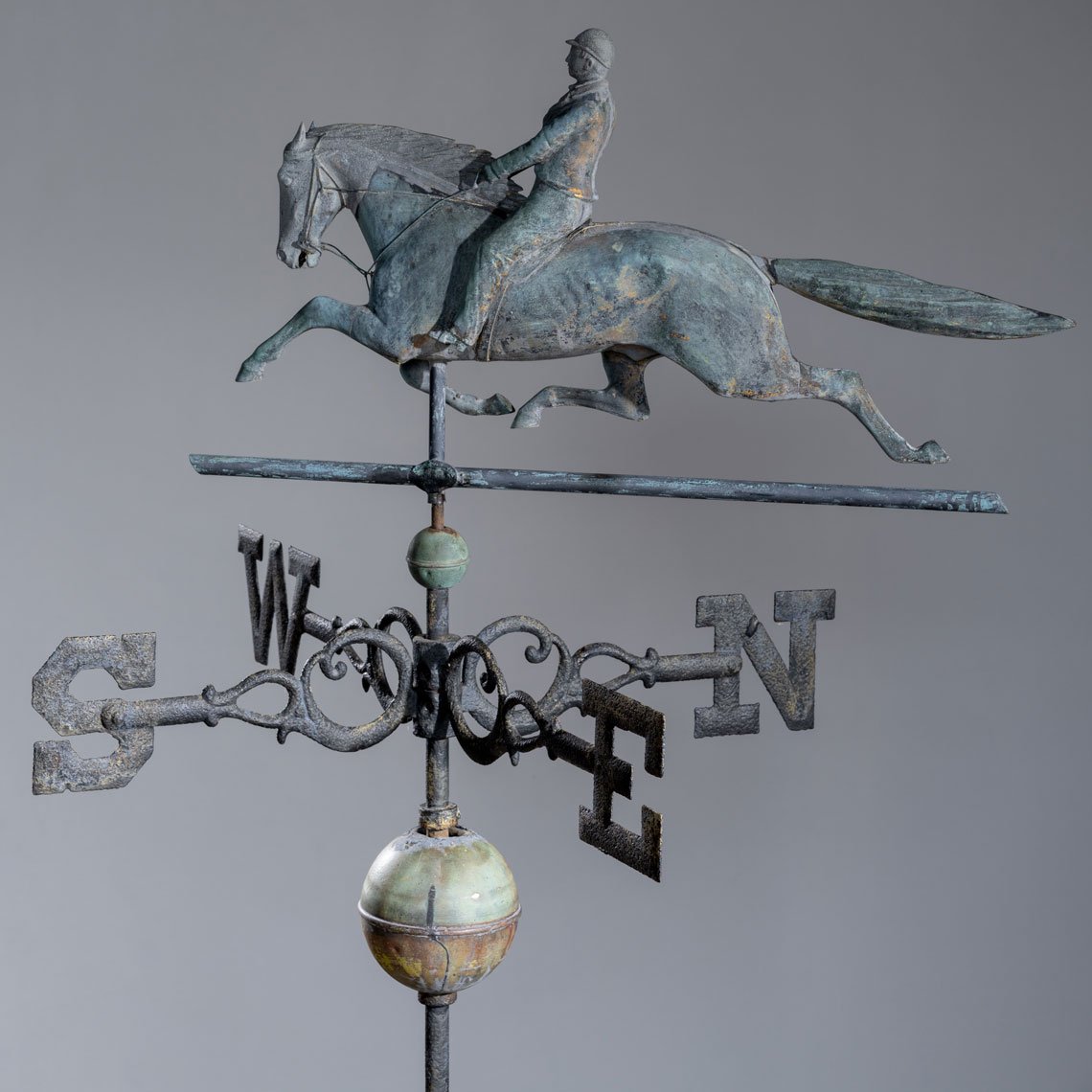 Dexter and jockey horse weathervane. Labeled "Cushing & White, Waltham, Mass.", circa 1870. Courtesy Olde Hope.

The Philadelphia Show Returns
to the Philadelphia Museum of Art with New Dealers
By Benjamin Genocchio
The Philadelphia Show returns for a second year to the elegant East Terrace at the Philadelphia Museum of Art. One of the leading art and design fairs in America, the 61st edition, on display from April 27 through April 30, 2023, includes forty-two exhibitors specializing in fine art, collectible design, antiques, Americana, folk art, ceramics, porcelain, silver, jewelry, textiles and decorative arts.
The Women's Committee of the Philadelphia Museum of Art and the Show Committee organize the fair annually, with all of the proceeds used to support educational programs at the museum. "We are proud that the Philadelphia Show supports the Philadelphia Museum of Art's Education Department and outreach to our community," says Ellen Caplan, Chair of The Philadelphia Show.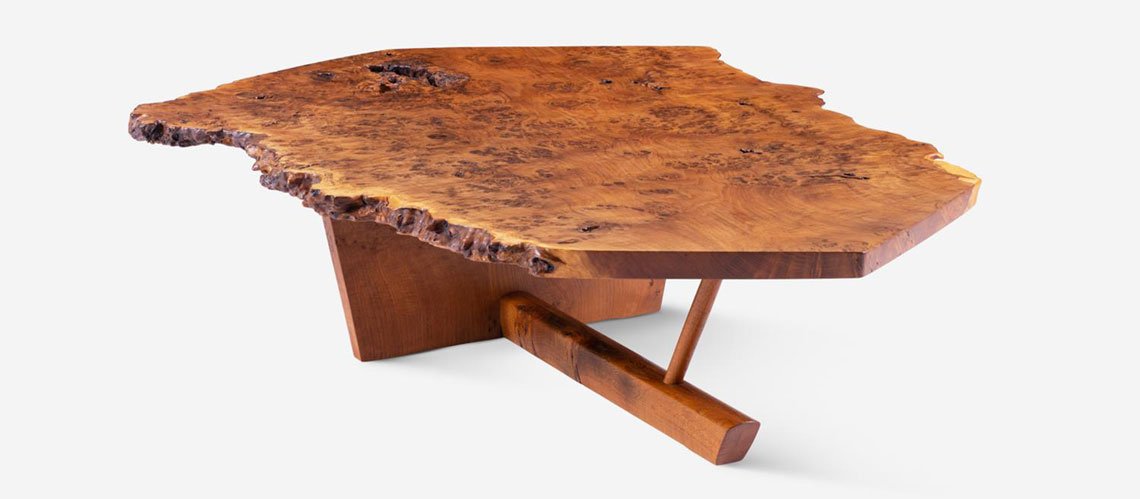 Minguren II coffee table by George Nakashima, 1986-7. English oak burl, 15 x 53 x 38 inches. The Minguren line was created to commemorate a number of shows in Japan first produced by an association of trusted designer-craftspeople in Japan. Courtesy of Moderne Gallery.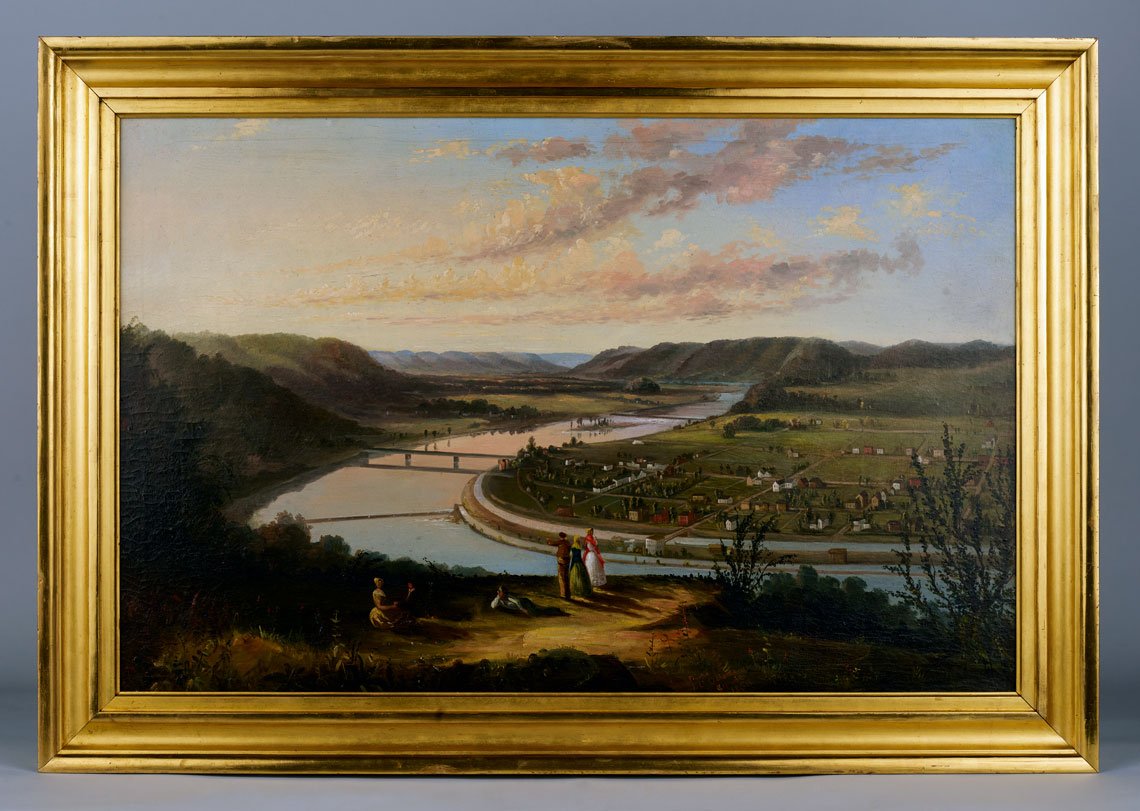 View of New Brighton, Pennsylvania. Signed and dated: J.O. Osborne/September/1850. Stunning landscape from across the river looking toward the town of New Brighton. Western Pennsylvania landscapes of this period are extremely rare. Oil on canvas, 32 x 46 inches. Descended in the McConnell family of New Brighton. Courtesy of Kelly Kinzle.
The Show has always had a dedicated following among national dealers and 85% of the galleries from last year's show have returned to Philadelphia, says the manager Huntley Platt. The 2023 show welcomes back longtime exhibitors including Jeffrey Tillou Antiques, Ralph M. Chait Galleries, S. J. Shrubsole, Olde Hope, Kentshire, Lillian Nassau LLC, Moderne Gallery and several more.
This year's show also includes new and returning exhibitors, A La Vieille Russie, M. Hanks Gallery, Old Print Shop, Susan Teller Gallery and Thistlethwaite Americana. "I had to take a year off of The Philadelphia Show for the birth of my son," says Taylor Thistlethwaite, Owner of Thistlethwaite Americana. "Now that the show is being held in front of the Museum, it has grown beautifully and it is an honor to be a part of it."



Left:

Coastal Massachusetts Queen Anne Lowboy, circa 1745-1770. Walnut with inlaid fan. Courtesy Nathan Liverant and Son. Right: American 14kt Gold Archaeological Revival Bangle Bracelet in Original Box. Tiffany & Co, 550-552 Broadway, New York, circa 1860. Courtesy of James Robinson, Inc.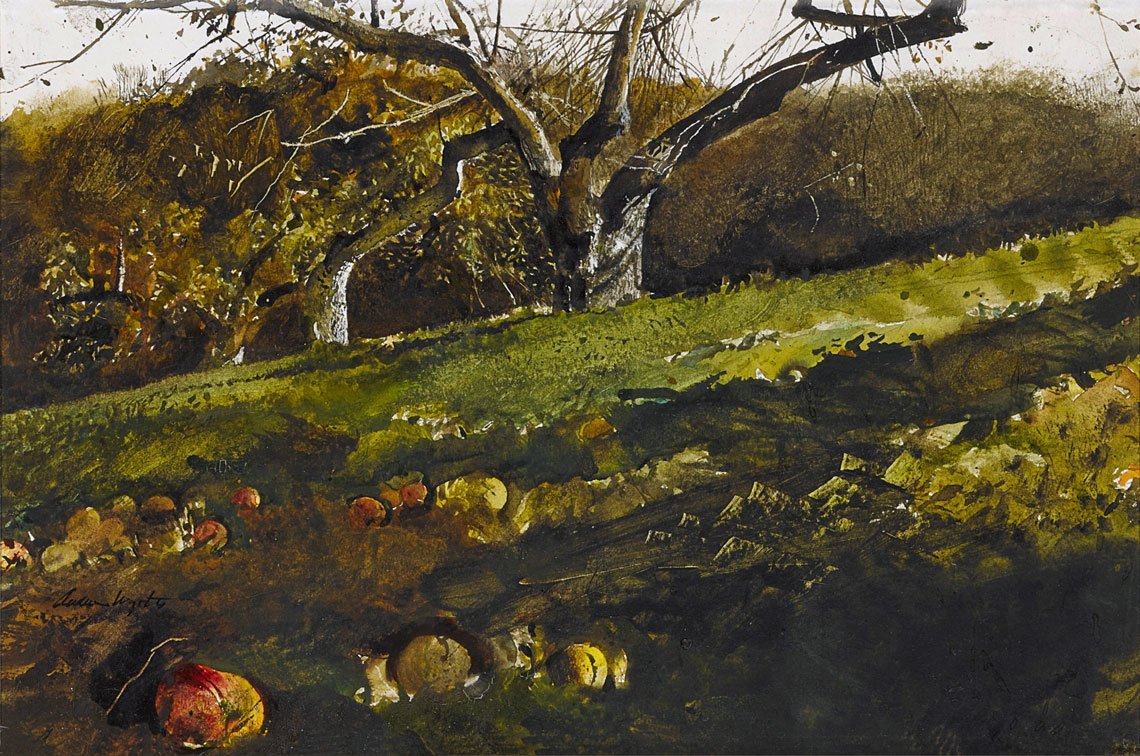 Andrew Wyeth (1917-2009), Apple Orchard, 1963. Watercolor and oil on paper, 11-1/2 x 17-1/4 inches. Signed lower left: "Andrew Wyeth". Courtesy of Somerville Manning Gallery.

Around 30% of the show is made up of fine art dealers and that percentage remains fairly stable once again. Among the most notable are Betty Krulik Fine Art from New York, specializing in European and American paintings from the 19th and 20th centuries, Somerville Manning Gallery from Delaware, and Avery Galleries from Pennsylvania. All three galleries are also returning dealers to the fair this year.
Americana dealers have always been a core strength of the Philadelphia Show and this year is no exception with a raft of top American dealers participating, including Kelly Kinzle, Diana H. Bittel Antiques from the Philadelphia area, and Nathan Liverant and Son from Connecticut. Rounding out the display are also dealers specializing in European and Asian art as well as underrepresented artists.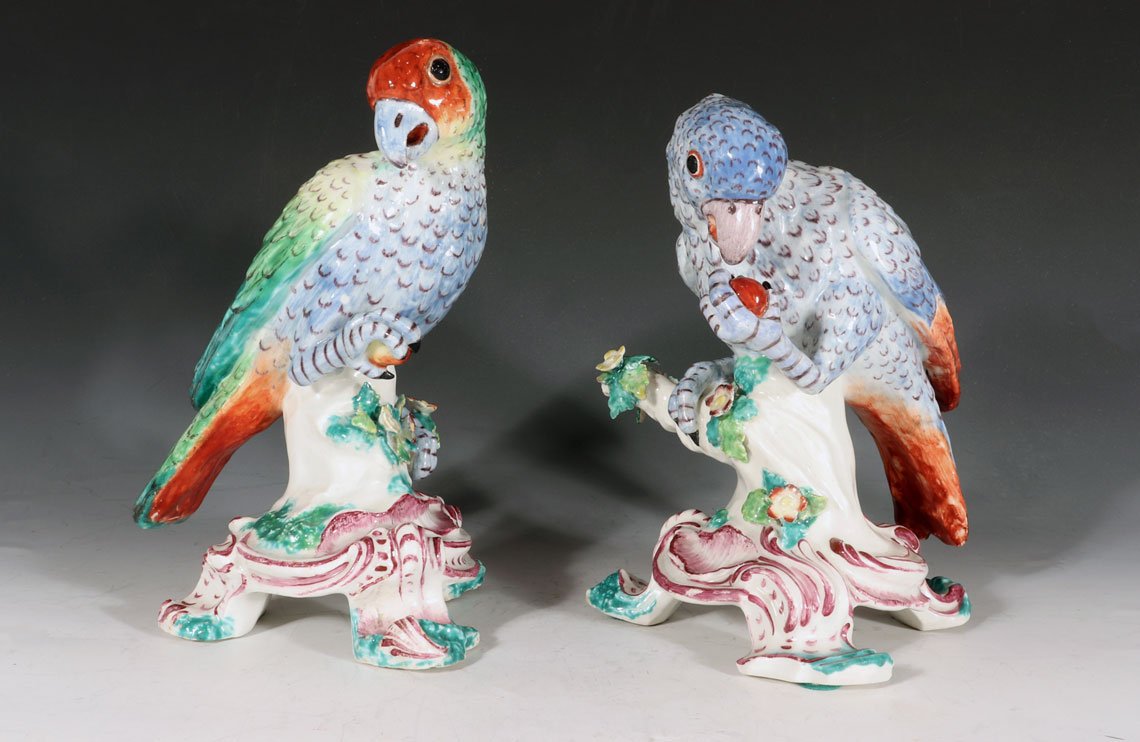 18th-century Bow Porcelain Models of South American Parrots, circa 1758-62. The pair are after parrots made at the Meissen factory and first modeled by J.J. Kändler in 1741. Courtesy of Earle D. Vandekar of Knightsbridge.



Left:

This is Harley Jenness painted by Mrs. Moses B. Russell (Boston, 1809-1854) in Dorchester, Massachusetts in 1853 when Harley was 1 year and 3 months old. The watercolor miniature is only 4-1/2 inches high. Courtesy of Elle Shushan. Right: Emma Fordyce MacRae (1887-1974), Lilies with Oriental Figures. Oil on canvas, mounted to board, 26 x 18 inches. Signed lower left: "EMMA FORDYCE MACRAE". Member: Philadelphia Ten Women Painters. Courtesy of Dixon-Hall Fine Art.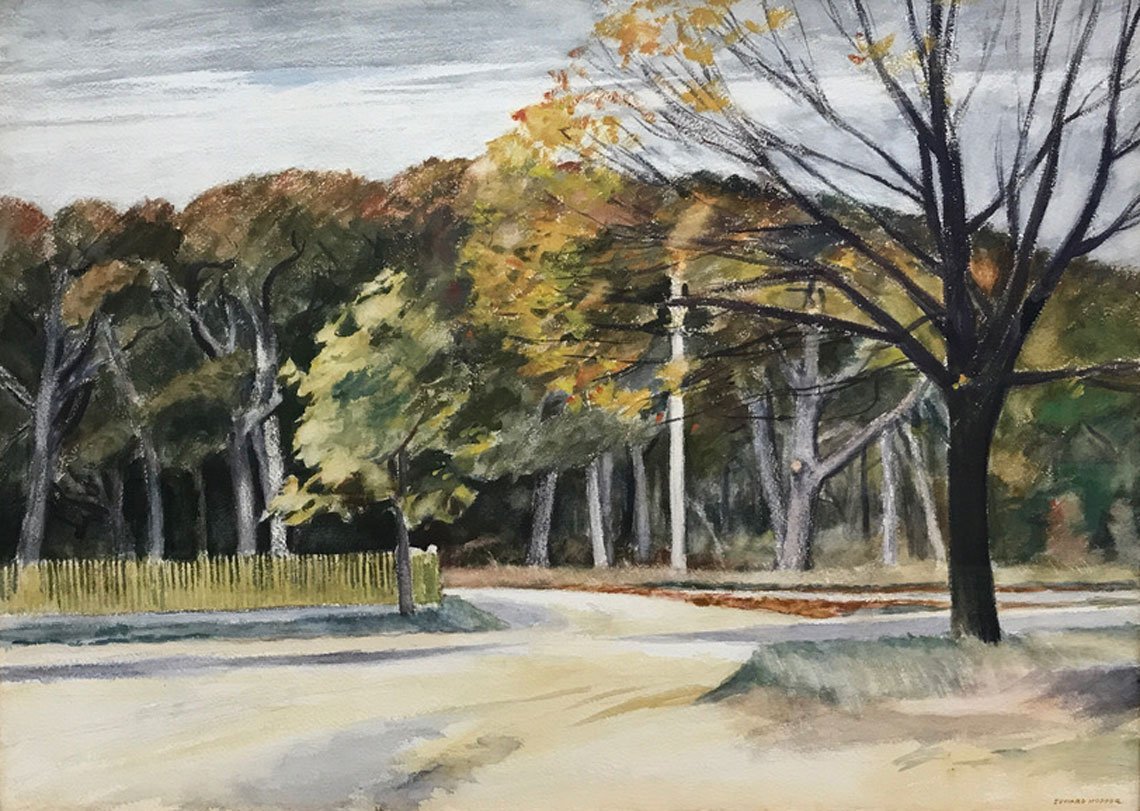 Edward Hopper (1882-1967), Oaks at Eastham, 1936. Watercolor on paper, 20 x 28 inches. Signed lower right: Edward Hopper. Courtesy of Betty Krulik Fine Art.


Left: A pair of antique gold earrings in the form of birds in their nests with ruby-set plumage and suspended from circular pearl-set surmounts, in 18k. Original box. Courtesy of Kentshire. Right: Meta Vaux Warrick Fuller, Waterboy (Bending), 1930 Bronze, 11 x 6 x 4 inches. Courtesy of M. Hanks Gallery.

Platt is especially proud of new dealers showing historical African American artists.
"Since 1988 I've owned and operated M. Hanks Gallery, specializing in African American art, and held many shows in my own gallery and participated in other art fairs across the country but this is my first time exhibiting at the Philadelphia Show," said Eric Hanks, founder of M. Hanks Gallery from California.
One artist whose work Hanks has shown for many years is Meta Vaux Warrick Fuller, originally from Philadelphia. "She created a relatively small but impressive body of work that has failed to attract the attention and appreciation that it deserves in part because she is Black and in part because she is a woman," Hanks says. "Everyone attending the show will benefit by learning more about her and other artists."



Left:

Rare and exceptional needlework of New York Harbor, Lady liberty near Castle William with American ships in the harbor, eagle above, train below and figures and man on horse. Signed Mrs. A. Seymour, 18?6. Courtesy of Diana H. Bittel. Right: Morris Blackburn (1902-1979), Still Life with Blue Pitcher, ca. 1942. Oil on canvas, 23-1/8 x 28 inches. Courtesy of Dolan/Maxwell.
Dates:
Preview Party
Thursday, April 27 — 6-9pm (5pm early admission)
For tickets to this event click here
Open to the Public
Friday, April 28 — 11am–8pm
Saturday, April 29 — 11am–6pm
Sunday, April 30 — 11am–5pm
Admission
General Admission — $20
Bundle ticket (museum and show) $35



Left:

Hicks Meigh Jar & Lid, Chinoiserie pattern. H: 15 inches. Courtesy of Janice Paull. Right: Willard Leroy Metcalf (1858–1925), Boothbay, Maine. Oil on canvas, 26 x 29 inches. Offered by Avery Galleries.

Exhibitors:
A La Vieille Russie – Russian Antique Jewelry and Art
Arader Galleries – Rare Maps, Prints & Books
Avery Galleries – American Fine Art
Diana H. Bittel Antiques – Fine American Furniture
Jeff R. Bridgman American Antiques – Antique American Flags and Textiles
Marcy Burns American Indian Arts, LLC – Native American Art, Pottery, Jewelry & Textiles
Ralph M. Chait Galleries – Chinese Ceramics and Fine Art
HL Chalfant Fine Art and Antiques – 18th - 20th century American Decorative Arts
Clarke Gallery – American Fine Art
Dixon-Hall Fine Art – 19th & 20th Century American and European Paintings and Works on Paper
Dolan/Maxwell – Modern & Contemporary Art
Gemini Antiques – Antique Toys and Banks
Barbara Israel Garden Antiques – Garden Antiques
Kentshire, New York – Fine & Estate Jewelry
Kelly Kinzle – Americana & Folk Art
Betty Krulik Fine Art – American & European 19th & 20th Century Art
Glen Leroux Antiques – Mid Century Modern & 20th Century Decorative Arts
Levy Galleries – Americana and Fine Art
Nathan Liverant and Son – Fine Americana
M. Hanks Gallery – African American Fine Art
Moderne Gallery – 20th Century Decorative Arts
Lillian Nassau LLC – Louis Comfort Tiffany and Tiffany Studios
The Old Print Shop – American Graphic Arts & Antiquarian Maps
Olde Hope Antiques, Inc. – American Folk & Decorative Arts
Peter Pap Oriental Rugs – 17th – 19th Century Rugs & Textiles
Janice Paull Antiques & Design – 19th Century Japanese Meiji Silk Embroideries & English Ironstone Pottery
Francis J. Purcell – Antiques and Mantels
James Robinson – Antique Jewelry, Silver, Glass & Porcelain
Schmidt-Dean Gallery – Regional, National, & International Fine Works of Art
Schwarz Gallery – 18th – 20th Century European & American Painting
S. J. Shrubsole – English & American Silver & Jewelry
Elle Shushan – Portrait Miniatures
Silver Art by D & R – Antique French Art & Silver
Somerville Manning Gallery – 20th & 21st Century Painting & Sculpture
Spencer Marks – Fine Antique Sterling and 20th Century Silver
Susan Teller Gallery – 20th Century American Fine Art
Thistlethwaite Americana – 18th to 20th century Americana Paintings, Prints, Decorative Arts, & Furniture
Jayne Thompson Antiques – English & Continental Furniture
Jeffrey Tillou Antiques – 18th & 19th Century American Antiques & Fine Art
Earle D. Vandekar of Knightsbridge – 18th & 19th Century Decorative Arts and Furniture