The Royal Treatment
Boccara Gallery owner Didier Marien brings his new collection of contemporary art rugs to an 18th-century French castle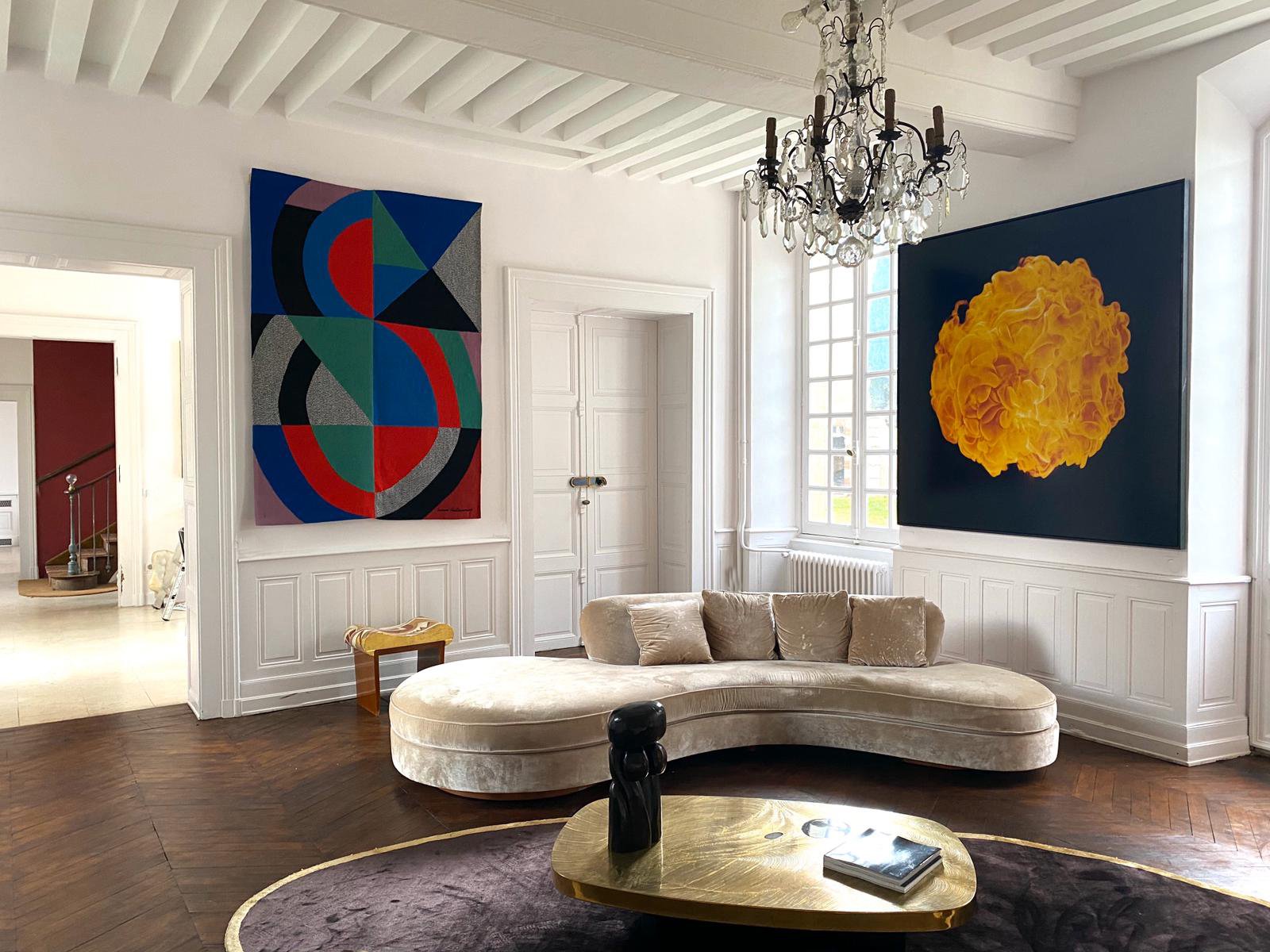 Shown mounted on the wall at left, behind a vintage 1970s Vladimir Kagan sofa, an extraordinary wool tapestry Le Grande Icône by Sonia Delaunay. The original artwork was created in 1965, the tapestry is circa 1970, and the rendition as textile art is particularly meaningful; the artist's breakthrough into abstraction was spurred by a quilt she made for her son in 1911. Le Grande Icône, Sonia Delaunay, c.1970. 147 x 209 cm, handwoven in wool, signed and numbered 2/6, in perfect condition with original vivid color.
An enchanting 18th-century castle in the French countryside of Aubusson, a region famous since the 14th century for exquisite hand-loomed tapestries and carpets, was the recent backdrop for a photo shoot by Boccara Gallery, featuring their new collection of contemporary art rugs and modern art tapestries. Marien chose the setting, which belongs to his family, he said, to honor the textile tradition of this special place, connecting the historical with the contemporary through the common thread of fine artisanal craft. All of the rugs in the collection, which are designed by contemporary French and American artists, are hand-loomed by master weavers in the Boccara workshop.



An original rug designed by Boccara, Surrealism, features a delicate calligraphic pattern in lustrous silk. Displayed on the table is the sculpture Femme, by contemporary Chinese artist Wang Keping, who lives and works in France. Surrealism by Boccara, 500 x 400 cm, hand-knotted in 100% natural silk; Femme, Wang Keping, 2019, 40 x 30 x 30 cm, bronze with black patina, signed and numbered, stamped Fonderie d'Art de la Plaine, Paris.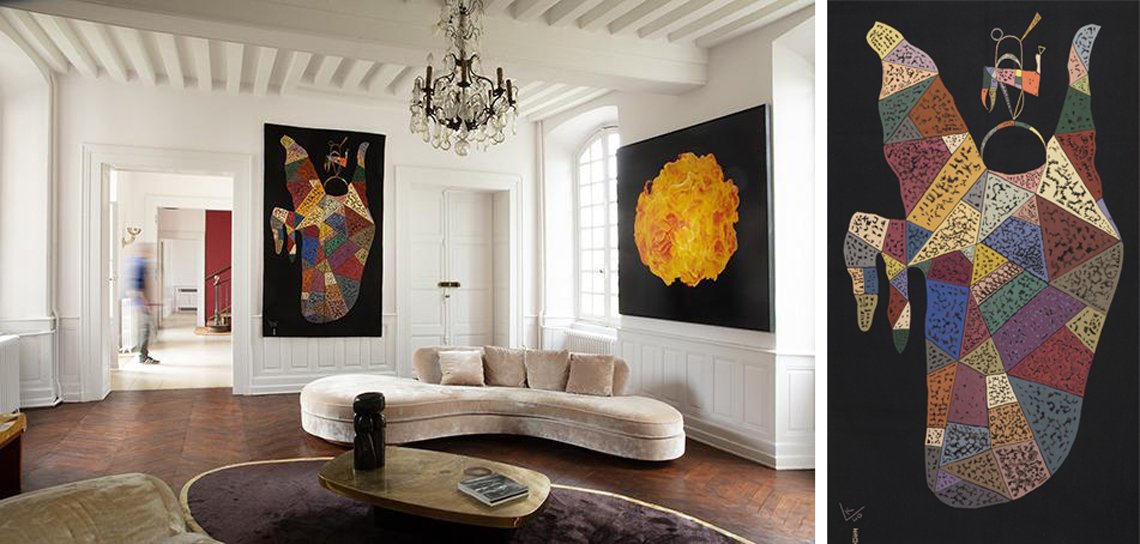 An important tapestry by the pioneer of abstract art, Wassily Kandinsky, created during his late Great Synthesis period. A large biomorphic mass, floating within a black field, represents his recurring symbolic themes of the horse and rider, and is colored in a patchwork of traditional Slavic hues. Sur Fond Noir, Wassily Kandinsky, 1940. 260 x 190 cm, signed K and dated 40, handwoven in wool by Atelier Tabard, Aubusson.
The designs, though strikingly contemporary, look completely at home in this historic property. Placed atop floors of richly patinated chevron parquet or French limestone, outside in the courtyard, or inside the rustic outbuildings, and mixed with a heady stew of contemporary and modern art and furniture from the 1970s and 80s, the vignettes evoke a timeless ambiance.
In a rustic outbuilding on the castle grounds, Portland, Oregon-based artist Benjamin Ewing's White On Black rug explores the language of line, or as the artist describes, "tracing paths of vision." Hanging above a 1970s de Sede Terrazza sofa is Envol, a 1960 wool tapestry by sculptor Émile Gilioli. Inspired by preliminary drawings Gilioli created prior to casting a work in bronze, it evokes a sense of architectural structure and dynamic movement. White On Black artistic rug, Benjamin Ewing, 420 x 320 cm, hand-knotted wool and silk; Envol handwoven wool tapestry, Émile Gilioli, 39.4 x 118 in .
Didier Marien has been owner and director of Boccara Gallery since 1994, and through the years has employed his considerable expertise to build a unique vision for the gallery, offering important antique tapestries and rugs from the 17th through the 19th centuries, 20th-century French tapestries by Jean Lurçat, Claude Dodane, Jean Picart Le Doux and Marc Saint-Saëns, and rugs and tapestries designed by major 20th-century artists including Fernand Léger, Albert Gleizes, Wassily Kandinsky and Sonia Delauney. The gallery also features modern abstract tapestries by Mathieu Matégot and Émile Gilioli, and rounding out its broad-ranging collection of textile arts, there are contemporary paintings, sculpture and photography.



Displayed in one of the castle's cobblestone-bordered courtyards to contrast the contemporary design in an antique setting, British artist David Stein's dynamic abstract work is an expression of balance and tension. Black by David Stein, 420 x 320 cm, hand-knotted wool.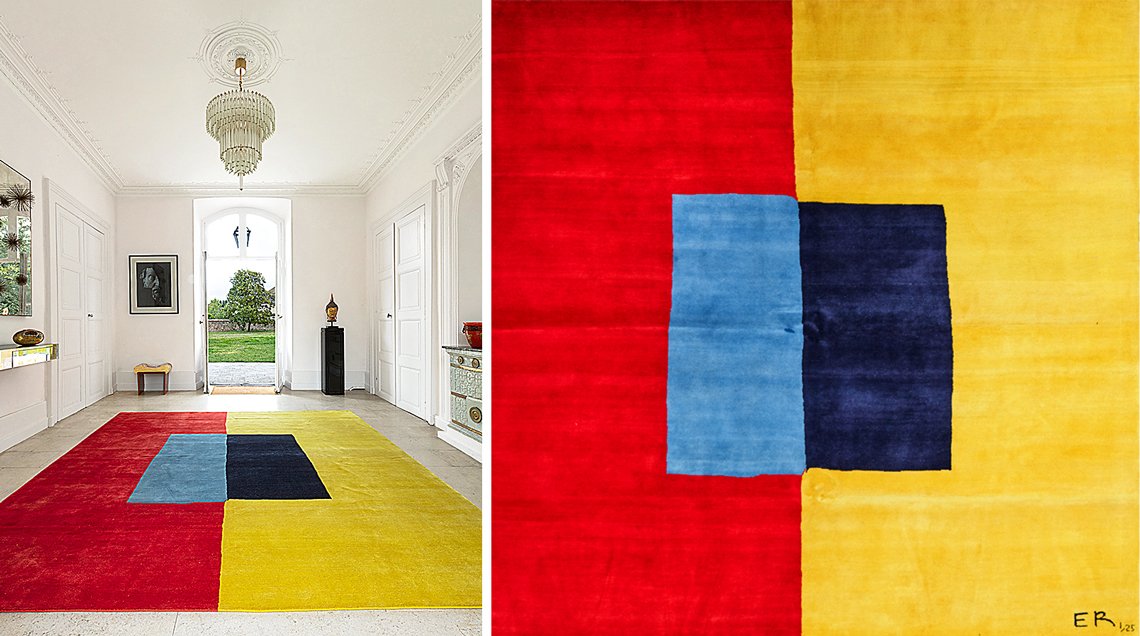 Artist Ellen Richman explores the interaction between minimalist shapes and voluptuous color in a vibrant and glowing rug animating a formal entry hall. The boldness and scale of the rug's design creates a pleasing contrast with ornate plaster details and a traditional crystal chandelier. N.2, Ellen Richman, 2019. 320x320 cm, signed, hand-knotted wool.
Clockwise from upper left: N.3, François Bonnel, 2019. 420 x 320 cm, signed, hand-knotted wool. White, Didier Marien, 2019. 420 x 320 cm, also available in 500 x 400 cm size, signed, hand-knotted wool and silk. N.1, Anna Mac, 2019. 420 x 320 cm, signed, hand-knotted wool.
VIEW MORE ARTISTIC RUGS, MODERN & HISTORIC TAPESTRIES AND ART
OFFERED BY BOCCARA GALLERY ON INCOLLECT