The Tastemakers: A Conversation with Interior Designer Juan Montoya
| | |
| --- | --- |
| | |
| | |
Juan Montoya has a way of making interiors feel exceedingly opulent without a lot of fuss. Once pegged as a minimalist, Montoya's style has evolved over the course of his career, but has always remained anchored in skillful restraint. Whether he's working on a breezy beach home or a sleek urban residence, Montoya employs a unique mix of textures, proportions, forms, and colors to create refined interiors that are underscored by a sense of sublime decadence.
Born in Colombia, Montoya studied architecture in Bogotá before moving to New York, where he graduated from Parsons School of Design with a degree in interior design. After a two-year stint studying and working in Paris and Milan, Montoya returned to New York. In 1978, he founded his eponymous firm.
We caught up with Juan to discuss his love of Art Deco and Bauhaus design, his idols, and much more.
---
"A room should never allow the eye to settle in one place.
It should smile at you and create fantasy."
---
Viennese Secessionist-style grids abound in Juan Montoya's basement Moonlight Room for Kips Bay 2018. An abstracted silhouette of the moon is represented by the oval motif in the rug he designed with Stepevi, repeated in the wall panels, and echoed in the tufting on the sofa back. Grid detail appears on the ceiling, as well, with Josef Hoffmann Wiener Werkstätte pendant lights from
Woka Lamps Vienna.
The 1940s cabinet is by
Otto Schultz,
and the stool is by
Wendell Castle
. Photo by Nickolas Sargent
Incollect: Your academic training began in architecture. While you were studying in Bogotá, were you planning on becoming an architect?
Juan Montoya: I am an architect and an interior designer. I did graduate from architectural school in Bogotá and then came to New York and received a degree in interior design from Parsons. I love both disciplines and the two are totally interrelated. It's a plus to be able to see projects through both the architect and the interior designer lens.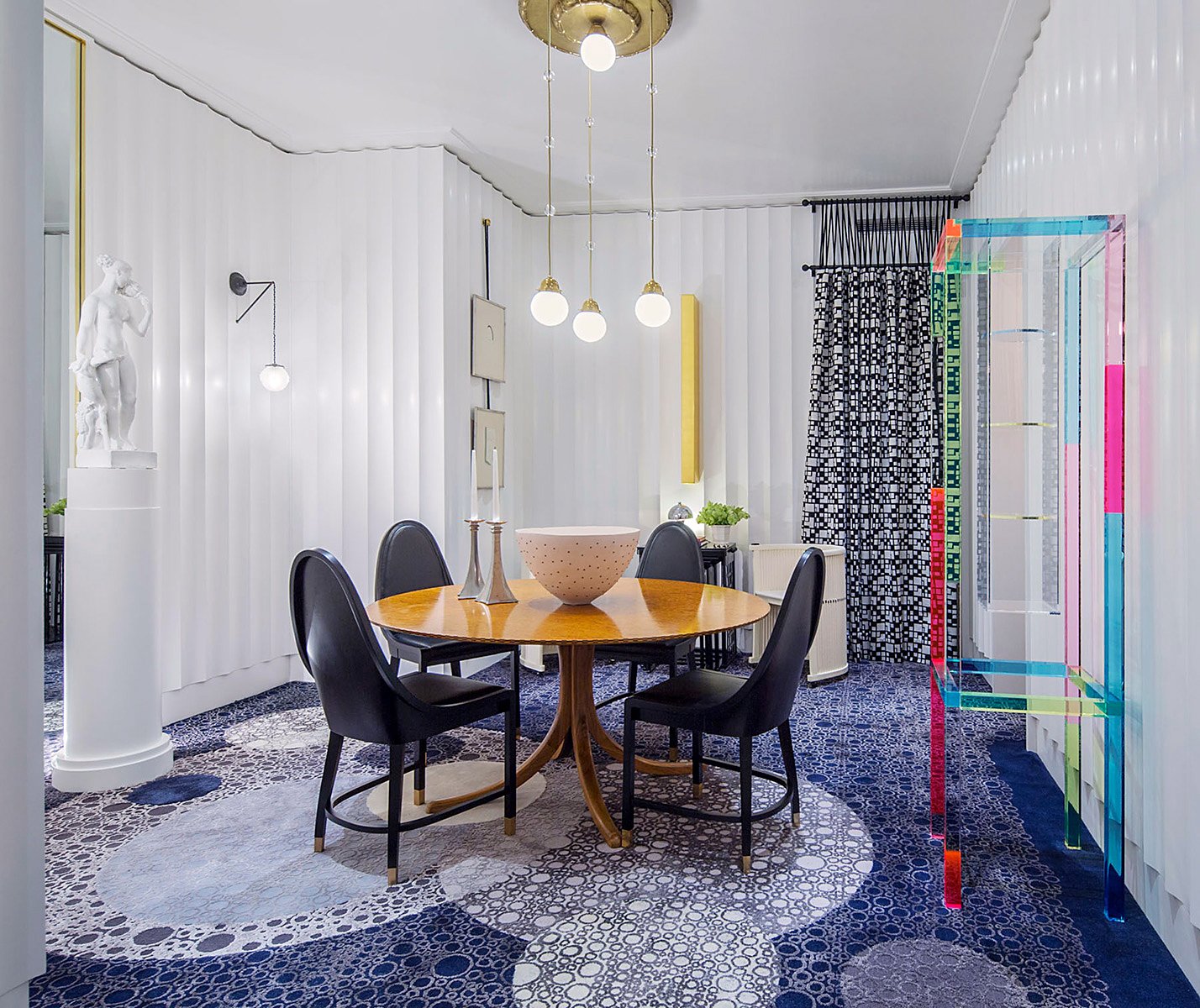 The dining room in Juan Montoya's suite of rooms for Kips Bay 2018 continues to explore his inspiration themes. At right,
Shiro Kuramata's
1989 multicolor acrylic Cabinet de Curiosité casts what the artist termed neiro, or "sound-color" throughout the room. The burled wood dining table is by
Josef Frank
, from
Studio Schalling
. At the rear, a set of Josef Hoffman's 1904 ebonized beechwood nesting tables is complemented with white armchairs by
Hans Gu
nther Reinstein.
The 1911 design is constructed of beechwood and corrugated cardboard with black details; both the nesting tables and the chairs are from
Kimcherova.
Montoya designed the cosmic-themed carpet, which he named Moon Island, with Stepevi. Photo by Nickolas Sargent
Incollect: How has that architecture-driven background influenced your work as an interior designer?
JM: There's a very important connection between architecture and interior design. As both an architect and an interior designer, I understand how a building is structured from the outside in and vice versa. An interior designer should be able to determine how a single space — or a whole building — is structured so that the design scheme does not obscure or damage something structural in the building. I am privileged to be able to do both.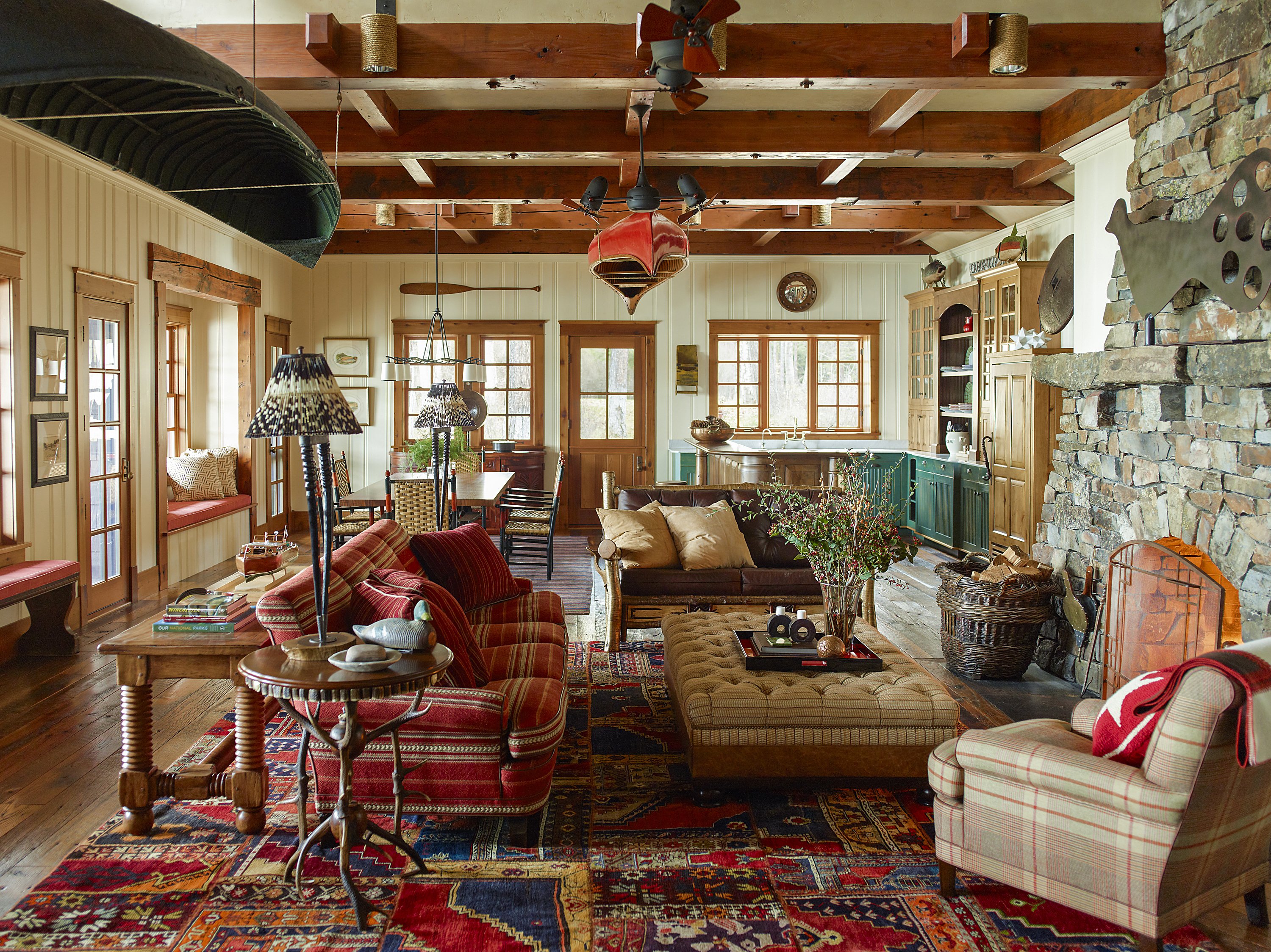 A remote fishing camp compound in the Rocky Mountains of northwest Montana with a main house and three guest houses, some dating back to the 1890s; all were redesigned by Juan. Sheetrock ceilings were removed to reveal original beams, and as needed, new beams were constructed to match for continuity.

Canoes built by local artisans hang from the ceiling and can be unhooked for use.

Plentiful windows, French doors and a window seat are framed in rustic pine and offer spectacular views of the lake, mountains and trees. The stone fireplace is original, with a sculpture above the mantel by Mr. Montoya. Antiques, including the sofa table, are mixed with custom pieces designed by Juan, such as the sofa. A side table with tree branch base and lamps with porcupine quill shades add to the camp theme. Photo by Eric Piasecki
Incollect: Are there any design movements, periods, etc. that you are particularly fond of or find yourself returning to again and again?
JM: There are two specific design periods that are important in my life and my work: Art Deco and the Industrial (Bauhaus). I always consider both in my work because both periods focus on attention to detail and that's what separates a pedestrian design from a truly superior one.


For "Las Hamacas," a family vacation home in the Dominican republic, Montoya designed a seamless indoor-outdoor flow, utilizing native materials and local artisans. Left: Montoya places great importance on entries, and feels that a "sense of arrival" is key to establishing a mood for the home, and this one certainly does. Intricately carved massive double doors sport outsize bronze doorknobs. Right: An enormous rice paper and bamboo light points up the striking palapa-style woven palm ceiling detail in this bedroom. Montoya created the design for the doors and the headboard. Photos by Eric Piasecki

Incollect: Who are some of your favorite designers (past and present)?
JM: So many design geniuses have influenced me over the years. If I had to name just a few I would say Zaha Hadid, Louis Kahn, and Gunnar Asplund are my idols.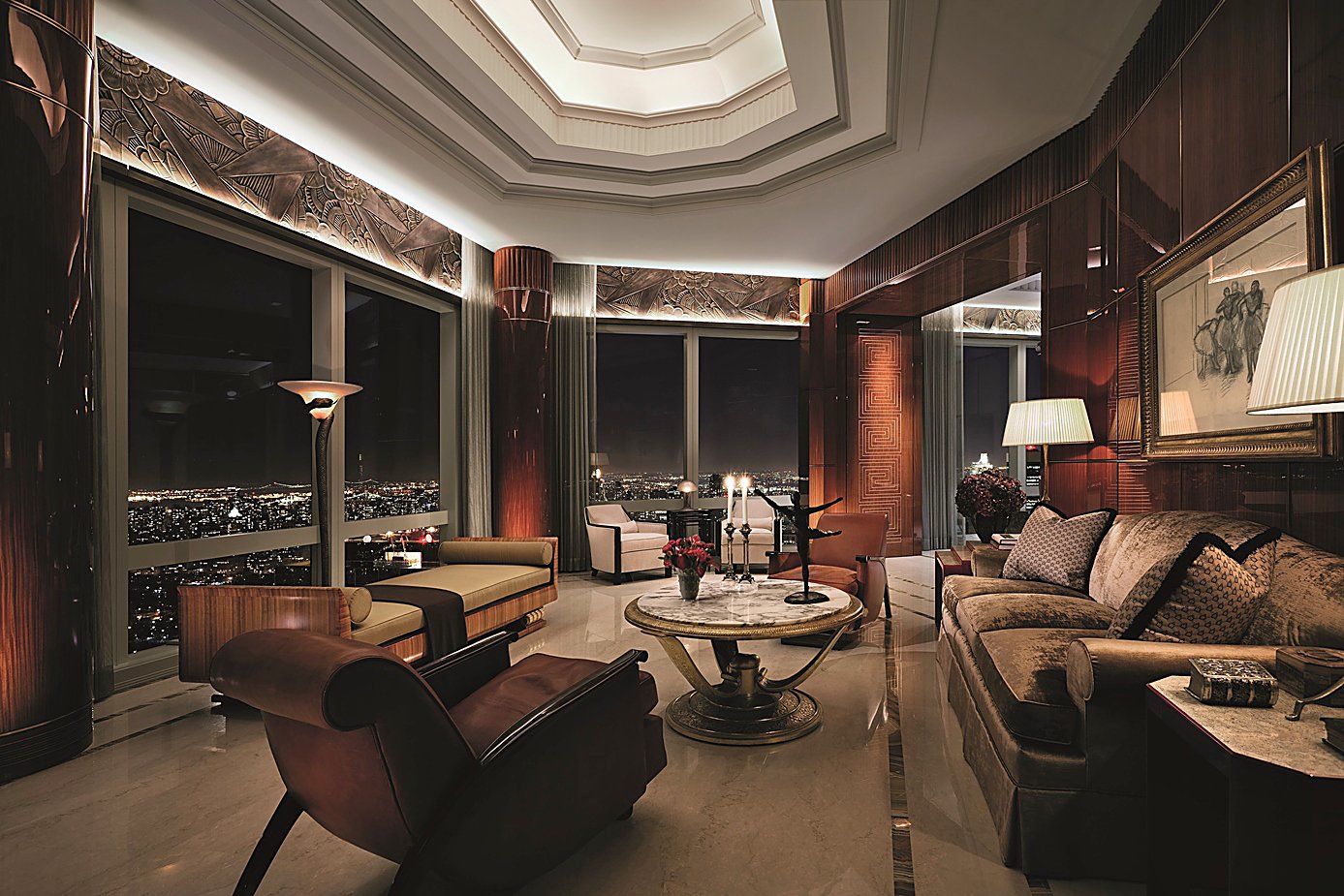 A glamorous and sultry 75th-floor Park Avenue penthouse with wrap-around views and Art Deco style. Exotic woods, a multi-tiered tray ceiling, and a dramatically-lit frieze of Deco-motif bronze panels set the mood. "Gonse" lounge chairs designed by
Émile-Jacques Ruhlmann,
face the gilded wood and marble cocktail table, also a design by Ruhlmann. By the window, a torchiére with entwined serpent and inviting daybed frame the city lights. Photo by Scott Frances
Incollect: What is your favorite room to design? What about that room appeals to you?
JM: The kitchen of today is my favorite room, mostly because it encompasses other adjacent areas like the family room, the great room, even a library, that are important for a family's daily life.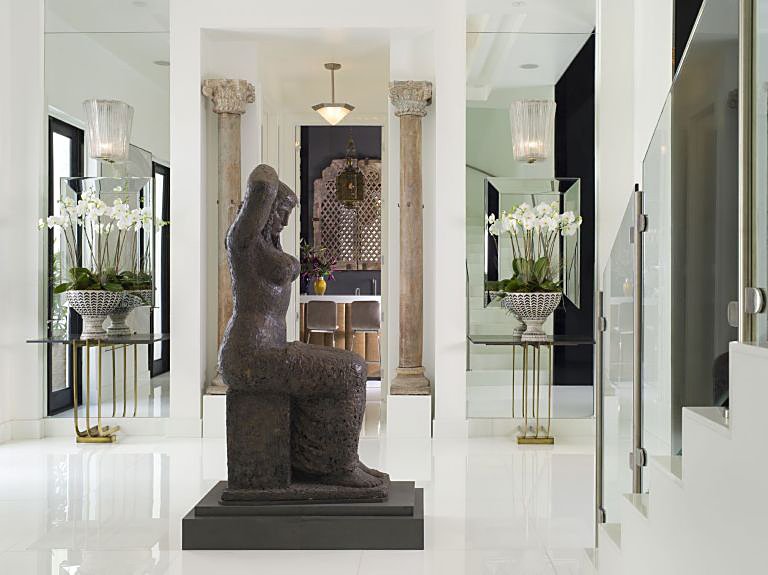 Art Deco and exotica: In the entry hall of a Miami home filled with treasures from around the globe, a bronze nude by French sculptor
Lucien Gibert
greets visitors. Console tables by
Raymond Subes
are paired with
Lalique
sconces. Photo by Ken Hayden
Incollect: What is your favorite part of working with a client on a project?
JM: The process, the chemistry, the interaction. If you don't have that rapport with your client, something essential is missing. A designer must establish a good working relationship with the client so that when the project is completed, it is exactly what the client, not the designer, wants.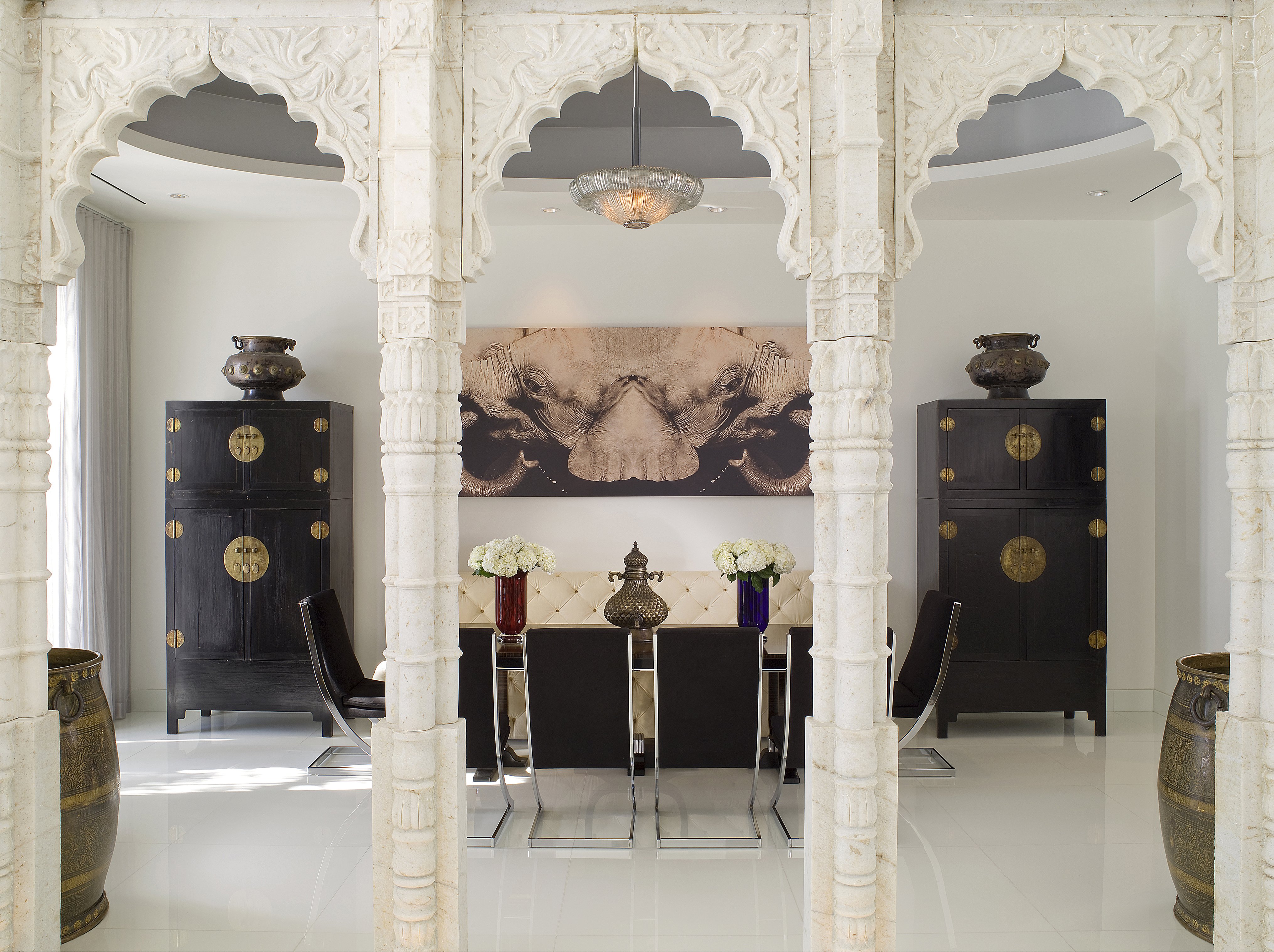 More from the spectacular Miami home: Marble colonnades from an Indian gazebo frame the entry into the dining room. An Art Deco pendant light hangs above the Macassar ebony dining table, with 1960s chrome and leather chairs. Antique Chinese laundry chests bracket a custom tufted banquette. The "twin elephant" photo is from an original snapshot taken by the homeowner in Nairobi; Juan Montoya had it composited and enlarged to create the image seen here. Photo by Ken Hayden
Incollect: What is something our readers might not know about you (i.e., a secret hobby, passion or interest)?
JM: I am really very athletic. I love to swim, which I do whenever I can at my house in the country. I also love jogging and playing tennis. I guess you could say I'm a secret jock!
A Park Avenue living room with custom cabinetry designed by Juan. The shelves display
Robert Indiana
's ONE through ZERO. A pair of Butterfly Stools are by
Sori Yanagi
, the coffee table is by
Wendell Castle
; it hosts a small
Calder
stabile Five Rudders, 1964.
Incollect: What are the greatest lessons you have learned over the course of your career? What advice would you give to designers who are just starting out?
JM: I've learned so many things during my career, but two important lessons to live by are to be able to accept criticism and to do everything with passion. This business is not about making money, it's about doing what you love so you'll be happy.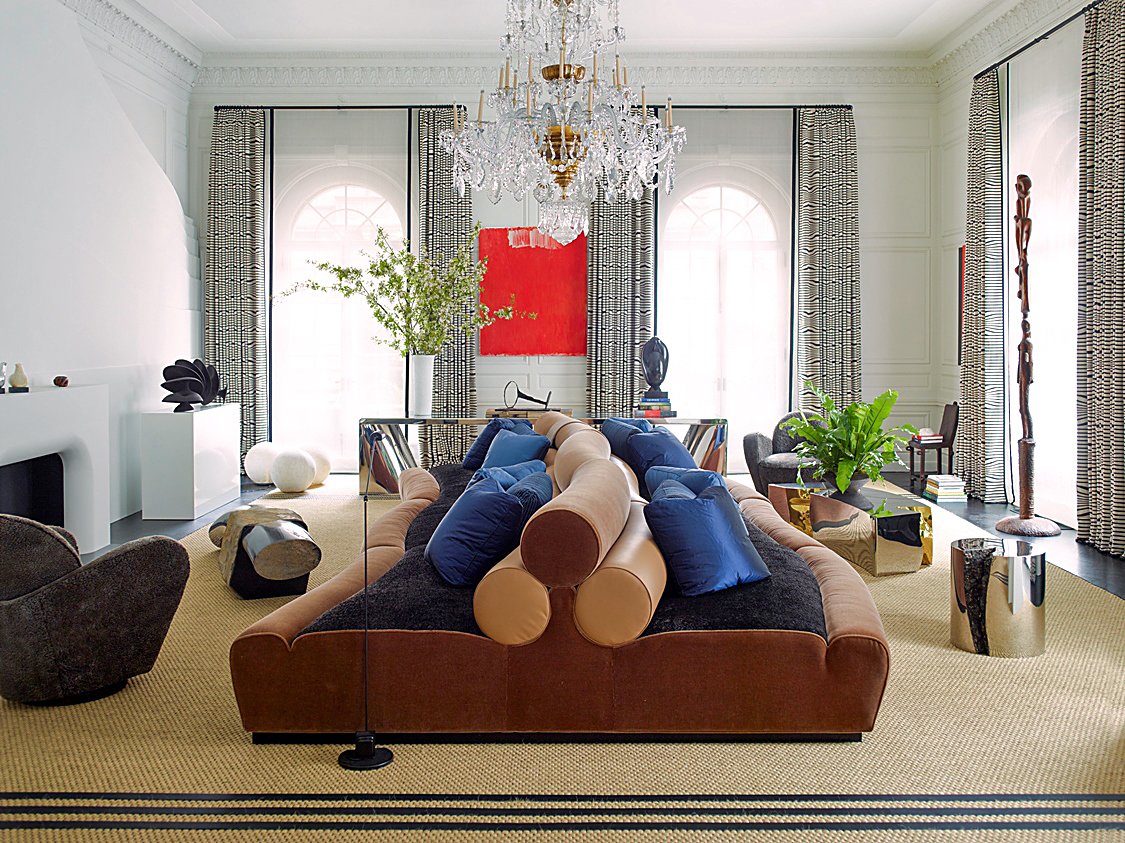 Kips Bay 2014: Juan designed a custom 16-foot back-to-back sofa with subtle serpentine curves, covered in sumptuous faux astrakhan and velvet. The basalt sculpture/table/bench on the left of the sofa is by contemporary Korean artist Byung Hoon Choi; it weighs 3,000 lbs. The swivel lounge chairs are by Juan Montoya, the black ceramic sculpture at rear left is by Swedish artist Eva Hild, between the windows is a work by British artist Christopher Le Brun, and the antique gilt bronze and crystal chandelier dates to the 19th century. Photo by Eric Piasecki
Incollect: What's the best compliment you've ever received from a client?
JM: There are two things clients say that are complimentary and that make me happy — one is that the client is happy every time he or she walks through the space, and the other is that the client would never change a thing because he or she loves it all.
CLICK HERE TO VIEW MORE PROJECTS BY JUAN MONTOYA ON INCOLLECT