This Week's Events: SOFA CHICAGO, Antiques + Modernism, Mark Tobey, American Workers in Art, Impressionism & More
ART AND DESIGN SHOWS
SOFA CHICAGO
November 2-5, 2017
Navy Pier, Chicago
The Sculpture Objects Functional Art and Design (SOFA) Fair in Chicago is the premier art fair dedicated to three-dimensional art and design. Noted for its exceptional presentation of works that cross the boundaries of fine art, decorative arts, and design, the show features an elite selection of nearly 80 international exhibitors presenting one-of-a-kind masterworks in handsome, custom-designed gallery displays. With a strong educational emphasis, SOFA CHICAGO includes an acclaimed lecture series and special exhibits exploring the artworks on view and surveying new trends in the art world. A VIP program includes exclusive events tailored to high-profile gallery clients and collector/museum groups.
Antiques + Modernism in Winnetka
November 3-5, 2017
Winnetka Community House, Winnetka, IL
http://www.thewinnetkashow.com
The Antiques + Modernism Winnetka Show (A+M Show) is the ultimate destination for interior designers, shoppers, and collectors alike. Ranging in styles from classic to modern, the show is renowned for exquisite home furnishings and accessories, artwork, clothing, and jewelry, exclusively available for purchase from dealers who are nationally recognized specialists. The show's 60-year history and prevailing reputation speak to the caliber of this spectacular style and design event. Proceeds from the show benefit Winnetka Community House, a unique, local non-profit that provides educational, cultural, social and recreational opportunities for people of all ages.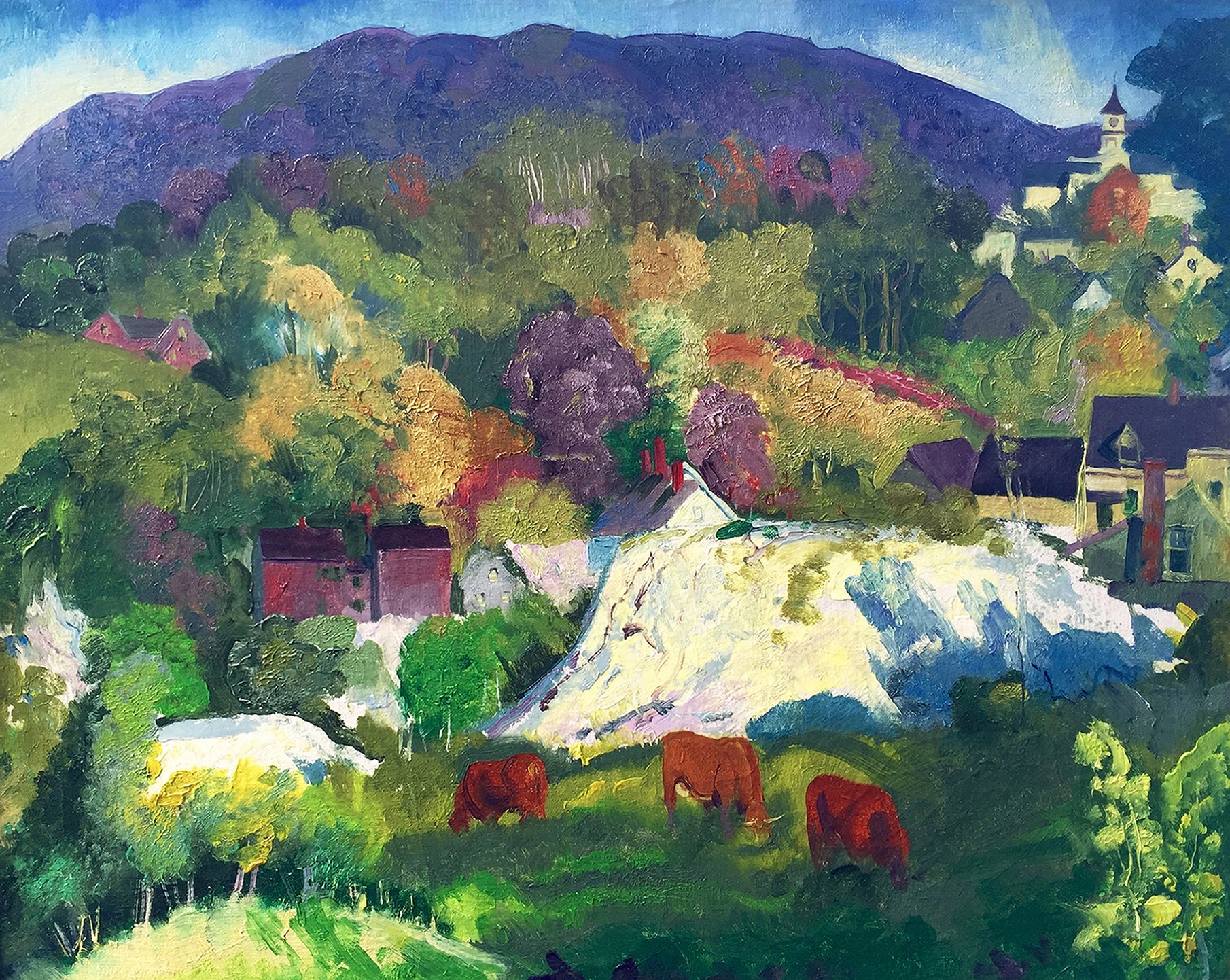 October Art Week 2017
Through November 2, 2017
Upper East Side, NYC
Celebrate the second annual October Art Week, which takes place alongside the TEFAF New York Fall show. Nineteen preeminent fine and decorative art dealers have opened their doors for this celebratory occasion of "open houses." Participating galleries include Debra Force Fine Art, Mark Murray Fine Paintings, Taylor|Graham, and Dalva Brothers.
George Wesley Bellows (1882-1925), Camden Maine. Oil on canvas, 22 1/2 x 28 1/2 in.
Offered by Mark Murray Fine Paintings.

MUSEUM EXHIBITIONS
The Sweat of Their Face: Portraying American Workers
November 3, 2017-September 3, 2018
National Portrait Gallery, Washington, D.C.
http://npg.si.edu/sweat-of-their-face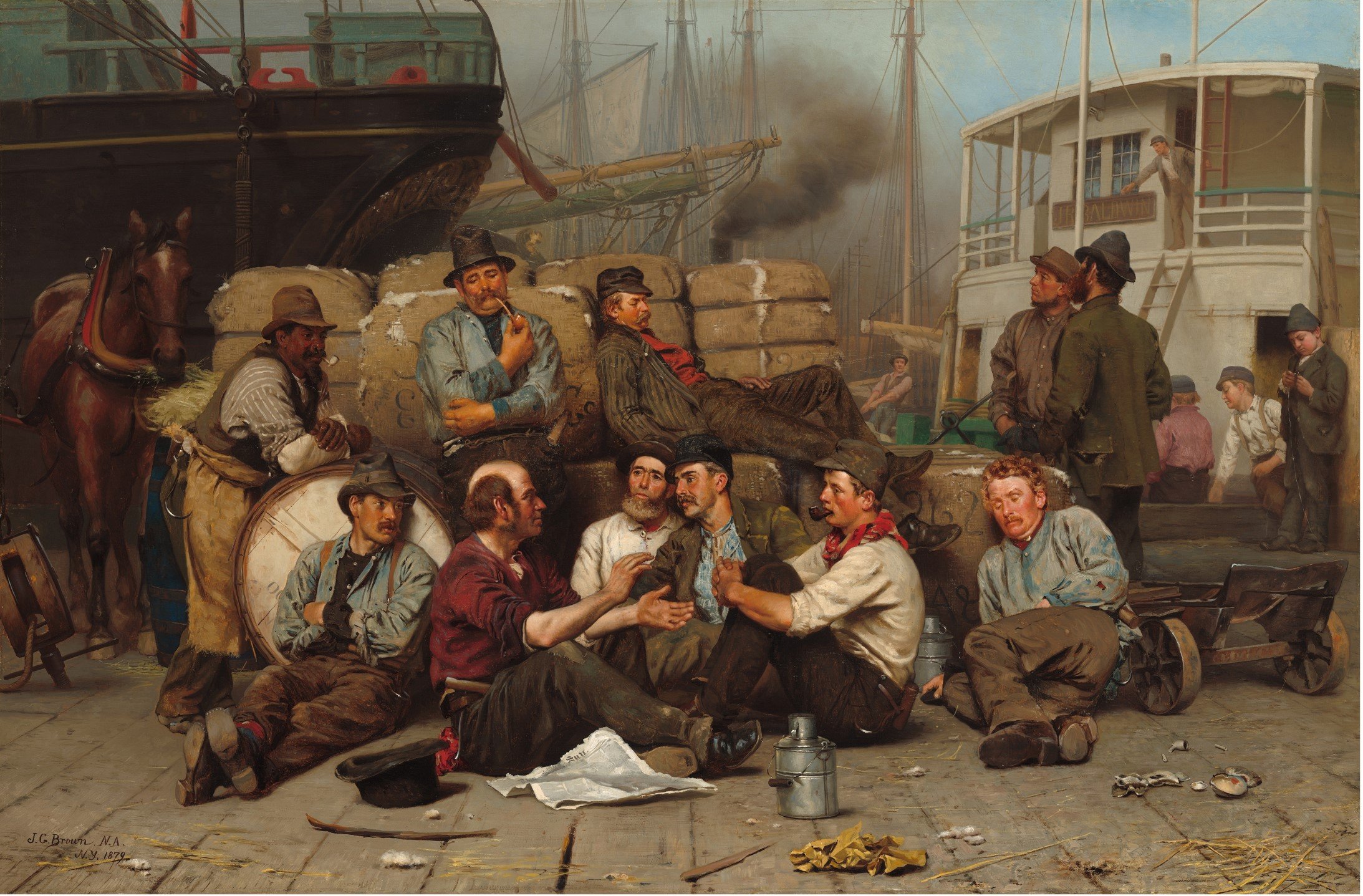 John George Brown, The Longshoreman's Noon, 1879. Oil on canvas. National Gallery of Art, Washington, D.C.;
Corcoran Collection (Museum purchase, Gallery Fund), 2014.136.2.
The National Portrait Gallery's exhibit, The Sweat of Their Face, will include nearly 100 images that portray how American laborers have shaped and defined the country during the course of its history, from the Colonial era to the present day. On view will be paintings, sculptures, drawings, prints, media art and photographs that depict images that examine the intersection between work, art, and social history. Featured artists include Winslow Homer, Dorothea Lange, Jacob Lawrence, and other renowned artists.
The Impressionist Line: From Degas to Toulouse-Lautrec
November 5, 2017-January 7, 2018
Clark Art Institute, Williamstown, MA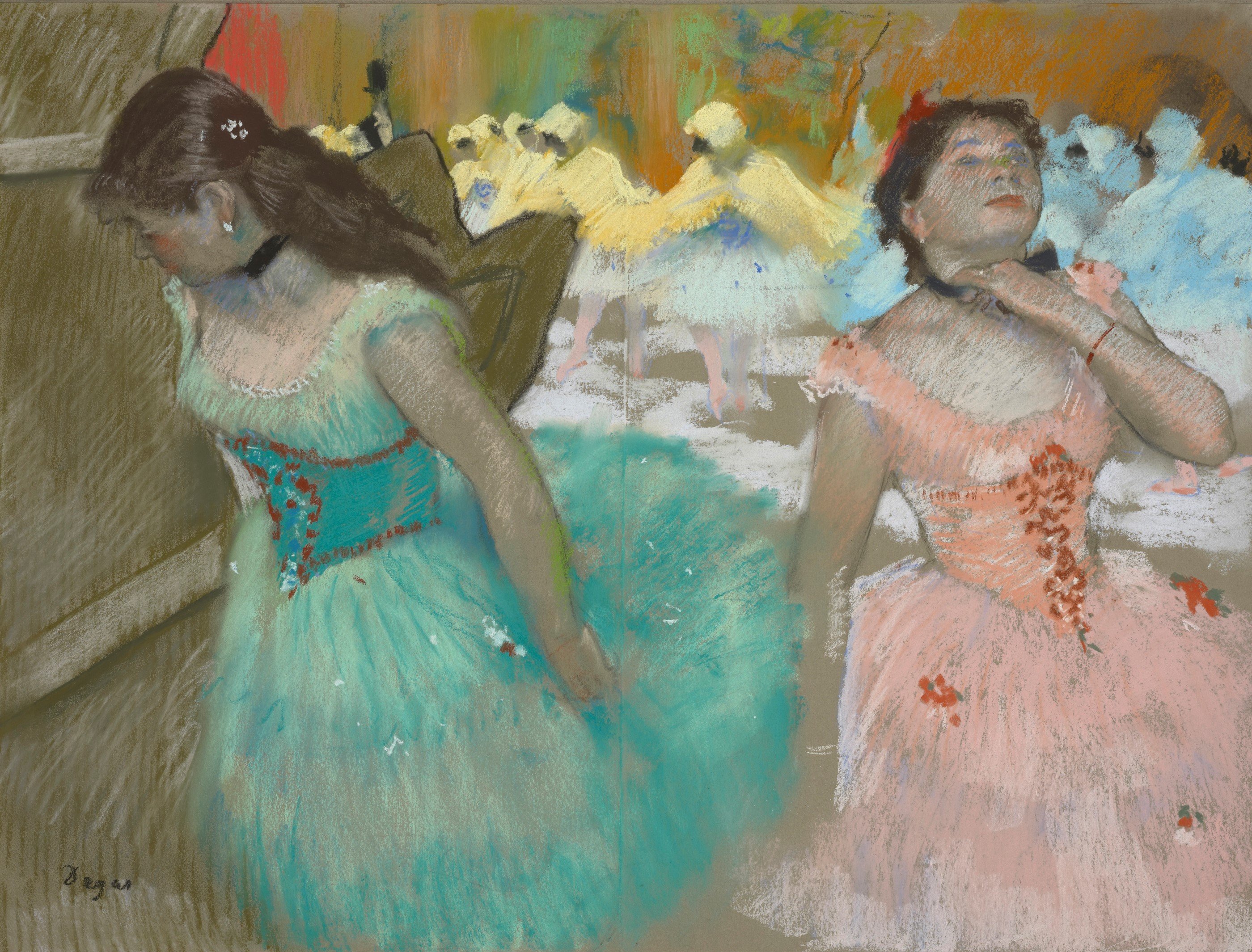 Edgar Degas (French, 1834–1917), Entrance of the Masked Dancers, c. 1879. Pastel on paper, 19 5/16 x 25 1/2 in. Clark Art Institute, 1955.559.
The Clark Art Institute has a collection of more than 6,000 works on paper. The exhibition The Impressionist Line brings to light thirty-nine impressionist works among the Clark's holdings by masters such as Charles-François Daubigny, Édouard Manet, Edgar Degas, Mary Cassatt, Camille Pissarro, Paul Gauguin, Henri de Toulouse-Lautrec, and others, that are executed on paper. While impressionist works in oil are generally the most celebrated, this exhibition challenges this perspective by exploring the substantial and often experimental contributions to the graphic arts of works from this vibrant period in art history. The exhibition demonstrates not only the Impressionists' embrace of modern subjects, but also their enthusiasm for new artistic materials and technologies, as well as ties to public and commercial ventures, such as fine art publications and art dealers. Says exhibition curator Jay A. Clarke, "The Impressionist Line is a true mini-survey of French prints and drawings produced during the last decades of the nineteenth century, and it tells the story of the graphic line in black and white and color through some of the greatest practitioners of their time."
Mark Tobey: Threading Light
November 4, 2017-March 11, 2018
Addison Gallery of American Art, Andover, MA
One of the foremost American artists to emerge from the 1940s, a decade that saw the rise of abstract expressionism, Mark Tobey (1890–1976) is recognized as a vanguard figure whose "white-writing" anticipated the formal innovations of New York School artists such as Jackson Pollock. The first comprehensive retrospective of Tobey's work in the United States in forty years, the exhibition traces the evolution of the artist's groundbreaking style and his significant, yet underrecognized contributions to American modernism.
Tobey's unique calligraphic renderings and labyrinthian compositions, which he first exhibited in New York in 1944, were based on intense observation of nature, the city, and the flow of light. He relocated to Europe in the 1950s and 1960s, becoming, in 1958, the first American painter after James McNeill Whistler to win the City of Venice Prize. Tobey's later works became large scale and reflected a "higher state of consciousness" not bound by a geography or country.
Mark Tobey, Threading Light, 1942. Tempera on board. The Museum of Modern Art, New York; Purchase (86.1944).
©
2017 Mark Tobey / Seattle Art Museum, Artists Rights Society (ARS), New York.