Thomas Jayne Designs A Beekman Place Duplex With A Dazzling Modern Art Collection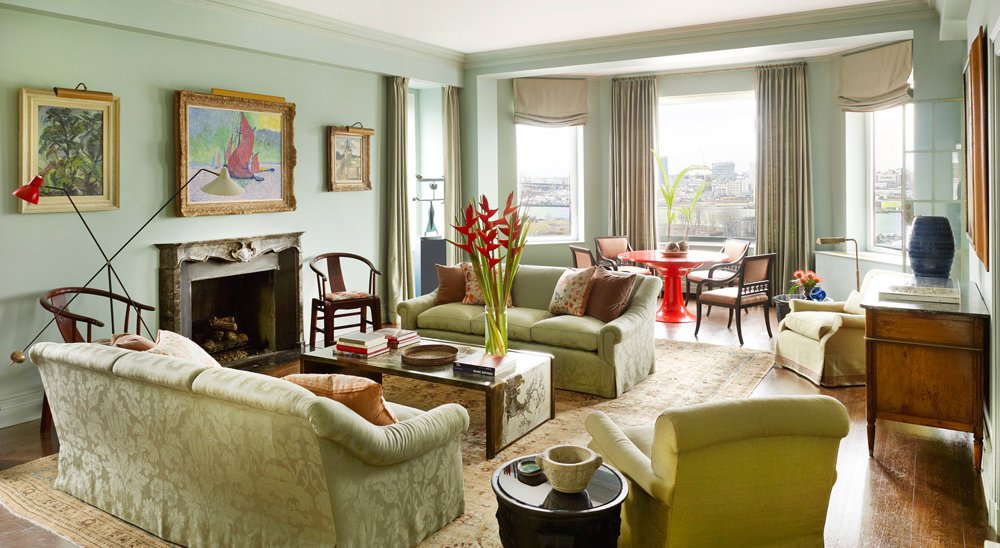 Designed by Jayne Design Studio
| | |
| --- | --- |
| | |
| | Thomas Jayne |
In a Beekman Place duplex apartment with a museum-worthy collection of modern art ranging from early Picasso works to Jim Dine wall sculptures, Thomas Jayne has woven in important examples of design that together, create a gracious and delightful pied-à-terre. Wall colors and a subtle strié paint treatment by renowned French decorative painter Pierre Finkelstein were carefully chosen to enhance but not overwhelm the artwork, and to evoke the sense of a private residence rather than a gallery. In the living room above the marble mantel hangs Les Voiles Rouges, 1906, a significant work by French Fauve artist André Derain. A pair of Chinese horseshoe chairs flank the fireplace, an enameled patinated bronze waterfall coffee table by Philip and Kelvin LaVerne is placed between the couches, and by the bay window, German designer Otto Zapf's 1967 fiberglass column dining table in bright red injects a jolt of color.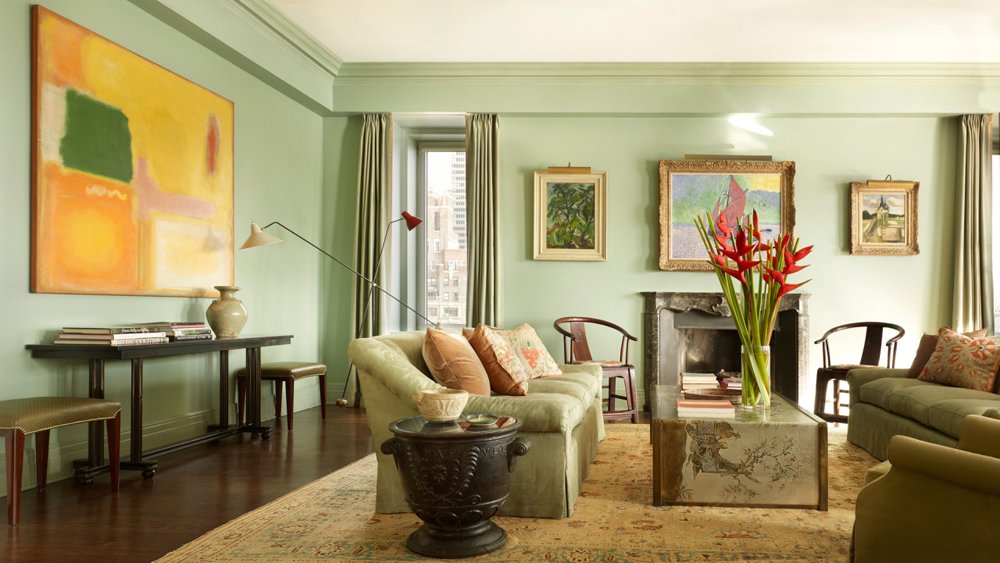 Over the console table is a large color field painting by Mark Rothko. A pair of bronze urns, ca. 1920s by Swedish sculptor
Ivar Johnsson,
are topped with glass to create side tables. The articulated Equilibrium Double-Branch floor lamp, ca. 1950 by mid-century French designer
Pierre Guariche,
is constructed of brass and enameled metal.



In a casual dining area positioned by a bay window with panoramic views of the East River, a 1967-designed Column Dining Table by German designer

Otto Zapf

punctuates the room with bold color and streamlined form. It complements the Rothko painting on the opposite wall, both injecting modern notes into a classical composition.






In the foyer, clean-lined graphic wall sculptures by American Pop artist

Jim Dine

line the staircase, a 19th-century Italian center table and chandelier add ornate character, and a sketch by environmental artists Christo and Jean-Claude hangs on the wall at left.






A section of the library shows an African Period

Picasso

oil painting, Seated Nude, 1908. Below the painting is an early 20th-century French étagère, its subtle curves echoed by a graceful 18th-century English corner chair.




In the library, a Blue Period portrait by

Picasso

provides a focal point above the mantel. Other features include a collection of pre-Colombian artifacts on the shelves and an early 20th-century

Aubusson

carpet.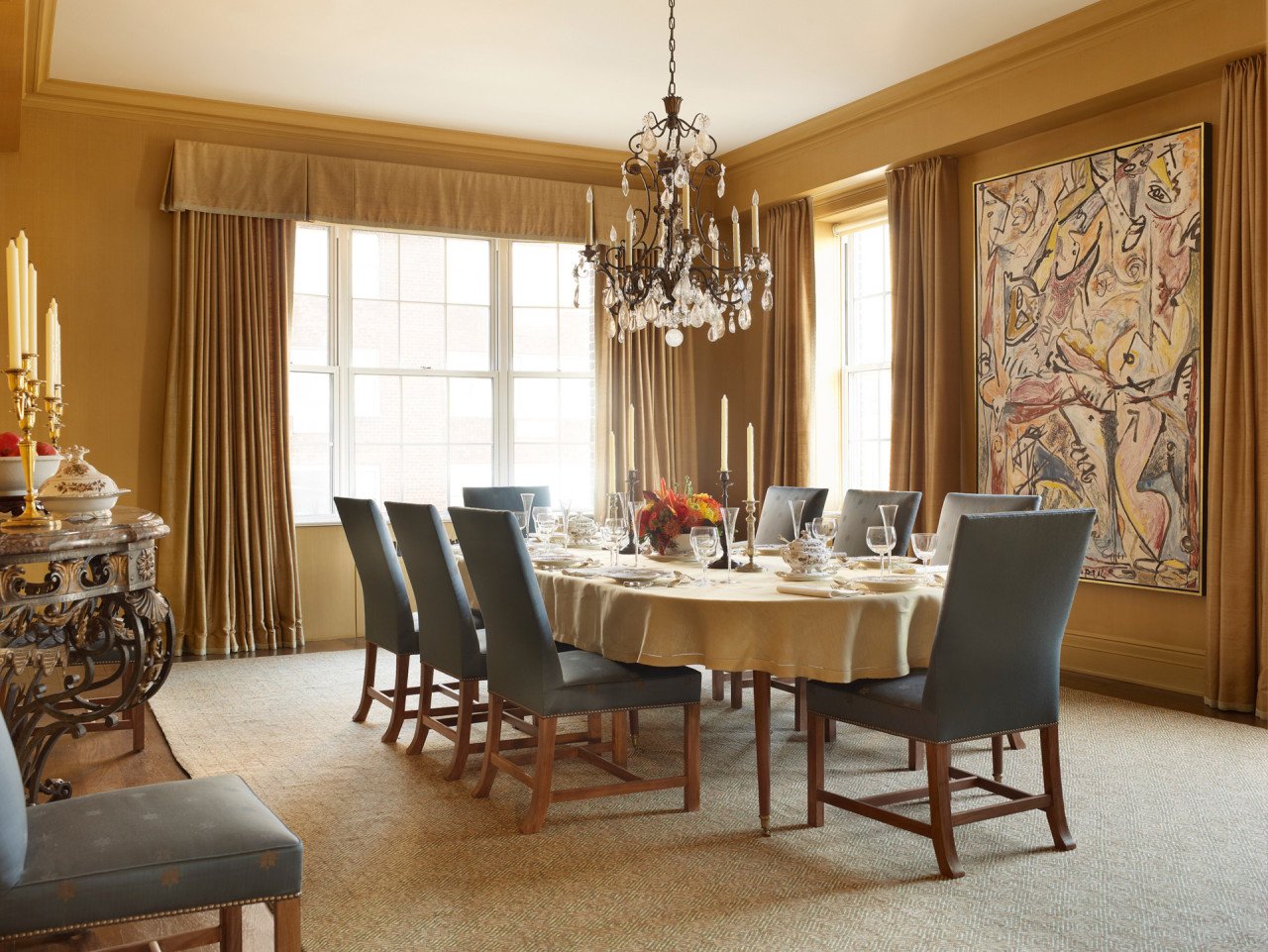 A large early Jackson Pollack painting dominates the dining room. Spare, elegant dining chairs from Howe of London are upholstered in a star-patterned soft blue fabric.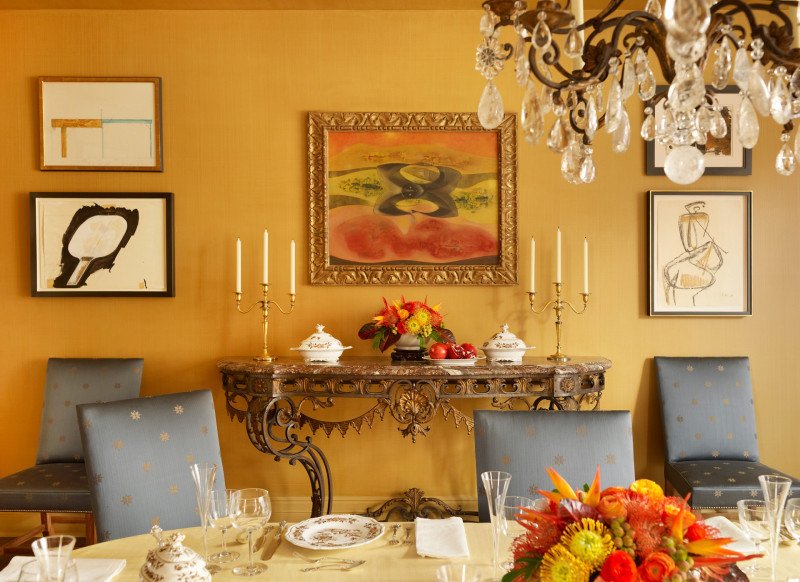 A grouping of artwork is arranged above a 20th-century marble-topped baroque console. The painting is by German Surrealist/Expressionist
Max Ernst,
with a collection of 20th-century drawings completing the display.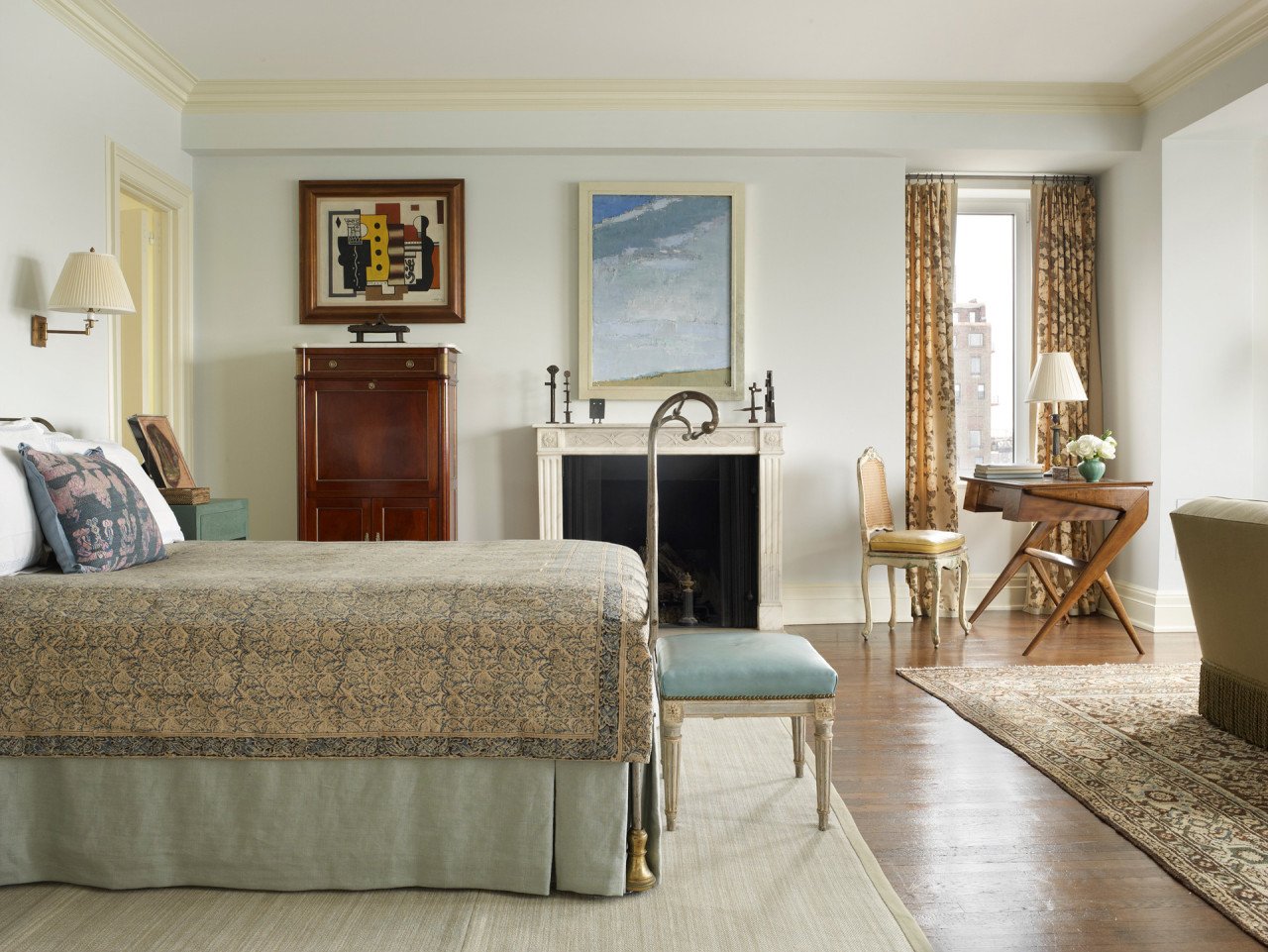 The bedroom's serene color palette is composed of soft tones of watery blues and pale neutrals, taking its cues from the carpet. An intricately-patterned bedcover was made from an antique sari. The writing desk is a 1960s Scandinavian design executed in richly-grained Guatambu wood, a Brazilian hardwood, and is paired with a Gustavian chair. Above the Directoire-style secretary is a painting by
Fernand Léger.
To view the entire project click here