Truth & Beauty: The Pre-Raphaelites & the Old Masters
| | | |
| --- | --- | --- |
| | | |
| Fig. 1: Veronese (1528-1588), Lucretia, ca. 1580-1583. Oil on canvas, 42⅞ x 35⅝ inches. Gemälderie of the Kunsthistorisches Museum, Vienna (1561). Image courtesy of the Fine Arts Museums of San Francisco. | | Fig. 2: Dante Gabriel Rossetti (1828-1882), Veronica Veronese, 1872. Oil on canvas, 42⅜ x 33¾ inches. Delaware Art Museum, Samuel and Mary R. Bancroft Memorial (1935, 1935-28). Image courtesy of the Fine Arts Museums of San Francisco. |
In 1848—a year of political revolution across Europe—seven young Englishmen formed a secret artistic alliance with aspirations to rebel against the contemporary art world. Calling themselves the Pre-Raphaelite Brotherhood (PRB), the artists defined a new visual language of truth and beauty against the backdrop of their rapidly industrializing world. Drawing on literary sources, poetry, and scenes from medieval and modern life, the Pre-Raphaelites established themselves as the most radical contemporary artists of the Victorian period by engaging in an aesthetic dialogue with art and artists from past centuries.

The three principal artists of the Pre-Raphaelite Brotherhood—William Holman Hunt, John Everett Millais, and Dante Gabriel Rossetti—met when they were students at the Royal Academy Schools in London. At the heart of their agenda, the PRB opposed the prevailing aesthetics of the Royal Academy's first president, Sir Joshua Reynolds. They instead appropriated critic John Ruskin's mandate, outlined in the first of his five volumes of Modern Painters (1843), that artists should "go to Nature in all singleness of heart . . . rejecting nothing, selecting nothing, and scorning nothing: believing all things to be right and good, and rejoicing always in the truth." Ruskin's directive to find truth in nature, initially conceived as a defense of the artist J. M. W. Turner, became a core principle in the Pre-Raphaelites' early compositions, which are especially rich in precise botanical details.
| | | |
| --- | --- | --- |
| | | |
| Fig. 3: Jan van Eyck (1390-1441), The Annunciation, ca. 1434/1436. Oil on canvas transferred from panel, 35½ x 13⅜ inches. National Gallery of Art, Washington D.C., Andrew W. Mellon Collection (1937.1.39). Image courtesy of the Fine Arts Museums of San Francisco. | | Fig. 4: John Everett Millais (1829-1896), Mariana, 1851. Oil on panel, 23½ x 19½ inches. Tate, London, Accepted by HM Government in lieu of tax and allocated to the Tate Gallery (1999, T07553). Image courtesy of the Fine Arts Museums of San Francisco. |
| | |
| --- | --- |
| | |
| Fig. 5: Sandro Botticelli (1445-1510), Idealized Portrait of a Lady (Portrait of Simonetta Vespucci as Nymph), ca. 1475. Tempera on panel, 32¼ x 21¼ inches. Städel Museum, Frankfurt (Inv. no. 936). Image courtesy of the Fine Arts Museums of San Francisco. | |
As Hunt recalled in his memoir Pre-Raphaelitism and the Pre-Raphaelite Brotherhood (1905–1906), "The first principle of Pre-Raphaelitism was to eschew all that was conventional in contemporary art." According to William Michael Rossetti, one of the circle and Dante's brother, the PRB's "bond of union" was distilled to four key principles, which clarified their aims: "1, To have genuine ideas to express; 2, to study Nature attentively, so as to know how to express them; 3, to sympathize with what is direct and serious and heartfelt in previous art, to the exclusion of what is conventional and self-parading and learned by rote; and 4, and most indispensable of all, to produce thoroughly good pictures and statues." The Pre-Raphaelites set out to upend the art world as they knew it, and their chosen method for doing so was a self-consciously archaizing label and corresponding aesthetic (Figs. 1, 2).

While the name "Pre-Raphaelite" suggests a singular focus on early Italian art, that definition only scratches the surface of their sources of inspiration, which ranged from fifteenth-century early Netherlandish works to sixteenth-century Venetian paintings more accurately termed "post-Raphaelite," in addition to genres and materials as varied as medieval illuminated manuscripts and stained glass. Because no official members of the brotherhood had been to Italy when they formed the group, their access to Italian art was limited to a small number of works in London's National Gallery. Hunt recalled in his memoir that, at their first meeting, Millais had shared a set of Carlo Lasinio's copies after the frescoes in the Campo Santo, Pisa, which had been made by numerous artists and finished in the mid-fifteenth century by the Florentine Benozzo Gozzoli (ca. 1421–1497). The significance of this mediated experience of art cannot be overstated. Hunt admits that initially the Pre-Raphaelites were not looking directly at early Italian paintings but at prints after frescoes.

Given the brotherhood's lack of exposure to early Italian art, it might seem incongruous that they gave themselves a name with a direct Italian association. Yet early Netherlandish artists are also accurately classified in the generation before Raphael. The 1842 acquisition of Jan van Eyck's Arnolfini Portrait (1434) by the National Gallery, London, made one of the most critical impacts on the development of the early PRB style. The Arnolfini Portrait was a rare example from the early Netherlandish school on public view in London at that time, and Rossetti and Hunt also had admired Hans Memling's Saint John Altarpiece in Bruges on an 1849 Pre-Raphaelite pilgrimage. The jewel-toned palette, angular postures, and highly detailed symbolism of the Pre-Raphaelites emulated these early Netherlandish artists. The influence of early Netherlandish paintings on the early PRB aesthetic can be seen in the comparison of works such as Van Eyck's The Annunciation and Millais' iconic painting Mariana. By painting in oil on mahogany panel, emulating the techniques of the master, Millais created a work of lasting quality and beauty comparable to Van Eyck's masterpiece (Figs. 3, 4).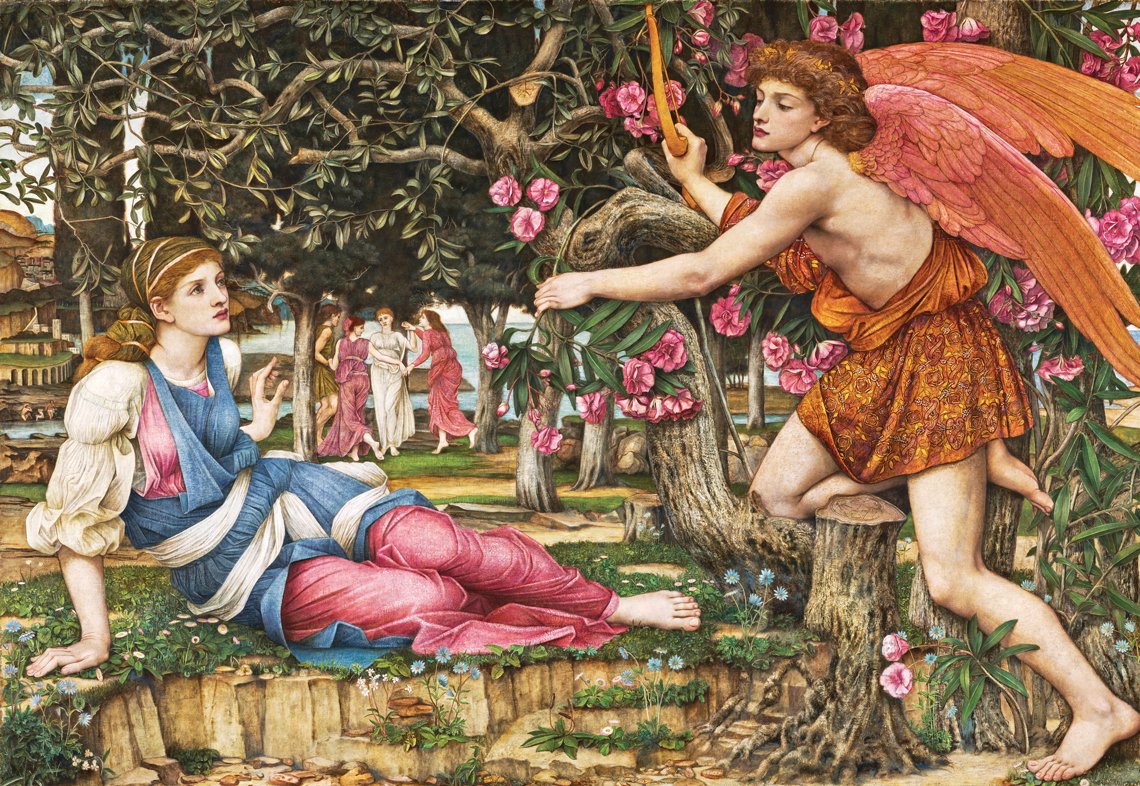 Fig. 6: John Roddam Spencer Stanhope (1829-1908), Love and the Maiden, 1877. Tempera, gold paint and gold leaf on canvas, 54 x 79 inches. Fine Arts Museums of San Francisco, Museum purchase, European Art Trust Fund, Grover A. Magnin Bequest Fund and Dorothy Spreckels Munn Bequest Fund (2002.176). Image courtesy of the Fine Arts Museums of San Francisco.

The Victorian Pre-Raphaelites did not simply source a series of visual quotations from their predecessors; rather, their objectives had greater implications about how contemporary artists relate to and engage with the past. Truth and Beauty: The Pre-Raphaelites and the Old Masters, on view at the Legion of Honor Museum in San Francisco, from June 30–September 30, 2018, traces the brotherhood through the nineteenth-century "rediscovery" of Botticelli by the English art critics Ruskin and Walter Pater, which paralleled the tempera revival executed by the PRB. The visual affinities between these works create evocative juxtapositions that also demonstrate the influence of the late Renaissance artists, such as Titian and Paolo Veronese, on the Pre-Raphaelites and select contemporaries (Figs 5, 6).

This attraction to the art of the past was not limited to paintings, however, and Truth and Beauty features examples of books, furniture, and stained glass, as well as tapestries that emulate sixteenth-century Flemish textiles. The varied sources that informed the Pre-Raphaelites' aesthetic vocabulary demonstrate the importance of the work that inspired the PRB and redefine more broadly their unique style. This highlights the nuanced paradoxes of the Pre-Raphaelite mission—namely, their efforts to be fundamentally modern by emulating the past, as well as their dichotomous criticism and veneration of Raphael and his artistic impact. In the legacy of their work, we find questions and concepts that still provoke and incite artistic agendas in the twenty-first century. Contemporary artists still wrestle with how, when, and why to engage with art of the past, a dialogue that is evident in the conceptual photography of Cindy Sherman and her History Portraits series, and in the portraits of Kehinde Wiley—such as his recent painting of President Barack Obama, which suggest Old Master paintings in the poses and settings of their subjects, even evoking William Morris patterns in their intricate background foliage. The type of critical engagement with the past that was essential to the PRB is alive and well in contemporary art of the twenty-first century. By reframing their own language of truth and beauty, the Pre-Raphaelites can teach us as much about their place in art history as they can about our own time and the universal questions about the meaning of art. 

---
Melissa Buron is director, art division, Fine Arts Museums of San Francisco, the curator of the exhibition, and the editor and essay author of the exhibition catalogue Truth and Beauty: The Pre-Raphaelites and The Old Masters, on which this article is based. For information on the exhibition (June 30–September 30, 2018), visit legionofhonor.famsf.org; the publication is available through the museum and online.
This article was originally published in the Summer 2018 issue of Antiques & Fine Art magazine, a fully digitized version of which is available at afamag.com. AFA is affiliated with Incolllect.