​​Uultis is at the Forefront of the Next Brazilian Design Boom
Celebrating the beauty of nature with refined forms and clean lines, handcrafted with sustainably sourced materials, Uultis furniture was featured in a contemporary art and design installation in the Porsche Design Tower, a super-luxury residence building in Miami. From left: Plot Sideboard, Smile Sofa, Velo Armchair and Ex Magazine Holder.

Uultis is at the Forefront of the Next Brazilian Design Boom
By Benjamin Genocchio
Rodrigo Seger likes to refer to his company as a family furniture business. Founded in 1959 by his grandfather with a single small sawmill in the district of Santa Maria do Herval in the state of Rio Grande do Sul, and from which the company gets its name, Herval Group is today one of the largest conglomerates in Brazil with active interests in natural materials, finance, retail, and the technology sector. But furniture is the core of the 62-year-old business and a passion for Seger, the Vice President of Herval. Incollect spoke to him about Uultis, a popular high-end furniture brand launched six years ago, with the goal of bringing handmade contemporary Brazilian furniture to the world.


The Trend Chair and Fine Chair, contemporary Uultis lounge chairs that take design cues from Brazilian Mid Century Modernism: a low-slung, wide stance with framework on the outside, and for the Trend Chair, a leather belt cradling the seat, a detail seen again and again in the vintage designs, perhaps most recognized in the iconic Mole Chair by Sergio Rodrigues.

Looking at the Uultis collection as a whole, I can see a link to the designs of the Brazilian Midcentury Modernists and references to nature and natural materials. Were these qualities a part of the design brief, or instinctive as part of Brazilian culture?
These qualities are definitely a part of our DNA as a company and are intimately connected to the purpose of Uultis in which nature is the protagonist, along with the specific Brazilian cultural elements that are a part of our creations.
Native Brazilian hardwoods and sculptural profiles add a warm, elegant aesthetic to contemporary interiors, as seen here in the Porsche Design Tower. Three standout pieces from the collection: the Like Side Table, Wave Chaise and Lim Bookcase.

Tell us about Uultis, and how it evolved as a brand.
There are many different furniture brands under the Herval umbrella but Uultis is our premium brand. Everything is handmade in Brazil and we have designers in-house who design the products at our headquarters in Rio Grande do Sul where everything is manufactured. The name ultis means desire in Latin, which is what we wanted to capture about these products — desirable furniture that people really want.
What materials do you use?
We like to use Brazilian wood which is true to our origins as a business. We began as a sawmill, and we use mostly teak, oak and walnut, and always solid wood.
Do you work with outside designers?
We are only a six-year-old brand, so we have done most of our design in-house, but now we are starting to partner with other designers and we recently hired Aciole Félix, a well-known designer here in Brazil to create pieces for a new collection for Uultis. He's going to sign some pieces and we think it's going to be a big hit.
Dining chairs with back details inspired by fashion: Above: Tress Dining Chair with a laced leather seat back, also shown in a linen-like woven fabric. Below, the Cappio Dining Chair with belt detail.

Why would an interior designer choose Uultis for a project?
For the design of the products and the quality of the materials and craftsmanship at the right price. This is the most important part of the product for us, having all of this in alignment. It is a bit of a labor of love for the company, especially given that the cost of freight has increased dramatically since the pandemic.

Shown here in beautifully figured teak, the Pin Dining Table has a dramatic presence, contrasting a "forest" of gracefully tapering legs with an elegantly slim tabletop. Available in 12-leg and 16-leg sizes.

What has the response been so far to Uultis from designers?
It has always been positive. Recently, at the ICFF Fair in New York, we got a great response from designers for our new collection, which included the Pin table we have just introduced.
Where have you found strong markets for Uultis furniture?
We sell Uultis well in Brazil, but it is also expensive for the Brazilian market. We are doing well in the United States and have sales reps selling around the country and in high-end furniture stores. We have a warehouse in Miami for distribution with all of the items in stock and since 2019, showrooms in Miami and Highpoint. We currently offer free shipping within the United States. We are also looking to expand distribution in Europe this year. We try to sell everywhere, basically, through partners, and of course design fairs and online platforms like Incollect.com and Payload.
Do you do custom orders for the furniture?
Yes, this is something we can do. We have stock and models and if a customer wants a particular fabric or color we can do a special order and customization. We send the order to Brazil to make and it usually takes around three months.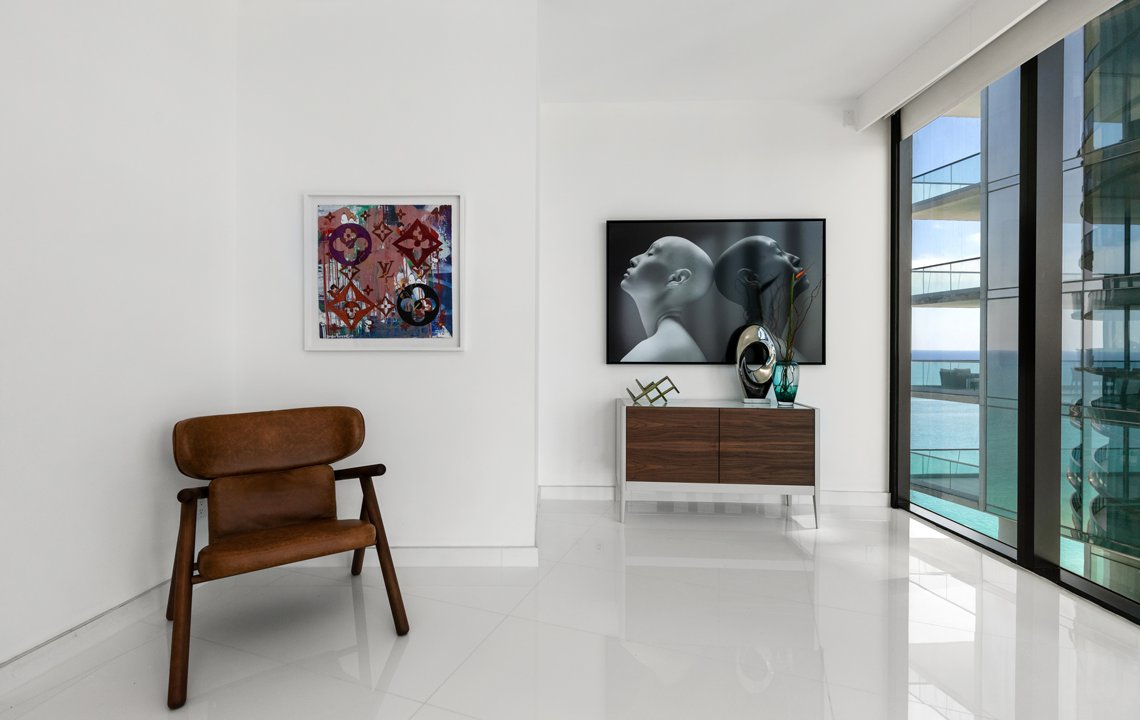 Eye catching pieces: the Sole Armchair and Flow Sideboard, with a reverse-painted glass top.

What are some of the design furnishing projects Uultis has been involved in?
There are many. In Brazil, there is a popular television show called Big Brother and we did the furniture on this show. Meanwhile, in the United States, we have done a collaboration with Dmitry Prut, president and founder of Avant Gallery to furnish a luxury apartment located in one of the most luxurious and iconic buildings in Sunny Isles in North Miami, the Porsche Design Tower. The project brought together art, fashion and design, and we were really proud to be a part of it.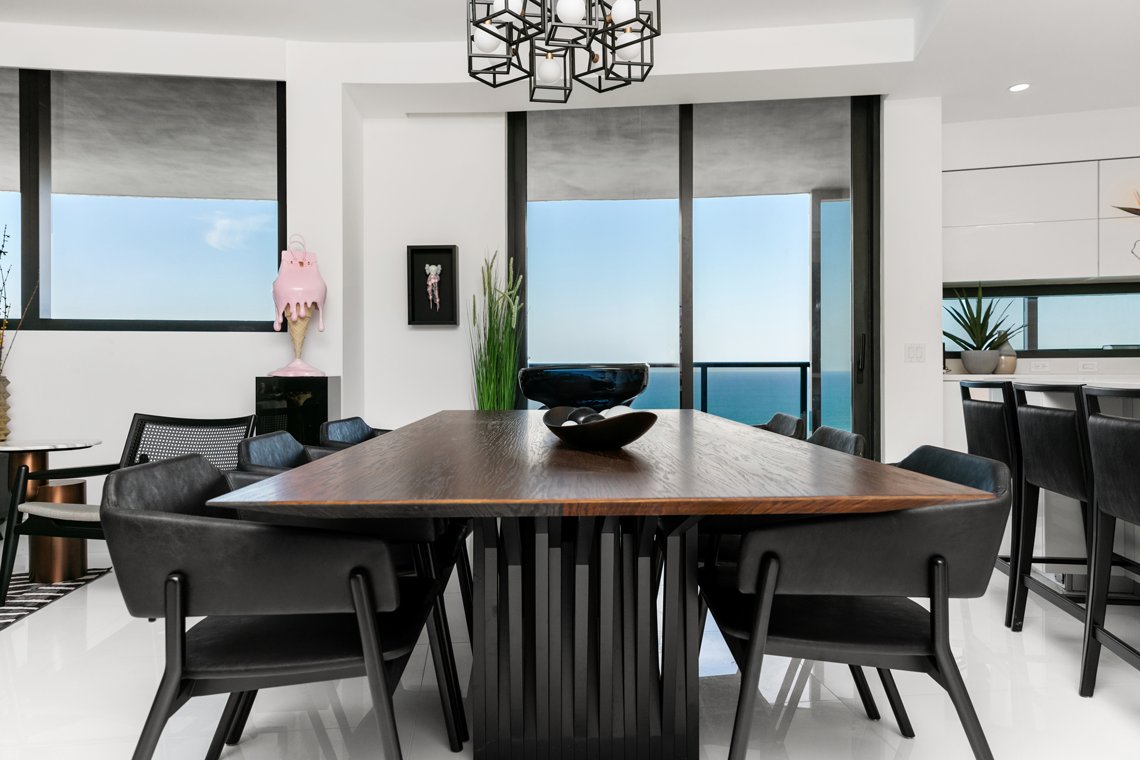 Rodrigo Seger, VP of Herval Group is a fan of the Radi table, which drew strong attention at ICFF 2021. The distinctive leg design takes inspiration from the arching aerial roots of trees. Shown here paired with Stuzi Dining Chairs.

What is your favorite piece in the Uultis collection?
I think my favorite product that Uultis makes is a table called Radi. I like it in large part because of the design of the legs. We took the Radi table to the ICFF fair in New York last year and it got a tremendous response from designers. It's very popular.

From Uultis's new outdoor line Varanda Sense: The Beluga Loveseat and Chair, with a seatback inspired by the beluga whale's tail, in teak wood and water repellent fabric.

You also have a collection of indoor/outdoor furniture, tell us about it.
Yes, we have a new line titled Varanda Sense, an outdoor product line which uses nature as inspiration — the organic shape of the back of the seating is inspired by the beluga whale's tail. We selected for this line very special materials, such as nautical ropes inspired by the mooring ropes in ships and nautical knitting. It's a line that explores new shapes and designs delivering comfort, coziness and personality.