Studio-Crafted Indoor/Outdoor Furniture That's Chic, Durable and Amazingly Lightweight
Bold Ideas From Zachary A
Zachary A. Bitner specializes in furniture with the beauty and durability of concrete, and not the weight.
| | |
| --- | --- |
| | |
| | |
Z
achary A. Bitner launched his brand in 2009 with a simple goal — to transform cast resin into durable high-end furniture. Designed to mimic concrete and stone, each piece from Zachary A. Design is surprisingly lightweight, merging practicality with elegant minimalist design, crafted by hand in the company's Chicago workshop.
Bitner's furniture was created for both indoor and outdoor environments. Integrated draining and sturdy easy-to-clean surfaces allow each piece to weather rain, sun, and even snow without extensive damage. Practical and durable, yes, but the contemporary silhouettes and experimental finishes from the brand's top of the line offshoot, Studio A., propel it into the realm of collectible design. Through Studio A., the brand accepts commissions from designers and other clients, and by developing new process-driven designs, the team explores the possibilities of their craftsmanship. For example, Bitner has created a wealth of new finishes through Studio A., including an innovative terrazzo crafted from blue and green stained glass, and a resin molded after the shifting sands of Coronado's beaches in San Diego Bay, California.
Below, Bitner talks to Incollect about experimenting with resin and building the Wavebreaker Seat , Corridor Side Table , and Tom Table .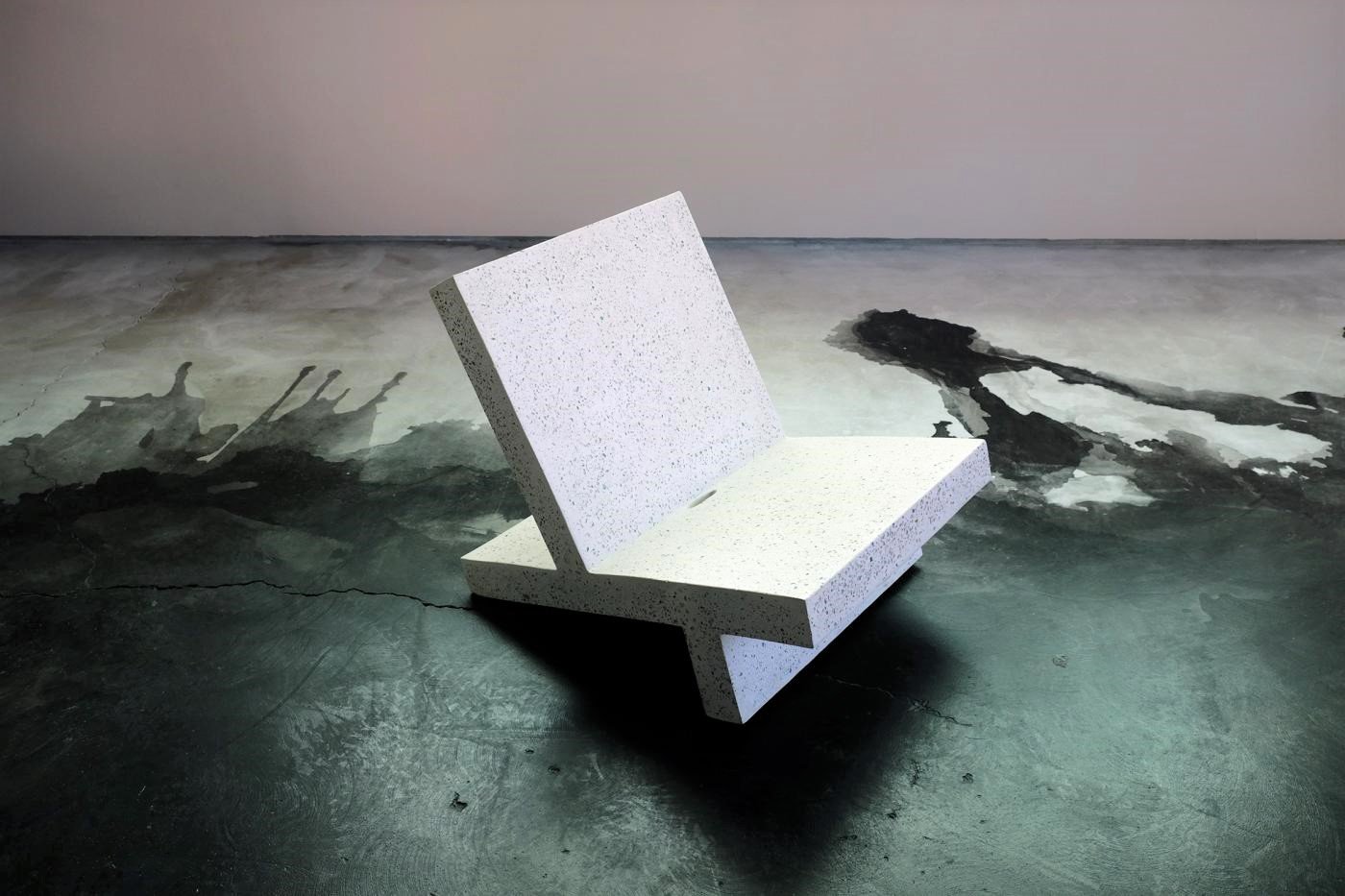 The
Wavebreaker Seat
features a Brutalist-inspired design. "Our process and material lends itself well to B

rutalist

volumetric forms," says Bitner.
Why did you want to create furniture that works both indoors and outdoors?
I've always been interested in the timelessness of certain forms and pieces. A big part of that is being able to make a form look like it belongs everywhere and anywhere.



Top: Motherlode Terrazzo is a unique finish offered by Zachary A. Design. Bottom left: The Cascade Dining Table in Motherlode Terrazzo. Bottom right: A detail of the Cascade Dining Table.
How did you come up with the idea for your Motherlode Terrazzo?
Motherlode Terrazzo was the first creative leap we made from our stone line. We wanted color, and we wanted flare and sparkles. Something unexpected. With Motherlode, we make shapes normally impossible for traditional terrazzo. After a lot of experiments we fell in love with crushed stained glass we had used as aggregate. We found ourselves lost in the finishes — it reminded us of minerals, kaleidoscopes, raw earth, and so much more. We knew we had to make pieces out of this material.


What inspired the form for the Wavebreaker Seat ?
The goal was to make a minimal Adirondack chair. I condensed every angle and reduced the lines to a pure form of sculptural seating. The angles we decided on are a little more comfortable than you may think. We wanted a low chair that immerses you into the outdoor environment.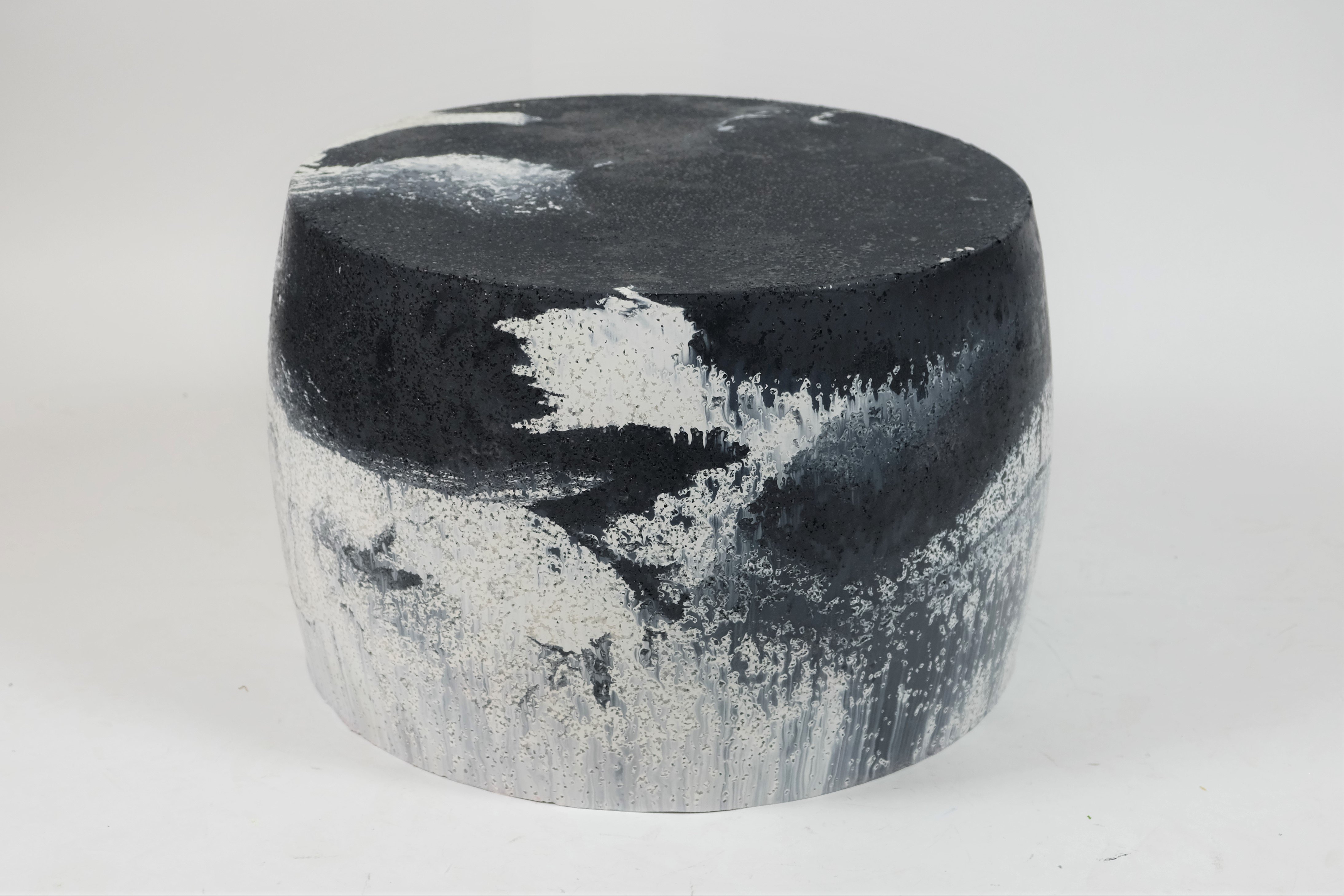 The Coronado finish, shown here on different iterations of the
Barrel Table
, is made up of swirling waves of colored resin.
How do you create the Coronado Finish?
Making a Coronado piece is a fun process. It requires this balance of technical knowledge and skill with a willingness to allow chance, or nature, to take over. On our team, we describe this process as the hand of the artists being guided by nature. We balance control and chance through motion. Two people dance with the mold, intentionally guiding the resin, creating a harmony between the artisans and the piece being created. As the resin rotates within the mold, the colors begin to roll over one another, mixing, splitting, and dispersing. As the resin hardens, the formation phase slows to a crawl and then ceases. What's left is a permanent landscape of deep hues and saturated grays.
An artisan blends the resin to create the Coronado finish.


What inspired the design of the finish?

Coronado was inspired by the shifting sands of the beaches in Coronado, California. By designing a process to interpret these patterns in the sand, we found that we created a one-of-a-kind finish that elicited a unique response from each viewer. We get so much out of these pieces. We were astounded when the first ones came out of the mold after, honestly, years of development. I see shooting stars, falling stars, streaking rain, summer storms, landscapes, clouds, floating islands, and sumi-e (Japanese ink painting), all in each piece.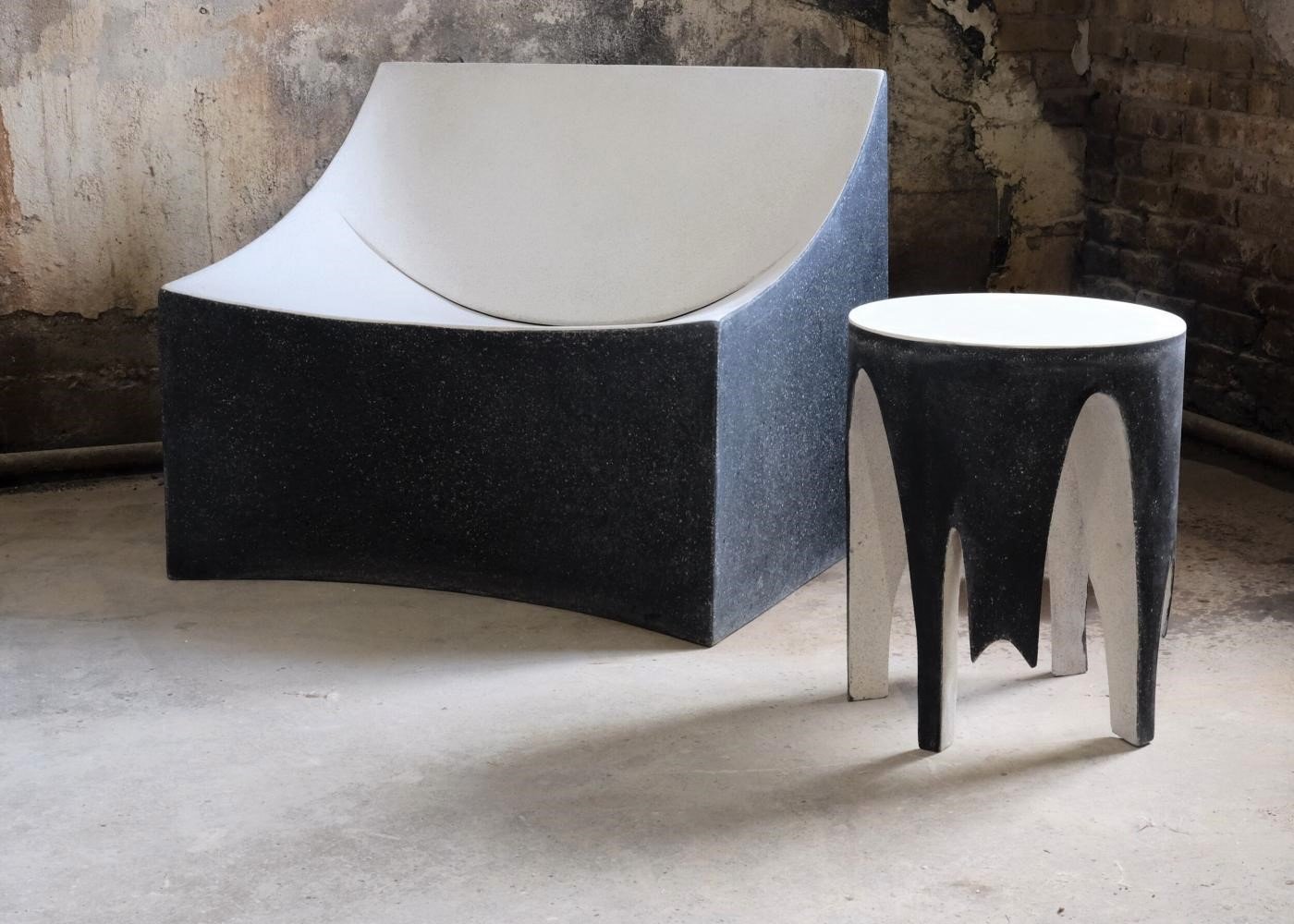 Here, the Corridor Side Table is shown in two-tone white stone and coal stone.
The Corridor Side Table is quite architectural. What were you trying to achieve with the silhouette?
First, we needed to provide a surface to show off the patterns of finish, so we created interesting angles in the shape for the material to roll around as we cast. Second, we wanted the shape to have a big visual presence with a small footprint. We came up with the idea to carve out these "corridors" in the original model. We found that these corridors became visual paths that allowed for a lot of exploration.
What gives the Coal Stone and White Stone finishes their speckled appearance?
In all of our pieces we use real, natural stone. For White Stone and Coal Stone, we use crushed marble in the aggregate, giving it not only a speckled appearance, but a shimmer as well.
Tell us about your factory and your production process, and how would you describe your design team?
All of our pieces are made in a 100-year old fiberglass statuary located in Chicago. The place is one-of-a-kind. The essence of our furniture, techniques, and processes evolved from our roots in statue making. While we have a large factory of master artisans producing our pieces, the ZAD team is small and passionate. We are constantly prototyping and developing our designs to bring something unexpected.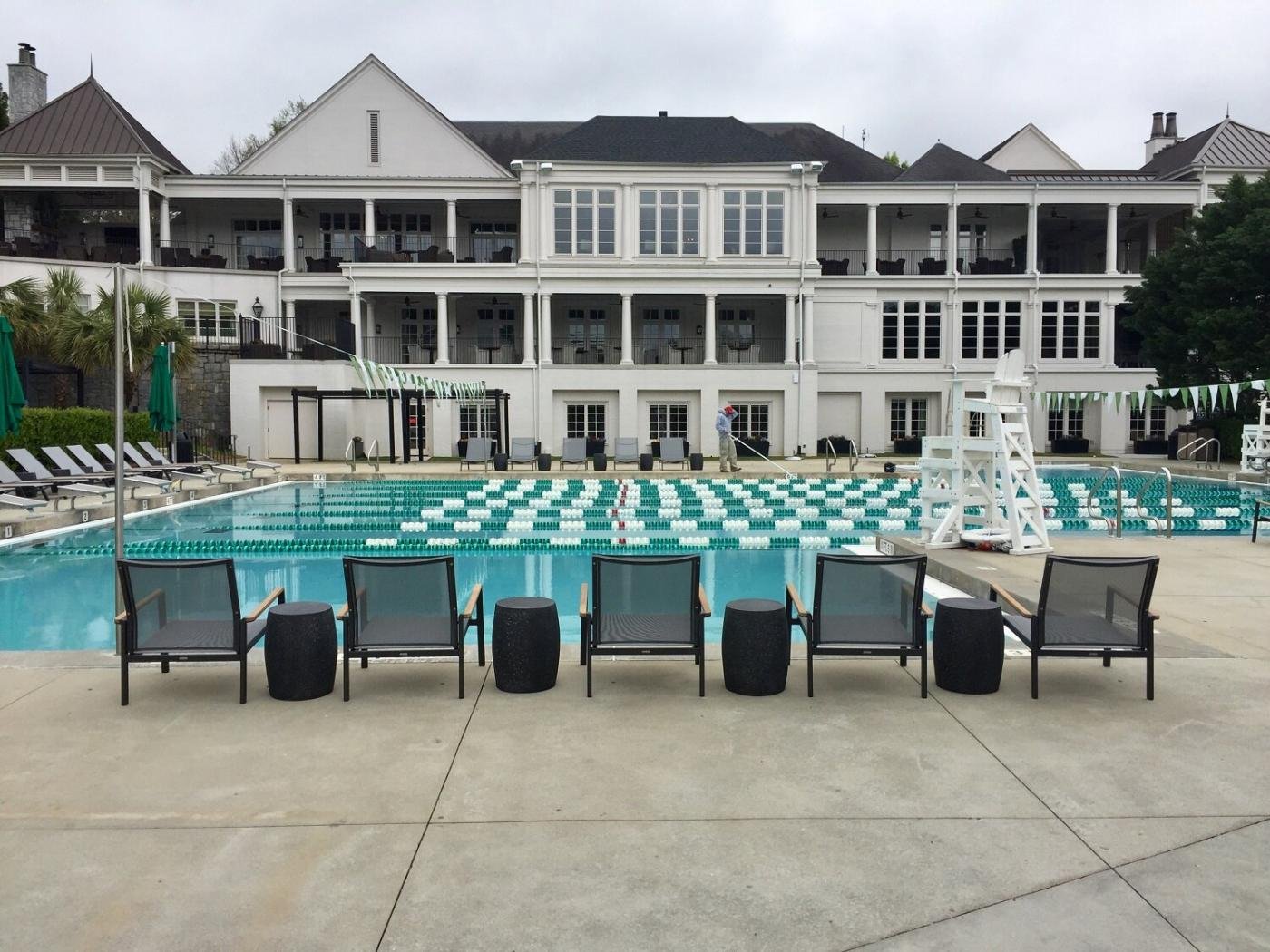 Barrel tables lined up along the side of a pool. Through Factory A., an offshoot of Zachary A. Design, the brand produces pieces like the Barrel tables for restaurants, hotels, and retail environments.


Which other furniture designers inspire you?
I have my personal favorites, but I like to be more influenced by my surroundings. Nature, architecture — wherever I am at, something always ends up influencing me. I have a farm and studio in rural Illinois where I often make drawings and models.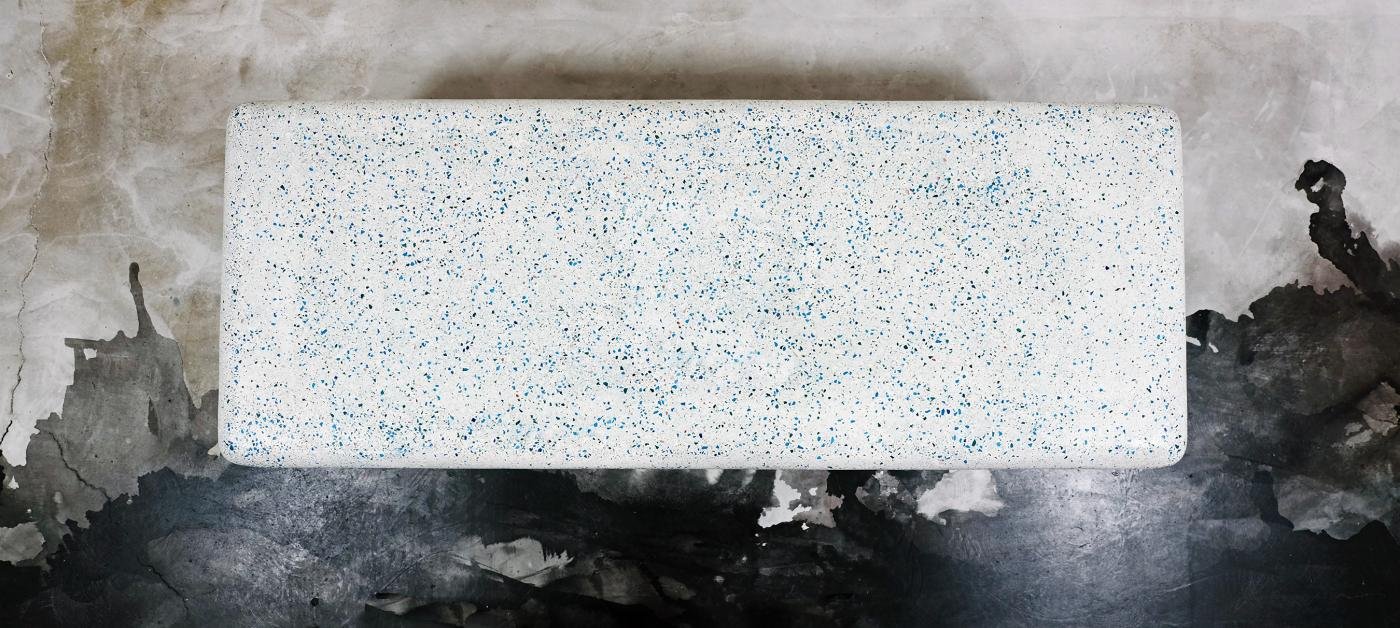 Top: A grouping of objects in the Motherlode Terrazzo finish, including the
Cascade Dining Table
. Below: The surface of the Cascade Dining Table.
How do you envision the Cascade Dining Table being styled?

The shape of the Cascade is derived from heavy Brutalist forms — it represents a funky Brutalism, with light sparkly blue tones over the surface. I would love to see this piece married with colorful or neutral stools to allow the table's presence to breathe into your home.
The contemporary
Tom Table
in White Stone finish.
Why did you choose a simple design and finish for the Tom Table ?
We wanted a communal, inviting form. Something that could resemble a bonfire.
An assortment of objects from Zachary A. Design.
What plans do you have for your collection in the future? What do you see for yourself and your brand?
We launched a branch of our company called Studio A. at the beginning of the year. Studio A. focuses more on collectible design. It's where we can really invent, play, and create unique pieces of furniture in the process. Studio A. includes Motherlode Terrazzo, Coronado, and other experimental designs. We found ourselves getting more into art-forward furniture a few years ago, and we have since made some pretty big leaps to create a piece of our company that reflects that. We have a lot of ideas queued up in our repository and Studio A. is where they can all be seen.