Zonddi Reimagines Furniture for our Lifestyle in the Digital Age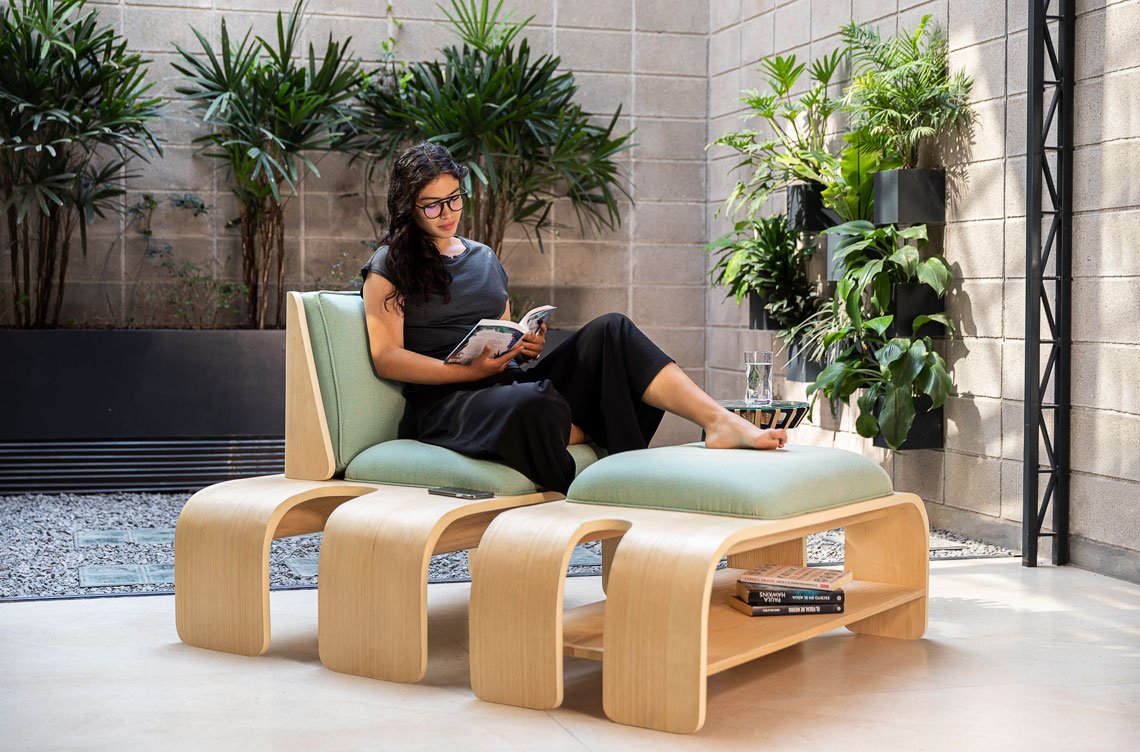 Zonddi's Bindal lounge chair and ottoman fuses a fun, stylish nod to retro design with contemporary multi-functionality. The piece is designed with a built-in side table and a storage shelf under the ottoman, making it an oasis for both leisure and practical tasks.

Zonddi Reimagines Furniture for our Lifestyle in the Digital Age
By Benjamin Genocchio
| | |
| --- | --- |
| | |
| | Zonddi founder and designer Jorge Elizondo |
What kind of furniture is appropriate today for our lifestyle and our century?
That is the question Mexican-born Chicago-based designer Jorge Elizondo asked himself when he began to design furniture 10 years ago. Top-level design and craftsmanship of the highest order were a given, along with a staunch commitment to using natural and eco-friendly materials. But most important was a reimagination of the forms and shapes of furniture items to meet the changing needs of the world we live in. Elizondo sat down with Incollect editor-in-chief Benjamin Genocchio to discuss his vision.
Tell me about your brand philosophy.
The singularity of our unique collection is based on the idea that furniture needs to change to meet the demands of the world we live in, and our lifestyle today which is very different in the digital age. We want to design furniture for today, for the future, for the lifestyle of this century and time. We employ artisans of great experience combined with innovative technology to help us solve problems and make new things.
What inspired this approach to furniture?
Researching the history of furniture, I noticed that around mid last century there was a big change to mid-century style but as lifestyles changed, the furniture seemed to stay the same. I wanted to see what that change meant for furniture in a digital age — our lifestyles have changed really dramatically in the last 20–30 years, and so has our idea of the home, office, and other spaces. With all due respect for the furniture being made today, we are still using the furniture styles of our grandparents' generation. I wanted to play with shapes and forms and functionality according to our time and lifestyle.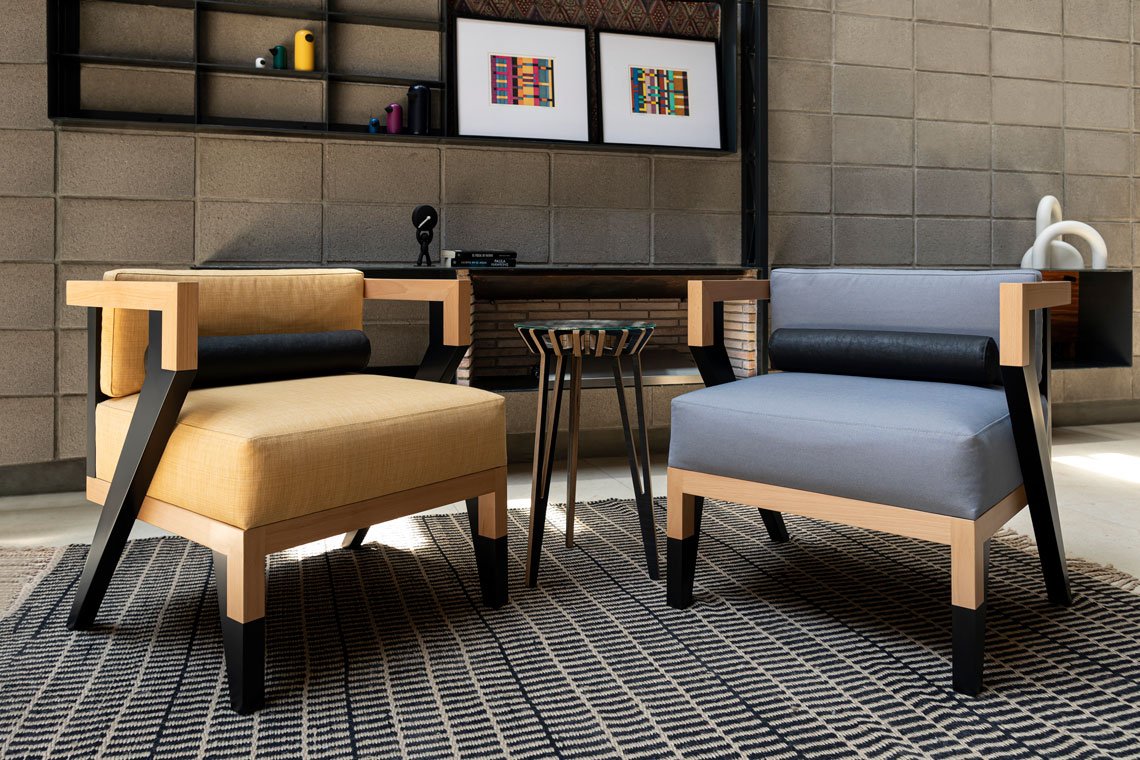 The Ollin armchair boasts a dynamic sculptural profile paired with plush cushioning, and can be custom ordered as a loveseat or sofa.
Can you give me a specific example?
An example is our lounge chairs Amelie and Oilin that bring the touch of a different innovation, yes, they are functional lounge chairs but they can go into any room and are adaptable. Our storage units are also tailored for multimedia presentations.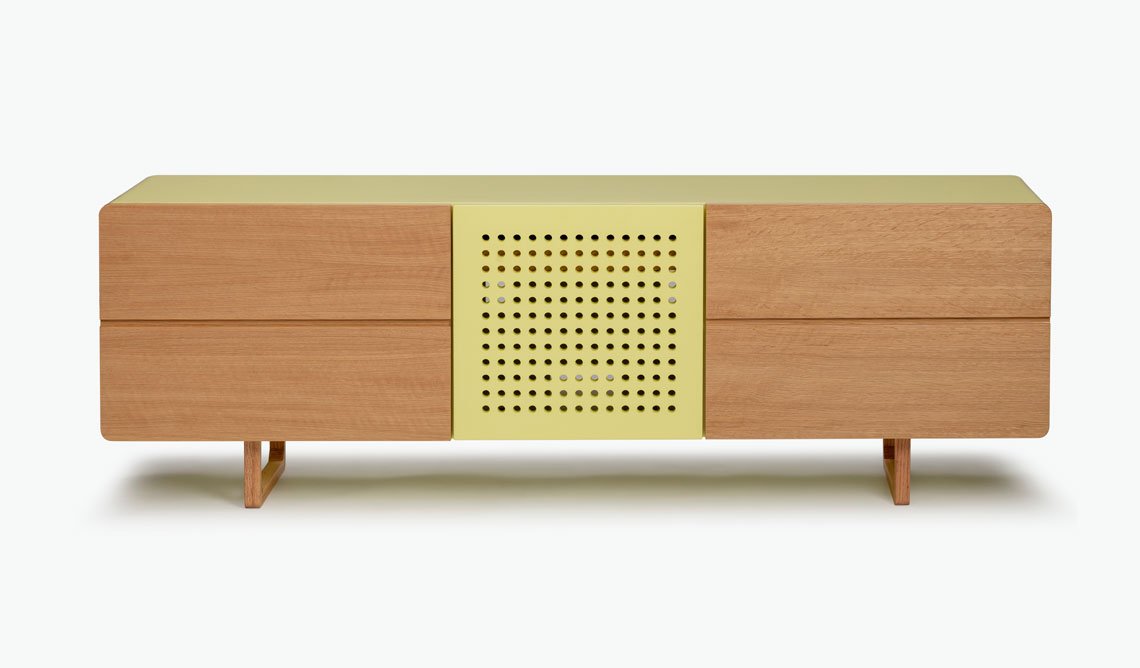 Thoughtful and well-designed features distinguish the Cite media storage unit. It's fitted with ample cutouts for convenient and tidy cable management, and the doors all have soft close hinges.

Does this vision extend into your choice and use of materials?
Very much so. We use 100% wood mostly, ash or oak wood, or occasionally a veneer. There are also some metal elements incorporated as well. The reason we are trying to use clear, unadorned wood materials is to create a nice fresh, natural look paired with fabric in certain pastel colors or textures. We currently manufacture the textiles for use in our products in Mexico and are exploring options elsewhere. We use barrel-dyed leather, and hand-woven cane for details. The quality of our products is transmitted through the materials and the final finish of every piece.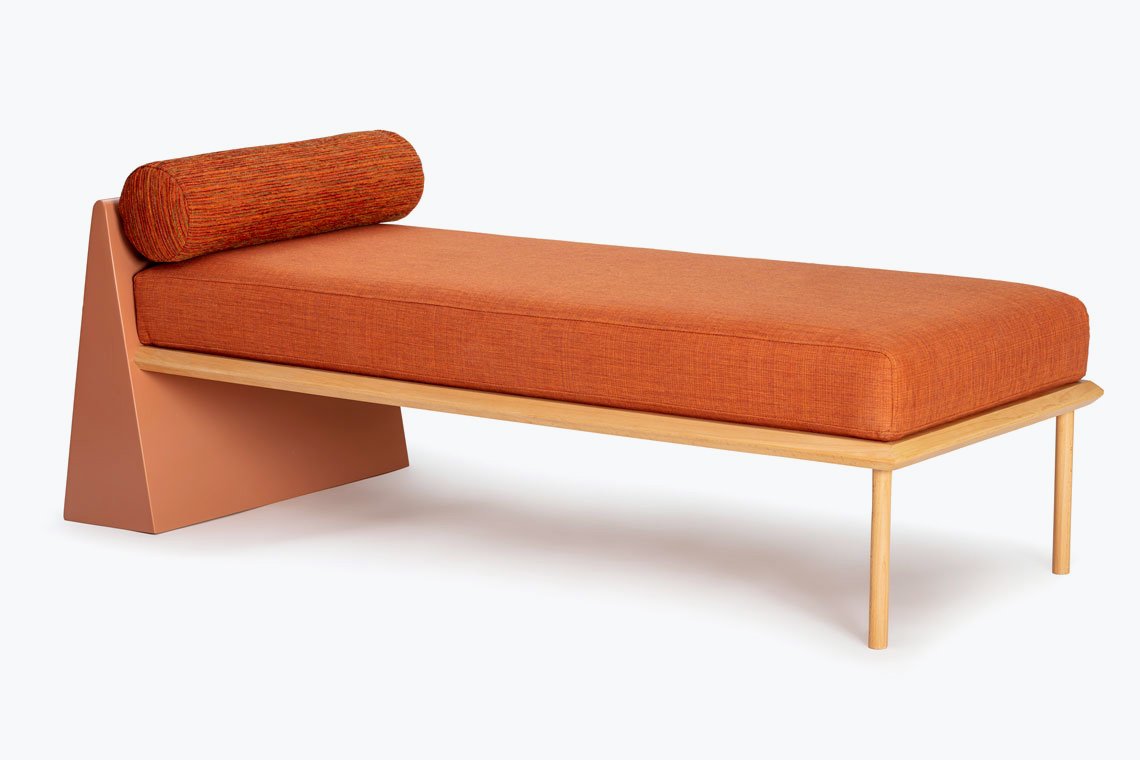 Seen here on the Zali lounge chair/bench, the nature-inspired textiles used in Zonddi designs are made in Mexico. The subtle interplay of tones and textures of the wood structural elements and the fabrics create a warm soulful feeling, an appealing contrast to the clean-lined geometric form of the design.

What are your design sources of inspiration?
I love nature. I love natural colors, I love natural elements. When I see a landscape I focus on what colors and materials inspire me. Those are the elements I am trying to capture and express in the furniture — like the colors of the Caribbean sea or of the forest or flowers or the earth. I want to capture those and express them in furniture, to make something comfortable, fresh, and natural. Something cozy. At the same time, I am looking to take stock of the needs of the digital lifestyle we have right now.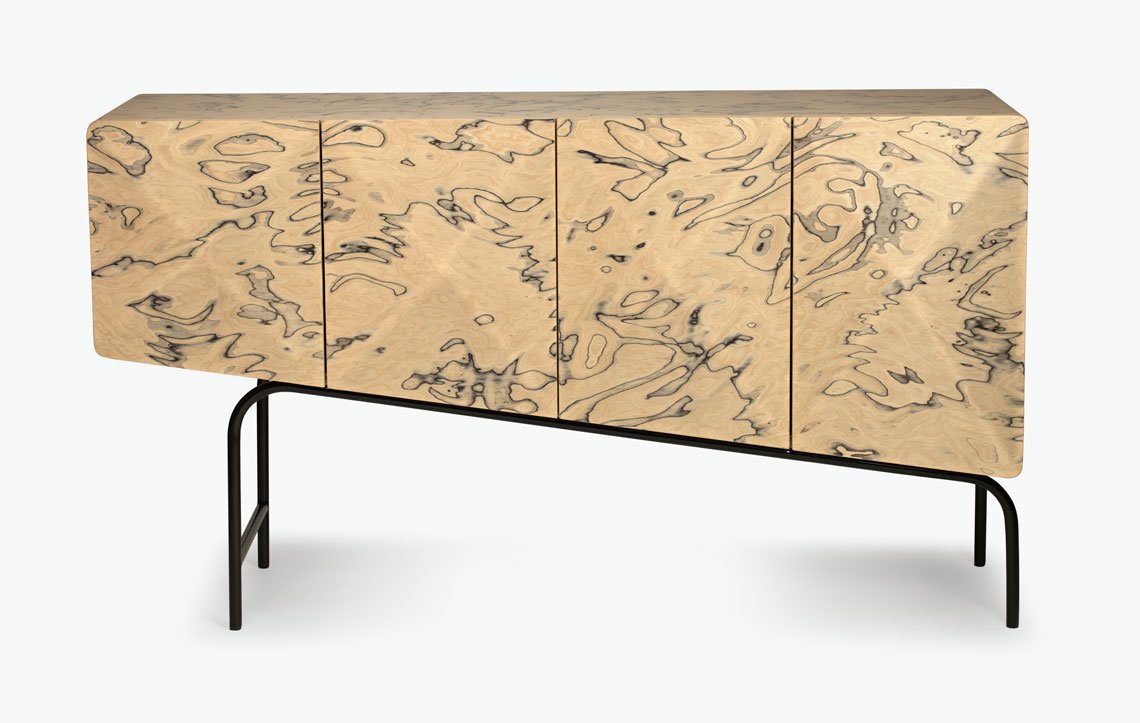 Zonddi's Cordia credenza celebrates the unconventional with asymmetrical form clad in an abstract/organic patterned laminate.
Who is responsible for the designs?
I am the designer and I do the designs. Zondii is my brand — my last name is Elizondo and I was playing with it a little and then it came to me, basically, it is a contraction of my last name. I was born in Mexico but did my formal training in interior design here in Chicago, at the Illinois Institute of Art, and initially, I wanted to be an architect but I always loved interiors and so switched to interior design. The current collections are the realization of a lifetime of thinking and planning. I also work with my son, who has taken charge of much of the administrative work and brand marketing.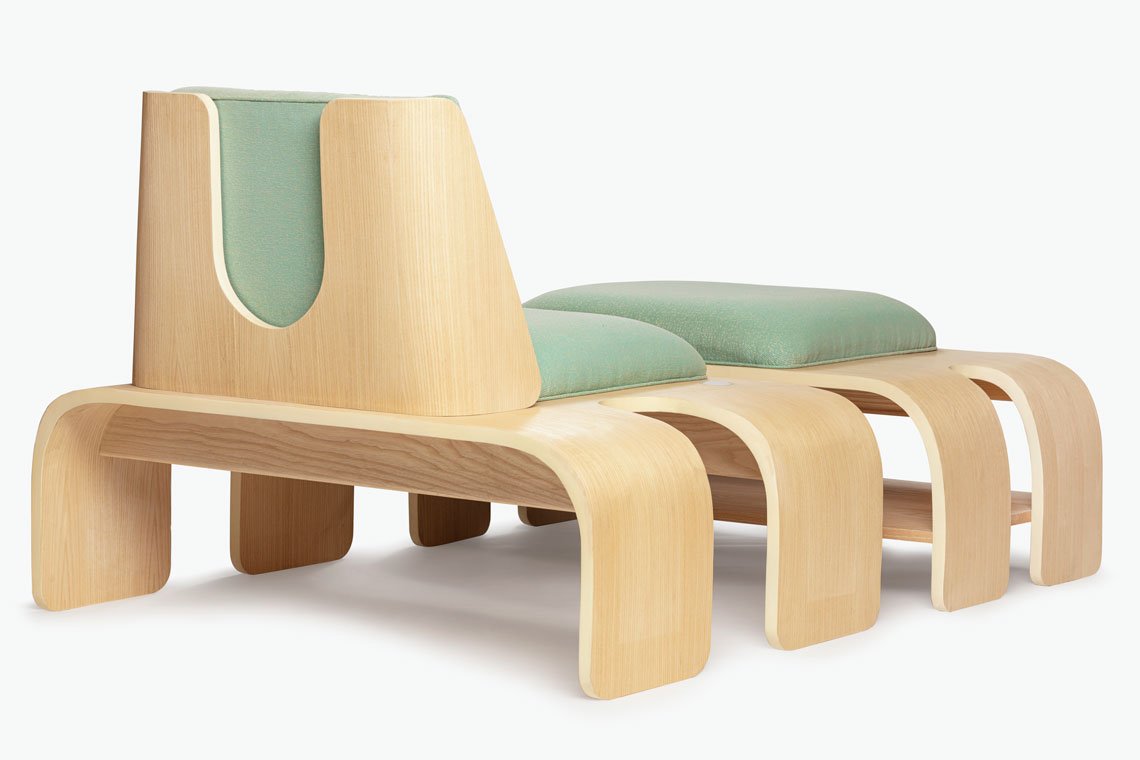 The Bindal lounge chair and ottoman are striking from all angles.

Your price points seem quite reasonable for solid handmade wood furniture.
We are a first-stage business, just beginning in our industry and we want visibility and appreciation to build a brand and market. So we try to keep our products affordable. I am looking to review the designs and cost of the furniture going forward, as obviously, costs have gone up in many areas, but for now, we are happy with how we are more or less positioned in the middle of the market. We offer exceptional quality for the price and therefore great value for our customers. Simply put, our goal is to focus on the middle tier of the market, not very high-end in terms of cost, but provide a high-end product in terms of quality as well as exceptional, functional pleasing design at a reasonable price.
What are you working on now?
Right now we are focused on several projects for both residential and commercial markets mostly involving seating for restaurants, hotels or homes. We produce what I call 'multiple purpose furniture' so it can be adapted to multiple needs and functions and locations. The goal is to be adaptable enough to meet the needs of any space.
Do you also do custom commissions?
Yes, definitely. There are a lot of designers working with us right now. A lot of the top-end designers and architects as well are working on specific projects and so we get requests for specific objects in specific dimensions, materials and colors. This is exactly what the brand is all about: being adaptable and useful in all different situations.