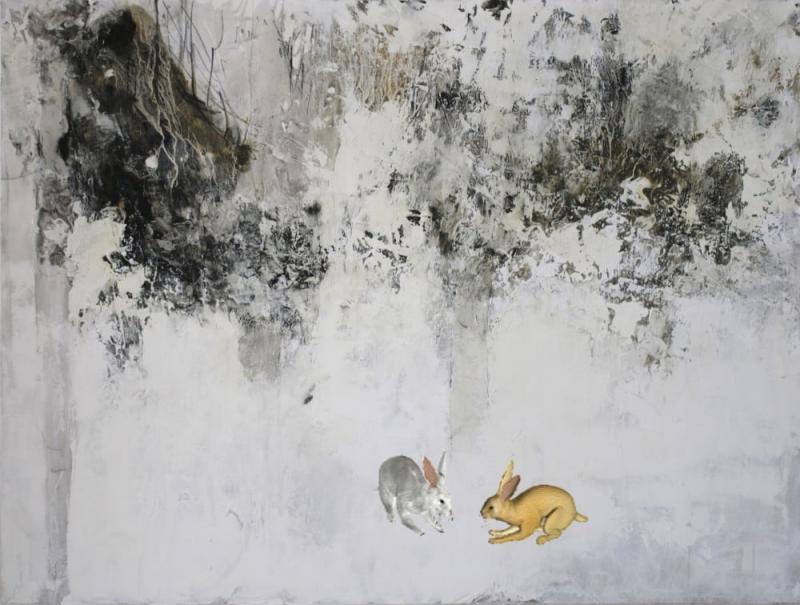 I-87, Alserkal Avenue, PO Box 413991, Al Quoz 1,
Dubai
United Arab Emirates
Prelude to Alice in Wonderland (video still), 2010-2012
Description

Prelude to Alice in Wonderland (video still), 2010-2012
Painting with projection animation and sound; oil, acrylic and graphite on canvas
43.25 x 63 in / 110 x 160 cm

BIOGRAPHY
Throughout a distinguished career spanning over five decades, Farideh Lashai (1944 - 2013) has always juggled with varying means of expression, without recognizing any frontiers that might confine her to a rigidly defined artistic identity. A graduate of Academy of Fine Arts, Vienna she worked as a crystal designer at Riedel Studios in Southern Austria, and then Studio Rosenthal in Selb, Germany. Crystal design became her basis for practicing sculpting later in her career alongside her main discipline of painting. Prior to her studies at the Academy of Fine Arts, she studied German literature in Frankfurt, Germany. Lyricism is the reigning characteristic in her works, whether it is painting, sculpture, writing, installation or a combination of animation, video and painting. She has had more than 25 solo exhibitions in Iran, Europe and the USA. She has taken part in international biennales and collective exhibitions such as the 18th Biennale of Sydney: all our relations (2012), Identity Crisis: Authenticity, Attribution and Appropriation, The Heckscher Museum of Art (2011) Hope! At Palais des Arts, Dinard (2010), Iran Inside Out, Chelsea Art Museum, NY (2009), Ludwig Museum, Koblenz (2005), and Persian Gardens, Tehran Museum of Contemporary Art (2004). Her best-selling fictionalized autobiography, The Jackal Came (2003), was published in Iran, narrating the lives of three generations of women amidst the socio-political background of the Iranian society.

Her works can be found in major private and public collections such as the collections of Tehran Museum of Contemporary Art, Los Angeles County Museum (LACMA), Centre George Pompidou in Paris, The British Museum in London, Sharjah Art Foundation, Demenga Public Collection in Basel, Deutsche Bank, Commerz Bank in Germany, National Museum of Fine Arts, La Valetta, Abu Dhabi Authority for Culture and Heritage (ADACH), Farjam Collection, Dubai and Devi Art Foundation in New Delhi.

More Information

| | |
| --- | --- |
| Documentation: | Signed |
| Period: | New |
| Creation Date: | 2010-2012 |
| Styles / Movements: | Contemporary |
| Incollect Reference #: | 598225 |

Dimensions

| | | | |
| --- | --- | --- | --- |
| W. | 63 in; | H. | 43.25 in; |
| W. | 160.02 cm; | H. | 109.86 cm; |
Message from Seller:
Since its establishment four decades ago, Leila Heller has gained worldwide recognition as a pioneer in promoting creative dialogue and exchange between Western artists and Middle Eastern, Central and Southeast Asian artists.