Beth Webb Interiors
425 Peachtree Hills Avenue, Suite 11B-4
Atlanta, GA 30305
United States
404.869.6367

          Beth Webb has a penchant for great art, beautiful proportions, and comfortable, yet luxurious touches. With a background in art history, culminating in a Master's Degree from the Sotheby's Works of Art Course in London, Beth came to the word of interior design via her first career as an art dealer.

Today, with over 20 years of experience as president and CEO of Beth Webb Interiors, Beth believes that proper scale and a sense of timelessness are the foundation of any successful interior — whether it's traditional, eclectic, or contemporary. Her guiding philosophy on interior design lies in her core belief that any space created for a client should be respectful of their lifestyle and their passions. Hence, listening is of the utmost importance in order to craft a home that embodies a client's true character and personality.

Based in Atlanta, GA, Beth Webb's projects include homes throughout the southeast, as well as residences in Los Angeles, Florida, Connecticut, Michigan and Costa Rica. Beth and her work have been featured in numerous regional and national publications, Including ATLANTA HOMES & LIFESTYLES, COASTAL LIVING, ELLE DECOR, HOUSE BEAUTIFUL and SOUTHERN ACCENTS. Likewise, she is often featured on design blogs including BLUEPRINT BLISS, LA DOLCE VITA, PEAK OF CHIC, and THINGS THAT INSPIRE. Beth also writes her own design and lifestyle blog AESTHETICALLY-THINKING.

Over the years, Beth has given her time and talents to a number of designer showhouses and charity fundraisers including THE ATLANTA SYMPHONY SHOWHOUSE, ATLANTA HOMES & LIFESTYLE CHRISTMAS SHOWHOUSE and DIFFA/DINING BY DESIGN. Beth has served on the board of the FLORENCE ACADEMY OF ART for 18 years and is an active member of THE LEADERS OF DESIGN COUNCIL.        
Staff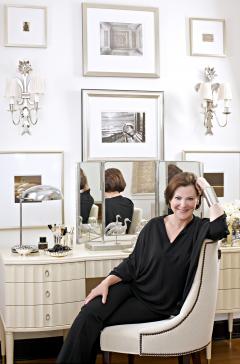 Beth Webb
President and CEO