Ike Kligerman Barkley
330 W 42nd Street
New York City, NY 10036
United States
212.268.0128

          We collaborate with our clients, craftsmen and colleagues to produce personalized living environments as well as the occasional high profile public building. In our 25 years, we've designed buildings across the country and around the world: a Georgian townhouse in the River Oaks neighborhood of Houston; a mountain lodge in Aspen; a loft in a repurposed butter factory in Manhattan; a vernacular white villa in Cabo San Lucas; a Romanesque building on Stanford's campus; and a rambling, weathered shingle house in Martha's Vineyard. Our two offices in New York City and San Francisco enable us to serve clients smoothly from coast to coast and beyond. In both locations, we realize our projects through traditional handicraft and cutting-edge processes. Structures are imagined in impressionistic watercolors and communicated through sketches; they are also digitally rendered and designed using the latest technologies, including our in-house 3D printer. From these initial designs through construction, we focus on selecting the best materials. Enduring material integrity is a hallmark of our work. We have been fortunate to receive numerous awards, including the AIA New York Chapter Award, the DDB Stars of Design Award, the ICAA Julia Morgan Award and the ICAA Stanford White Award, as well as participating in the AD100 since 1995. In 2010, the Monacelli Press published our first monograph, Ike Kligerman Barkley: Houses; our second book with the publisher, The New Shingled House, debuted October 2015.        
Staff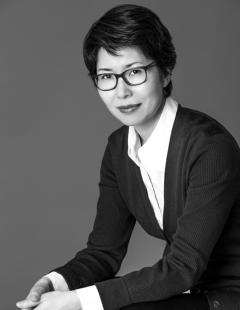 Mia Jung
Director of Interiors
Mia Jung is the Director of Interiors at Ike Kligerman Barkley. Her work is marked by its transcendence of traditional versus modern style, and by a balance of artistic expression and functionality. A calming sense of color is woven into the diverse collection of Mia's projects, from getaways in Cabo San Lucas to office spaces in Aspen, and from traditional beach cottages in Nantucket to sleek high rise apartments in Miami. Mia received her Bachelor of Fine Arts from the School of Visual Arts and worked at Victoria Hagan Interiors before joining Ike Kligerman Barkley. Interested in classical literature, weaving, and jewelry design, Mia's appreciation of the handcrafted extends home, where she enjoys making paper and wood toys for her two sons.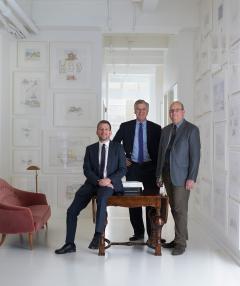 Partners
L-R: Joel Barkley, Thomas A. Kligerman, John Ike