Meadowbank Designs
37 West Avenue, Suite 101
Wayne, PA 19087
United States
610.688.8090

          Award winning designers Laura Buchner and Kirsten McCoy are the principal partners of Meadowbank Designs.  Our firm was founded in 1982 by Penny Steele and was named for her former Main Line estate outside of Philadelphia, PA.  From historic preservation, vacation homes, to additions and renovations, our firm has completed a wide range of projects throughout the country for generations of clients.  We strive to redefine "modern traditional" interiors while still respecting our company's history.  We are best known for residential design combining traditional motifs with a modern sensibility and providing the highest quality of design excellence and personal service.

Our ability to combine bold or subtle colors and patterns with classic influences and updated flourishes establishes our signature style.  We favor crisp lines, superior materials, fine detailing and never sacrifice quality.  Always, we take a custom approach to suit all of our clients' needs and no two projects end up looking the same.  We listen to who the client really is, what they truly want and strive to give them something they never knew they really wanted. In the end, we like to have fun with our designs and look to collaborate with our clients to inject true personality into a home.

Whether a project calls for fine art and antiques or dog and child friendly rooms, we give attention to detail in all aspects of our work.  We use only the best artisans and craftsman and we often custom- create any product in need of a design solution, be it furniture, wallpaper, textiles, light fixtures, millwork, or anything a client requires –even dishes for the kitchen.

During our years as Meadowbank Designs, many friends have shared their collective knowledge of design; notably Peter Zimmerman Architects, Archer and Buchanan Architects, Period Architects, Ranieri and Kerns and Associates, Griffiths Construction, Orion Builders and E.B. Mahoney Construction.  Valued colleagues in architecture, construction, and design are integral parts in a profession where creating timeless design is not only an art form, but a team effort.
 
Located in Wayne, Pennsylvania on Philadelphia's Main Line suburbs, Meadowbank Designs is currently busy working on projects in and around Philadelphia, the Pocono Mountains region, the New Jersey Shore area, New York, New England and have recently completed projects in Chicago, Indiana, Florida, Wyoming, California and Colorado.        
Staff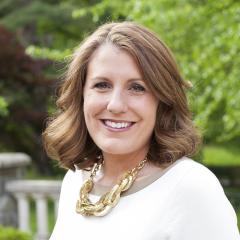 Laura Buchner
Principal Partner
Laura's lifelong passion for interior design and architecture is evident in everything she does, and it's hard for her not to talk about it when meeting new clients, friends, and colleagues. Laura's interest in architecture and design was sparked at a young age by her parents' experience in hiring an architect to build their dream home in Indianapolis. Laura's interest and expertise with color, furniture, and fabrics grew over the years. After attending Wittenberg University and earning a B.A. in Management, Laura realized her career needed something more. Talking about her passion, reading design journals, shopping, and attending lectures on interior design just weren't enough. She then completed her M.S. in Interior Design and Architecture from Drexel University, and was quickly hired by Penny Steele of Meadowbank Designs.

Working as an Au Pair in France during the summers of graduate school, Laura was able to travel extensively and gain an awareness and appreciation for cultural differences and styles. In her travels, she was inspired by human behavior and how we find contentment in our surroundings. The layout of a room's furniture, the color combinations, the lighting, and how the space is perceived are fundamentals in each design. Laura's relationships with clients are informal, comfortable, and friendly. Her eye for color, style, and her unique ideas are refreshing and tailored to each client's vision and budget.

Laura gains constant inspiration for design by guest lecturing and critiquing student work at Drexel University, and advances her knowledge base through studies at the Winterthur Museum.
When not designing, you can usually find Laura on the tennis court or enjoying her husband, Ray, two young sons, Raymond and Jake, and dog, Finnegan on their horse farm in West Chester, PA.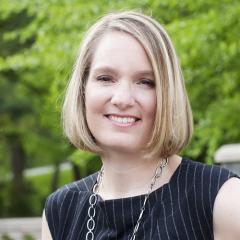 Kirsten McCoy
Principal Partner
Kirsten was born in Virginia and grew up in Morristown, New Jersey when her father transferred out of the Navy to work in New York City. Her earliest exposure to interior design came from her grandmother and mother (both avid antiques collectors), when, as a child, she would join them on grand house and museum tours throughout New York and New England. Her grandparents faithfully restored a Federal Style Revolutionary War period home in Essex, Connecticut, and it was that house that had a lifelong impact on her appreciation for classical architecture, fine construction practices, and thoughtful researching of interiors. While completing her undergraduate studies at Rutgers University, Kirsten spent time studying in England, and traveled extensively throughout Europe. It was during that time in her life that her passion for antiquities and design was truly ignited. She later attended Drexel University where she received her Master's of Science in Interior Design and Interior Architecture.
A lifelong scholar, Kirsten furthers her studies of design, architecture and residential technology, through her involvement as a guest lecturer and critic at Drexel University and the Art Institute of Philadelphia. She continues to pursue historical and technical studies through the Winterthur Museum, the Newport Historical Society, the Royal Oak Foundation, the Institute of Classical Architecture & Art and CEDIA. When not playing tennis, Kirsten enjoys designing furniture, wallpaper and textiles and is quietly obsessed with accessorizing rooms. She takes great pride in her art collection at her ca. 1860's farmhouse in the Main Line area of Philadelphia, where she lives with her husband, Jim, daughter, Brooke, and dog, Gizmo.