Patrick Sutton Interior Design
1000 Light Street
Baltimore, MD 21230
United States
410.783.1500

          Raised in New York, the son of a famed travel journalist father and fashion model mother, Patrick Sutton's unique background has exposed him to a world of elegance, romance and luxury few have had the opportunity to experience. These extensive travels have left him with a vast and vivid memory of the worlds most beautiful places and elegant settings. This history, coupled with his studies and training as an architect have shaped his process of design as creating a complete experience, unifying the clarity and structure of architecture with the romance and detail of the decorative arts.        
Staff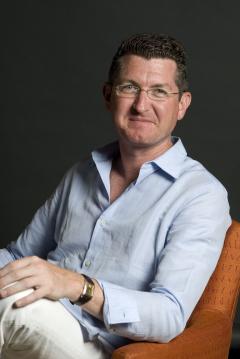 Patrick Sutton
"Sutton's early life has left him with a vivid mental library of the elegance the World offers, a natural sense of what constitutes luxurious living…Sutton himself radiates a kind of concentrated passion for his work that infuses everything he does." - Rosemary Knower, Home and Design Magazine

Patrick Sutton is an interior designer known for his romantic, modern design for world class residential and signature hospitality projects. His unique background has been a guiding force behind his work. Raised in New York, the son of a renowned travel journalist father and fashion model mother, his childhood was filled with travels to the world's most beautiful places and elegant settings. Later, Patrick studied architecture at Carnegie Mellon University, earning his degree in architecture with university honors before traveling to Baltimore for apprenticeships with several architectural firms before starting his own interiors firm in 1994. The pursuit of creating a fully integrated design experience, from concept to detail, has been a core value of his work. By combining an architectural perspective with his intuitive understanding of lifestyle gleaned from his background of travel, his work is both anchored and sensorial complete, and his modern approach in translating local traditions to elegant and comfortable interiors has earned him commissions worldwide.

In 2001 he launched Patrick Sutton Home, a retail boutique, as an extension of his signature brand and to provide broader access to products designed and culled for his client's projects. Patrick's work has been amidst the pages of Luxe Magazine, Design 4Living, Metropolitan Home, House Beautiful, Coastal Living, Home and Design, Style, Baltimore Magazine among other publications. The father of two boys, Patrick and his wife Tracy make their home in Baltimore, Maryland.