Rees Roberts + Partners
50 Warren Street
New York City, NY 10007
United States
212.587.3371

          Rees Roberts + Partners is an award-winning interior and landscape design firm formed in 2007 to give those departments formerly of Steven Harris Architects a distinct presence and identity. Rees Roberts + Partners has completed projects worldwide, including townhouses and apartments in Manhattan and Brooklyn; residences in upstate New York, Connecticut, the Hamptons, Miami, San Francisco, and New Mexico; a house in Cape Town, South Africa; a lakefront home in Geneva, Switzerland; and a boutique hotel and spa on an island off the coast of Croatia. 
Known for interiors that defer to the elements of art, light, and views, the firm creates spaces that are tailored to both the context of each location and the character of the individual. While inventive and informed by a well-rounded knowledge of architectural styles, the designs remain true to clients' practical realities and varied lifestyles. Rees Roberts + Partners is also recognized for its innovative landscape design and skill in integrating the built structure and natural environment. The firm understands that landscapes are key in defining the character of a place—particularly in New York, where a garden can provide a welcome respite within the urban cityscape. The firm seeks sustainable and ecologically meaningful design solutions that respect each project's surroundings.
The firm's numerous awards include Interior Design Best of Year in 2016, 2015, 2010, 2009, and 2007, as well as 2014 Gardenista Award and 2010 American Society of Landscape Architects Award. Lucien Rees Roberts was inducted into the Interior Design Hall of Fame in 2008. The firm's work continues to be widely published in periodicals – including Architectural Record, Elle Décor, Garden Design, Luxe Magazine, The Wall Street Journal, Interior Design Magazine, New York Magazine, The New York Times, Town & Country and Architectural Digest – and books, including Tropical Modern, International Beach Houses, Waterfront Retreats, and Luxury Houses Country Edition.        
Staff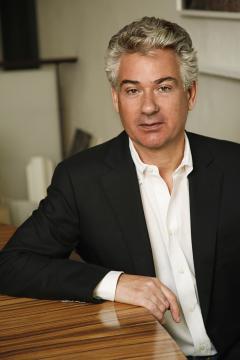 Lucien Rees Roberts
Principal
Lucien Rees Roberts was born in England and educated in architecture and design at Cambridge University. In 1981 he moved to New York, where he currently is partner of Rees Roberts + Partners. He also was the founding head of the interiors department at Steven Harris Architects LLP, where his aesthetic vision has played an integral role in the development of the firm and the successful execution of its projects.
Well-known for his subtle use of color, texture and fabric, Rees Roberts's designs capture the essence of modern living. Coming from the third generation of painters in his family, his love for art is a unique and important source for his inspiration and has left an indelible mark on his design tastes. His work achieves a functional elegance that is characterized by his deference to art, light and views provided by natural surroundings. Each project reflects the character of the client as well as the needs of everyday life, and his designs incorporate a combination of custom furniture and unusual antiques.
Rees Roberts has designed interiors for projects in New York, Connecticut, New Jersey, Florida, California and other areas of the United States, as well as in Mexico, South Africa, Costa Rica and Croatia. In December 2008, he received the honor of being inducted into the Interior Design Hall of Fame, and his design work is regularly featured in a wide range of international design books and publications.

David Kelly
Partner
David Kelly is the partner in charge of the landscape department at Rees Roberts and Partners. Kelly, who is from British Columbia, Canada, has been with the firm for 15 years. His collaborative approach with his clients ensures a fully integrated landscape, and his experience with green roof technology and sustainable building practices marries well with his keen aesthetic sense to create bold and innovative landscapes on many scales.
In 2010 Kelly won an American Society of Landscape Architects Award for his landscape design of a retreat in Cape Town South Africa. The project borders the base of Table Mountain and was designed so that it would seamlessly integrate with the rugged and diverse natural environment. Plantings from the rich native Fynbos weave throughout the garden drawing on the regions remarkable biodiversity, and a natural swimming pool and dynamic outdoor living spaces add to the unique visual and lived experience of the landscape.
Kelly has completed a number of projects in Manhattan including an indoor glass conservatory with a 30-foot green growing wall. In addition to the numerous city projects he is working on a 110 acre sustainable farm in upstate New York which when finished will allow the owners to be able to live off the grid. Other projects include a private retreat in Martha's Vineyard, MA; an oceanfront residence in Montauk, NY; a multi-unit compound in Cabo San Lucas, Mexico; and a guest house on an island off the coast of Dubrovnik, Croatia.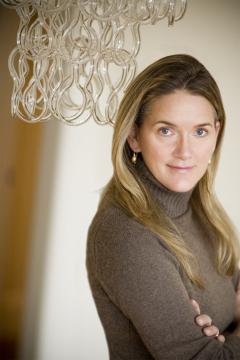 Deborah Hancock
Partner
Deborah Hancock brings a rich and varied background to Rees Roberts + Partners. Having earned a degree in art history, she began her career as a fashion and home furnishings trend forecaster for Cotton Incorporated. In this capacity she traveled throughout Europe and Asia, unearthing unique and innovative fabrics and furnishings along the way. Looking for a way to marry her love of traveling the markets of the world with a career in New York, she began exploring the world of interior design by importing antiques from Indonesia. After attending Parsons School of Design, she was decorating homes in New York by 1996. A wide variety of projects—from city-based bachelor flats to family-oriented country homes—helped to round out her experience and her eye for design.
Deborah understands the visual impact of an interior space as a layering of objects, textures and colors, and her work evokes those elements which transcend time and label. She designs with the client in mind, ultimately creating an aesthetically-inspired environment tailored to the individual.
Deborah has been with Steven Harris Architects since 2004 and is now a partner in Rees Roberts + Partners. Her completed projects include the furnishing of apartments on Central Park West and East End Avenue in Manhattan; townhouses on the Upper West Side, Greenwich Village, and Brooklyn Heights in New York City; and residences in the Hamptons and Geneva, Switzerland.