Sandra Nunnerley Inc.
41 East 57th Street
New York City, NY 10022
United States
212.826.1146

          Sandra Nunnerley is the founder of the internationally recognized design firm, Sandra Nunnerley, Inc. W magazine has called Sandra one of the most fashionable designers in New York, she has been featured on Architectural Digest's AD 100 list, and her work has been published widely. 
Sandra's projects range from apartments in cities like New York and Hong Kong to tropical getaways in the Bahamas to country homes in Maryland and her native New Zealand. Her work is grounded in a sophisticated understanding of architecture and periods, and special attention to the role of art. She is known for deft interplays of color and texture, juxtapositions of the contemporary and traditional, and details that meld form and function.
The firm's New York headquarters and its satellite office in London are committed to a process that is sensitive to clients' needs. As she puts it, "I listen to my clients and deliver spaces they never dreamed of. We create interiors that are not only beautiful to look at, but that people actually use."        
Staff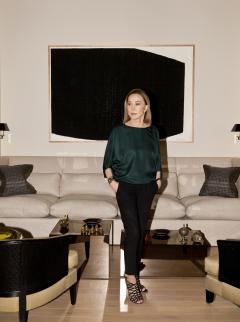 Sandra Nunnerley
Born in New Zealand, established in New York, and a natural globetrotter at heart, Sandra Nunnerley's inimitable style is often described as "art de vivre" bringing together the past and the present, to create "classic interiors with a twist," reflecting the designer's own love of travel, art, and exploration.