Scott Sanders LLC
27 West 24th Street, Suite 803
New York City, NY 10010
United States
212.343.8298

          Sanders founded his interior design firm, based in New York City and the Hamptons, to specialize in high-end residential and commercial design commissions, projects for which he designs custom furnishings and curates art collections for notable hotel properties and private clients.

With design foundations and business acumen honed as the son of a residential developer and his degree from Parsons School of Design in interior design, Sanders' began his design career creating and spearheading Ralph Lauren's interior design business. His transformations of the global residences of Ralph Lauren clients brought him to the attention of his current dedicated client base, a core roster of private clients, with which he founded his firm, Scott Sanders LLC, in 2000.

The firm is known for modern, intelligent, and witty style, personalized to match the lifestyles of clients, with spaces moving effortlessly from private and comfortable to public and perfect for gracious entertaining.  This style is a sophisticated blend of traditional and contemporary, one that stands the test of time with elegance and grace. In addition to providing interior design services, Sanders cultivates his well-honed access to extraordinary global resources, to specialize in curating and building important collections of art, antiques, and bespoke accessories for his clients.

Diverse designs for residential projects reflect Sanders' signature ability to design for location and purpose. Projects range from ground up construction, additions and renovations, historic and landmark restoration, or simply adding new updated layers to an existing residential property.

Sanders' hospitality commissions range from the highly acclaimed renovation of the Beach House Bal Harbour Hotel; the 440-room, award-winning Lord Baltimore Hotel in Baltimore; and the landmark, art-deco The Albion Hotel in South Beach Miami. In 2016 Sanders will re-design the Morris Lapidus-designed Capitol Skyline Hotel in Washington, D.C., all for noted art-collector and boutique hotelier clients, the Rubell family.

Sanders' The Insider Guide to the Lord Baltimore Hotel and Baltimore, Too, the story of the collaboration with the Rubells for the re-imagining of the Lord Baltimore Hotel, was published Fall 2014 by Pointed Leaf Press. In 2010, Pointed Leaf Press published "Picture Perfect: Designing the New American Family Home," an innovative book that documents Sanders' inspired youth, his accomplished career, and a step-by-step behind the scenes look at Sanders' process while designing the perfect new American family home.        
Staff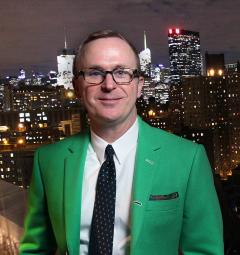 Scott Sanders
Sanders' passion for interior design can be traced back to his childhood in Ohio. The son and grandson of residential developers, Sanders grew up surrounded by building materials and design elements. Accompanying his father and grandfather to construction sites and commercial vendors, he developed a keen eye for color, texture, shape and composition, which led to his studies at Parsons and professional career at Ralph Lauren as lead interior designer.