Stephens Design Group, Inc. | Bradley Stephens
547 West 27th Street, Suite 616
New York City, NY 10001
United States
212.929.5100

          Stephens Design Group is the Manhattan-based Interior Design studio led by Founding Partner, Bradley Stephens.

Since establishing his firm in 2003, Bradley has grown to become one of New York's most sought-after Interior Designers by creating spaces that are timeless, beautiful, functional and durable.  Bradley is the lead designer on all SDG projects and is intimately involved in the process from concept design through installation.  Armed with an MFA in Interior Design from Brooklyn's renowned Pratt Institute, Bradley's architecturally-oriented process addresses all aspects of interior design, including spatial configuration, scale, proportion, and light – as well as materials, textures and colors. 


At Stephens Design Group, we believe a project is most successful when our clients see themselves in the finished product.  Rather than imposing a "signature" style of our own, we find greater inspiration in creating spaces that are informed by the unique history, personality and aspirations of our clients.  Our designs are often eclectic in style, curated with unexpected parings of new and vintage pieces, culled from our vast collection of international resources and local craftsmen.


We work diligently from the onset of each project to establish the utmost level of trust between client and designer, and our projects follow a clear, linear design process that provides complete transparency into our firm's work, fees and furnishings procurement.  While we have a strong focus on aesthetics, our work is equally pragmatic.  We go to great lengths to learn and address the unique requirements of designing for our clients' individual lifestyles.  This thoughtful, collaborative approach to design has been the cornerstone of our firm's practice and ultimate success, often resulting in repeat work with many of our valued clients.        
Staff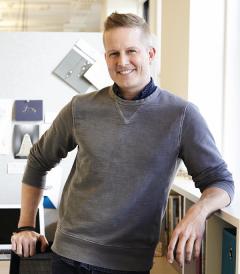 Bradley Stephens
Founding Partner
Originally from Texas, Bradley moved to New York City to study Interior Design at the prestigious Pratt Institute in Brooklyn. After graduating with a Masters in Interior Design, Bradley trained with some of NYC's most prominent Architects and Designers, including several years in the offices of Deborah Berke Partners Architects. In 2003, he launched his own interiors firm and has since built a reputation among clients, vendors and tradespeople as a talented designer with an honest, highly personable and collaborative approach to design.