14 Outstanding Artworks to Embellish Any Interior from Art Miami 2022
by Benjamin Genocchio
Of the many art and design fairs happening in Miami in the first week of December, Art Miami remains one of the most appealing in terms of both appearance as well as the variety and price point of artworks on offer. This year the fair was again stocked with great things, so the Incollect editorial team decided to select 14 of our favorite artworks from the fair — objects and images to enhance any interior.
Much of the energy in Miami this year had shifted away from the beach and the main Art Basel art fairs towards the Design District, which hosts several major fairs including Art Miami as well-curated exhibitions, art commissions and performances. Developer and collector Craig Robbins opened his Dacra offices to visitors to present a curated selection of pieces from his holdings of over 1,200 works of contemporary art.
Miami's newly minted design district continues to grow and expand and is soon to become one of the nation's premier destinations for contemporary design. New to the district are dedicated showrooms for Fendi Casa and Dolce & Gabbana Casa. But for one week a year, the focus is squarely on art, pretty much across the entire city, and Art Miami is one of the Miami Art Weeks' premier destinations.



Robert Motherwell (1915–1991), DJARUM, 1975. Signed and Numbered Lower Right. Signed and Dated (Reversed) in Plate Upper Left. Lithograph, Screenprint, Collage and Hand Coloring, 48 x 31 3/4 inches. Edition of 18 plus 10 artist's proofs (#2/18).
Jerald Melberg Gallery, Charlotte
Robert Motherwell's 1975 lithograph, screenprint and collage with hand coloring titled Djarum, from an edition of 18 was one of the most charming historical works in the fair. Priced at $20,000, it was also good value for money for it is a visually pleasing, idea-rich work by one of the most important American artists of the 20th century. Here he collaged a cigarette packet for Djarum, an Indonesian brand of clove cigarettes and cigars, onto an abstract shape to create a curiously ambiguous, expressionistic image.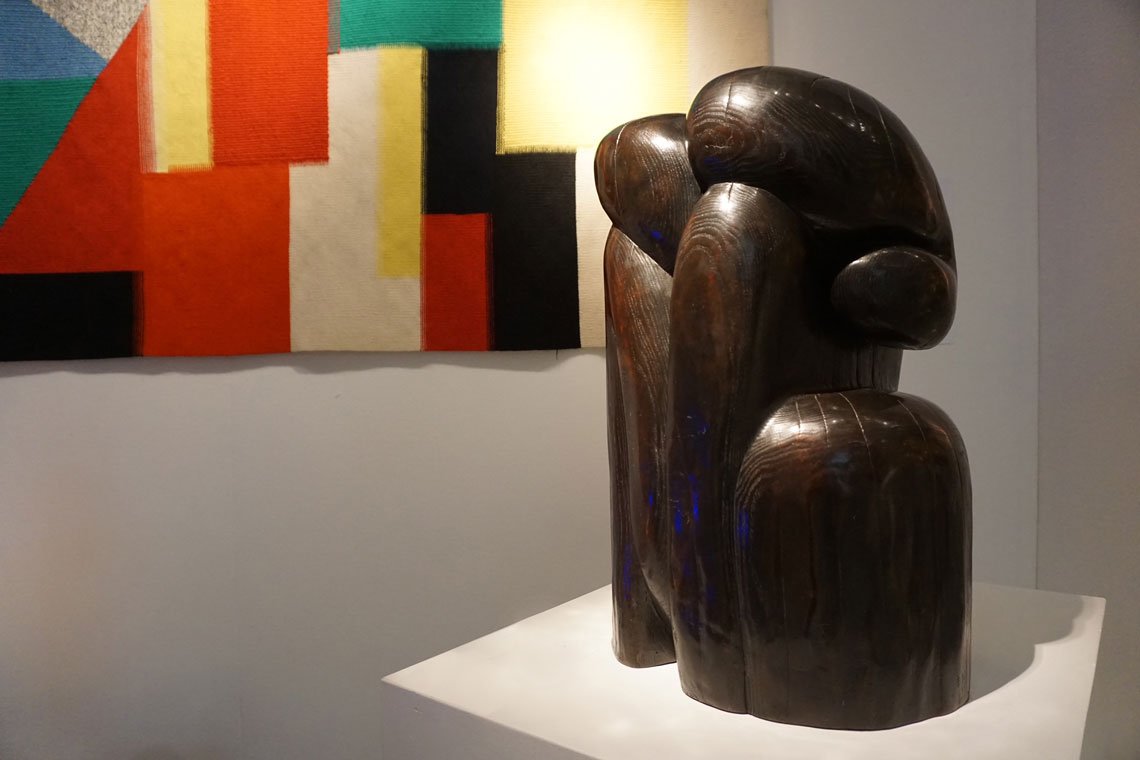 Wang Keping (b. 1949), The Couple, 1999. Bronze with patina. Edition: Artist proof. Signed WK.

Boccara Gallery, New York
Wang Keping is one of the most talented sculptors to emerge from China in more than three decades. He lives in France, having left China in the 1970s and today is doing what he has always done — turning out small, figurative forms with large and protruding heads in wood and bronze that have a blocky, geometric yet sensual quality. Underling their captivating appeal is a raw, almost primitive visual power.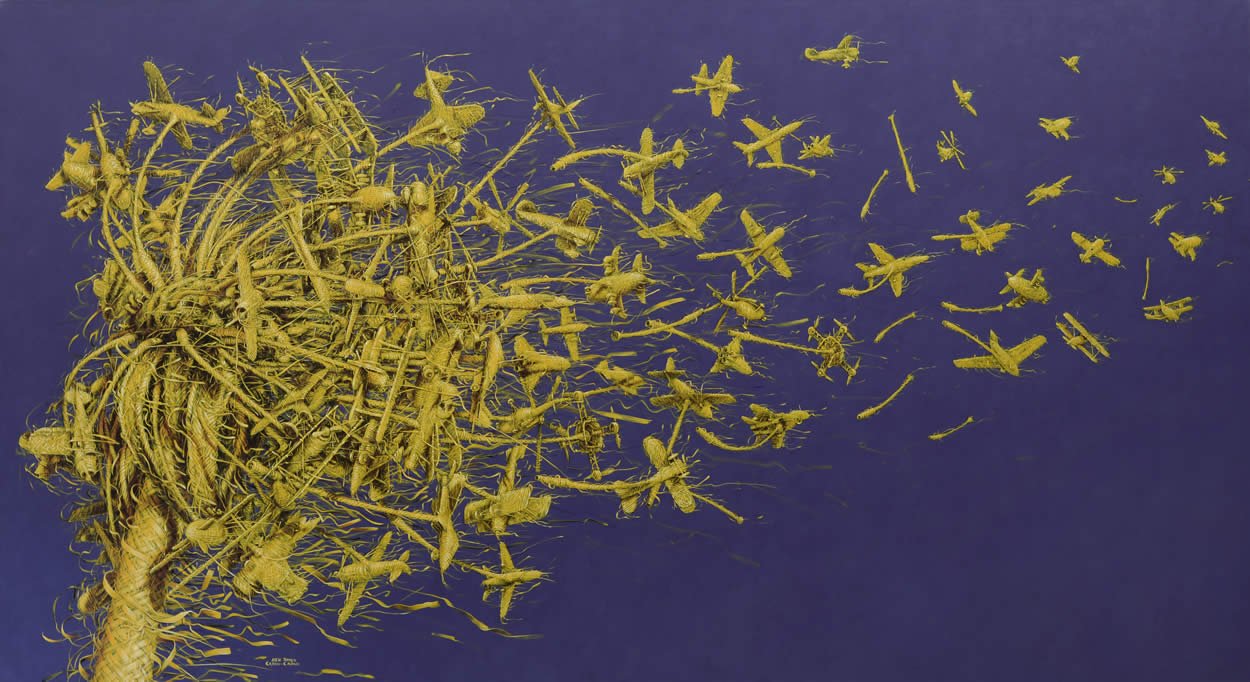 Alexi Torres (b. 1976 ), Wish Series: Flights For You, 2020. Original oil on canvas, 72 x 132 inches.
Contessa Gallery, Palm Beach
Alexi Torres is a young painter of exquisite, even extraordinary talent. He can paint anything and one of his best works at the Contessa Gallery booth was Flights for You, 2020, from the artist's Wish series, showing hundreds of tiny little painted planes that converge to form the image of a dandelion. It is a remarkably skillful, beautiful work of art and apostate in this context given the global nature of the Miami art fair clientele.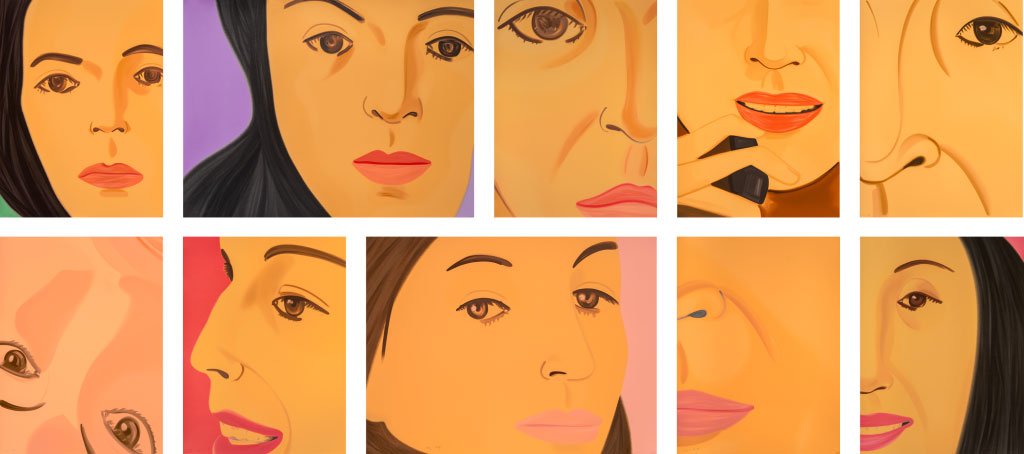 Alex Katz (b. 1927), Ada 1-10, 2022. Screenprint in colors with Portfolio Box, 54h x 40 1/2w in (137.16h x 102.87w cm).

David Benrimon Fine Art, New York
Alex Katz's portfolio of screenprints in colors with a portfolio box, Ada 1-10, from 2022 offers a wonderful opportunity to own a signature work by this famous portrait painter, currently the subject of a career retrospective at the Guggenheim Museum in New York. The set includes ten images, but each of them could be bought separately, and all depict a close up portion of the face of Ada, his wife of 60 years, and the lifelong subject and muse for his work. Katz has painted her over 250 times.
DTR Modern, Boston
This gallery decided to go all in on one artist with a full booth presentation of the work of Hunt Slonem, an artist famous for painting bold pictures of bunny rabbits in outline against colorful backgrounds. One of his other, even more colorful, pleasing works in the booth, in addition to hundreds of pictures of bunnies, was Moluccan Cockatoos, an oil on canvas painting of rows of pretty birds from a 2020 series of paintings of birds.



Franco Adami (1933-2022), La femme Girafe, 2009. Bronze, 42 1/2 × 24 × 18 1/2 in (108 × 61 × 47 cm). Edition of 8.
Galerie Mark Hachem, Paris
Sculpture by Franco Adami dominated this booth, which presented a range of works by gallery artists. Adami is a modernist who creates geometric figures in bronze that are elegant and refined, with clean lines and smooth surfaces. The formal inspiration for the artist comes in part from totemic sculpture, his works variously bringing to mind the monumental heads of Easter Island statues or Pacific Northwest totem poles. At the same time visions in the work of classical figures, Egyptian in particular, suggest a process of metamorphosis between animals and humans.
Patrick Hurst (b. 1988), We Are Water, 2022. 316 Stainless Steel on 316 Stainless Steel base. Size: 67.75 x 35.5 x 37.5 in (172 x 90 x 95 cm). From a unique series of 5 plus proofs. © Patrick Hurst.
Long-Sharp Gallery, Indianapolis
Patrick Hurst's sculpture We Are Water, 2022, consists of five polished, and highly reflective stainless steel balls of different sizes arranged to create a humanoid figure that brilliantly distorts the world around it. Though conceived for the outdoors there is no doubt it would create an intriguing modern interior sculpture. The balls are composed, cleverly, in such a way as to suggest they might suddenly tumble down any minute.

Andy Warhol
(1928–1987), Cowboys and Indians Series, 1986. From upper left: John Wayne, Annie Oakley, General Custer, Northwest Coast Mask, Kachina Dolls, Plains Indian Shield, Mother and Child, Geronimo, Buffalo Nickel and Teddy Roosevelt. Color Screenprint on Lenox Museum Board, 36 x 36 in. each.
Masterworks Fine Art, Palo Alto
One of the more spectacular walls of images at the fair was a full set of Andy Warhol Cowboys and Indians screen prints, in color, from 1986. The works are hand signed by Warhol from an edition of 250 and together the ten works make an impressive as well as immediately recognizable statement as a work by Warhol and comment on a popular genre of movie-making mythologizing the settlement of the American West.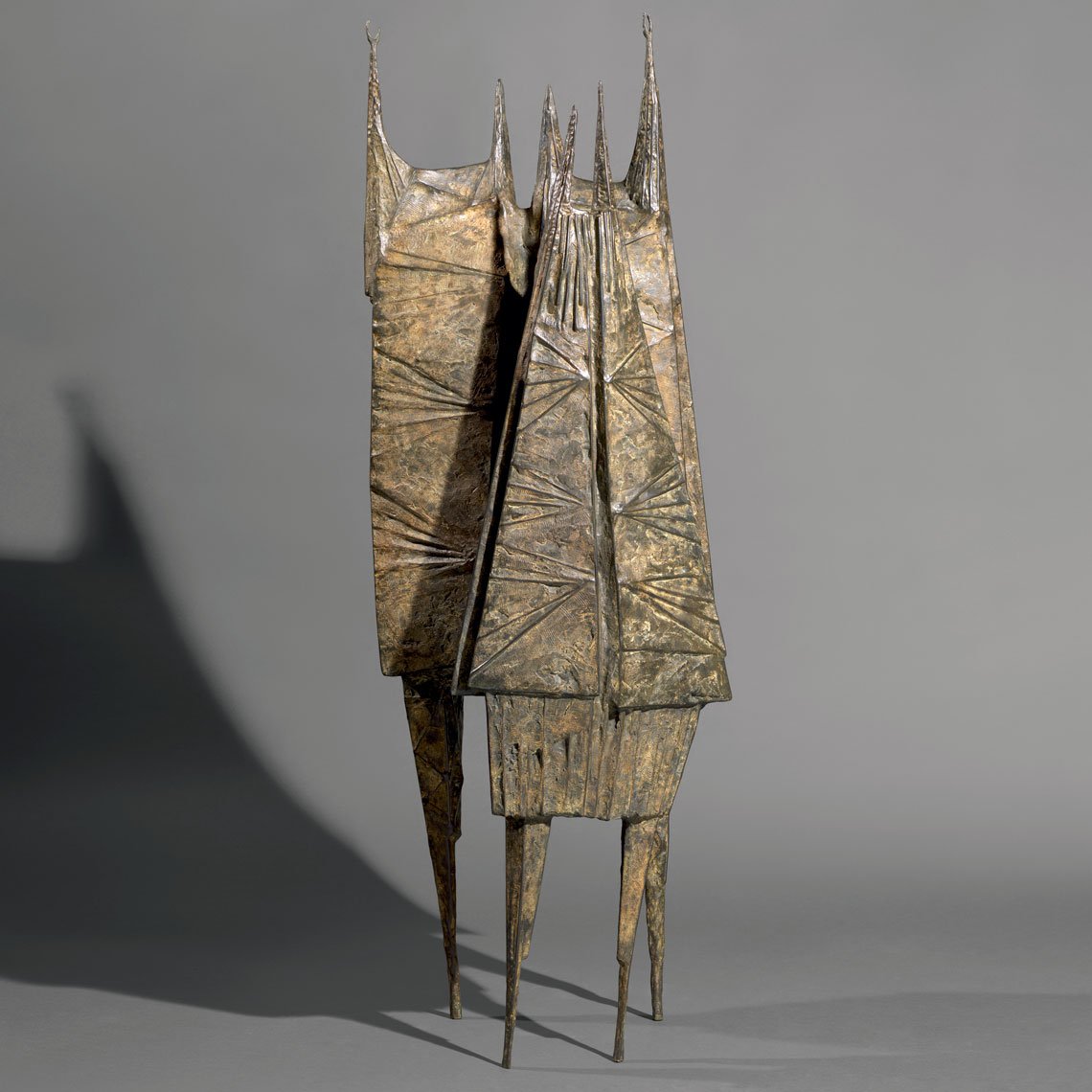 Lynn Chadwick (1914–2003), Teddy Boy and Girl, 1955. Bronze Edition of 6. Signed, inscribed '170,' and stamped with the foundry mark. Cast by Pangolin Editions, 2002. 190 x 65 x 60 cm. (74 ¾ x 25 ½ x 23 ½ in.).
Osborne Samuel, London
Osborne Samuel Gallery from London delivered a marvelous presentation of several sculptures by Lynn Chadwick, including the classic Teddy Boy and Girl, from 1955, a bronze, editioned sculpture of two life-size hooded figures with pointed legs and the triangular bodies the artist is known for. It is a terrific example of the artist's work and would make for an eye-catching addition to almost any kind of domestic interior.



Left:

AQUA FOSSIL Chandelier transports the viewer to a landscape of unknown nature, where water has become fossilized. The sculpture reveals the main element of the molecular composition of Alabaster Stone: Water. In fact, Alabaster is only composed of two molecules, H20 and CaSO4, which poetically could be described as fossilized water. In this way, Amarist Studio's new chandelier describes a fluid organic composition presenting Alabaster Stone as a liquid element. Reinterpreting the material as a moldable element, returning it to its aqueous origin, and revealing it as a treasure that emerged from an ancient sea. Right: AQUA FOSSIL Gravity explores the visual perception of strength and weight. Amarist's new sculpture creates a poetical oxymoron that captures the attention of the viewer. The artwork, which is developed within the studio's Aqua Fossil series, continues reflecting on a future where water is in a fossil state materialized through Alabaster Stone, which the main element of its molecular composition is indeed H20. The core of Aqua Fossil Gravity is a compressed sphere sculpted in Alabaster Stone, symbolizing the power of water and light as the source of all life and resilient through any type of pressure.
Priveekollektie Contemporary Art | Design, Heusden
Design duo Arán Lozano and Clara Campo are the brilliant young collaborators behind Amarist, a brand that is making headlines for their sculptural mirrors as well as lights, especially the Aqua Fossil series — fluid organic compositions made using alabaster stone that is refined and cast to resemble a suspended liquid element that dominated this booth. These are materially and technologically inventive designs and very beautiful.

Keith Haring
(1959–1990), Apocalypse Suite. The complete set of 10 screenprints in colours, 1988, on Museum Board, with accompanying text by William Burroughs screenprinted on acetate, each sheet signed, dated and numbered from the edition of 90 in pencil (there were also 20 artist's proofs and 5 hors commerce sets), published by George Mulder Fine Arts, New York (with the artist and publisher's copyright inkstamps on the reverse), 96.5 x 96.5 cm. (38 x 38 in.)

Shapero Modern, London
One of the great treasures of the fair was the complete set of 10 color screen prints, from 1988, with an accompanying text by William Burroughs, from the edition of 90, each signed, of New York graffiti artist Keith Haring's Apocalypse Suite. The prints present a zany, impressionistic take on life, love and art history. Haring remains one of the most collectible and still affordable of a generation of street artists, which includes Jean Michel Basquiat.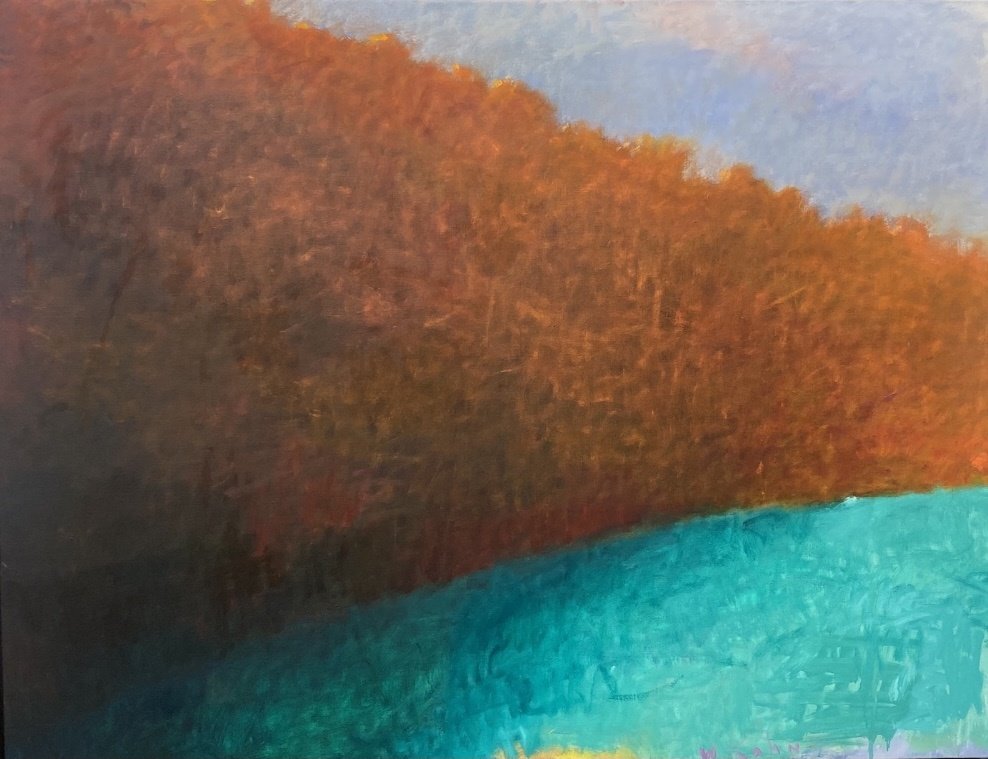 Wolf Kahn (1927-2020), A Slight Curve in the Meadow's Edge, 1989. Oil on canvas, 52 x 72 inches.
Surovek Gallery, Palm Beach
This gallery was showing a glorious early oil painting by the late Wolf Kahn, A Slight Curve in the Meadow's Edge, 1989, that is tightly conceived, painstakingly painted, and gloriously lush. It shows what looks like a brown-orange meadow meeting the edge of a curved aquamarine blue pond. It is a soulful, calming and gentle landscape image that is really a kind of formal study of color and the relationship between shapes.
Friedel Dzubas (German/American, 1915-1994), Entrance (Diptych). Acrylic on canvas, 1965, 44 ½ x 94 inches. Signed, titled, and dated verso. Provenance: Loretta Howard Fine Art, New York. Acquired from the above by the present owner in April 2003.
Vallarino Fine Art, New York
This thoughtful, sensual abstract acrylic on canvas diptych by the German/American painter Friedel Dzubas is titled Entrance but presents the viewer with something of a visual conundrum, for it is not clear if we are actually entering the space or exiting it. The division of the painting into two rectangular canvases of different sizes also adds a dynamic tension to the image, which was painted in 1965. It is a clever and important historical artwork by a painter who remains under the art world's radar.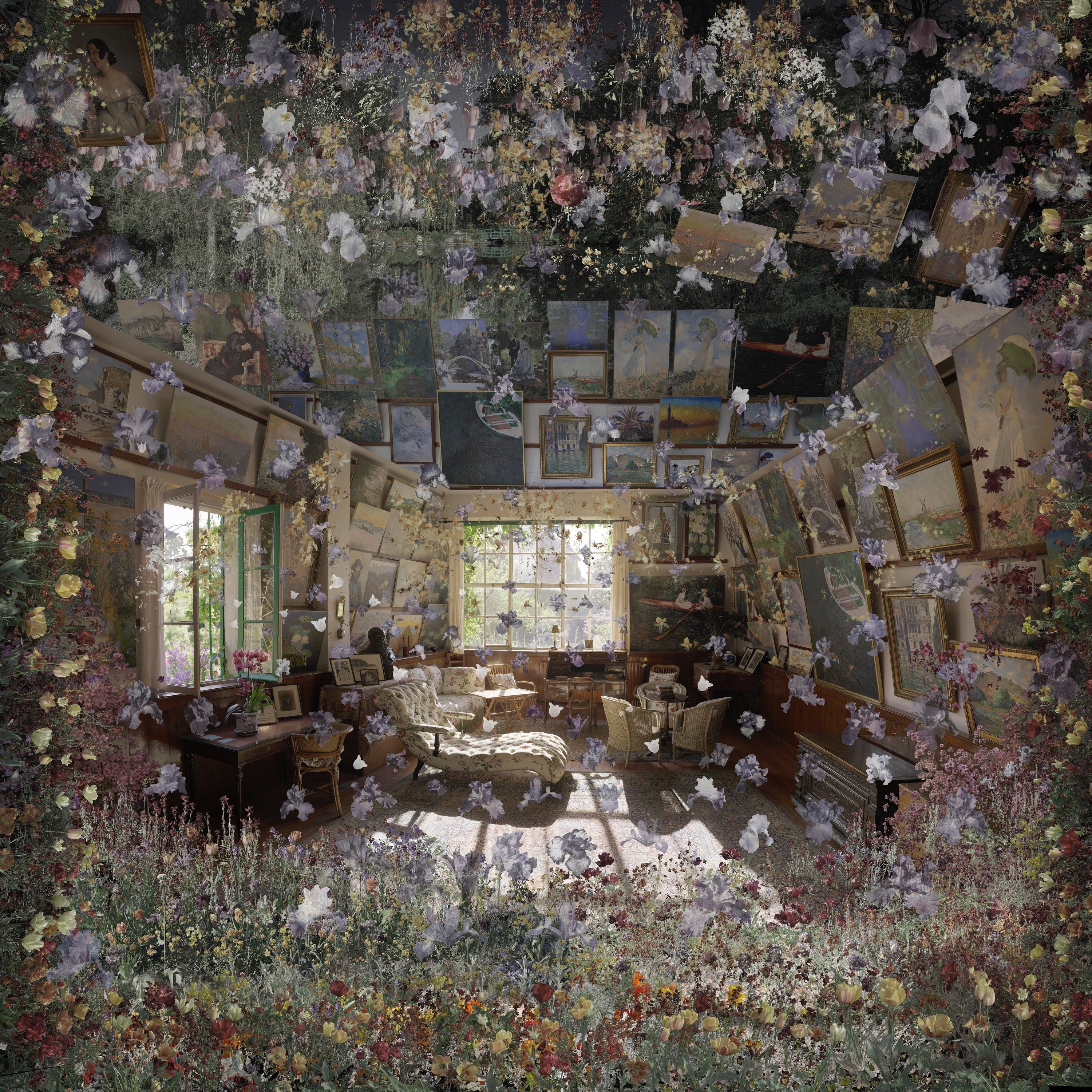 Jean-François Rauzier (French, b. 1952), Giverny, Atelier Monet, 2022. C-Print mounted on aluminum, 65 x 65 inches. Edition of 8 + 2 APs.
Waterhouse & Dodd, New York
The French artist Jean-François Rauzier's C-Print photograph mounted on aluminum Giverny, Atelier Monet, from 2022, has been one of the most popular images from the artist's Giverny series since first exhibited in New York in October this year. Four of the series of the edition of 8 + 2 APs were sold at Art Miami, which is no surprise given how lush and beautiful it is, depicting Monet's actual studio rimmed with images of flowers from the gardens at Giverny.