5 Heritage Brands Reinventing Themselves
"Sooner or later, everything old is new again," the author Stephen King is quoted as saying in regard to his writing. The same also goes for design, where styles, brands and ideas once in vogue, then in the rear view mirror, come back into focus all over again. Here at Incollect we celebrate both the old and the new, and the old that is new again, and in service to that idea we decided to profile some of our favorite 'heritage' brands from the New York Design Center at 200 Lexington Avenue who are, in our view, continually evolving, adapting and moving design forward.
by Benjamin Genocchio



Left: The pieces featured here from the Thomas Pheasant for Baker Collection include the Oblique Dining Table, Bristol Armchair, Marais Cabinet, and the Murano Dish Pendant. Right: Pictured here from the Baker Luxe Collection include the Gabriella Side Table and Volute Swivel Chair.
Handmade quality and craftsmanship is the hallmark of Baker Furniture, a legacy brand that began as a cabinet shop founded by Siebe Baker, a Dutch immigrant, in 1890 in Allegan, Mich., near Grand Rapids, and today continues to grow, evolve and set trends in interior design. It is a remarkable brand with a remarkable history — along with a catalog of outstanding collections for more than a century. Some of the more famous Baker Collections include Alessandro, by Italian interior designer Alessandro Gambrielli Gambalogna, introduced in 1980, the Thomas Pheasant Collection, by the renowned AD100 interior designer, and the Barbara Barry Collection, from 1996, designed by the California-based artist and designer.
"Remaining true to our beloved, time-honored roots while embracing innovation is something the Baker team has wholeheartedly taken pride in throughout the past few years," says Alexa Keaney, Director of Marketing at Baker. "Through collaborations with distinguished and emerging designers — from Thomas Pheasant, Bill Sofield, Laura Kirar and Tony Duquette to Andre Arbus — who share our vision to curate classic yet contemporary collections that uphold the signature Baker craftsmanship and feel, we embrace our heritage brand status while still bringing fresh, sophisticated design to the table."
The innovation continues today, Keaney says, with international showroom openings and more adventurous new design collections. "Additionally, in the 2020 introduction of The Baker Luxe Collection, we presented fashion-forward pieces with an eclectic, more 1970s-style modern touch. Overall, we're delighted with our past years' successes and are excited for all that's in store for the future of the brand."



Left: Buriton Wall Light. Right: Shoreham Table Lamp in red.
"When we founded Vaughan almost 40 years ago, the collection was inspired by antiques and art — and it still is," says artist-designer Lucy Vaughan, co-founder with her partner Michael Vaughan of their eponymous business known for clean lines, simplicity, and an absolute elegance of form in all of their lighting, furniture, accessories and textiles. "However, the designs have evolved along the way to include original pieces with a modern twist." With the headquarters in Hampshire, England, they still make, assemble, or finish every piece on site. "The evolution of the design process is anchored in that tradition and craftsmanship," she says. Quality of the materials is key, along with the making and finishing, as in Vaughan's famous Truro lamp which is made of cast brass using the ancient 'lost wax' technique.
The company's commitment to quality extends to every level of how the furniture is made. "We are also proud to incorporate technological advances and safety testing in all our products, while having a strong commitment to sustainability in the lighting, textiles, and furniture we make and supply to some of the most prestigious interior projects around the world," Vaughan says. The company employs engineers, craftspeople and artisans to ensure each piece meets their standards and works with independent blacksmiths and glass makers for elements. While the standards remain rooted in old fashioned quality, something that will never change, the brand points to the future.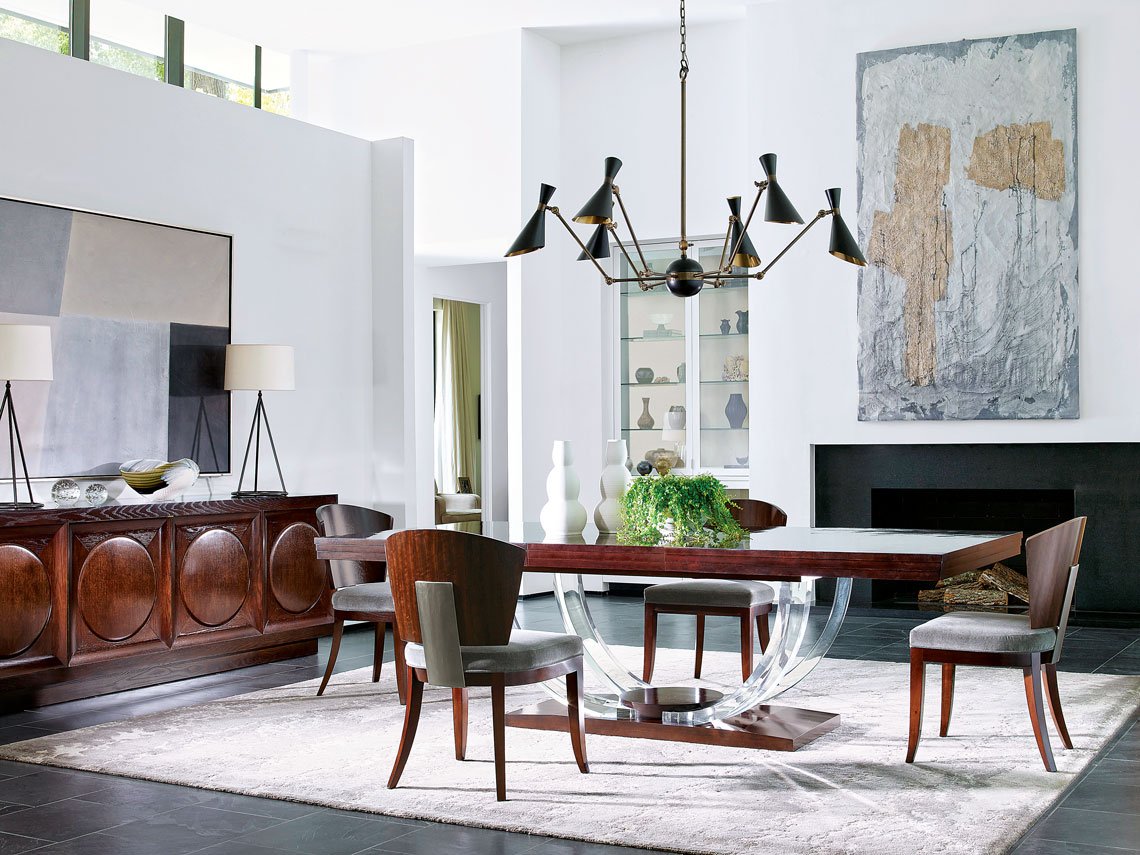 Curves and angles play in harmony in the Omni Large Dining Table With Acrylic Base. Made in the shape of a tapered rectangular base platform topped with a circular centerpiece from which radiate four graceful "arcs" flowing upward to support the tabletop, shown here in maple.
Harley Ferguson Shuford, Sr. established Century Furniture Company in 1947 as an agent for local upholstery lines. Soon after he built a plant in Hickory, North Carolina and manufactured 18th-century-style mahogany dining suites. Century has continued to make elegant wood products and today offers more than 700 different items. The company's international business began in the 1970s, with Harrods of London as its first customer and today they ship products to more than 40 countries around the world, making it one of the world's largest privately owned furniture manufacturers.
While the product quality remains the same or better, the business has changed as today customization is a part of the furniture business and being adaptable is critical. "In this very artisan world of custom furniture, we are using digital visualization tools to inspire and showcase to our designers and their customers what is possible so that they might allow us to craft something extraordinary for their home," says Comer S. Wear, VP of Marketing at the Rock House Farm family of brands that includes the Century brand as well as Highland House, Hancock & Moore and Jessica Charles.
Century is celebrating its 75th anniversary this year, and, Comer says, the goal is to keep doing what they have always done — serving the global interior design business. "We want to continue to partner with the best interior designers, and they push us forward in both design and service. While designs will evolve, our goal of being the most trusted furniture brand for the interior design industry will remain constant."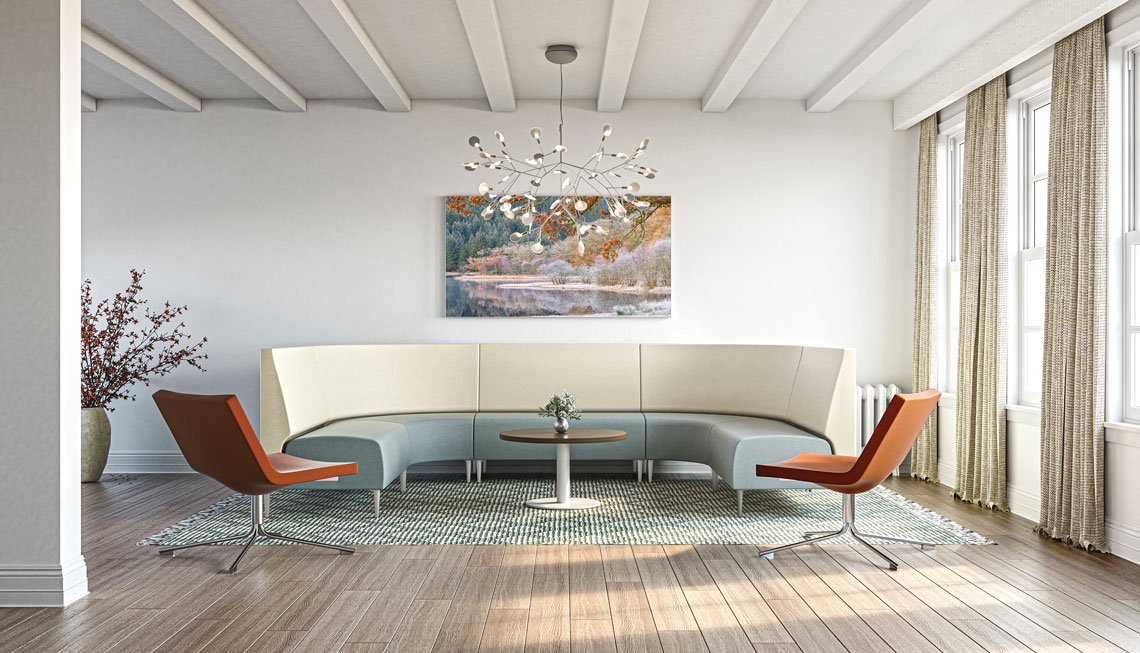 Krug's modular Zola Collection can be designed in an infinite range of configurations with varying shapes, different back heights for hospitality or privacy, and with integrated power ports positioned discreetly on seat cushion ends.
"We have so many stories and taglines," says Lauren Banas, Vice President, Sales & Marketing for Krug, the designer and manufacturer of commercial furniture for offices and healthcare that was founded in 1880 and today continues to set standards in the industry. Krug is a fourth-generation family-owned company that is headquartered in Kitchener, Ontario, Canada, and over the decades has won many awards for its contract furnishings — a popular choice for leading architects and interior designers for commercial projects throughout North America, Europe, and beyond.
"Throughout the late 19th and early 20th centuries, Krug specialized in intricate hand-crafted wood and upholstered furniture," Banas says, and the brand established a reputation for quality and value. "By the middle of the 20th century, Krug pivoted away from designing ultra-traditional furniture and began developing products that reflected the post-war desire for simplified, lightly scaled designs." This approach was successful and Krug continued to prosper and, she says, "increased its market share in the highly competitive office furniture industry." More recently Krug branched into healthcare furniture, with an emphasis on aesthetics as well as function.
Today the Krug brand continues to evolve as evidenced by the successful launch of Zola, a modern lounge seating collection that is available in multiple finishes and configurations, including amorphic, curvilinear, and freestanding designs with high or low backs. "We are thrilled that Zola has received such a warm reception from the art and design community," says Banas. "Designers simply love the product's flexibility and the extensive range of available options." Zola is intended for use in workspace environments, and public areas such as museums, hotel lobbies, airport lounges, and healthcare spaces and has integrated technology that allows users to charge their electronic devices via inset power ports.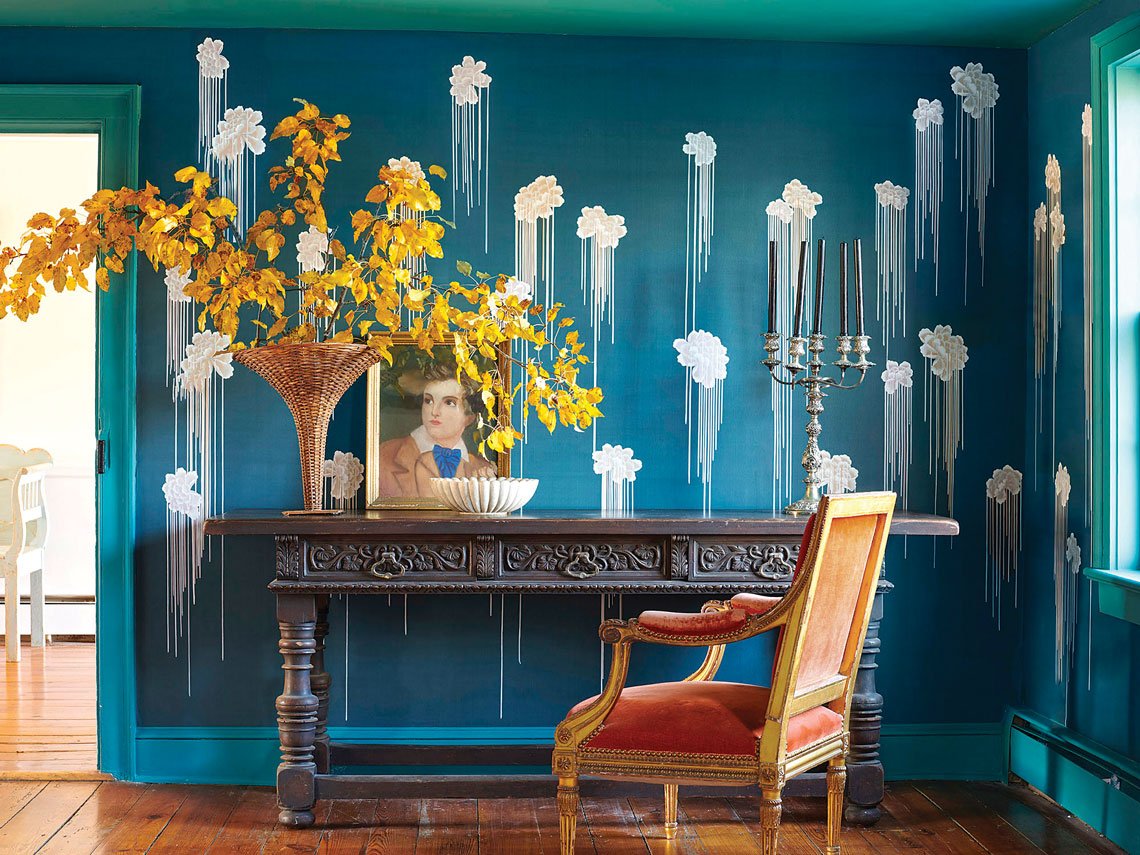 The design "Märchen" (a German word meaning fairy tale) consists of beautiful, exuberant dripping peonies clustered across a silk wall covering. The hand-painted design is presented in seven colors, each named after a classification of peony. By New York interior designer Nicole Fuller for Fromental.
Fromental was founded in 2005, in London, a young company that looks to the past, mining inspiration from the rich heritage of Chinese wallcoverings and European wallpaper, and transports it forward, reinventing historical decorative art wallcoverings for life in the 21st century. What drives the brand is, simultaneously, a respect for that decorative art tradition coupled with a near ceaseless embrace of technology and innovation in search of beauty, which brand founders Tim Butcher and Lizzie Deshayes consider to be "essential for both health and happiness."
Beauty for Fromental is about aesthetics, but it is also about skilled craftsmanship. "Craftsmanship to us means good use of tools and technology. You must remember, painting onto silk was high tech at one time," says Deshayes, an artist and designer who even as a preschooler knew she wanted to design fabrics. "We produce beautiful, creative, captivating wallcoverings that prove there are no limits to what imagination can bring to the shapes and surfaces we wrap around us."
The company is well known for its hand-painted and embroidered silk wall coverings. In one of their most high-profile commissions, they were invited to design the wall coverings for several of the Goop stores as well as Gwyneth Paltrow's own homes. Fromental's designs are frequently drawn from nature, incorporating everything from foliage, birds and woodland creatures to medicinal herbs, cannabis and mushrooms. Goop and Fromethal have recently collaborated on a new line "Along the Wild Path" which is available as hand-painted and embroidered silk or printed on hand-brushed paper.
The brand is also branching out, working with Parisian interior architects Rinck to create a furniture collection featuring their signature tapestry and needlepoint upholstery. For the collaboration, "Valentin Goux, Rinck's president, reinterpreted pieces from the archives," the business says, "including an Art Deco saber-legged chair with Empire lines." The idea is to create furniture as a piece of fine art.