Designer QnA: Peti Lau Mixes It Up With Her Unique AristoFreak™ Style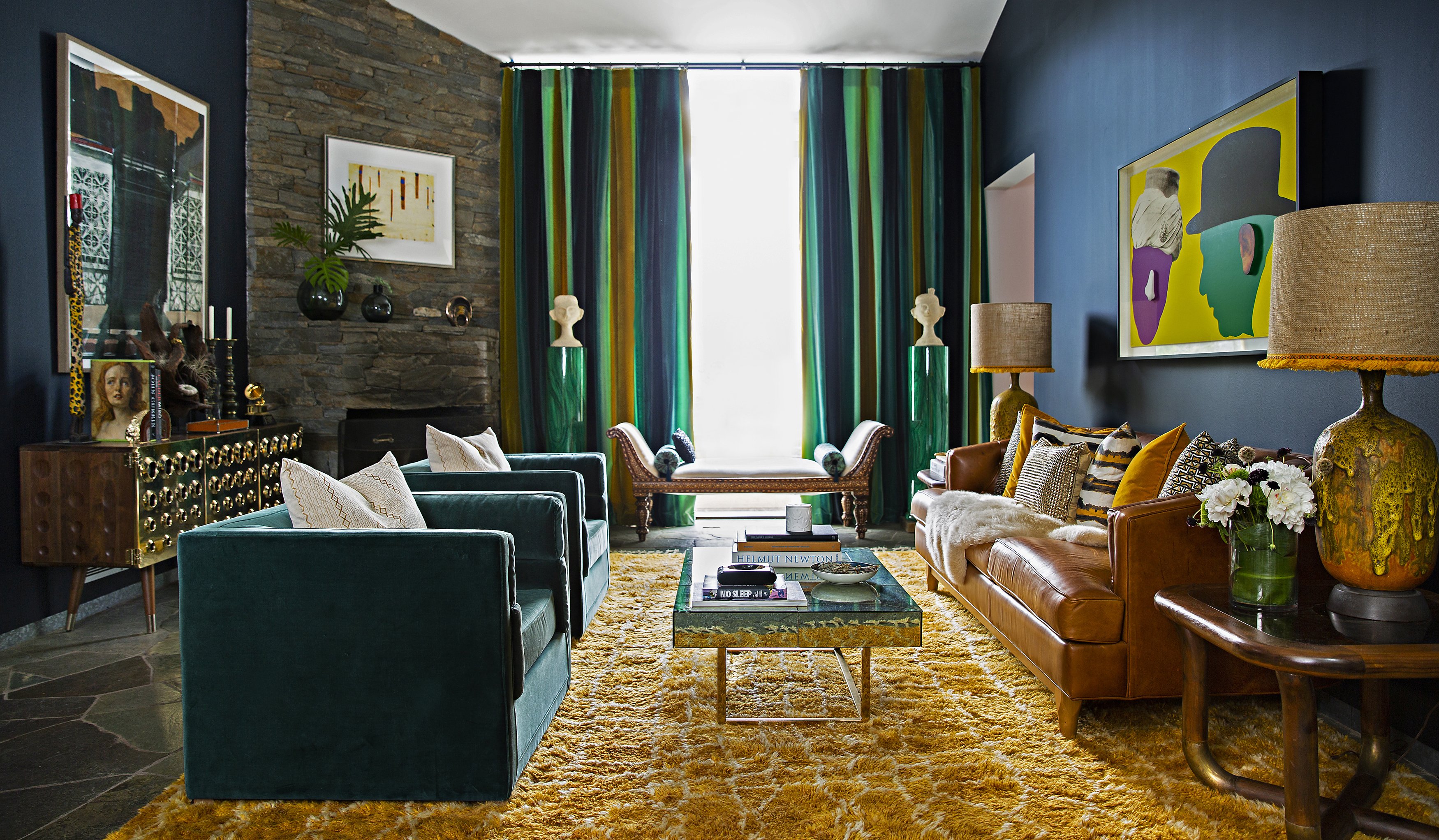 A
classic 1930s bungalow with slate floors and stacked stone fireplace was reimagined as a paean to bold, saturated color for Peti Lau's celebrity client Alex Pall, one half of the EDM stars The Chainsmokers. Photo: Brittany Ambridg
e
Peti Lau is an international interior designer based in New York City with over a decade of residential and commercial experience, whose projects have brought her to worldwide locations including Los Angeles, London, Dubai, Thailand, India, and Mauritius. Peti holds a degree from the New York School of Interior Design, and began her career working with top interior design firms including Cullman & Kravis Associates, Inc., Huniford Design Studio and iCrave. Her designs have been featured in Architectural Digest, Wall Street Journal, Apartment Therapy, NYC&G, (where she was profiled as a "Rising Star,") Decorilla, and One Coast Magazine. She was selected as a finalist for both New Trad Designer by Traditional Home, and Innovation in Design 2016 by NYC&G.
| | |
| --- | --- |
| | |
| | Photo: Brittany Ambridge |
She's a multi-cultural dynamo: born in Israel to Chinese-Vietnamese parents and raised in Virginia, where she studied to be an opera singer and classical pianist, she has traveled the world, owned a restaurant and a cocktail bar, and launched a clothing line for chefs in Bali, Hawaii and India. AND she's trilingual. All these experiences and visual memories have been absorbed and distilled into her design aesthetic, and enhanced her ability to transcend cultures, periods and styles. Peti is at home anywhere in the world, and her interiors reflect that – cultured, diverse, comfortable, and brimming with personality.
Peti Lau's signature style, which she coined AristoFreak™, is her unique fusion of four traits: Eclectic, Worldly, Romantic and Dramatic, and which she further describes as "old-world charm adapted for modern living." It's all-encompassing, defining not only her design aesthetic, but her lifestyle and personal brand. It wouldn't be too much of a stretch to say that the inspiration came directly from Peti's persona. So, Peti IS AristoFreak™, and AristoFreak™ IS Peti.
Peti's Picks from the offerings on Incollect reflect her fondness for voluptuous seating, with made-for-sprawling sofas including de Sede's caterpillar-like "Non Stop Sofa" from Lobel Modern and Adesso Studio's custom Capitone Carmen sofa with all-over (even the back!) button tufting. She loves a sculptural table, and her curated collection includes some of the most striking examples by contemporary artisans: Emmanuel Babled's monolithic Quark Indian Forest coffee table from Twenty First Gallery and the Urchin Dining/Center Table by James Bearden, offered by Studio Van den Akker. The "old-world charm" component of an AristoFreak™ interior can be composed of a variety of elements, some intangible, sometimes through the inclusion of an unusual antique piece. Peti likes the 19th century Rare Hooded Orkney Chair on offer from Yew Tree House, an 18th century English equestrian portrait by John N. Sartorius from Pegaso Gallery Design and from The Fortress, a 19th century Italian baroque high-back walnut settee. To view all Peti's Picks, and see how she infuses her rooms with AristoFreak™-chic, read on . . .
DISCOVER PETI LAU'S INCOLLECT FAVORITES



Gio Ponti Style Floating Bench in Olive Velvet

Stamford Modern




STUDIO SUPEREGO

Plexiglass & Glass Tables

L.A. Studio



JORGE ZALSZUPIN

Brasiliana Armchair

ESPASSO




Magnificent Black Fourteen Branch Chandelier

L'Art De Vivre
Tell us something about yourself that is not in your bio.
Something that most people don't know about me is that I can sing! At age 15, I began classical training to become an opera singer. I also studied piano starting at the age of 7. And, I lived in tropical islands, Koh Samui and Phuket in Thailand, and Mauritius off the coast of Africa, before I moved to New York City.
What excites you most about the design process?
I love finding pieces that are unique, that spark my creativity. Looking through Incollect, I seek out antiques and custom made pieces that become the 'special pieces' that really define the space. From there I build color palettes, textures, colors and patterns to start telling a story about the client; about who they are, and where they've been, and where they're going.
| | | |
| --- | --- | --- |
| | | |
Left: A classic midcentury style lounge chair in bittersweet pops against the intense, rich teal wall color. Bookshelves are styled with music industry awards, with a guitar at the ready when inspiration strikes. The clean lines of the furnishings are contrasted with more ornate pieces, including a chinoiserie drum table and capiz shell floor lamp. Right: The client's Grammy award takes a place of honor on a credenza selected especially for that purpose. The polished brass finish echoes the Grammy, with the circle motifs repeating the shape of the award's iconic sound horn. An omnipresent skateboard is not just decorative; the slate floors are perfect for the occasional spin! Photos: Brittany Ambridge
SHOP PETI LAU'S INCOLLECT FAVORITES



GIO PONTI

Pair of Arm Chairs, Milan

Fred Silberman




PHILIP & KELVIN LAVERNE

Chinoiserie Coffee Table

Machine Age



L.A. STUDIO

Sideboard with Four Doors in Colored Glass

L.A. Studio




TOMMASO FATTOVICH

Central Park, 2017

Pegaso Gallery Design
How do clients push you to think outside of the box and challenge you?
I think the best type of clients are the those who have a very large budget, LOL! And who are open minded and willing to go the extra step, entrusting me to create a unique space because it opens up so many possibilities and stretches my creativity. Art is a key element that defines the personality of a home, and I am thrilled when I have clients who are young collectors or who want to start collecting. It's inspiring to experience the client's reaction as they become excited about art and begin to build their collection, and it pushes me to expand upon their enthusiasm and find the perfect pieces that resonate with them.
Name an architect, artist or designer, living or dead, you'd love to collaborate with and why?
Oh that's easy! I can name five influential architects and interior designers that I would die to work with:
1. Frank Lloyd Wright – Seeing his work was a revelation, and led me to think "in space," and by that I mean 3-dimensional visualization.
2. Mies van der Rohe – I consider myself a classical modernist. MVDR is the epitome of the classical modernist, with his use of the most beautiful materials and classical forms in a modern way.
3. Madeleine Castaing – I think her style is very emotive and romantic, and creates a special mood. She did her own thing and created "le style Castaing."
4. Miles Redd – for his sense of fantasy and glamour.
5. Robert Couturier – I recently had the honor and pleasure of meeting him. Early this summer I vacationed on the Pacific coast of Mexico and toured his masterpiece, Cuixmala, and was absolutely blown away by the architecture and design. He designed this property in 1987 and it is still so relevant. An AristoFreak™ designer for Sir James Goldsmith!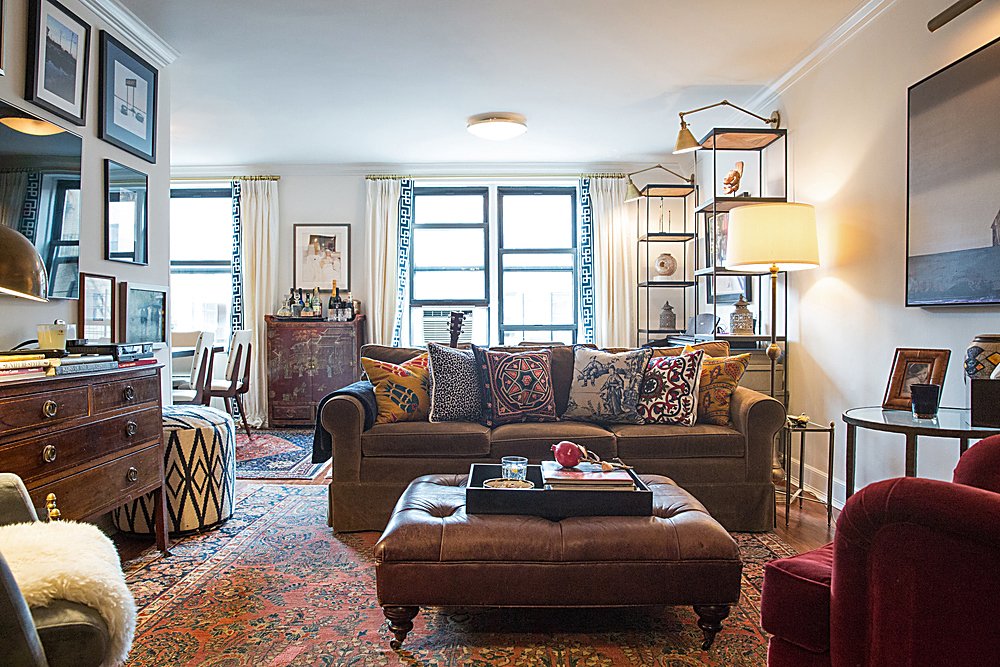 An eclectic mix in an Upper East Side apartment: a chinoiserie bar cabinet, Moroccan ottoman, midcentury lighting fixtures, and the mellow patina of a vintage sideboard come together to make a connection between the home and its inhabitants. Photo: Lesley Fisher Photography
SHOP PETI LAU'S INCOLLECT FAVORITES



TROY SMITH

Vienna Bookshelf

Troy Smith Designs




FLEMMING LASSEN – A.J. IVERSEN

Easy Chairs

Studio Schalling



English Arts & Crafts Leather and Oak Stool

Yew Tree House Antiques




JOSEF FRANK – SVENSKT TENN


Tailored Swedish Modern Standing Lamp

BAC
What is your favorite object in your home, and how and when did you acquire it?
My peacock! I love my taxidermy peacock so much that I have started a taxidermy collection. So far, I have a ginormous bug from Madagascar that looks like a grasshopper and a pheasant that my designer friend Jenny Kirshner bought at Brimfield.
How does a design project start for you? Is there a particular element that you always start with that inspires the whole project?
I typically look at the architecture first. Depending on what type of space or style it is, I will start coming up with a vision that will inspire me to create the appropriate styles that I want to incorporate. It starts there, then I think about the client's needs and lifestyle, and then from there I just keep running (literally!)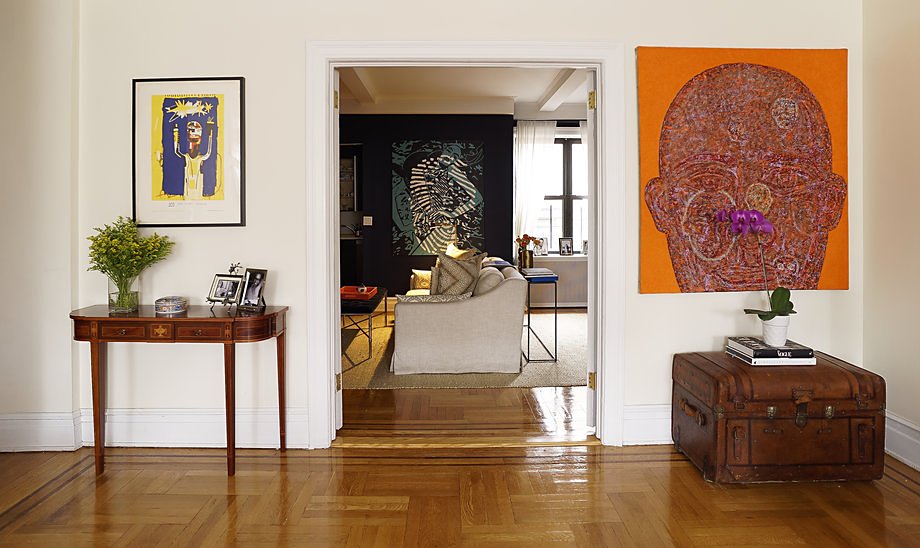 An UWS foyer has lovely parquet floors and French doors leading into the living room. Peti contrasted the delicate, graceful form of an antique Hepplewhite card table on one side of the entrance, with a chunky vintage leather trunk on the opposite side, an innovative switch from the typical, symmetrical, pair-of-something look. She hung correspondingly scaled artwork above each.
SHOP PETI LAU'S INCOLLECT FAVORITES



PAUL KLEE

Der Paukenspieler

RoGallery




ILIAD DESIGN

Pair of Modernist Consoles after Andre Arbus

ILIAD



GORDON PARKS

Veruschka Models Dress by Pauline Trigère for Vogue (55.029), 1965

Robert Klein Gallery




Side Table With Vintage Brutalist Style Door After Paul Evans Studio

Decorum Decorative Finds
What is your dream project?
My dream project is to design a boutique hotel in an exotic, tropical location that's up and coming.
What is your favorite part of the install process?
When it all comes together perfectly and smoothly!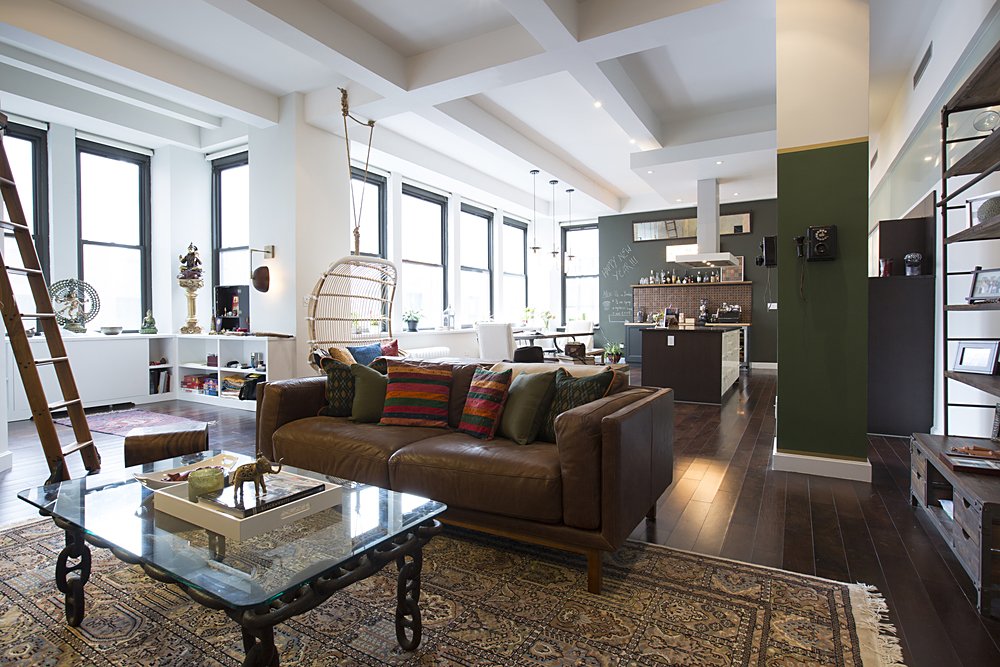 A Union Square bachelor pad loft is described by Peti as a "collection of moments" that reflect the interests of her client, who hails from India. At the rear of the room, a professional coffee bar with a chic Moroccan tile backsplash indulges his love for java. At left, a yoga and meditation alcove is populated by a collection of Hindu deities. The rustic anchor chain coffee table was a custom design by Peti. Throughout, rugs and exotic textiles from India and Morocco define areas and add warmth to the large open loft space. Photo: Leslie Fisher Photography
SHOP PETI LAU'S INCOLLECT FAVORITES



DE SEDE

Iconic "Non Stop Sofa" in Leather 1970s

Lobel Modern, Inc.




Moroccan Coffee Table, 20th Century

Emily Summers Studio



Trio of 1950s French Copper Pendants

Gallery L7




MAURICE MARTY

Grand Boulon Side Table

Twenty First Gallery
Do you have a signature element — something you always include when styling an interior?
I always include the color vermilion red; it's my signature color. Sometimes it's the anchor of my color palette and sometimes it's a tiny accent, maybe an accessory or a few brushstrokes in a painting. But it's always there.
Tell us what you love about Incollect and what one can expect sourcing with us.
I love Incollect because they offer a mix of antique and new. I also love discovering new furniture makers and artists who are creating some fantastic designs that I wouldn't otherwise know about. Incollect is where I source those unique, one-of-a-kind elements that I'm looking for when I'm in search of that special piece that will kickstart my inspiration.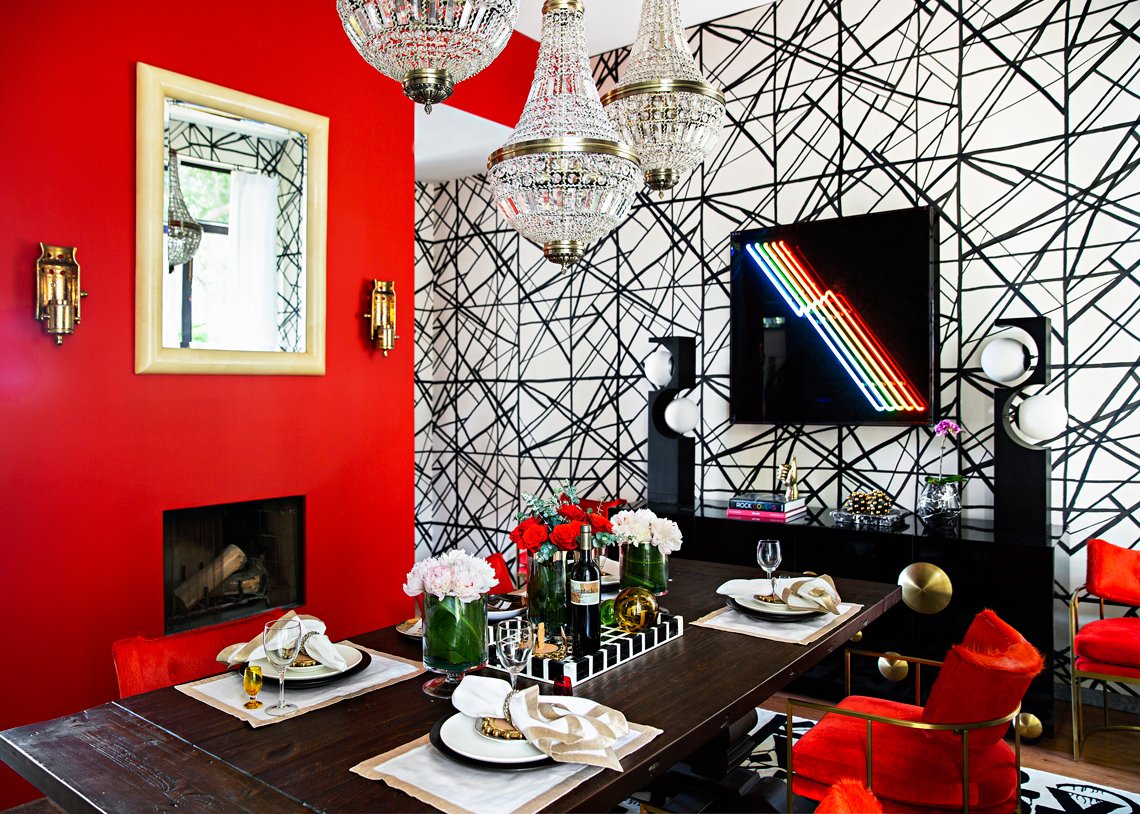 Peti's signature vermilion red is used with abandon in this dining room. A trio of crystal basket chandeliers illuminates the rustic table, which is surrounded by brass framed dining chairs with vermilion velvet seats. A neon rainbow sign is hung over a black lacquer sideboard with brass circle accents. Photo: Brittany Ambridge
SHOP PETI LAU'S INCOLLECT FAVORITES



EMMANUEL BABLED

Osmosi Lamp I

Twenty First Gallery




Four 1970s Italian Chairs in Metal and Fabric

Moioli Gallery



CARLYLE COLLECTIVE

Black Marquina | Dining Table

Carlyle Collective




VENINI

A Murano Illuminated Textured Glass Framed Mirror

H.M. Luther