An Ethereal, Edited Setting For Striking Contemporary Art Designed by Douglas Wittels
Photographs by Durston Saylor
| | |
| --- | --- |
| | |
| | Douglas Wittels |
Aglowing referral from an existing client brought designer Douglas Wittels and this New York City family together. The elements for a stunning residence were in hand: an extraordinary contemporary art collection, a client who knew and appreciated Douglas's talent for crafting bespoke settings for museum-quality art, and a Fifth Avenue location with gorgeous you-are-there views into the treetops of Central Park from nearly every window. Added to that, the client's willingness to go "all-in," since the apartment had not been previously renovated, and was much in need of updating. Douglas devised a plan: gut the space to create edited interiors with influences from 20th century design, but distinctly 21st century in comfort and function. The color palette would be tone-on-tone neutrals, the finishes luxe and sumptuous, and flow would be of paramount concern. Sightlines for the striking works of art were of crucial importance, so the interior architecture and furnishings were crafted with that in mind. Ceiling heights were raised to open up the space and bounce light admitted from the park-view windows. While decidedly not minimalist, the interiors were paced to allow the artwork room to breathe. A luminous and elegant home emerged, with the client's art collection complemented by interiors that further the aesthetic narrative of "luxe, calme et volupté" (with apologies to Charles Baudelaire and Henri Matisse!)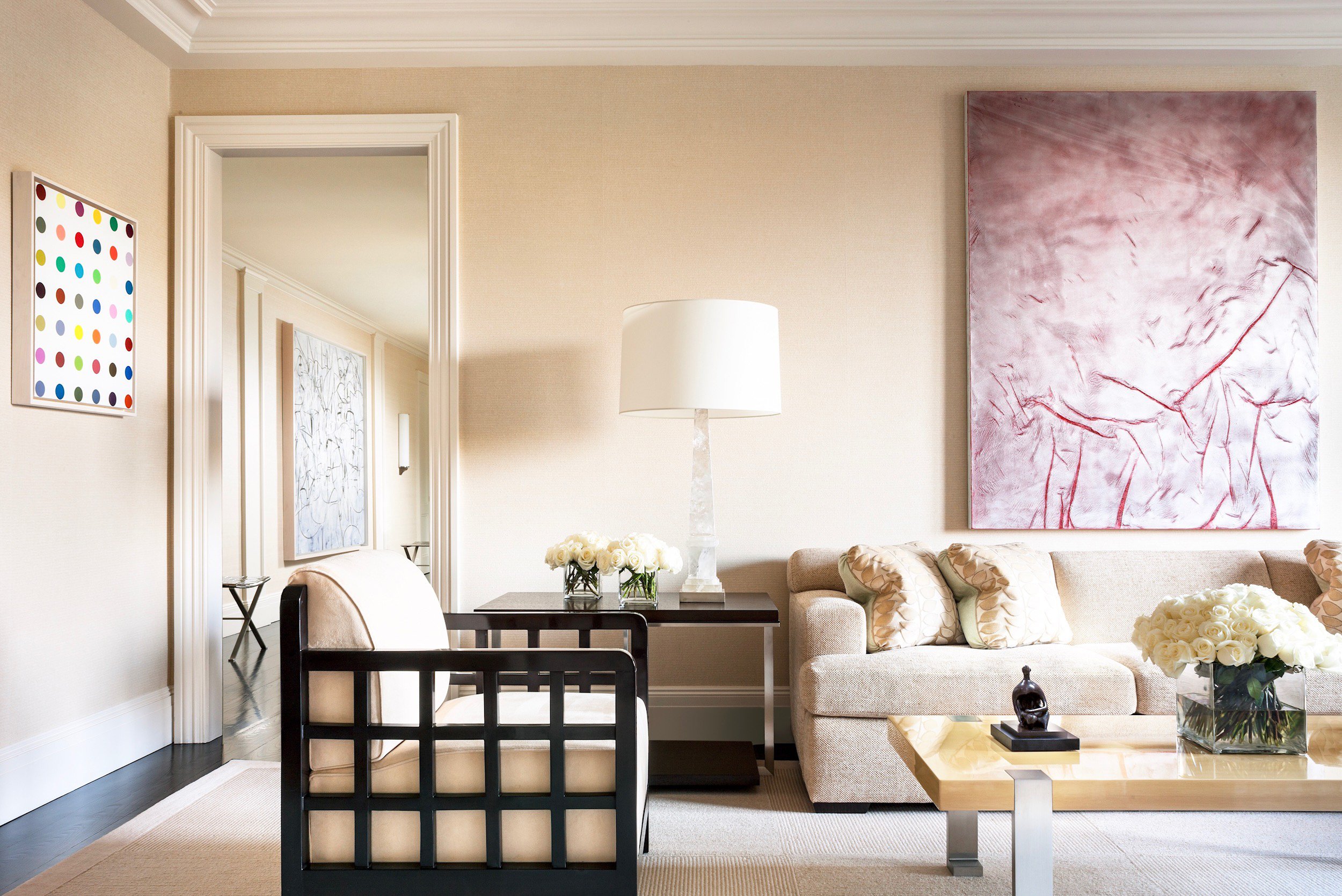 The subtle color scheme of the living room is enhanced by variations in texture, and by the tonal shifts in the light flooding in from the park-view windows. At left, a 2009 spot painting by Damien Hirst and above the sofa, a painting by Rudolf Stingel. Seen in the entrance hall, a mixed-media work in acrylic, charcoal and pastel on linen by George Condo. The grille-sided chair is one of a pair of 1930s Art Deco bergères designed by Dominique and produced at the Dominique Studio in Lebanon. Upholstered furniture pieces were custom designed by Douglas to be harmonious in scale and proportion to each other and to other elements, with seating backs in alignment throughout the room. The side tables are walnut and satin steel, topped by custom lamps made from large rock crystal obelisks. A linen-like wallcovering is from Stark, and the custom wool area rug with large scale grid pattern was designed by Douglas Wittels and fabricated by Patterson, Flynn & Martin.



Left: A sleek cocktail table painted with a subtle stria pattern and satin steel legs is host to Seated Figure: Thin Head by Henry Moore. The lustrous surface of the Rudolf Stingel painting infuses the room with its luminous aura. Right: A contemporary streamlined cabinet made of ribbon mahogany and satin steel owes a stylistic debt to the Art Deco era. Above the cabinet, a Paintstik on handmade paper work by Richard Serra. On the acrylic table next to the lounge chair, a precious bibelot from Buccellati — a sterling silver apple.



The entrance hall was lacking both symmetry and architectural detail, and being visible from and open to the living room and dining room, had to be unified with those rooms. Four pilasters and four vintage 1940s French sconces were added, along with a section of mirrored panels strategically positioned to reflect light from the other rooms as well as the artwork on the wall opposite. The furnishings were chosen for their light, open, sculptural quality. On the mirrored wall, framed by pilasters, a brushed steel and glass console was custom designed to fit the space exactly, and on the opposite side is a pair of vintage 1970s French x-based stainless steel benches with basketweave seats.
The dining room is cohesive in design with the living room, with furnishings of highly polished woods and satin steel. Wallcovering is a textured, slightly raised subtle pattern, chosen to harmonize with the living room, but with a bit more presence, to allow for the lower lighting levels used for formal dining. A Richard Prince work from his Tiffany series and an Anish Kapoor gouache flank the entrance to the living room.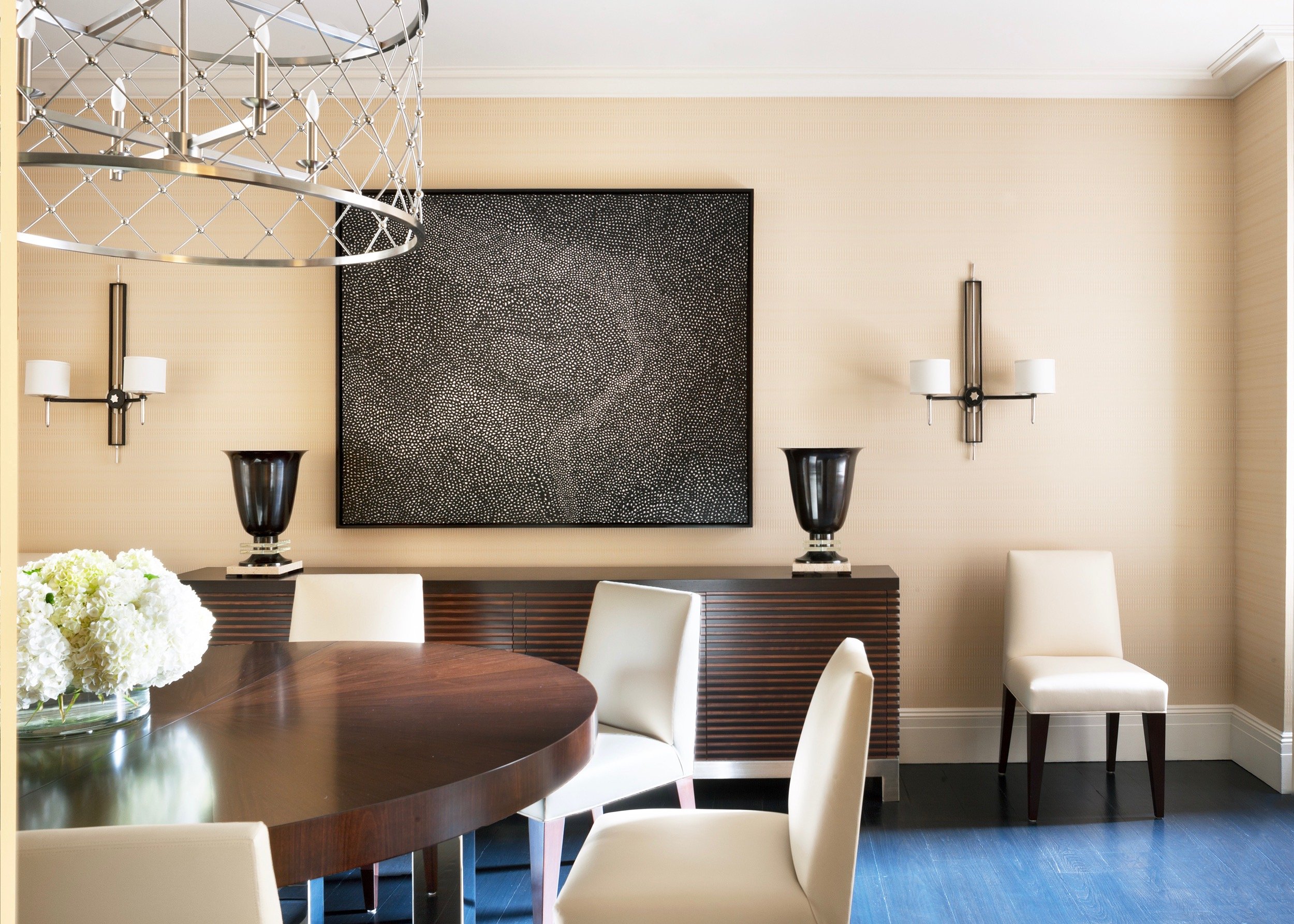 A hypnotic painting by Yayoi Kusama, Black Nets, 2007, beckons viewers for a closer look. It hangs above a buffet of walnut and satin steel, with alternating bands of recessed lighter and protruding darker tones. A pair of French 40s illuminated glass and travertine urns and a pair of sconces by Jacques Adnet, circa 1940s, supply a variety of ways to modulate the lighting for dramatic effect. The dining chairs are a contemporary custom design, with a distinctly Deco profile.
The round dining table is a custom design of rosewood with a starburst grain pattern radiating from the center and a satin steel base. The custom chandelier was selected to echo the circular form of the dining table. Its design was inspired by the iconic croisillon-and-ball "Tour Eiffel" pattern created by Jean Royère,
seen in many of his delicate metalwork pieces.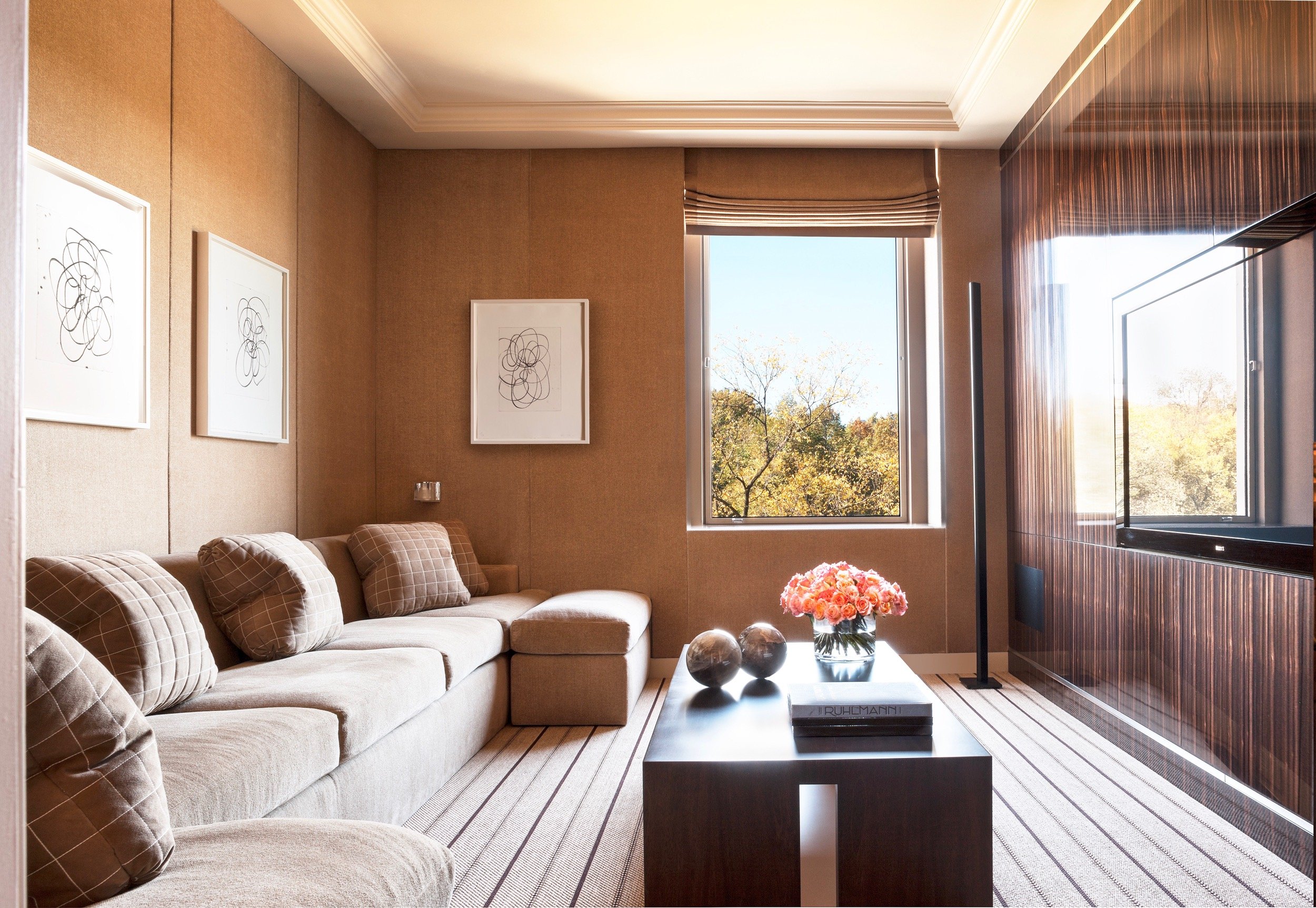 Designed for optimal acoustics, the natty-tailored media room has plush chenille seating and matching upholstered walls custom designed by Douglas. The deep ceiling molding gives the room additional character and is acoustically beneficial. An opulent wall of built-in Macassar ebony cabinetry with stainless steel accents encases the television and supplies generous storage space. The carpet design was selected to be a subtle repetition of the stripe effect seen in the grain of the cabinetry, varying the direction, width and tonal values from that of the wood. The coffee table is a custom design with walnut and an interior with contrasting painted finish. Artwork is by contemporary American artist Christopher Wool; a portfolio of three etchings.
In the office, the walls and seating are all custom upholstered in matching leather. Custom cabinetry with a mirrored inset forms a streamlined workspace. The chair is a design by Charles and Ray Eames for Herman Miller. Reflected in the mirror, an oil and acrylic painting by Josh Smith.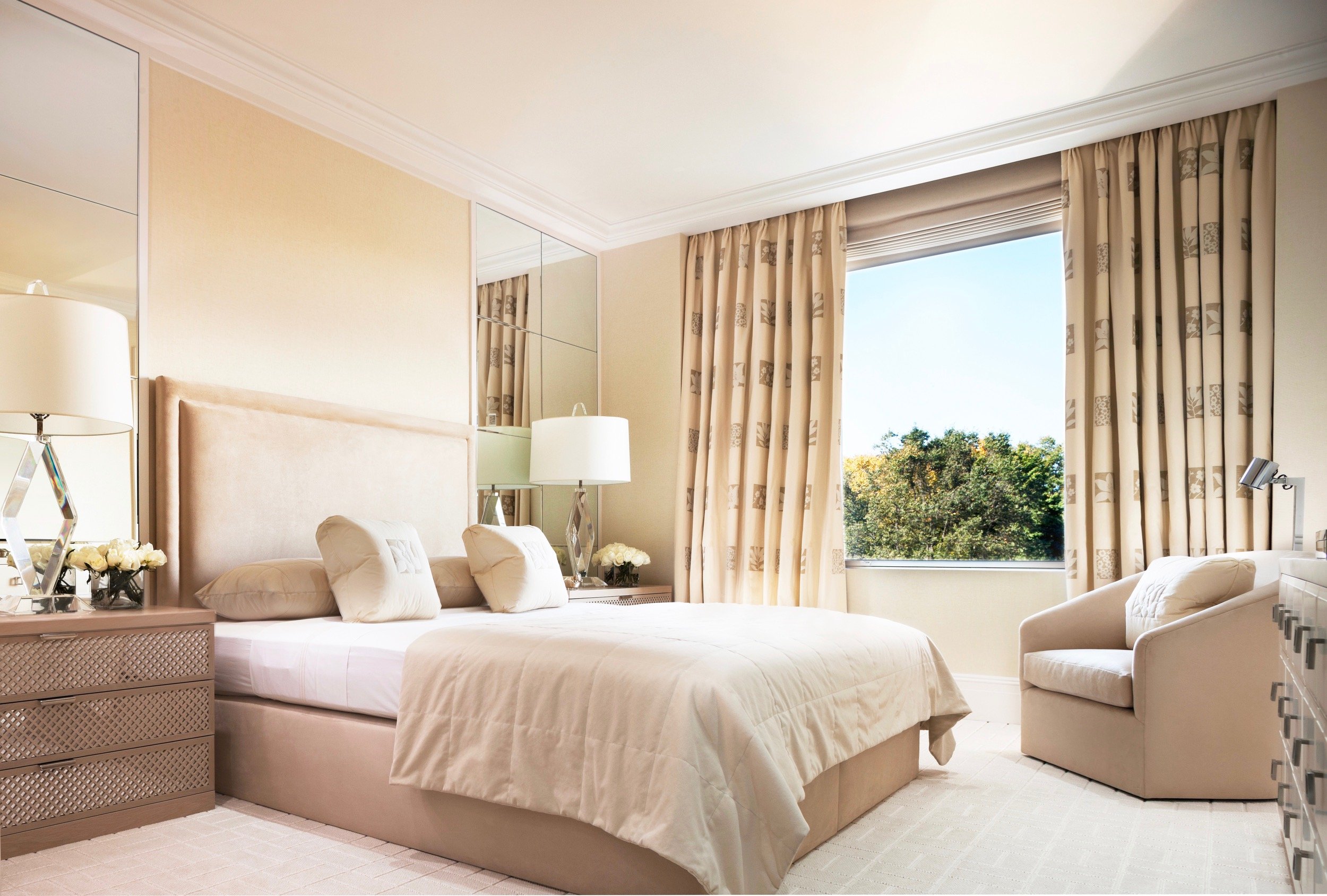 The bedroom is light and airy, and features an open view of Central Park. A picture window is framed by curtains with stylized botanical motifs in neutral tones, and the walls sport a delicately textured wallcovering by Stark. Douglas designed the upholstered bed and chair as cohesive elements in the low-key but luxe retreat. Night tables are custom designed with a white oak trellis over mirror panels decorating the drawers, and Douglas installed vertical panels of mirror to extend above them. The beveled open diamond form table lamps are Lucite. The effect is a cocoon of serenity, a much-needed feature for city living.
To view the entire project click here