Argentinian-Made Furniture with a Fine Art Perspective
The striking artistry of Costantini Design
| | |
| --- | --- |
| | |
| | |
Trained in studio art, William Stuart channeled his passion for beautiful objects into building his own hand-made furniture brand, Costantini Design. Each carefully designed table, chair, or accessory rises to the level of art, with the difference that the work reflects the personal aesthetic of the client rather than its creator. "Costantini makes product, but really we are in the service industry," says Stuart. For the brand, furniture manufacturing is a partnership. The client presents their vision to Stuart, who relies on highly trained makers based in Argentina to bring the client's concept to life. Even when clients select one of the pre-designed offerings online, he often encourages them to make slight alterations to best suit their taste and space. "It's hard to resist making everything one-of-a-kind," he says.
Here, we talk with Stuart about how his background in studio art affects his product design and the creation process behind Costantini's state-of-the-art furniture.

Your background is in studio art. How did you move into furniture design?

Donald Judd is probably the most well-known artist right now who blurred the lines between furniture and art. His recent shows at MoMA and David Zwirner were so great to see in person. In college, an artist I was more in tune with was Matthew Barney, whose Cremaster Cycle manifested primarily as a video series, but then it had all these ancillary works that were a part of it, including sculpture, drawings, and books. The video itself, prior to digital technology, was condemned to degrade over time. In a way, I saw his "real" work in these other objects.
In college, I was concentrating on video. I thought film was the only viable commercial art form that would allow me to make a living while expressing myself creatively, but I didn't enjoy the process of editing in a dark room for hours upon hours. I also found it difficult to view my own pieces. Imagine having to sit through a 90-minute film each time you want to contemplate your work. It became invisible to me. I wanted something immediately visible, yet functional. Furniture checked all those boxes to me, and in practice, I really enjoyed it instantly.
How does your creative process differ when you're working on furniture versus art? Where do your processes overlap?
Process is at the heart of everything I do. Design is often about solving a problem, which is something I love about it. Art doesn't usually have to solve anything. With my artwork, I don't put any pressure on myself to make money. I sell it, but I make it independent of that aspect. On the other hand, I enjoy making furniture with a client in mind, and they should be able to count on my work to be consistent, on time, and on budget. This tightens up the process a bit. My art practice plays counterpoint to that, and I like taking risks and allowing, or even encouraging, "mistakes" and experiments, and the element of chance. I'm trying to combine these two apparently different approaches by doing some product development with the element of chance, for no client in particular, on some bronze iterations of my plaster pieces and other works.



Left: An example of a cast-bronze sculpture from Costantini Design; the work is still in the production process. Right:

The Tavola 9 Table with a cast-bronze base.
However, you still create studio art as part of your design practice. What are some of your latest artworks?
I'm currently working on a series of cast plaster pieces — some with a light component, some without. I wanted to pick up where my design practice left off through some of this cast bronze work, and of all the different materials I could cast, plaster really spoke to me. It has this fragile, ethereal quality. Plaster comes from the Earth, and I can see these objects melting back into it someday. On the other side of the spectrum we have the cast-bronze bases of our Tavola 9 Table or the Benone Table, for example. As solid and heavy as they are, they have this sense of permanence. I can picture them in the distant future, outliving us all, floating around in outer space independent of the Earth. You can see the universe in the plaster pieces as well [as is shown in the linked artwork].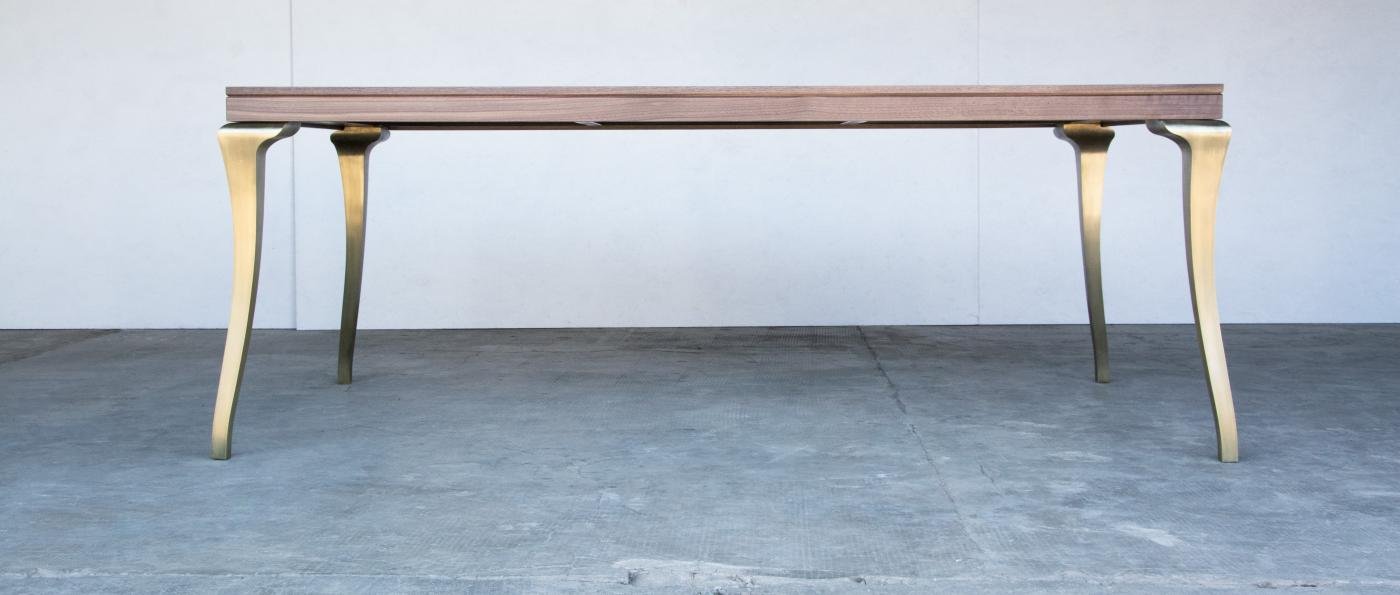 The Enzio Coffee Table, which Costantini Design recently remodeled as a dining table for a client.
What are some of your latest furniture designs?
We have a few new pieces I am going to see in person next week. We also reengineered a couple of my favorite works during the pandemic, namely the Simone Lounge Chair and the Andino Side Table. We did a beautiful dining version of our Enzio Coffee Table recently, which required some creative thinking on how to attach the legs to the top, and we also completed a massive nine-foot round marble and bronze table with a 60-inch rotating server. I am also working on some smaller non-furniture objects that I can't talk about yet. That has been very fun to work on.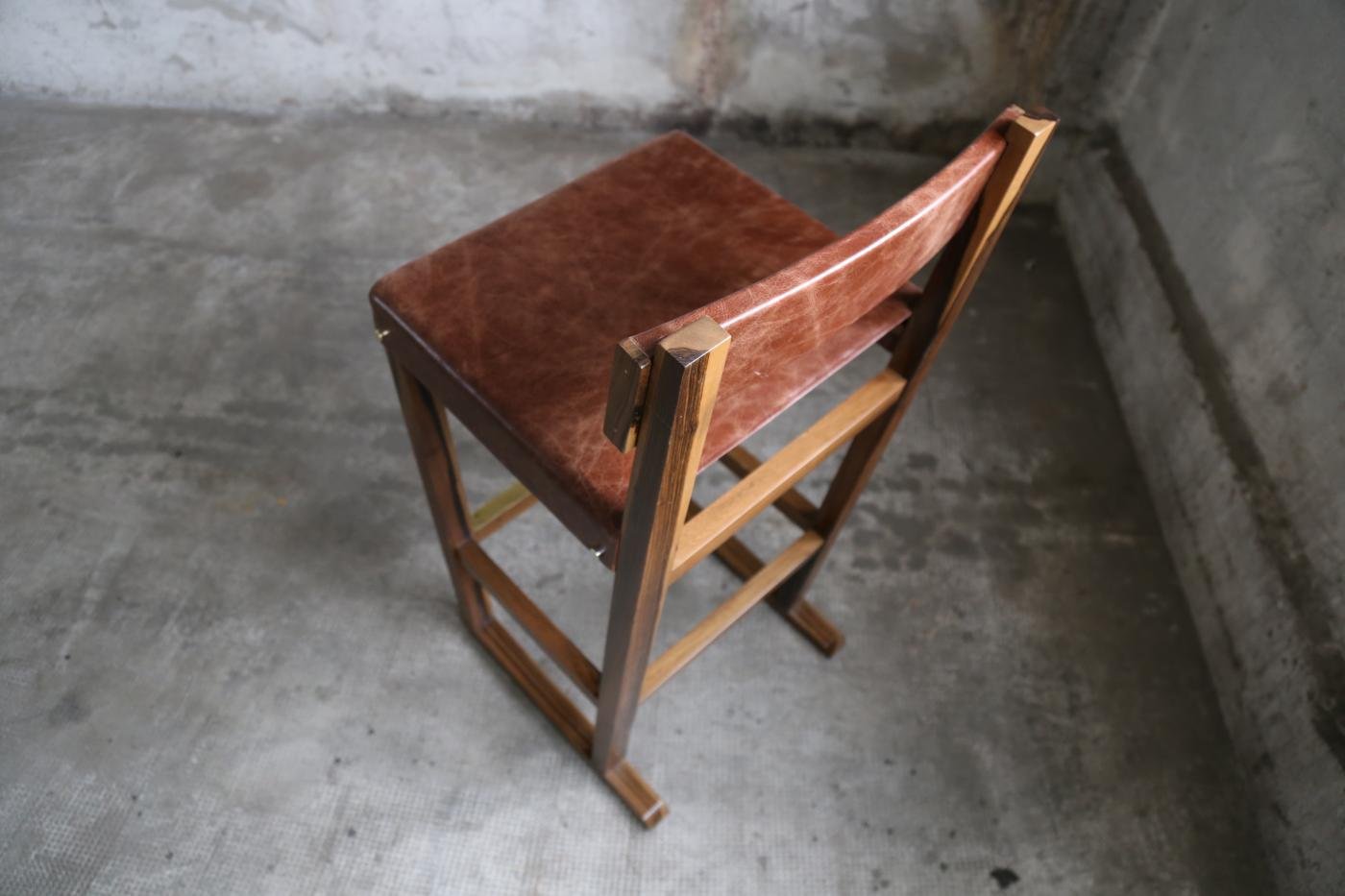 A slung leather seat and bronze accents elevate the style of the Piero Stool.
Could you describe your manufacturing process?
It all starts with the community around me — my clients, my production team. Costantini makes product, but we are really in the service industry. We connect makers with interior designers or end users. Good communication is everything. I feel very lucky to have many repeat clients, and some artisans have worked with me for over a decade. I make time to meet more clients and makers as much as I can. As the years go by, I've gotten to be more discerning about who I partner with. That's when the work gets really good.
Recently, we've made some new hires and the chemistry between them and the more senior members is really great. It also doesn't hurt that we have moved into a new building with great light and a garden in back with birds and trees, which isn't anything we've ever had. Our space is just about 40 minutes outside of Buenos Aires. Argentina is such a romantic place with passionate people who take great pride in their work.
For a project with the design firm, McAlpine, Costantini created a larger version of their Benino Table.
What kinds of custom projects are you working on?
We recently made a massive dining table for a residential project with McAlpine [architecture and design firm]. The table was just over 20 feet long when it was all put together. I was also hired to design some cocktail tables that double as backgammon tables for the Bergdorf Goodman men's store. That was really fun. So much of our work is custom — almost all of it to some degree. My team can modify any piece of from our collection with such ease. It's hard to resist making everything one-of-a-kind.
Which materials do you like to work with?
I love the woods native to Argentina, especially the Argentine Rosewood that we use on so many pieces. Cast bronze is also a favorite. I can't say which I love more. I am working on some new pieces in goat skin, which I've always loved, and of course, I enjoy using marble, leather, and linen. In my work, I'm constantly designing around light as well.
How has the pandemic affected your work?
To say it has been a challenge would be an understatement. I joke with my friends that so much of my work is logistics — moving objects through time and space. How do you do that when you can't leave your home? In March when the whole world was in lockdown, I had a virtual meeting with my team and asked them what they wanted to do. Everyone wanted to work, so we had to figure out what we could do under these new rules. Whether it involved revisiting our working shop drawings for our collection, developing new pieces, or photographing our designs, I was willing to go on that journey with them. I think the work helped us stay sane during those weeks. As we began to understand the virus better, Buenos Aires began opening up little by little, allowing makers like us to work responsibly. Now we are back in the flow to some degree, with some adjustments.