3 Design Pros Find Timeless Inspiration at the Nantucket Summer Antiques Show
Susan Zises Green, Kathleen Hay and Gary McBournie Share Tips on Mastering the Mix



Susan Zises Green designed a vibrant, spacious seaside living room with an abundant and eclectic blend of antiques and traditional pieces. A carved architectural salvage pediment from
Finnegan Gallery
surmounts an antique map, with vintage rattan, a lacquered chinoiserie pagoda-form bookshelf, and a mix of European and American furniture. Shell motifs appear in a bold, oversized scallop shell mirror, a folk art shellwork piece above the bookcase, and as the tops of a pair of Italian putti pedestals bracketing a rattan sofa. A color palette featuring shell pink and sandy tones is fresh and appropriately beachy. Photo by Marco Ricca
Calling all treasure hunters, eagle-eyed interior designers, devoted and neophyte collectors: the perennial favorite, highly anticipated Nantucket Summer Antiques Show has pivoted to a searchable, shoppable, user-friendly virtual format presented by Incollect. The Show will go live beginning Friday, July 31, and run through Sunday, August 9. Featuring 36 distinguished exhibitors offering exquisite and alluring examples of fine design through the ages, from medieval to mid-century, eye-popping pieces include American, English and European fine furniture, mid-century modern furniture, antique wicker, ceramics, garden antiques, traditional and contemporary art, photography, prints and maps, rare books, folk art, silver, jewelry, antique oriental rugs, and, naturally, nautical antiques. Nantucket homes have historically been decorated with an eclectic mix, as sea captions brought back curiosities from their far-flung voyages. In that spirit of adventure and discovery, we invite you to explore and indulge!
Interior designers, with their exceptional ability to visualize objects within a setting, are among the savviest shoppers at antiques shows. Whether it's an important provenanced piece that will become the center of attention, a rustic farm table with an irresistible patina, or unique accessories that personalize a room and make it sing, designers shop with purpose and passion. These seasoned pros buy with an eye toward creating a dialogue between objects, so the environment becomes more than the sum of its parts. The mix of new and old, high and low, chic and rustic, is what brings depth and character to interiors. And now, because we're all looking at our homes with renewed appreciation, evaluating the possibilities, and inevitably, with zeal for a refresh or major re-do, we asked three interior designers, each of whom has clients on Nantucket in addition to owning homes there, to share some tips. Susan Zises Green, Kathleen Hay and Gary McBournie have a wealth of inspiration and advice to offer.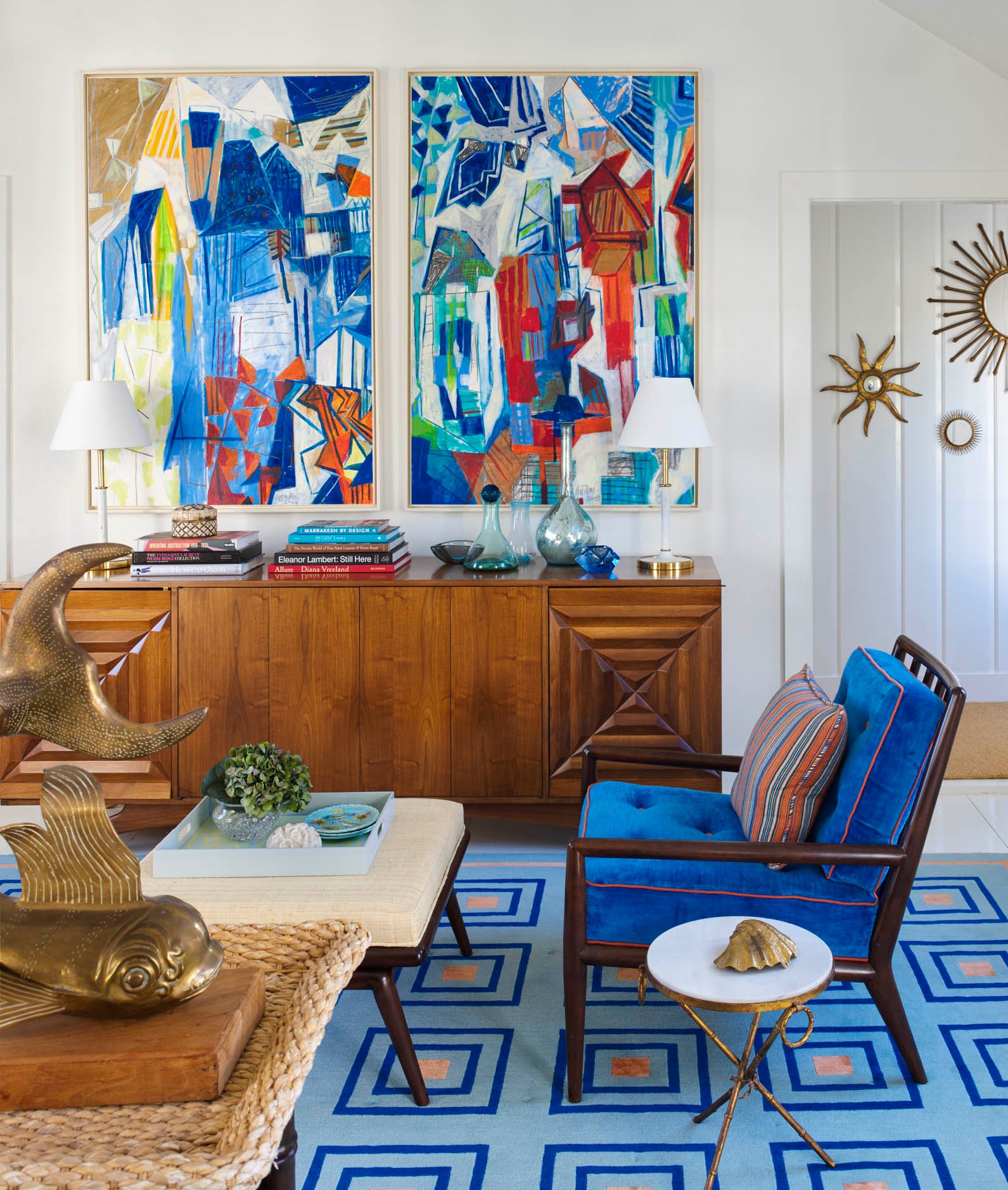 Gary McBournie and partner Bill Richards have bought, renovated and decorated a succession of houses in Nantucket; this brilliant beauty is the latest. A pair of abstract paintings by Silvio Cattani sets the tone – this is not your typical oceanside decor! Vibrant royal blue, combined with brass and plenty of crisp white evokes a nautical feel without being too "obvious," and plays up the clean lines of vintage mid-century furnishings: the chair and ottoman are circa mid-1950s by T.H. Robsjohn Gibbings, and the vintage console is by Vladimir Kagan, topped with a pair of lacquered and polished brass vintage 1950s table lamps by Swedish designer Josef Frank. Photo by Annie Schlechter
| | |
| --- | --- |
| | |
| | |
Bold colors, sensual textures and graphic possibilities are the signature elements of a Gary McBournie interior. Gary's study of design, painting and art history is clearly evident in his warm and elegant style. He strives to provide his clients with what can best be described as classic American design with a subtle twist on tradition. Each project is an evocative expression of place, with inspired backgrounds and luxurious custom upholstery, finished with a final layer of art and unique decorative objects, resulting in a home that is a personal reflection of the client. In the last several years, Gary's projects have included a restored mountain-top villa in northern California, a 1920's estate in Beverly Hills, a luxury ski house in Montana, an elegant Knightsbridge townhouse in London, and several homes on Nantucket — including his own — where he resides for part of the year.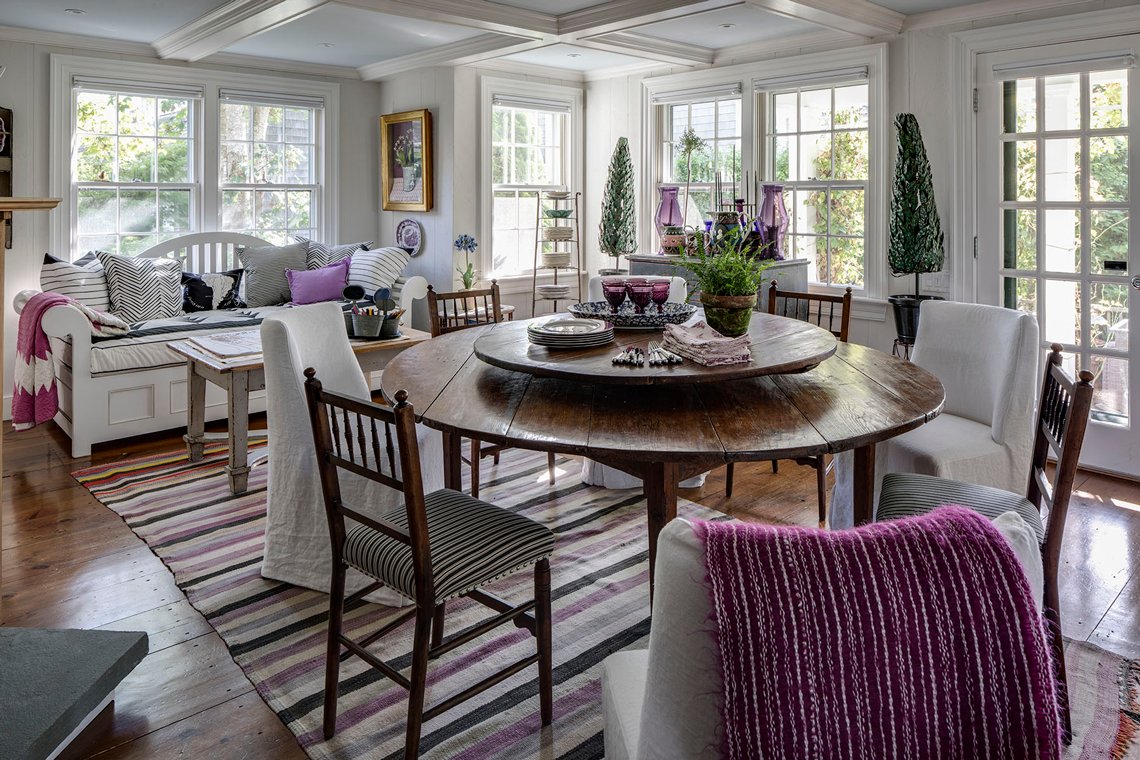 A charming Nantucket kitchen/dining area by Susan Zises Green features a crisp, all-white envelope to contrast with the weathered dark pine floors. An antique round table with an oversized lazy Susan feature keeps the mood sociably informal, and surrounding it, a set of 4 antique carved spindle-back dining chairs combined with 4 new linen slipcovered chairs creates a more interesting mix than an all-alike set. The owner's collections of amethyst glass, mochaware and purple transferware add their rich colors to the palette. Photo by Marco Ricca
| | |
| --- | --- |
| | |
| | |
With a career spanning over 35 years, Susan Zises Green is an interior designer with clients in Manhattan, the Hamptons, Connecticut, Palm Beach and Nantucket, as well as other locations. Her sophisticated, classic and timeless interiors have been featured in top shelter publications including Architectural Digest, House Beautiful, Traditional Home and Veranda, along with many others. A landmarked 1928 manse designed by Palm Beach society architect Maurice Fatio that Susan decorated, known as "The Ham and Cheese House," (for its bands of brick and coral key stone) was awarded the prestigious Ballinger Award; she was acknowledged as the interior designer on this restoration project and also was awarded the Florida Trust for Historic Preservation Award 2017. Susan is an avid garden enthusiast whose Nantucket garden has been open to the public as part of the Garden Conservancy's Open Days program. Susan resides in New York City, Vero Beach, and Nantucket Island and is the proud grandmother of six delightful young grandchildren.

With an endless view of the dunes and ocean, a circular arrangement of chairs covered in a bold Suzani print is the perfect spot to enjoy early morning coffee or a sunset cocktail in this Nantucket residence by Kathleen Hay. A swirly rattan pendant light fixture, handmade by a Thai kitemaker, evokes the ocean waves and ripples in the sand dunes. Flanking the bay window, antique painted plinths display branch coral specimens, and above, a collection of blue glass bottles is displayed in matching groups. Photo by Jeffrey Allen
| | |
| --- | --- |
| | |
| | |
Kathleen Hay creates interiors that tell stories for lives well lived. She heads up an award-winning, full-service design firm specializing in high-end residential and commercial projects, and is recognized for her trademark spaces: clean, sophisticated interiors that exude chic comfort. Her keen attention to detail and many years of experience ensure she achieves inspired spaces that balance form and function. In a seamless blend of old and new, she combines architectural finishes and furnishings that nod to the past while looking to the future. While logic is her guiding method, wonder is her muse. Hay views the design process with the awareness of an alchemist: mixing, blending, and transforming to achieve something truly original. The goal of her work is ultimately a beautiful environment — one that reflects both the family that occupies it and the professional vision that guided its completion.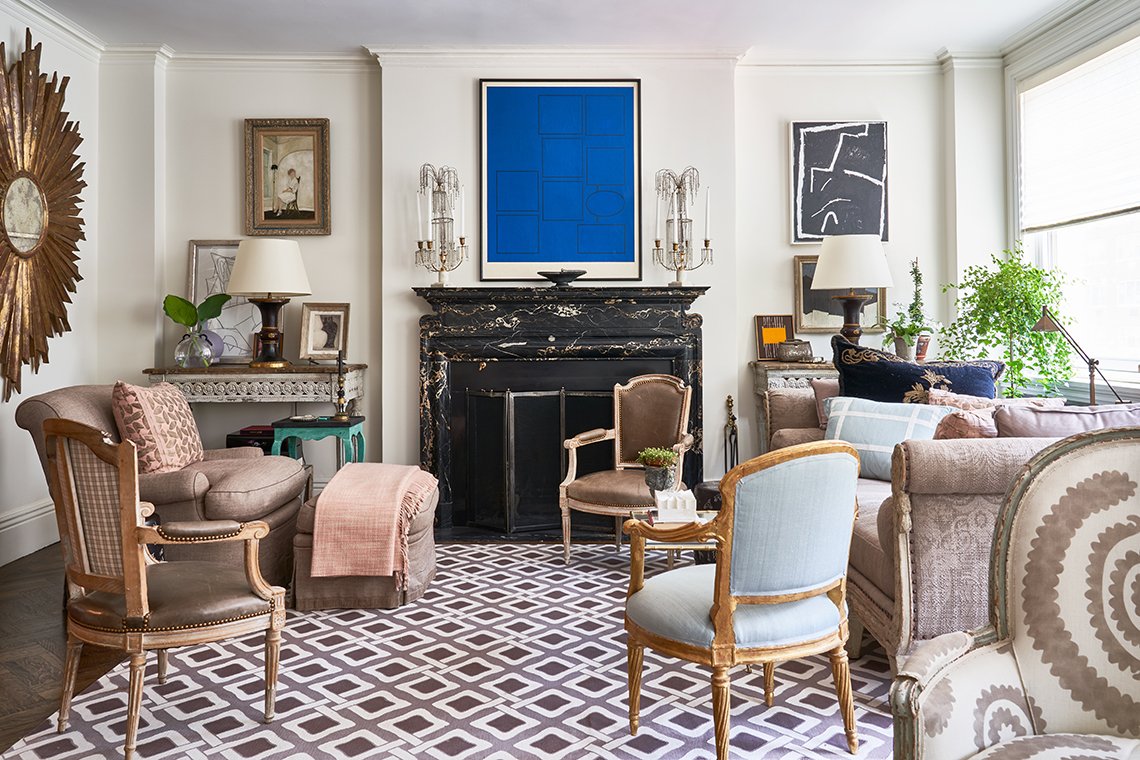 A passion for Gustavian antiques was Susan Zises Green's inspiration for a New York City living room.

The Gustavian pieces celebrate patina, with their scraped, painted and gilded surfaces proudly showing years of use. A pair of consoles with carved rosette detail and marble tops was positioned in niches on either side of the fireplace.

Susan hung a vibrant cobalt blue artwork over the black marble mantle, where the two elements share equal intensity. Touches of black in art and accessories throughout the room add depth to a palette of neutral and pastel tones. A spectacular oversized antique sunburst mirror glows radiantly, artfully placed to reflect the light from windows on the opposite side of the room. Photo by Marco Ricca
All three of you have decorated your own homes on Nantucket, as well as working on client's homes here. How has that shaped your work, and what about the island inspires you?
Gary: I have always been intrigued by the history of the island. Despite trends over the years, I always go back to the history and incorporate antiques and relevant decorative treatments into my projects. That said, I also like to mix in more contemporary classic pieces such as Bielecky wicker, Baldwin slipper chairs, and Parsons-style tables.
Susan: I came to Nantucket almost 40 years ago. For all of those years, there was always an abundance of antiques for sale on the island. I was fortunate to be able to purchase antiques for my clients, as well as myself and they have always inspired me. Treasures still abound at the antique shows on Nantucket.
Kathleen: I believe strongly that houses need to be appropriate to their setting and their time, so my interiors are often influenced by the seaside setting in which I do a lot of my work. I possess an unwavering attraction to the natural world and like to incorporate natural objects into my spaces to achieve a sense of place. The calm and serene setting of the island inspires; the rawness of it is always changing. No two days are the same and it inspires me to throw a bold element of electricity into the mix; rooms that invite you into their calm embrace while capturing and holding your attention with elements of surprise and innovation.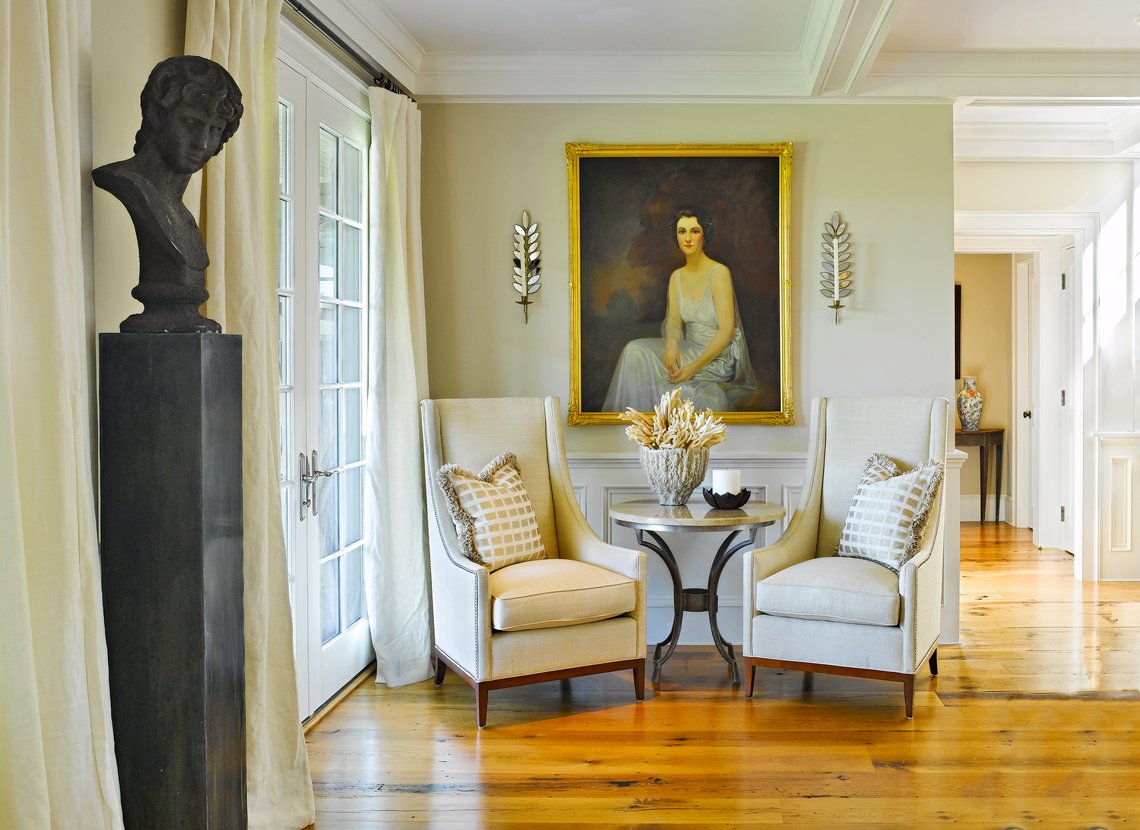 A romantic portrait of a 1920s beauty, chosen from her client's collection, inspired this intimate conversation corner in a Nantucket living room by Kathleen Hay. The designer contrasted darker elements with an abundance of light and reflective surfaces throughout. Mirrored candle sconces with delicate leaf detail add a luminous accent, and repeat the vertical form of the armchairs, creating a balanced composition. The modern zinc pedestal has a sense of age in its rustic finish; it became the perfect perch for the client's antique iron bust. Photo by Jeffrey Allen
Incorporating antiques into contemporary living spaces, whether newly acquired pieces or family heirlooms, requires a delicate balance and an understanding of how people live. Tell us how you achieve that balance, and what are some of the considerations.
Gary: Family heirlooms may not always work in a decorating scheme so look at what you have and then what you need. An antique chest may work perfectly in an entry or a bedroom or a family room. They can be great for storing hats, scarves, placemats and napkins, and even games! I also like to pair antique dining chairs with a more modern table for a great look. And don't forget that a great antique mirror can add a nice dose of style to a room.
Susan: Decorating is like being at a salad bar — you select your basics, add something for color, add a little spice add something that is a bit of a surprise, and it should all be a feast for the eyes.
Kathleen: It is always wonderful when clients have art and objects that they bring with them to a project, but many of my projects are second homes, so we begin from scratch. I love to bring in objects because the sculptural nature of them intrigues me and brings dimension to a room. I don't like rooms that are a slave to a particular period or trend; eclecticism is my favored approach to building interest in a house and a balance of old and new is the perfect expression of this mix.



Left: Describing his approach to solving a common concern of city dwellers, Gary McBournie relates, " The guest room is situated in a corner of the apartment that faces the street. The client was extremely concerned that outside noise would prevent anyone from having a restful night. As a solution, we put in an additional layer of windows and lots of upholstery, including covering the walls in a green silk moiré. I also used an upholstered sleigh bed, a lounge chair covered in a wonderful soft sand and gold chenille, and a woven wool plaid carpet to further insulate the room. I added an unusual nineteenth-century Italian secretary adorned with simple white pottery vases, over which I hung a mid-twentieth century sunburst mirror. The chandelier is mid-century Italian Murano glass." Right: Gary led his clients on a shopping excursion and together they discovered the antique painted quarter-round window shutters which he repurposed to form a stunning focal point in this Nantucket entrance hall. The painted chest and painted wood and iron candelabra lend similar notes of patina and handcraftsmanship, and were acquired on the same sourcing trip. Three remarkable scrimshaw whale's teeth, along with an antique swing-handle Nantucket basket, decorate the top of the chest. Photos by Gordon Beall

We know that antiques embody the very essence of timelessness, but we also have to acknowledge that they, too, are subject to trends. What kinds of pieces are you finding most resonate with your clients lately?
Gary: I tend not to follow trends too closely as it is a quick way to create a home or space that is quickly outdated. Remember all of the linen presses that were converted to TV cabinets in the late 80s and early 90s? I always go for classic pieces, and the best versions that work in my budget. I will mention that wallpaper seems to be back, although for me it never left!
Susan: In my work, antiques are not subject to trends. I work very closely with my clients to guide them to pieces that I believe will work in their environment, please them, and bear the test of time. That being said, I have always loved 'brown' furniture even when it was not in favor, and always use it.
Kathleen: My clients still want clean-lined, uncluttered homes, so we have to be very exacting in what we specify for their homes. Each object and piece of furniture has significance. Natural objects are still having their day, as are architectural salvage items.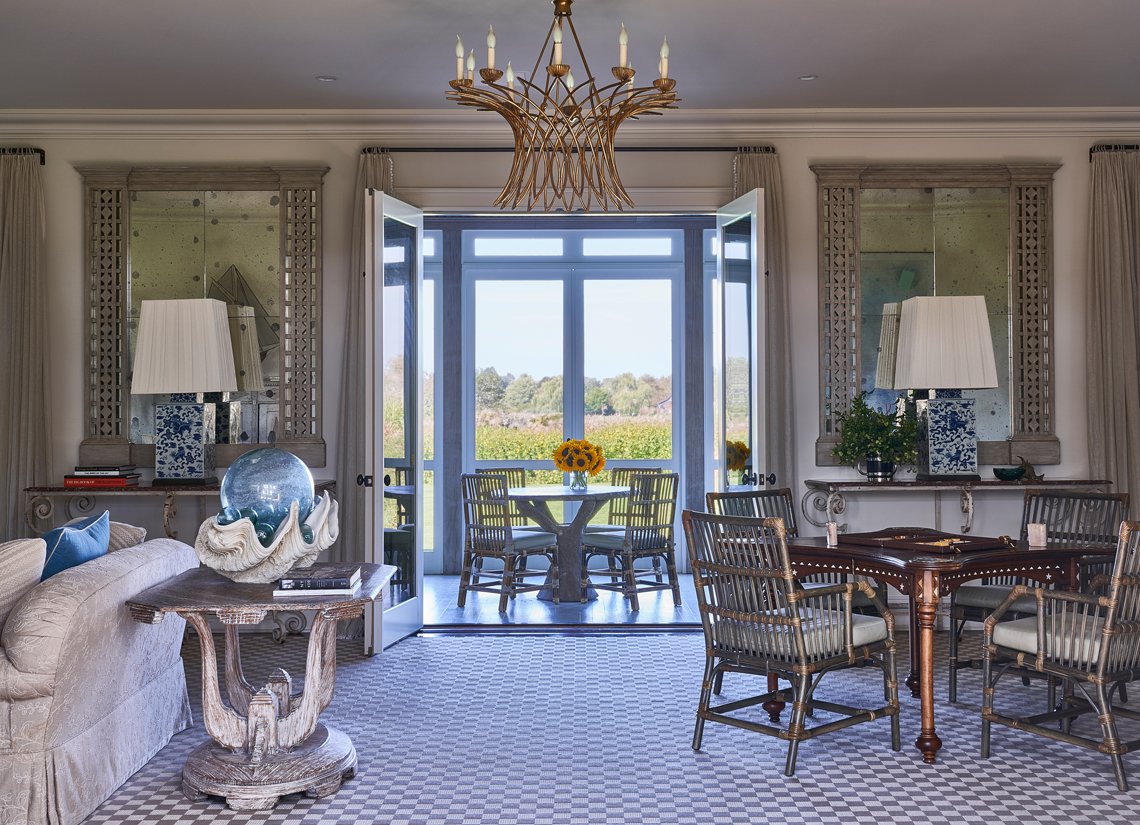 Susan Zises Green added tons of character to a Hamptons living room with an antique Anglo-Indian marquetry games table, a pair of vintage painted iron consoles and a gutsy painted pedestal table. A giant clam shell is filled with a collection of vintage Japanese glass fishing floats, and overhead, a basket weave gilt wrought iron chandelier adds a touch of glamour. Photo by Marco Ricca
What advice do you have for those who want to start mixing antiques into their interiors - what type of pieces are a good way to begin?
Gary: My advice is to find one old thing for every room. A great way to start is to consider chairs. Don't immediately replace all of your dining chairs but think about occasional chairs, such as a Windsor, a ladderback, or a small upholstered chair, that can be inserted into small spaces. Another thought is accessorize with items like antique Nantucket baskets, dinnerware, glassware, small paintings, wooden boxes, etc.
Susan: Call me and hire me! I have a wealth of knowledge.
Kathleen: I think old vintage framed prints are a fun way to start building a space using antiques. I also think it is wonderful to start a collection of something that catches your eye, be it old garden tools or English Staffordshire dogs.



Gary McBournie shows his wide-ranging design vocabulary with similar compositions –a case piece with artwork and accessories – and two distinctly different looks. At left, an antique French fruitwood buffet with intricate carved details is paired with a color field work by 20th century American artist Gene Davis, a member of the Washington Color School. Gary styled it with a freeblown glass vessel sculpture by American artist Dale Chihuly, books and a graceful arching moth orchid. At right, a serene landscape by Nantucket artist Joan P. Albaugh is hung over a honey-toned vintage pine cabinet sourced from Nantucket's Raphael Osona Auctions. and accessorized with an antique ship's lantern, a Nantucket sewing basket and an ironstone pitcher filled with garden flowers. Photos by Gordon Beall
Do you collect anything, and how did you start your collection(s)?
Gary: What don't we collect! It's an occupational hazard. I am particularly fond of antique linens, china, glassware, wooden boxes…and anything handmade. My passion for collecting began at a young age when I was given an antique desk by my grandparents. From there I furnished my college apartments and ultimately my homes. It is hard not to carry this passion over to my work and I have helped many clients develop great collections of things ranging from creamware to maritime paintings to even mid-century furniture.
Susan: I collect houses and I fill them with antiques!
Kathleen: As good as I might be at editing my clients, I am a closet maximalist. I adore collections and have many of them: English brown & white Staffordshire china, old hand and shoe objects, gemstones and minerals, Japanese netsukes and ojime beads. It's an addiction!


Kathleen Hay loves to use antiques and collections, nestled here and there, for their warmth and charm. Left: A striking blend of the old with the bold: a Louis XV-style chair belonging to the client's grandmother had great sentimental value. Kathleen found the perfect spot for it in the entry hall, where it echoes the patina of the herringbone parquet floor, and had it reupholstered in a zingy ikat fabric for a fresh look and a new life. Photo by Jane Beiles Right: A cherished collection of blue and white Chinese porcelain greets the homeowners each time they step inside their front door. Crisp white millwork and pale yellow wall color are a pleasing backdrop for the saturated blue tones and intricate patterns. Photo by Jeffrey Allen

SHOP THE 2020 NANTUCKET SUMMER ANTIQUES SHOW
Managed by The Antiques Council, the show supports the Nantucket Historical Association, its Whaling Museum and historic sites, which preserve and retell the history of the island.