Born to Create: A Family Heritage of Artistry and Style is Reawakened in Stunning Art Furniture by Jean-Yves Lanvin
A Family Heritage of Artistry and Style is Reawakened
in Stunning Art Furniture by Jean-Yves Lanvin
| | |
| --- | --- |
| | |
| | Jean-Yves Lanvin in his workshop with the Block Console, inspired by the majestic mountains of marble in northern Italy where he sources stone for his works of collectible design. |
Lanvin is one of the oldest and most iconic names in the world of luxury brands. In 1889, 22-year-old Jeanne-Marie Lanvin opened a small hat shop in Paris, which she soon expanded to include fine children's clothing, women's fashions, and in 1920, a shop dedicated to the art of the home. Jeanne Lanvin turned her talent to furnishings, teaming with renowned architect-decorator Armand-Albert Rateau, and together they designed and produced furniture, rugs, curtains and wallpaper and offered interior design services at Lanvin Décoration across the street from the House of Lanvin. Her visionary mind saw possibilities everywhere, and in 1924 with the launch of Lanvin Parfums, she debuted her first fragrance, My Sin. In 1927, Lanvin unveiled the creation that would bring her lasting worldwide fame, Arpege perfume, still in production today.
Today, her great-grandson Jean-Yves Lanvin channels the same spirit of artistry and creativity, designing limited-edition sculptural furniture with rare and exquisite minerals, jewelry-like finishes, and striking profiles. But he did not set out to become a designer. Jean-Yves came to his creative calling after stints in investment banking with Lazard in New York and Solomon Brothers in London, and 10 years as a representative for Paris-based fine lighting manufacturer Maison Charles and for the French metalwork company Pouenat, which teams with designers to produce lighting and furniture and custom ornamental architectural pieces. Working with these two firms gave Jean-Yves a thorough knowledge of foundries, the casting process, and fine metalwork. A brief period as publisher of an avant-garde design magazine, "gorgeous but not especially lucrative" and as owner of a company that created beautifully designed radiators; each of these experiences brought him a step closer to fulfilling his creative destiny.



Jeanne Lanvin's bedroom, awash in the color known as "Lanvin Blue." The designer was a canny businesswoman, purchasing her own dye factory so that she could protect her famed proprietary color. Mme. Lanvin's private boudoir, or sitting room, with furnishings designed by Lanvin and Armand-Albert Rateau.
Lanvin's first piece, the Gemini Table, was designed as a one-off for his own home. He couldn't find a coffee table with the look he wanted, but he had some ideas. Translating his vision into simple hand sketches, he brought his design to a foundry in Pietrasanta, Italy where for centuries, foundries and stone artisans have flourished. Side-by-side with the craftsmen, he worked out the details of the design and the finish. The piece is composed of an asymmetrical surface in rock crystal, supported by 3 triangular column aluminum legs finished in naturalistically textured bronze with prongs that grasp the tabletop, giving the appearance of a jewelry setting. The shape of the tabletop was inspired by the Gemini constellation, which also happens to be Jean-Yves's birth sign. Friends admired the table in his home and urged him to offer the piece commercially, and expand upon the concept. That was all the encouragement he needed, and his next step was to invest in the foundry where he developed Gemini, having established a rapport with the craftsmen there. Soon, the Gemini Console and Gemini Wall Sconce were created, and he now had a small but growing body of work.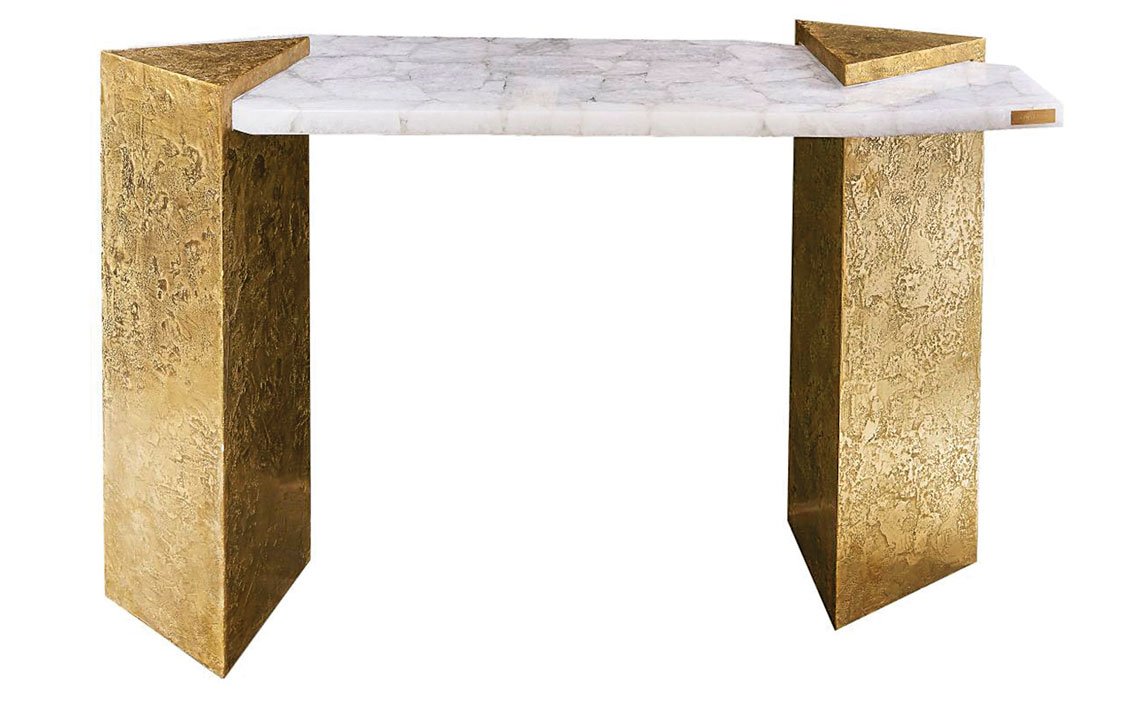 The Gemini Table, Console and Sconce. Lanvin's first foray into furniture design, the Gemini Table began as a personal project for his home. Encouragement from friends led him to consider a wider audience, and additional pieces were designed.
| | | |
| --- | --- | --- |
| | | |
All of his designs begin the same way, he says, with inspiration coming from the natural world, "keeping my mind open, looking at shapes and designing in my head and in my imagination." The next step is developing the idea through hand sketching, translating ideas into visual language. He does not use computers or design programs, he works out concepts with paper and pencil to refine and reconsider, and to use as reference when communicating with his foundry. Some of his renderings are quite detailed, with scale and measurements exact, and some are very basic, just a rough concept. Each piece is then created at full scale, the process both thrilling and difficult, with multiple rejected or failed models until perfection is achieved. Lanvin likens the process to giving birth, noting that it takes about nine months to develop a design.
Left: A scene from the foundry. Center: At the Tuscan workshop where his work is created, Jean-Yves Lanvin monitors finishing touches on the Gemini Table. Right: Hand sketching is a part of his design process, the time when ideas and dreams take shape.
| | |
| --- | --- |
| | |
| | The Stalactite Console in rare Afghan onyx. |
Many of his pieces explore the design tension between balance and imbalance, both in the construction and appearance of the work. He is drawn to the sense of anticipation engendered by irregularity, and the challenge of creating a work that is both elegant and wild, rough and sleek. His Stalactite Series, which includes a dining table, coffee table, console, and a desk, was technically one of the most challenging. The base design is a marvel of contrasts, with multiple legs of varying lengths, thicknesses and angles composed in a seemingly random, naturalistic form, like so many twigs in a stack. In fact, the base design is a very finely tuned, precisely engineered piece of art, and Lanvin admits, "we broke 3 or 4 of these before we got it right."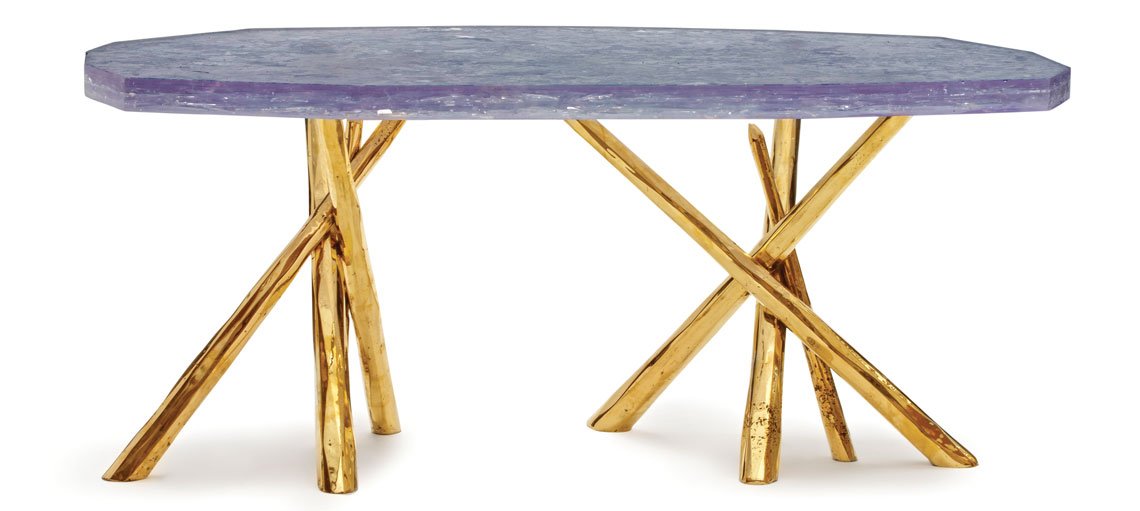 The limited edition Stalactite Desk with glass and fractal resin top. The design tension between balance and imbalance is a recurring theme in Lanvin's work, articulated in the irregular contours of the tabletop, the unequal number of table legs and the unusual truncated leg.

The Stalactite Coffee Table was the first piece in the Stalactite Collection. Shown here with a rock crystal top, unique and hand-made in a limited edition of 24.

Inspired by the rocky hillsides and mountains of Northern Italy, the Block Coffee Table is composed of five unique forms in mirror-polished, hand-textured brass. Naturalistic fissures with hand-hammered surfaces bring an organic aesthetic.
For his Block pieces, Jean-Yves was inspired by the monolithic rock and stone formations of the mountains and quarries in Tuscany. He wanted to create forms that conveyed the elemental power of rock, but elevated with an elegant and luminous finish. He settled on a mirror-polished finish in brass, with a slightly wavering surface that casts reflections similar to dappled sunlight. Finely rendered naturalistic fissures and light etching add to the organic aesthetic. The Block Table is created in five segments, which fit together or can be configured to create different groupings. The Block Console followed, with three gleaming sculptural columns.
The first pieces Lanvin produced used pristine rock crystal for their surfaces, now, after spending much time at his foundry in northern Italy, he has fallen in love with rare marble and onyx for his tabletops, spending days at the abundant quarries and stone yards in the area, personally selecting perfect, dramatically patterned slabs of Breche Violette marble, Extra White Dappled Onyx and rare Afghan Onyx.
The Fairy Tale Chandelier evokes visions of an enchanted forest, an aerial tree sprouting magically from above. First created as a personal project for his own home, Jean-Yves recounts that it was a technical challenge, involving 17 different molds to achieve the perfect balance of scale and form.
| | |
| --- | --- |
| | |
| | The Clochette (Little Bells) Chandelier, with softly glowing alabaster "bells". |
Jean-Yves has delved into lighting design as well. In addition to his early Gemini Sconce, he has created two chandeliers, the Clochette Chandelier and the Fairy Tale Chandelier. Clochette, which means "little bells" in French, is geometric in composition with right angles prevailing but has a naturalistic feel due to the warmth of the hand finishing and alabaster "bells" that diffuse light to a soft, warm glow. Fairy Tale began as a piece for personal use, a fanciful aerial tree sprouting from the ceiling, made in cast and polished brass with brass droplets and amber resin cups. The process for Fairy Tale involves 17 different molds, the wiring is artfully concealed, and the work so delicate that Lanvin likens it to fine jewelry making. Both chandeliers are limited edition pieces and can be customized to dimensions and number of lights.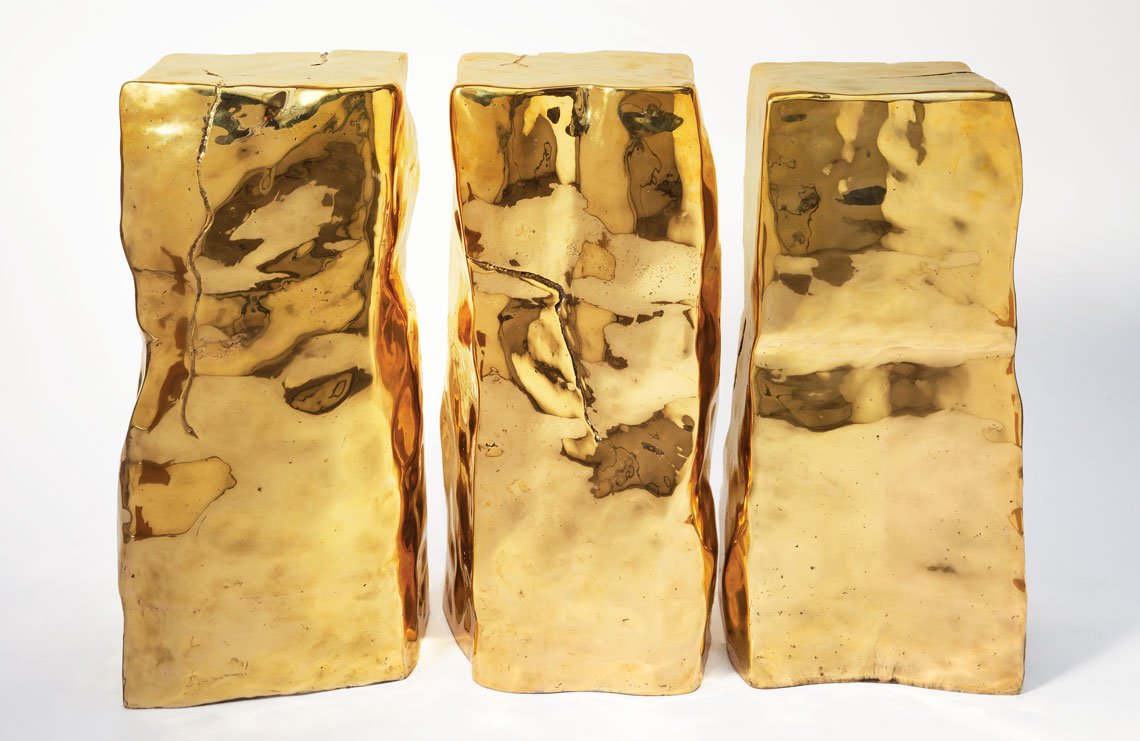 The Block series of monolithic forms is elevated by an elegant mirror-polished brass finish that casts reflections like dappled sunlight, transforming their imposing presence to golden, glowing luminescence.
What's next for Lanvin? With no shortage of creativity, inspiration or enthusiasm, he rattled off a series of challenges: he has begun to explore the most elegant polished aluminum finishes and he's working on designs for furniture that is made entirely of marble, "another thing," he says laughingly, "we will break several times until we get it right." With great-grand-mére Jeanne Lanvin as a role model, the possibilities are endless.
Works by Jean-Yves Lanvin can be found on Incollect through Boccara Gallery, Portuondo and The Gallery at 200 Lex powered by Incollect.