Designer Christopher Gentner Works from Memories and Dreams
Designer Christopher Gentner Works from Memories and Dreams
by Benjamin Genocchio
How would you describe your practice as an artist and designer?
Christopher Gentner: I view much of my work as a presentation of ideas. These ideas begin as concepts I find amusing, interesting and delightfully odd. I then work through these ideas by building progressive iterations of potential presentations, call it "a light", "a chair" or even a "spoon" (I have made a spoon or two), and then put them out in the world.
I have also built a mechanism to produce the things that I use to present my ideas. This is kind of a studio, kind of a factory, I just refer to it as "the shop". The shop is full of people with tons of old-world skills and modern machines. It just happens that this factory is used to produce a home for the oddities that I have collected and stacked in the back of my head. An idea masquerading as a concept delivered in metal.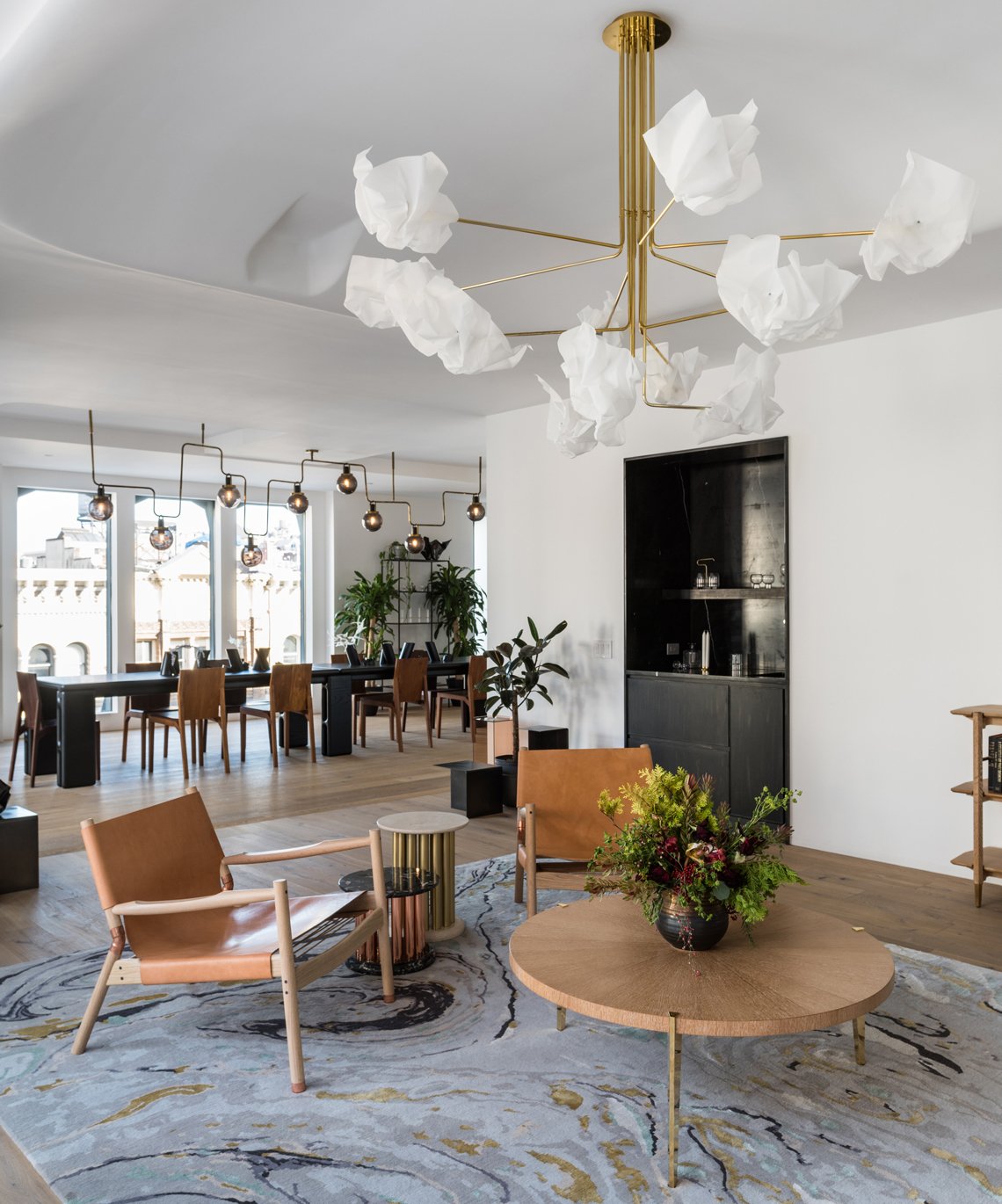 Inspired by cloud formations, the Paper Chandelier's shades are individually hand-formed in a special plastic, with polished tarnished brass or darkened brass metal.

Image courtesy of Gentner Design.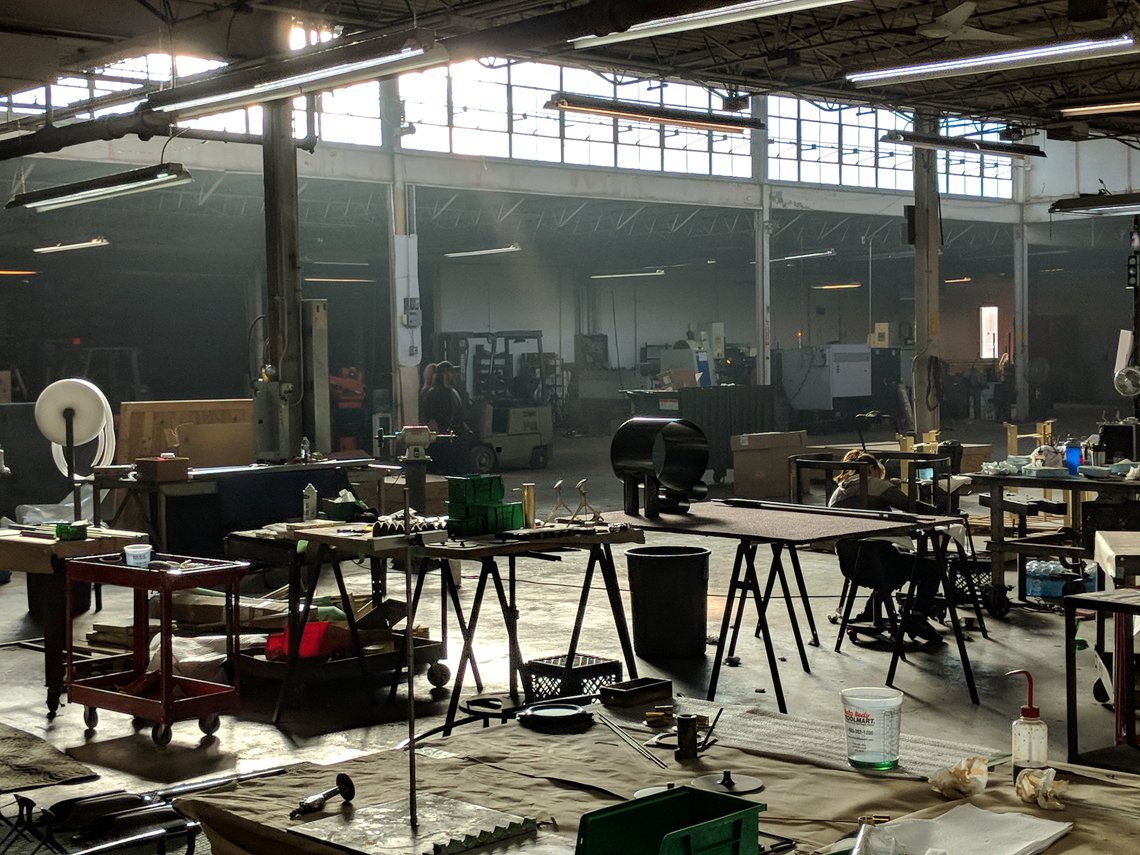 View of "the shop," where craftsmen with old-world skills merge with modern machines to make pieces that live at the crossroads of design and art. Image courtesy of Gentner Design.




Christopher was inspired by Sumi-e, the Japanese art of black ink drawing which emphasizes the quality and purity of line.

Left:

The

Tube Wall Light in darkened brass with LED

, shown with the T Table Collection. Each T Table can be positioned in three different ways, creating endless configurations. Right:

Fraction Floor-Light in darkened brass with LED,

Images courtesy of Gentner Design.
| | |
| --- | --- |
| | |
| "I wanted to create the appearance of stretching, as if pushing through a sheet of metal." Wall Scone with a long taper in brass with LED. Image courtesy of Gentner Design. | |
What do you specialize in as a designer?
Christopher Gentner: Three-quarters of our sales are lighting! That's a big part of the pieces I design and where my mind often ends up going. But I really do approach the design of objects more as a creative endeavor, more as a sculptural project that just happens to be functional. I design a range of furniture as well as other objects simultaneously.
How did you come to be an artist and designer?
Christopher Gentner: I went to art school right out of high school and got a degree in metalsmithing. But at the same time I was doing larger sculptural pieces and moved to Chicago and worked for an artist Richard Hunt who does a lot of monumental outdoor sculptures and that was a path I was looking to take — build, show and sell them and I had some success with that, I had some outdoor pieces installed and then ended up building a business doing architectural metalwork and that morphed into more design-oriented objects and furniture pieces and that grew into lighting. We do almost all the manufacturing of our pieces in-house, the only things we send out are wood and any upholstery.
The Circle Candle by Gentner Design gradually moves as the candle burns down. Comes with a white or black candle, additional candles are available.

Where does your inspiration for designs come from?
Christopher Gentner: Sometimes pieces pop into my head fully formed. Or ideas can be something I wake up with, something I see, or I have in a dream. They are usually about the way two shapes align and catch my interest, the way two things sit together that creates an interesting dynamic. Sometimes I'll make sketches of ideas but not always, mostly I wait for a few of them to pop back into my head. Over the years I have not only collected these ideas and delights, but stored them and stacked them someplace in the back of my skull ready to be remembered.


Canal Chandelier (left) and the Canal Table Lamp (right) both in darkened brass, LED lights. Images courtesy of Gentner Design.
What are you working on right now?
Christopher Gentner: A floor lamp I've been playing around with. It has these bent tubes — basically it has three heads and they all kind of revolve and tie each other up in odd ways as you move the arm pieces around with the idea that, in the end, it will be a functional floor lamp. What is interesting is the way the 3 top arms interact with each other kinetically and how that changes depending on how you adjust it, based on what lighting you need.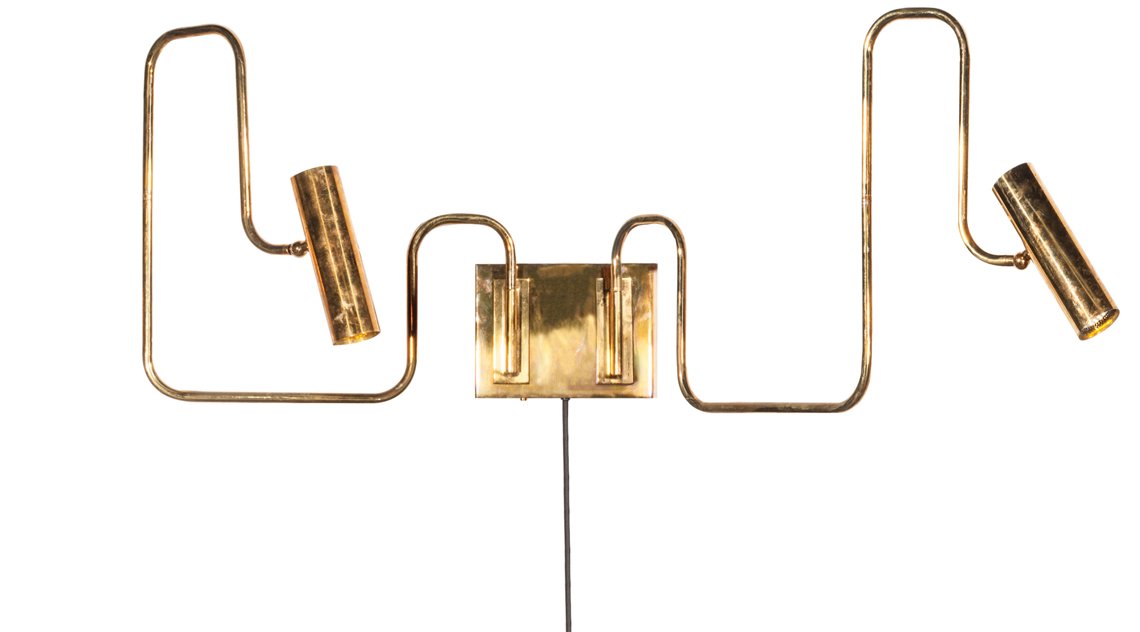 As seen in the recent AD feature of Gwyneth Paltrow's home designed by Brigette Romanek, the Pivot Double Wall Sconce in polished tarnished brass.

Image courtesy of Gentner Design.



Your Pivot Double Wall Sconces were chosen by interior designer Brigette Romanek for Gwyneth Paltrow's Montecito, California, home, recently featured In AD. What do you consider is the distinctive appeal?
Christopher Gentner: My way of working, cloaking a sculpture in the functionality of an object, creates a multi-leveled architecture. This allows me to place the more structured ideas on one level and then use these structured levels to help shield and support the delicate and fragile concepts that would get crushed on their own. This is particularly true with lighting. Perhaps it has something to do with one of the structural elements being the actual light, which in itself is an ether. This ethereal component then adds a sub-layer to an existing layer, creating even greater depth. This idea of layering concepts brings to mind how I use layers to create a strong, dynamic patina finish. For the patina to have vitality it cannot be one single applied layer. The patina must have multiple layers that are brushed back after each layer is applied. This layering allows the light to bounce off the surface in many directions, creating a much richer finish.


Pivot Wall Sconce in brass with LED.

Image courtesy of Gentner Design.



At Incollect we love your chair with tubes and brass — how did that come about?
Christopher Gentner: That was developed through a series of pieces that evolved when I was exploring the use of silicone rubber tubing. It started out when I was making a box for my espresso machine using some thick rubber tubing I had, and then I was playing with it as a seating element and made a stool, and out of that came that chair — I titled it, 'chair in brass and rubber.' There were over 1,000 individual pieces in that one chair and so it was a bit labor-intensive. I made a total of 3 of them and they were shown in Milan and New York. And although it may not appear so, it's actually comfortable to sit in.



Left:

Chair in Brass and Rubber, 2018. Right: Stool 1 in brass with silicone tubes. Images courtesy of Gentner Design.
| | |
| --- | --- |
| | |
| | 36 Small Mirror Wall Accessory. Image courtesy of Gentner Design. |
Do you make work in a series or collection or as individual pieces?
Christopher Gentner: Mostly I work on individual pieces but of course, everything is connected insofar as it is all imagined and made by me. But a lot of times I am not sure if an idea is going to be a light or a table or anything, I am just playing with shapes and then I decide what kind of object it will become. I test it out, lay out the shapes on the floor, or make up a prototype at which point it could already be an interesting object, or easily morph in a different direction. The designs start with an undetermined function but have an elemental form, and as a piece progresses it ends up as a specific form.