Cosulich Interiors & Antiques Opens Stunning 2nd Location at the New York Design Center (NYDC)
| | | |
| --- | --- | --- |
| | | |
| Italian jewel-like customizable brass cabinet. | | Refined Italian safari interior. |
In the case of Franco and Fabienne Cosulich, you might say that design is in their DNA.
The son of Tullio Cosulich, of the famous family from Trieste, shipowners of the Italian Transatlantic Cruisers Company Cosulich Line, Franco spent most of his early life traveling between Italy, Ethiopia, Brazil and Argentina, adopting the unique styles and traditions of each culture and developing a passion for antique pieces of exceptional craftsmanship that had a special story to tell. It wasn't long before he would open an antiques shop in Arezzo, Italy, kickstarting a journey that would see him exhibit in some of the UK's finest fairs and, eventually, make his way to the United States.
Fabienne was likewise born into the world of fine arts and design. As the daughter of the internationally known Italian inventor and designer Luciano Mattioli, she received a world class education in Paris while her mother introduced her to the world of antiques at flea markets while working as an assistant to an American dealer. It was here that she developed a thirst of her own for the fabrication and production of Oggetti d'Arte. This experience would be utilized to the fullest in 2003, when she and Franco first opened an Italian design gallery in Chicago.
Cosulich Interiors Customizable Collection mixed with vintage.
| | |
| --- | --- |
| | |
| | Cosulich Interiors new showroom at NYDC. |
Together, Franco and Fabienne began developing their "I'Arte in Casa" ("Art in Homes") concept: a unique approach to decorating that fused one-of-a-kind functional pieces and works of art noted for their innovative design and craftsmanship with exclusive Murano glass lighting they had procured through their time in Italy, France, and England, to create an artistic environment at home. As demand for the duo's international sensibilities in regard to design began to rise, they made the trek to New York City just three years later to open up what would become their seminal storefront, Cosulich Interiors & Antiques.
"We moved from Europe to the States because we fell in love with the uniqueness and sense of place you feel in New York, the exact ideal place where our collection is at home," said Fabienne.
Despite their best efforts to appease an ever-expanding list of clients, the problem of increasingly high demand is one that managed to follow the Cosulich's across the country (a good problem to have, many would argue). So with the company's reputation as a leader in both style and service at an all time high, Franco and Fabienne have decided to quell the rising tide of demand as any successful business typically does: by opening a second location.
The shop, located in the renowned New York Design Center at 200 Lexington Avenue, will showcase the company's persistently evolving collection like never before—chiefly, the introduction of a contemporary "Made in Italy" customizable line found exclusively at their gallery. In an effort to further distinguish its international and generational presence within the design scene and art culture, Franco and Fabienne have enlisted their daughter, Sara, to manage the second store. Under Sara's direction, Cosulich aims to not only house its largest collection to date (the space is roughly three times the size of their original location on 60th street) but attract the next generation of interior designers and the public currently clamoring for all things contemporary.
Murano Glass Mosaic Mirror; part of Cosulich Interiors Art Glass Collection.
| | | |
| --- | --- | --- |
| | | |
| Cosulich Interiors Contemporary Line: New designs, new materials. | | Museum quality Italian designer pieces. |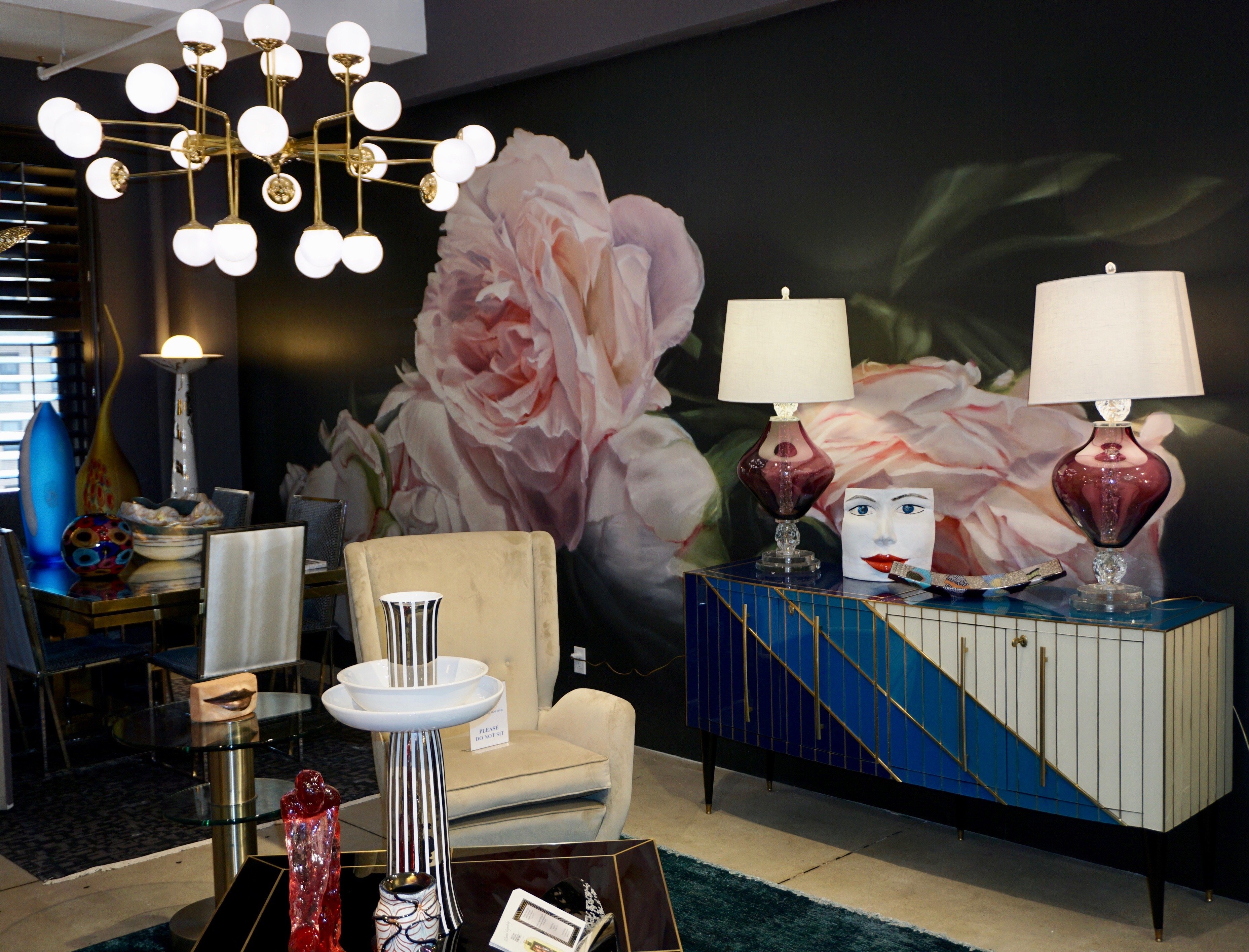 Italian Fine Design Collection in color.
Opening night of the new showroom at NYDC Suite 509.
Curated space: Designer vignette at the NYDC showroom.
In the words of Fabienne, the two New York showrooms represent the ultimate culmination of family history, education, and world travels that will continue to attract respected interior designers and collectors worldwide.
"We strive always to be relevant with the times and offer a fresh perspective useful to all generations. The highest personalized customer experience tailored to individual needs, with emphasis on responsiveness and accessibility, is our commitment to our clients."