Design on a Dime Returns to Metropolitan Pavillion to Combat Homelessness in NYC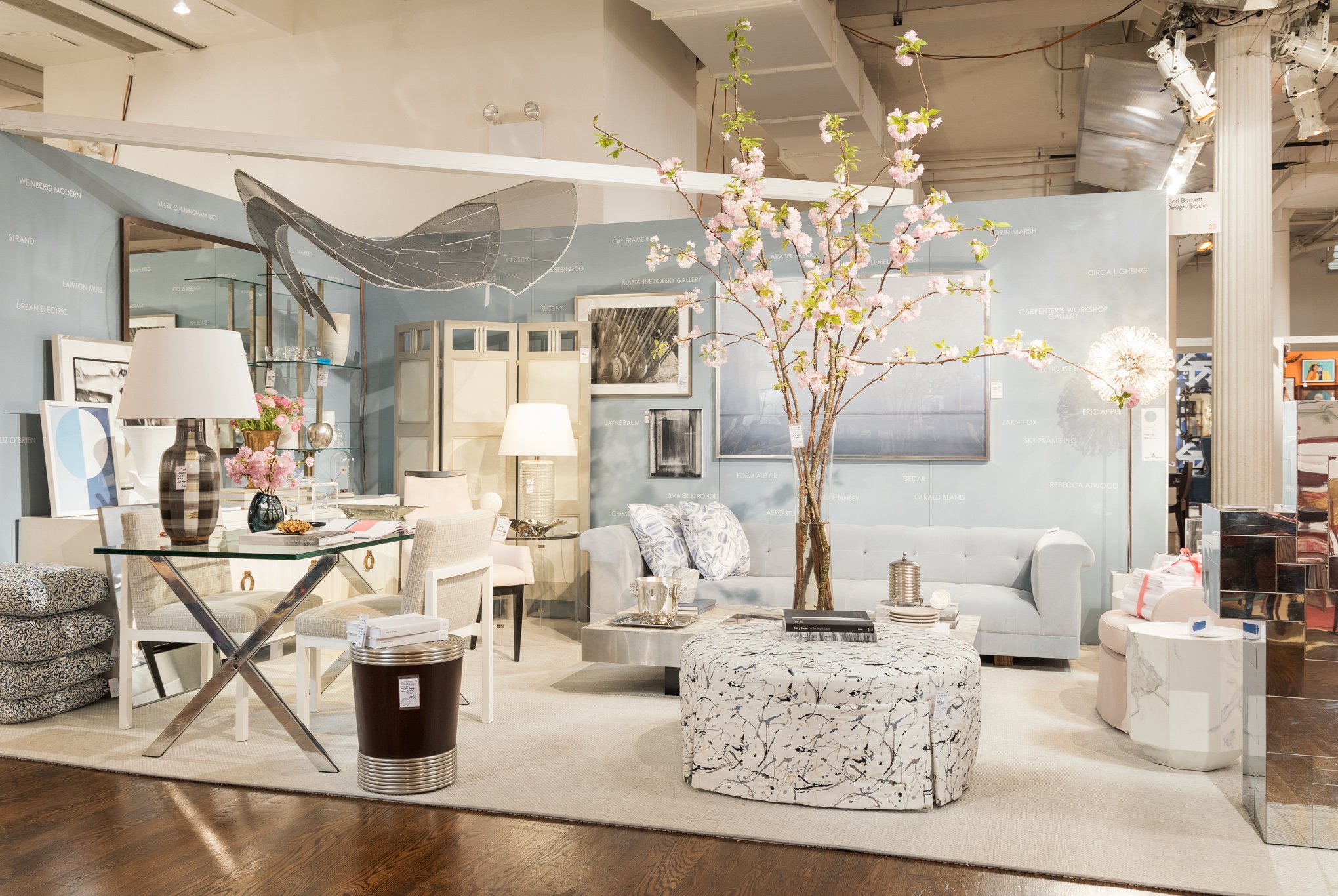 A vignette by Mark Cunningham Inc., from Design on a Dime 2019. Photo: Mike Van Tassell

Design on a Dime Returns to Metropolitan Pavilion to Combat Homelessness in NYC
by Benjamin Genocchio
| | |
| --- | --- |
| | |
| | Design on a Dime Founding Chair, James Huniford |
Housing Works is a favored charity in New York City, benefitting from the support for the last 17 years of Design on a Dime NYC, a design benefit at the Metropolitan Pavilion for which acclaimed interior designers create rooms with home décor, furniture, art, and housewares donated from hundreds of brands. Everything is for sale at 50-80% off, and proceeds benefit Housing Works' mission to combat HIV and homelessness. "We are excited to return to the Metropolitan Pavilion with our first full-scale event in two years. The design community's unwavering support for Housing Works — year after year — has been incredibly inspiring. The continued generosity of the participating designers and brands has helped to raise millions of dollars to assist New Yorkers in need," said Design on a Dime Founding Chair, James Huniford.
This year the design benefit events run April 20-23, beginning with the Groundbreaker Awards dinner chaired by Charlotte Moss and Cliff Fong, honoring actor/activist Patricia Arquette, Kering Americas President Laurent Claquin, and fashion industry legend and activist Bethann Hardison on April 20 followed by opening night Thursday, April 21 to VIP ticket holders. Public sale days are free entry, running April 22-23 and always attract an enormous buying crowd looking for deals on fine art, luxury home decor and furnishings.
A room from Design on a Dime's 2019 edition by Redd Kahoi, f

eaturing their trademark high-octane aesthetic

.

Photo: Mike Van Tassell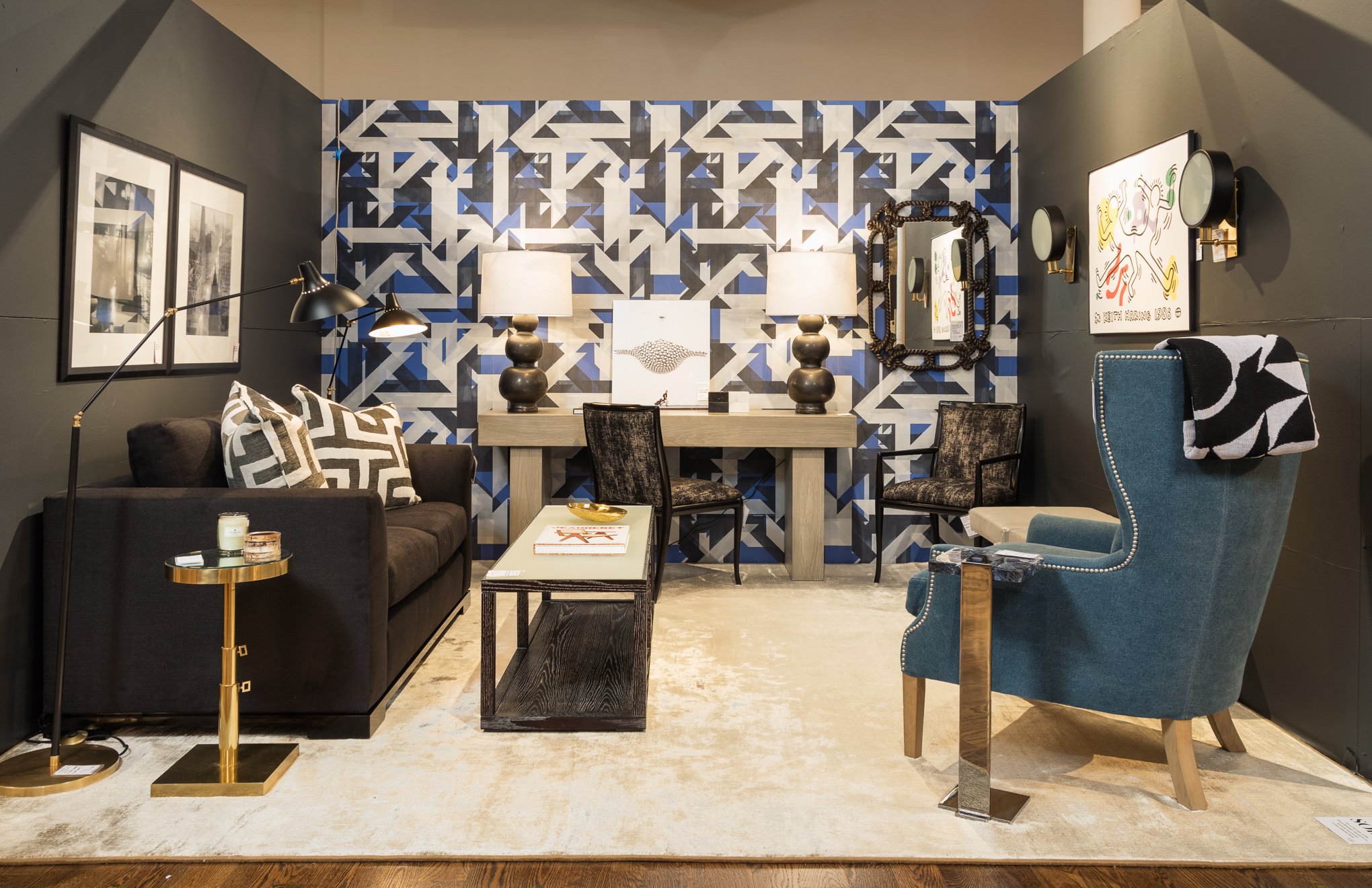 J Cohler Mason Design's "uber-chic" study created for the 2019 event. Photo: Mike Van Tassell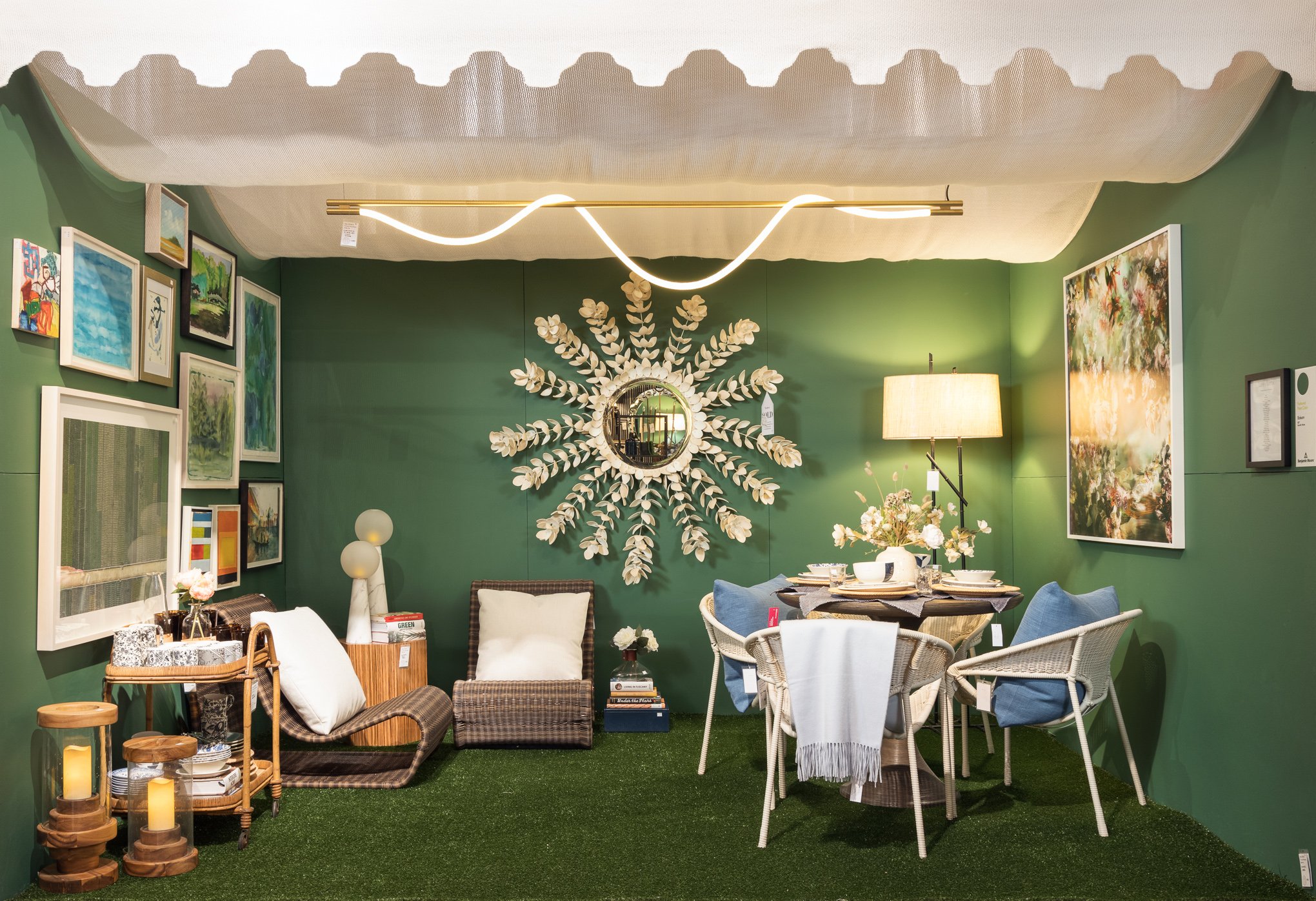 A 2019 vignette by foley&cox. Photo: Mike Van Tassell

Among the design brands and dealers participating in this year's show are BDDW, Bernd Goeckler Inc., Hostler Burrows, Interlude Home, Lobel Modern Inc., MAISON GERARD, Studio Van den Akker and Tucker Robbins Inc., as well as some big brands: Knoll, Fortuny, CB2, DWR, Kaiyo, West Elm and Williams Sonoma. But what is so alluring is the way the designers combine merchandise to style the vignettes. Everything is for sale, and each designer pushes to include as much material as possible while still expressing their own aesthetic.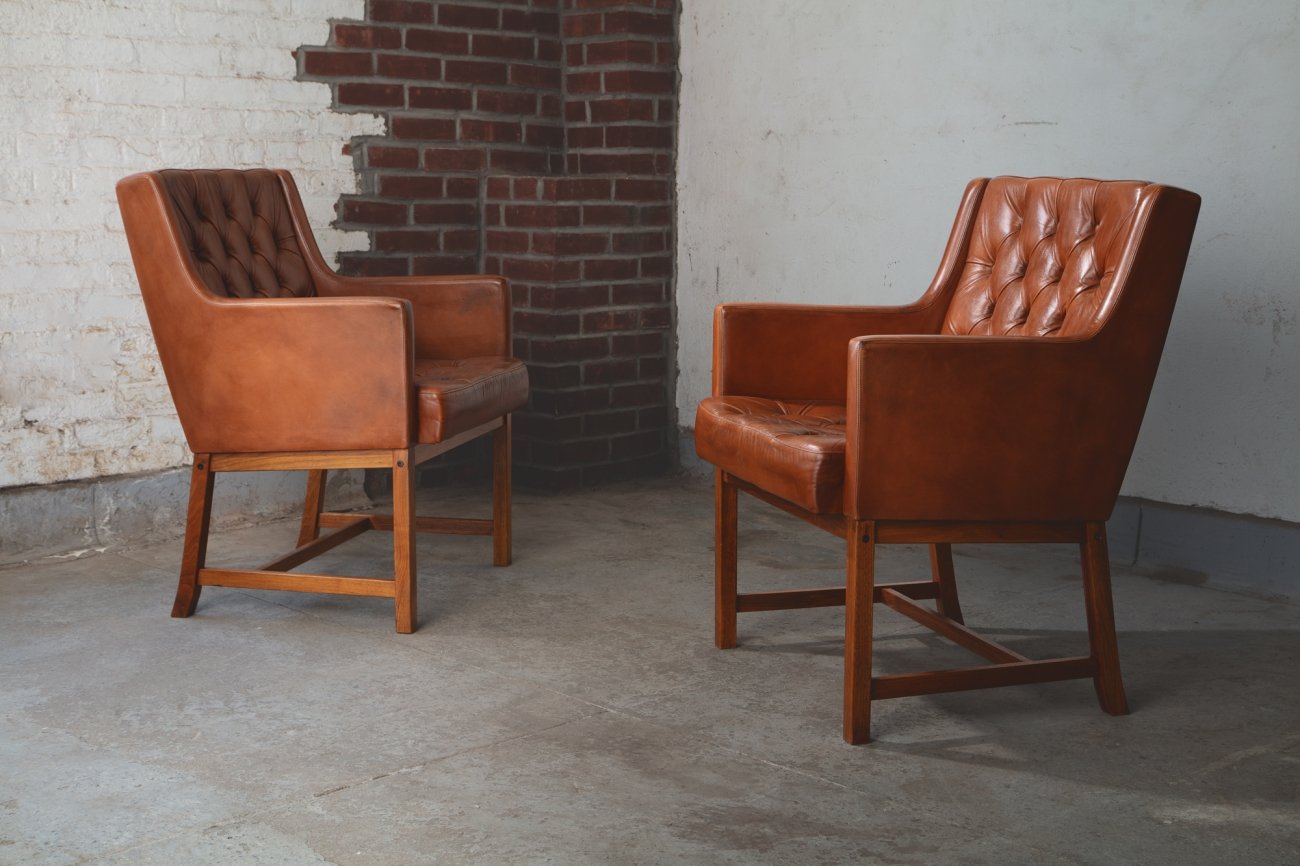 Karl-Erik Ekselius (Swedish, 1914-1998), Pair of Chairs, Sweden, ca. 1960. Mahogany, leather upholstery. Photo courtesy of Hostler Burrows.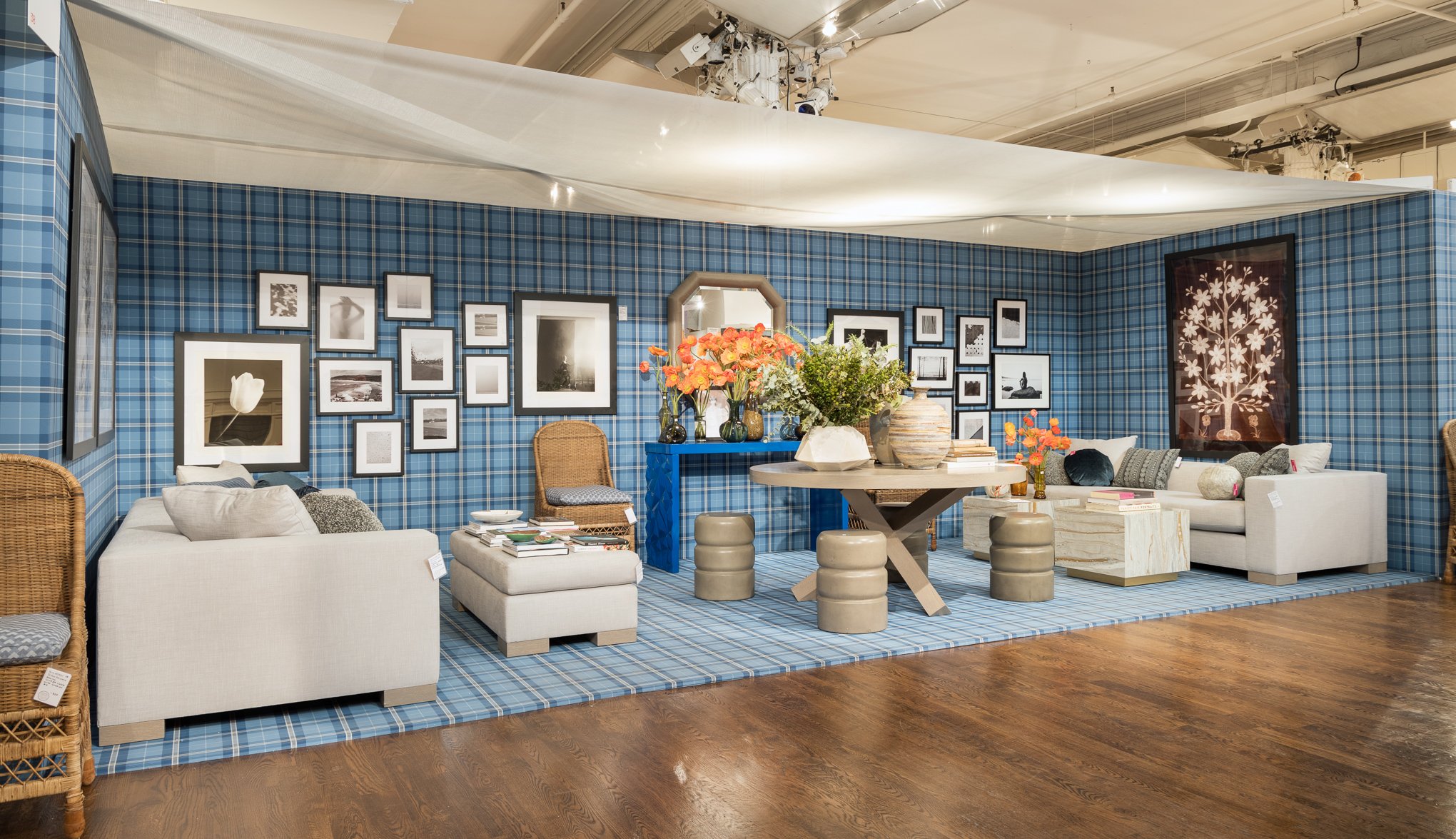 A vignette from the 2019 show, by Design On A Dime Founder James Huniford's legendary interior design firm, HUNIFORD. Photo: Mike Van Tassell

Groundbreaker Awards Dinner
Wednesday, April 20 — 6 PM
Design on a Dime Opening Night
Thursday, April 21 — 5:30 PM
Public Sale Days
Friday-Saturday, April 22-23
Event Location
The Metropolitan Pavilion, 125 West 18th Street, New York, NY 10011
For more information click here

David Kleinberg Design Associates. Photo: Mike Van Tassell

Participating Brands



A&J Custom LLC

ACC Art Books

Alex K. Mason Studio

Alfredo Paredes Studio

AllianceBernstein

Allison Eden Studios

Alt For Living

AMASS

Andrew Finnigan Works

Anthony George Home

ANTICA FARMACISTA

Antonio Diaz Ceramics

Apartment 48

Apeloig Collection

Apropos

Arditi Design LLC

Arhaus Furniture

Arlee Home Fashions

Armadillo

Aronson's Floor Covering

ARTERIORS NYC

Artistic Frame

ASSOULINE

Atlantic Feather & Down

Ballard Designs

BALSAMO ANTIQUES

Basic Ceramics

BDDW

Bec Brittain

Becky Yazdan

Bernhardt Furniture

Beth Diana Smith

BIA Cordon Bleu

Billy Baldwin Studio

Blu Dot

BoND

Books and Books

Boyd Lighting

Brent Warr

Brentano's Custom Framing & Fine Art

Brian Reyes

Brittany Marom Interior Design

Bunny Williams Home

BURKELMAN

C&C Milano

Carlos Otero

Carmen Almon

Cartography

CASTEL

Caughy Jones

CB2

Celia Rogge Photography LLC

Cerno

Chaman Antique Rug Gallery

Chairish

CHELSEA ART GROUP

Chelsea Frames

Christopher Flach | The Gerald Bland Gallery

Bungalow 5 Is Becoming Villa & House

Circa Lighting

Claremont

Classic Sofa

Cocobolo Design LLC

Colin King Studio

Colle

Collyer's Mansion

Comma Home

Cove Landing

Cowtan & Tout

Crate & Barrel

Creel and Gow

Currey & Company

Custom Neon

CW Stockwell

Cynthia Byrnes Contemporary Art

Daniela Kamiliotis

David L. Raines Photography

Decorative Things

DEDON

Deena Feinberg Photography

DeMuro Das Inc.

Dennis Miller New York

Design Within Reach

Diane James Home

Diane King Photography

Diane Villani Editions

Diego Anaya

Dienst + Dotter Antikviteter

Don Hamerman Photographer

Donald Sultan, Lococo Fine Art

Publisher and Sari Moreno Fine Art

Dumais Made

DUNE

ELITIS

Elizabeth Blake

Emma Childs

English Country Home

Esther Calderon Interiors, Inc.

F Schumacher & Co

Fabricut, Inc.

Far Studio

Farrow & Ball

Fernando Mastrangelo Studio

Ferrell Mittman

Fete Home

Fine Arts Furniture

Fort Street Studio

Fortuny Inc.

GABRIEL J. SHULDINER

George Smith Furniture

Gerald Bland Inc.

Glass Impressions

Glenn Ban

Gubi

Harbinger NY

HAY

Hayloft Auctions

Hickory Chair

Holland & Sherry

Holly Hunt NY

Hostler Burrows

House of Spoils

Hwang Bishop

J. Lohmann Gallery, Inc.

J&C Custom Upholstery

J&P Custom Upholstery

JAN ERIKA DESIGN

JED DESIGN

Jefferson Hayman

Jeremiah Brent Design

Jill Singer

John Boone, Inc.

John Derian Company

John Robshaw

John Rosselli & Associates

Jonathon Adler

Josh Minter Design

Julian Chichester

Just Shades

Jypsea Leathergoods

Kaiyo

Kates-Ferri Projects

Kathryn Robinson-Millen Design

Katy Garry Fine Art

KD REID for Currey & Company

Keap Candles

KEREN TOLEDANO Abstract Art

Kevin Kelly

Kevin O'Brien Studio

Kirsten Kay Thoen

Knoll

KRB

La Manufacture Cogolin

Laurence Elle Groux

LAZZONI FURNITURE

Leftbank Art

Leonardo's Upholstery

LEPERE

Lexington Home Brands

Lia Burke Libaire

ll Buco Vita

LORIN MARSH

Lumens

Made Goods

Magen H Gallery

MAISON GERARD

Makrosha

Malabar

Marble Crafters

Marie-Christine Design

Mark Nelson Designs

MATOUK

MC1R Studio

Mecox Gardens & Pottery Merida

Metropolitan Lighting Fixture

Michael Rosenfeld Gallery

Mimi & Hill

Mitchell Denburg Collection

Modshop1

Mommani Threads

Moore Design

Morgik Metal Designs

Munira Bootwala

Nicky Rosendorff Interior Design

Nicole Patel

Carl Barnett Design | Studio | NOURISH

Nourison

Orrefors | Kosta Boda

PALECEK

Patterson Flynn

PEM AMERICA

Peruvian Touch Upholstery Petals & Roots

Peter Lane Clay

Phillip Jeffries

Pierre Frey

Pikkabox

Portmeirion Group

Powell & Bonnell

RAGS FROM BRITCHES

Ralph Pucci International

Ramos Originals

REBECCA ATWOOD DESIGNS

Richard Udice

Richomme Inc.

Robin Rice Gallery

Rogers & Goffigon LTD

Roll & Hill

Roman and Williams Guild

ROOM

Rose Tarlow Melrose House

Rose Uniacke

Rosemary Hallgarten, Inc.

Saint-Louis

Sari Moreno Fine Art

Sb SOAPBOX

Schumacher

Schuyler Samperton Textiles

Sedgwick and Brattle

Sentient

Sertodo Copper

Sharon Molloy Art

Shizue Imai Studio

Skyframe

Soicher Marin

Sorella Glenn

Sorelle Gallery

SPARC GROUP LLC

STAIR

STARK Carpet

Steele Canvas

Stephanie Ditullio Interiors

Steven Amedee Custom Picture Framing

Steven Gambrel

Steven King Carpets

Stitch

Stitchroom

Stonewall Kitchen

Story Street Studio

Strand Bookstore

STUDIOTWENTYSEVEN

SUITE NY

Surya

Susi Bellamy

Sutter Antiques

Tess Atkinson

THE ANTIQUE AND ARTISAN GALLERY

The Demolition Depot

The End of History

The Lacquer Company

The Local Vault

The Romo Group

The Studio at Fernando Bengoechea

The Urban Electric Co.

The Van Cleve Collection

The Wood Veneer Hub

Thibaut

Thread, LLC

Timothy Oulton

Tresorie Fine Framing

Trevor King

Tri-State Furniture Restoration

Tucker Robbins INC

urbantrout designs

Van Go, Inc.

VAUGHAN DESIGNS INC

Victoria Ninette Interior Design

Visual Comfort

VULPE WORKS

Warwick-Smith

West Elm

Westchester House & Home

Wild Willys Woodshop

WILLIAMS SONOMA

Windows Wall and More

Winter Shaw

WorkOf

Worlds Away

Woven

York Street Studio

ZAK+FOX