Designer Maloos Anvarian Modernizes Traditional Design With Humor & Elegance
---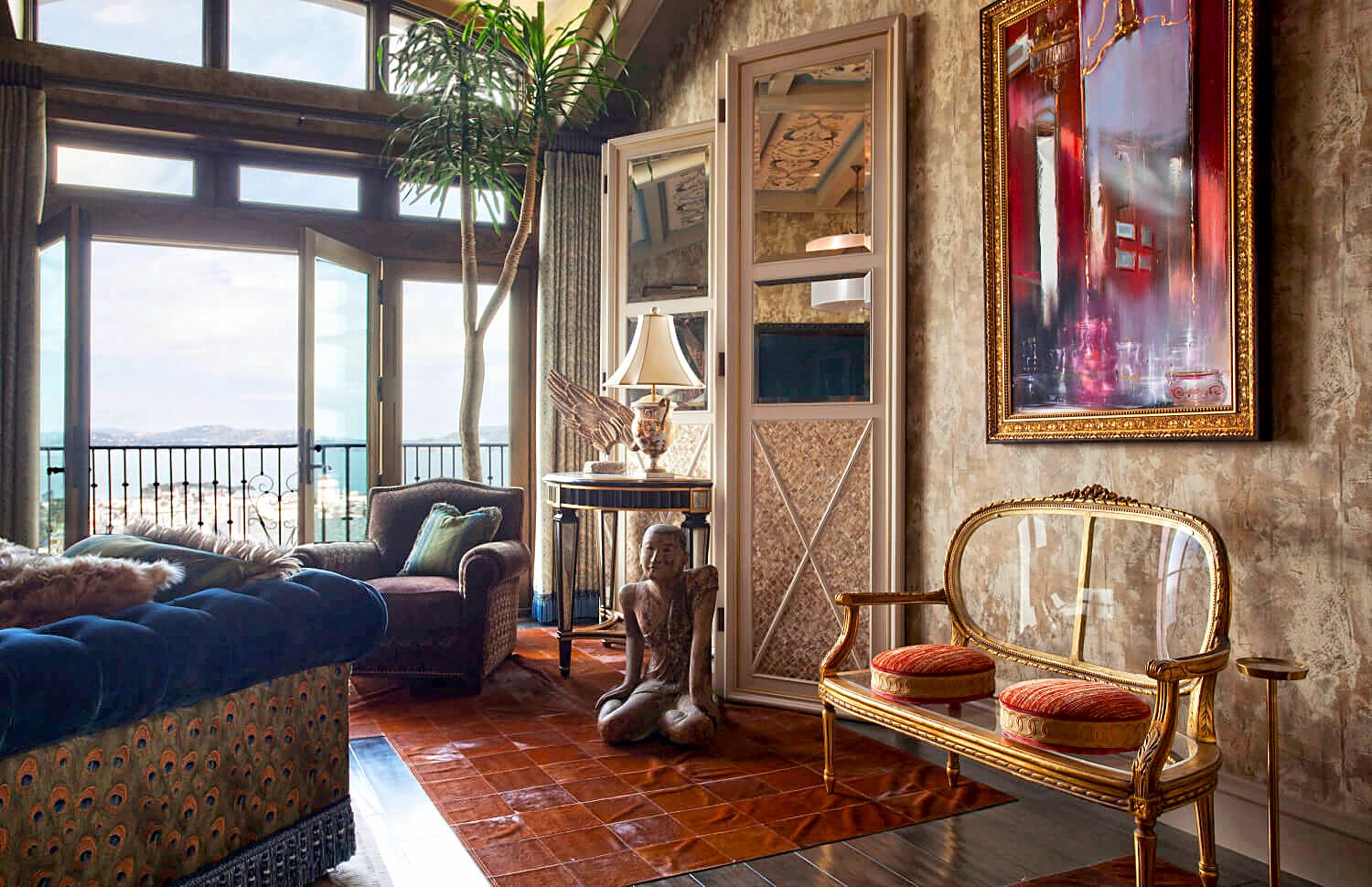 Pieces from DWM | Maloos feature repurposed antiques and incorporate historic design elements. Shown above, Maloos replaced the back and seat of an antique Louis XVI-style giltwood settee with clear acrylic to bring a contemporary spirit to this eclectic San Francisco living room from Favreau Design.
| | |
| --- | --- |
| | |
| | Maloos Anvarian. Photo by Tony Metaxas. |
M
aloos Anvarian believes that
desi

gn history exists to be reinvented. A Bay Area-based interior designer with three decades of experience, Maloos approaches furniture design by tempering traditional silhouettes with irreverence and wit: a baroque games table is laser-cut from acrylic instead of carved from wood, while a serious mid-modern bench is upholstered in vivid orange faux snakeskin. Often eclectic, her pieces are balanced with historic elements — incorporating salvaged antiques or reinterpreting traditional designs — that make her collection adaptable to an assortment of environments. "I try to attain staying power by pairing humor with elegance," she says. "I create objects that can fit anywhere — objects that are interesting, eye-catching, and unique but don't insist that everything else in the room march to the same drummer. I like variety, not monotony or austerity."
Her eponymous

line
DWM | Maloos
offer

s history, humor, and elegance in a range spanning furniture, wallpaper, and artworks. She designs pieces that connect elements from different design movements to create a hybrid style that is both familiar and futuristic. "I don't like trendy items," she says. "They become quickly dated and beg to be replaced. And I don't like disposing of furniture. Landfills don't appreciate furniture."
Here is a selection of designs from DWM | Maloos that contrast the historic with the contemporary.







In her pieces, Maloos likes to match antique-inspired shapes with contemporary materials using Lucite to modernize antique forms and give them new life. "The antique's look becomes both more transitional and more flexible, meaning that it can fit almost any decor, from traditional to modern," she says. "Lucite takes the heaviness off of the antique's traditional appearance and lends it an edge." Clear materials also encourage the viewer to appreciate the frame of a piece, rather than hyper-focus on details. In her Mod-Louis Armchairs (above left), a 19th-century-style wood chair seat, arms, and back are replaced with acrylic, emphasizing the elegant wood structure of the chair and creating a whimsical contrast between materials. Her material choices are always creative. When deciding on a material to work with for an object, she decides what the design initially "says to her," and then consults with the client, who may want resin or a more traditional material. In a recent version of the Baroque Lucite Game Table Base pictured above, for example, she replaced the ornately carved base with a custom design featuring hearts, clubs, spades, and diamonds.








Even as she blends the past and present in her furniture, the designer never takes herself too seriously. "I like whimsy when it comes to wallpaper,

"

she says. "Whimsy can take the edge off a room." In her recreations of artworks by Old Masters including da Vinci, Raphael, and Ghirlandaio, she covers elaborate antique-inspired picture frames with custom prints depicting Renaissance-era portraits of women. She then layers latex over the canvas. Like her playful approach to portraiture, she enjoys decorating her Post-Modern Louis Armchairs in diverse colors, materials, and patterns. "I view those pieces as one would an open canvas," she says. Above, the armchair is upholstered in one of Maloos's "animo camo" patterns; a similar version of the chair in a pale crocodile skin pattern was recently purchased for a doctor's office, to bring lightheartedness into the space. In the Parsons-Louis Dining Table (above center), wooden French country table legs are paired with a glossy hand-polished top.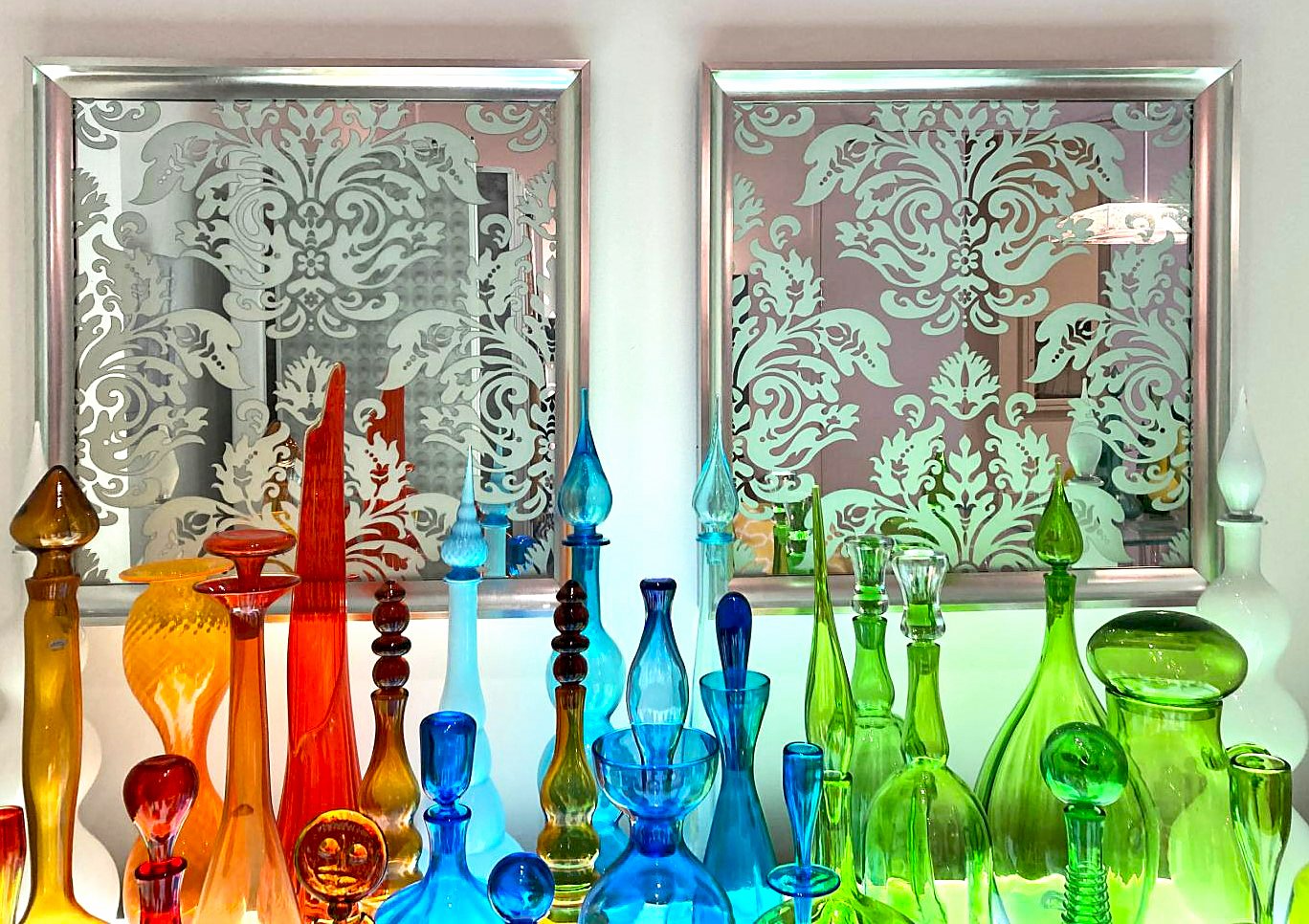 Although Maloos is attracted to many design movements, mid-century modern influences are visible in the Claudia Bench and Claudia Desk. One of the fabrics she often uses for the bench has become exceedingly popular with clients. "Interestingly, many people seem to like the orange snakeskin fabric that I used on many of the Claudia Benches — so much so that I ran out of the fabric," she says. In the top image, a pair of her

damask etched mirror

s

sparkle behind an assortment of vintage mid-century glass from Blenko and Viking Craft, and Italian Empoli pieces, which she offers on Incollect.




Humor informs the design of the Madeleine Sofa. "Even the name is meant to be funny," says Maloos. "One of our consultants came up with it when she saw the cushions and realized they look like madeleine cakes." In the Madeleine, she created a comfortable sofa that would look loved and lived-in, with a floral-patterned frame and front Lucite legs that accentuate the playfulness of the overall design. "It's not austere and pouty," she says. "Who wants to lounge in a sofa that pouts?"



Some of her objects, including the Cut It Out Coffee Table (above left) and Les Commodes (above right), take historical influence literally. U

ltra-glossy and contemporary in shape, the Cut It Out and Les Commodes

feature laser-shaped cutouts of more traditional furniture designs that are then painted in a contrasting color. Of Les Commodes, she says, "The rich darkness of the doors provides a window to the past in a contemporary context. In particular, the doors add some French curves to an otherwise austere modern box."

Lighting from DWM | Maloos is creative and joyful. For the Bubble Pendants, the designer fabricated the exterior flowers from vintage and antique crystals. "As for the bubble shape, they give the chandelier a sense of humor, softening, indeed obviating the edges, and they fit most decors," she says.



From revamping any kind of antique object to juxtaposing new materials, Maloos always approaches design with an open mind. "Happenstance rules the day," she says, describing which kinds of projects she'll take on next. "The sky is the limit, except for the budget, of course." Clockwise from left: a Lucite version of the Post-Modern Louis Armchair in a dining area from Favreau Design, the Tuft Love Antique Bench, and Omega Tables.