Designer QnA: Alan Tanksley's Star Crush on Alexa Hampton, Learning From His Clients and Redesigning The White House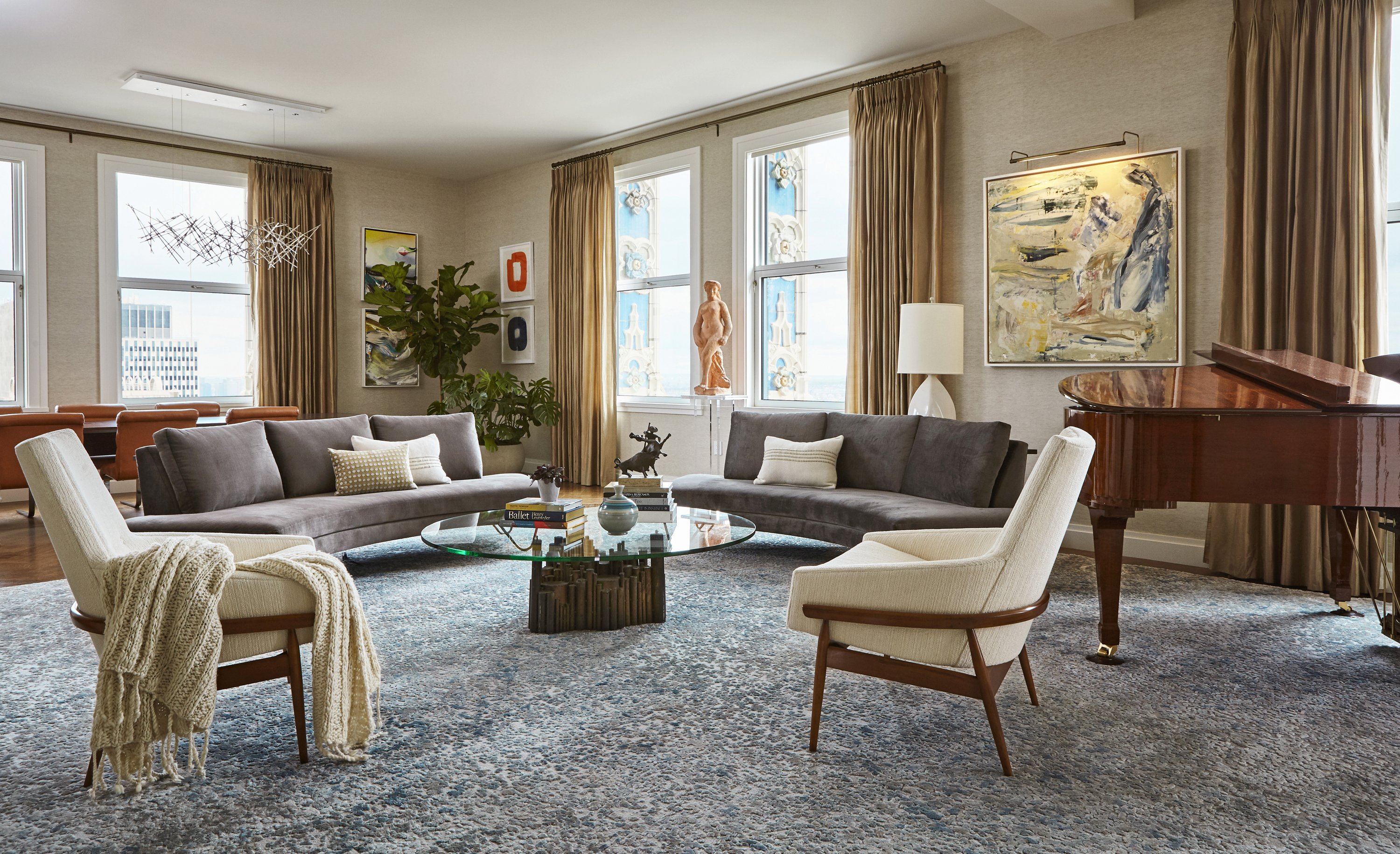 Alan Tanksley pulled out all the stops for this model unit he designed for the Woolworth Tower Residences, located in the iconic 1913 neo-Gothic Woolworth Building. Custom curved sofas with cantilevered sofa-back shelves, combined with a pair of 1960s Danish lounge chairs and a glass-topped bronze Brutalist table base c. 1970 define a sitting area within the large room. The terra-cotta statue, which is French, c. 1925 from Conjeaud & Chappey, is a nod to the terra-cotta tiles that clad the building's exterior. The large painting between the windows is by Karl Klingbiel. The rug is Digital Monet from Martin Patrick Evan, Ltd.; Alan worked with the company to customize both the scale and the color palette, resulting in the perfect balance of tone and texture to complement the setting.
| | |
| --- | --- |
| | |
| | |
Alan Tanksley is among America's leading practitioners of residential design, detailed interior space planning and custom furniture and fixture design. Renowned as an expert colorist, Mr. Tanksley creates subtle palettes that ultimately manage to make every interior space simultaneously sophisticated and relaxing. His past working relationships with such leading architects as Maya Lin, James Dayton and Robert Orr and Harry Elson give the firm an unusual ability to draw on expert talents to implement a wide range of architectural renovations for each project that it undertakes.
Mr. Tanksley began his career in the office of renowned interior decorator Mark Hampton, with whom he worked for six years, followed by a five-year partnership with fellow designer, Paula Perlini. Alan Tanksley, Inc. opened its doors in 1993. He is a graduate of Arizona State University's School of Architecture, specializing in Interior Architecture. Alan's work has been widely seen in such publications as Architectural Digest, Interior Design, House & Garden, Art & Antiques and Metropolitan Home in addition to Elle Decor. He is especially proud of the much-acclaimed rooms he created for The Hampton Designer Showhouse and more recently, the Kips Bay Decorator Showhouse in New York City.
Among the many organizations to which Alan Tanksley donates his time and talent are Housing Works, Design on a Dime, Bailey House, and "Dining by Design" sponsored by Elle Decor.
Role Model:

Mark Hampton, my first employer. He mentored and inspired me to learn from the past, stay ever curious about the present and seek excellence in preparing for the future.




Necessary extravagance:

Travel and great food.




Secret vice:

I've come to love occasional, brief naps.




Hidden talent totally unrelated to design:

I enjoy clever words, witty phrases and making people smile.




Go-to color scheme:

Shades of brown, greens, blue and creams.
DISCOVER ALAN TANKSLEY'S INCOLLECT FAVORITES



Pair of Italian Terracotta Sphinx

Moxie




FINN JUHL

Matched Pair of NV 45 Armchairs

Collection20C



3-Arm Table Lamp

Donzella




N10686 Coffee Table, France 1980s

Bernd Goeckler Antiques
Tell us something about you that is not in your bio.
I was born in Dallas and am 6'-5", making me a long, tall Texan.
What excites you most about the design process?
I love the challenge of organizing spaces, creating furniture layouts and establishing the basic design aesthetic of a project. Once that is clear, it paves the way to a focused, collaborative relationship with my clients.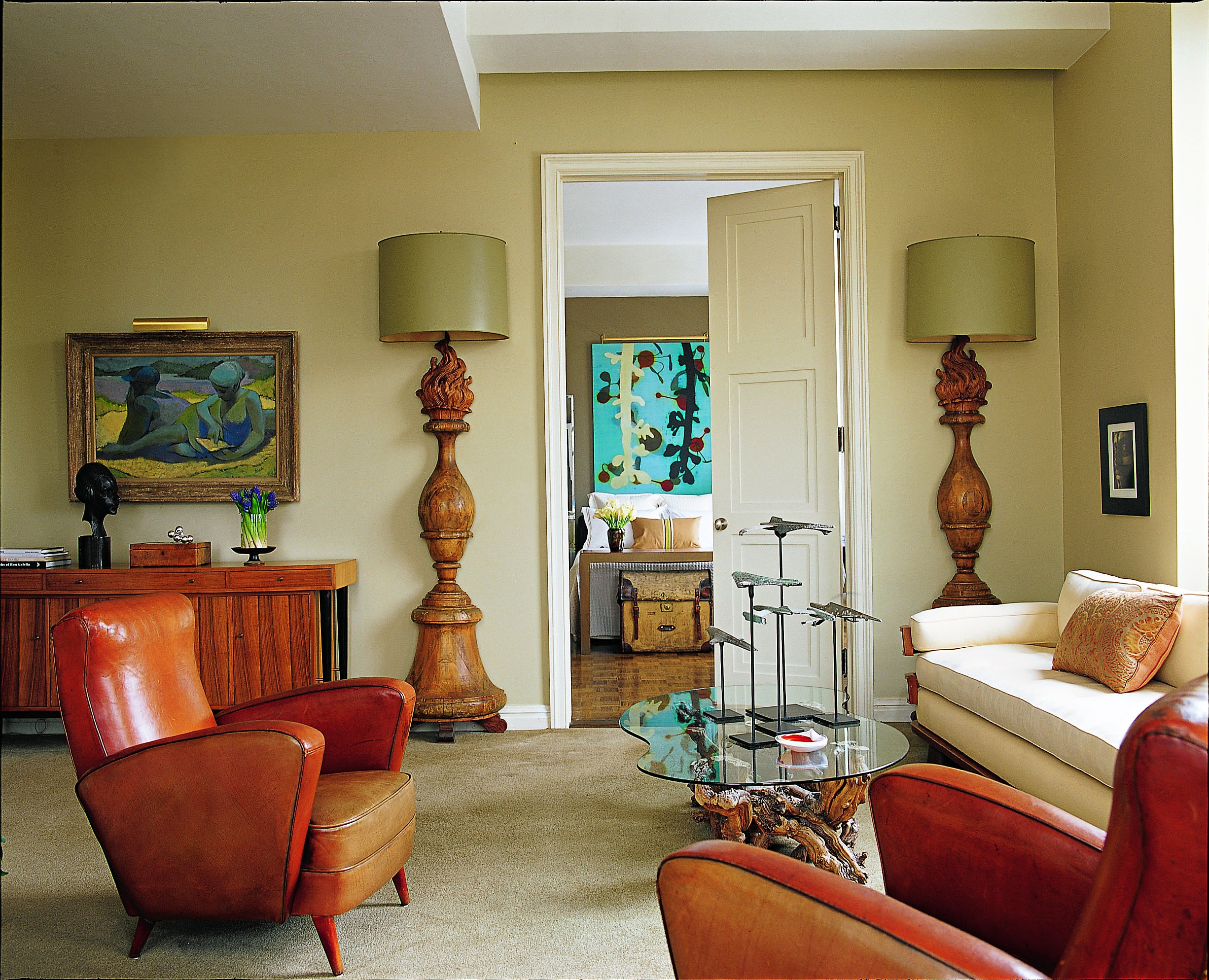 Alan's apartment near Flatiron. Flanking the doorway are a pair of Italian 18th c. carved fruitwood torchères that were electrified as floor lamps. The sideboard is English bleached rosewood, c. 1955. A 1960s gnarled root and driftwood coffee table displays a collection of mounted automobile hood ornaments; the armchairs are '40s French, with original patinaed leather and piping.

SHOP ALAN TANKSLEY'S INCOLLECT FAVORITES



EDWARD WORMLEY

Rare Edward Wormley for Dunbar Coffee Table

Cain Modern




GUGLIELMO ULRICH

Exceptional Pair of Guglielmo Ulrich Attributed Wingback Chairs, 1940s

Kabinet Hubert



OSCAR NILSSON

Attributed, Swedish Walnut and Beech Cabinet

H.M. Luther




ROBERTO GIULIO RIDA

Pair of Stunning Glass Sconces by Roberto Rida

L'Art De Vivre
Name an architect, artist or designer, living or dead, you'd love to collaborate with and why?
I began my career working for the esteemed decorator, Mark Hampton. It was there that I met a young but impressive Alexa Hampton. We've had a love affair with each other's work from day one. It would be my greatest pleasure to work collaboratively with Alexa. She embodies all the wonderful old world qualities of her father while leading our business as it currently exists. Plus, she's one of the funniest women I know.
How do clients push you to think outside of the box and challenge you?
I've worked with several collectors whose passions either differ from my aesthetic or, in some cases, were altogether unknown to me before meeting them. In time I came to understand the depth of their passions and why they valued the things they so enthusiastically pursued and in most cases I gained an appreciation for, even came to like the objects of their affection.



Left:

The rich architectural details in this Upper West Side townhouse are an elegant backdrop for a mix of vintage, antique and new furnishings. The center table by

Osvaldo Borsani,

c. 1950 and vintage Murano chandelier are from

Fred Silberman. The streamlined form of a

1930s

French Art Deco armchair balances the strong rectilinear lines of the wainscotting behind it. Right: A dining room with rich and glowing surfaces, and a subtle play of light and shadow on textures. The "Architectural Scale" Blenko glass "sculptures" are from Damon Crain's Culture Object, and the unusual pedestal side table is French Moroccan, c. 1935.

SHOP ALAN TANKSLEY'S INCOLLECT FAVORITES



A Biedermeier Pedestal Table

ILIAD




Club Chairs in the Manner of Leleu, Pair

Jamie Pryde



Egyptian Revival Chandelier

Early Electrics LLC




JACQUES ADNET

Jacques Adnet Hand-Stitched Leather Sideboard

Michel Contessa Antiques & More
| | |
| --- | --- |
| | |
| | Alan's Jean Royère table, with original faux elephant hide top, photo by Jeffrey Hirsch, courtesy New York Social Diary. |
What is your favorite object in your home, and how and when did you acquire it?
Egads, that's a tough one! I suppose it's a table designed by the legendary French designer, Jean Royere, c. 1950. This ingenious table rotates on a central pedestal starting from cocktail to dining height. I purchased it at a very (very) reasonable price from Sotheby's just before the craze for European mid-century furniture swept the design world.
How does a design project start for you? Is there a particular element that you always start with that inspires the whole project?
For me the first thing is to establish an open, healthy relationship with a potential client. Without that in place from the start it's a proven formula for disaster. Once the project kicks off it's a series of conversations, site visits, exchange of ideas and an understanding of where my clients see value. It's those things that direct and guide me as we put pencil to paper and get down to the task at hand.
The living room of an Art Deco-inspired pied-à-terre with a Venetian glass mirror over a fluted marble mantel, and vintage sofa by Edward Wormley. The custom carpet was designed by Alan with Martin Patrick Evan, Ltd.

SHOP ALAN TANKSLEY'S INCOLLECT FAVORITES



EDWARD WORMLEY – DUNBAR

Dunbar "Janus Sofa" by Edward Wormley

Modern Drama




ANASTHASIA MILLOT

Bronze Side Tables by Anasthasia Millot

Valerie Goodman Gallery



STUDIO JOB

Studio Job "Perished Collection" Four Panel Screen, 2006

Lobel Modern, Inc.




GHIRÓ STUDIO

Studio-Built Circular Mirror by Ghiró Studio

Donzella
What is your dream project?
The private quarters at the White House...for a future occupant.
What is your favorite part of the install process?
The hours just before presenting the completed project to our client is most exciting, sometimes more so than their first walk through. It's then that the final details can be massaged and subtly considered to present the results of months, sometimes years, of our efforts. Anticipation can be very sexy.



Left: A "Mountain Modern" chalet in Aspen, Colorado. Over the fireplace are 19th c. logging calipers, used to measure the diameter of harvested trees. The coffee table is a custom commission for this project created by Ingrid Donat. The antler side table is 19th c. French, topped with a brass tray. Right: Warm, rich woods and a dramatic chandelier are a dynamic pairing in the dining room of a Vail, Colorado retreat.
SHOP ALAN TANKSLEY'S INCOLLECT FAVORITES



JACQUES JARRIGE

Gueridon Pedestal Table in Bronze by Jacques Jarrige "Bella"

Valerie Goodman Gallery




BØRGE MOGENSEN

Borge Mogensen Red Leather "Coupe" Sofa

JF Chen



1960s Brazilian Jacaranda Decorative Panel or Door

Adesso




GIO PONTI – LIO CARMINATI

Set of Five Gio Ponti Dining Chairs for Casa E Giardino, Italy, 1942

Kabinet Hubert
Do you have a signature element — something you always include when styling an interior?
Nope.... I actually don't have a signature element that I repeat in every project. I should give this some thought for future projects!
Tell us what you love about Incollect and what one can expect sourcing with us.
Incollect came along at just the right time. It feels like it's personally vetted and curated vs. seeking to be all things to all people. I appreciate that.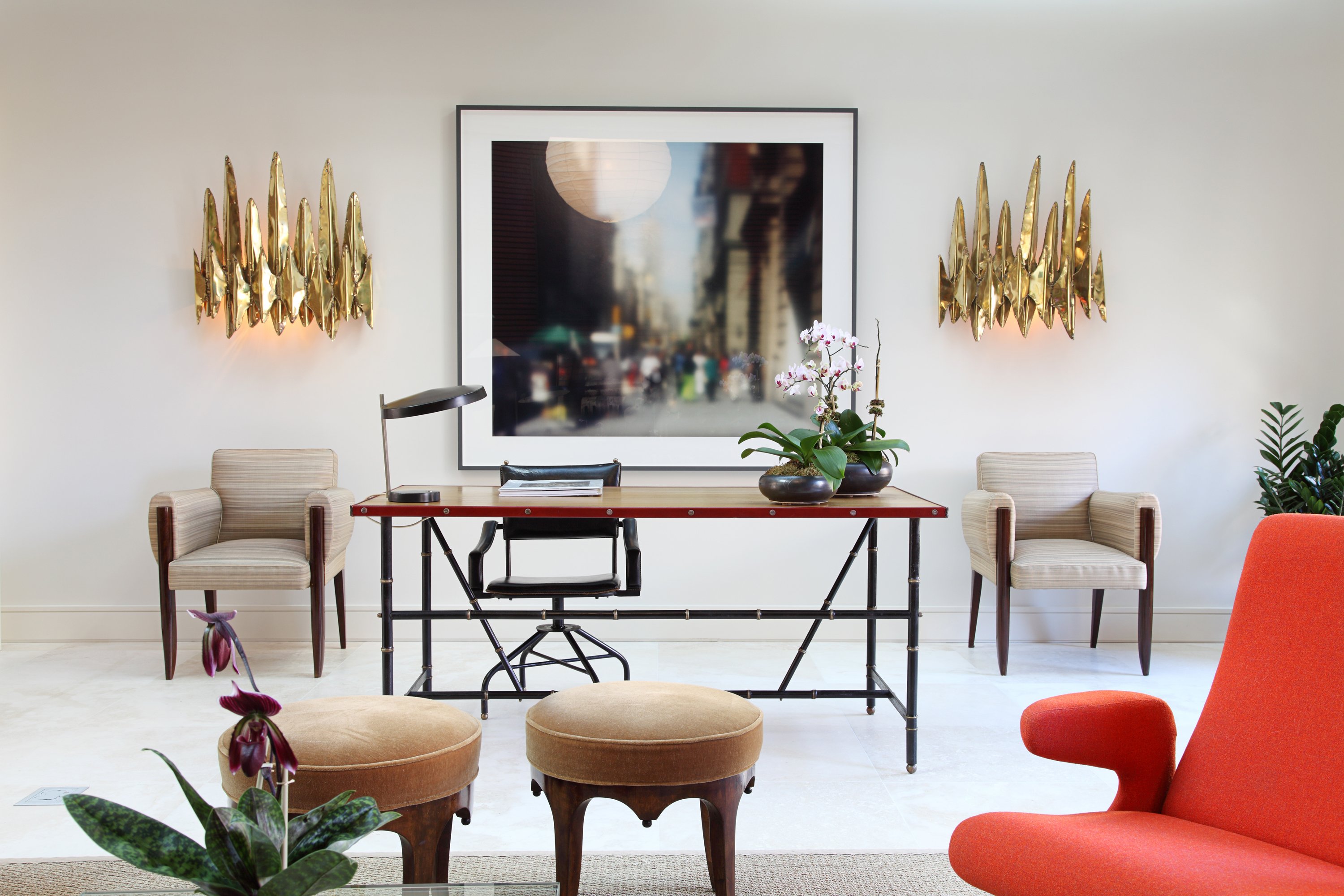 In a Gramercy Park townhouse triplex, the Jacques Adnet desk and chair are circa 1950. The brass sconces are vintage mid-century, and the armchairs are Jean Pascaud, circa 1935. The large format photograph is by Bill Jacobson.