Designer QnA: Rob Brown and Todd Davis are the Yin and Yang of Interior Design
From Miami Vice Modern to the very posh British Embassy, Comfort is the greatest Luxury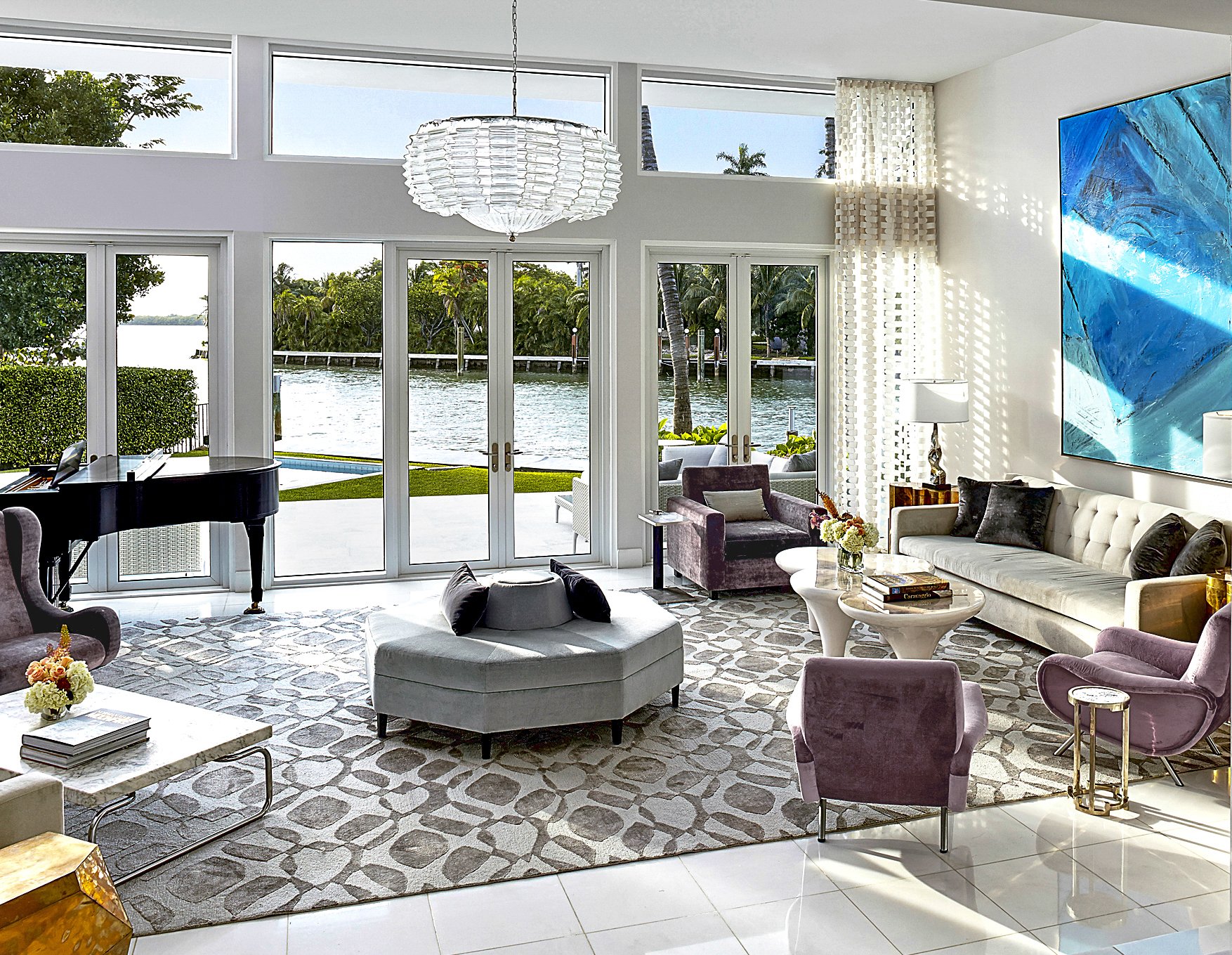 Sizzling & Stylish — The Miami Vice House This house was regularly featured in the trendsetting TV series that defined 80s style. Brown and Davis owned the house in the early 2000s, reconfiguring the layout and refining architectural details before eventually selling it. Recently, they were commissioned to update the Miami Modern classic for the new owners, a couple with three daughters. They were looking for a warmer, more soulful ambiance, without sacrificing the house's cool, contemporary glamour. Overlooking the terraces, a pool and the bay, the living room's 13-foot high ceilings and wall of windows flood the room with sparkling light, and in the evenings, offer up magnificent sunset views. A grand piano is situated for elegant entertainment, Barovier and Toso's sparkly vintage 1980s "Balloon" Murano glass chandelier floats overhead, and cool, sleek white Thassos marble flooring runs throughout. The designers created two conversation areas bridged by a fun and festive circular banquette. At right, a pair of vintage 1950s "Lady" armchairs by Marco Zanuso is joined by a sofa and club chair of their own design. Above the sofa, a large abstract painting by the owner celebrates the colors of the sky and sea. Warm and cool metals bounce light and capture reflections, creating a lively play: a marble-topped cocktail table with chrome legs, a pair of 1960s sculptural nickel lamps by Frederick Weinberg tops brass tables with undulating sides, and another brass table features an angular faceted profile. Warm, spacious and inviting, the room functions as both an elegant space for entertaining and a comfortable lounging area for family gatherings and casual get-togethers. Photo by Moris Moreno

| | |
| --- | --- |
| | |
| | Todd Davis (left) and Rob Brown (right) in the lotus position atop their monolithic brass dining table, surrounded by a suite of vintage Milo Baughman dining chairs covered in Mongolian sheepskin. Photo by Brett Hufziger |
Todd Davis and Rob Brown joined their shared passion for classic architecture, discerning environments, and extraordinary craftsmanship to create Brown Davis Architecture & Interiors in 1994.
Brown Davis has designed two residences for 42nd President William Jefferson Clinton and former Secretary of State Hillary Clinton, The British Embassy residence in Washington D.C. and an array of exceptional projects involving modern and classical architectural designs as well as historic renovations. Brown Davis is based at the iconic 1111 Lincoln Road complex on Miami Beach, Florida. The saturated hues, tropical landscape and design mecca of Miami have influenced a bold aesthetic that resists conformity. It is instead a uniquely American perspective, fusing the traditional roots of classicism, with an international, modern, sensual vitality.
Creative and bespoke architecture is the foundation of each project whether modern, transitional or traditional. The Brown Davis architectural team trains their exacting eye on the technical and design challenges of each project to ensure proper proportions, details, materials and an efficient build process.


More views from the "Miami Vice House" Left: To create a sense of mystery and anticipation in the foyer, Brown and Davis designed a stunning and dramatic tableau, and with just three elements, they created a glamorous impact. A niche was constructed and lined with four bookmatched slabs of jade green onyx. "We wanted to create a one-of-a-kind piece of art from nature; the watery green tones of the canal and

Biscayne Bay which are

just outside inspired our selection." Rob explained. The niche is flanked by a pair of mid-century-style seven-foot-tall brass lance sconces with creamy white bowl shades, and a patinated bronze Atlante bench, a custom piece by acclaimed French furniture artist Alexandre Logé, adds a sculptural presence of its own. Right:

To contrast with the angular profiles of the club chair and the sofa, Todd placed a sexy, curvaceous, glossy white coffee table that pays homage to '60s mod style. The circular "Sociable" banquette is a custom design by Rob and Todd, based on the ornately carved and upholstered Victorian borne, but slimmed down and streamlined for a more modern, Art-Deco profile that mixes superbly with the contemporary and mid-century furnishings they chose.

Photos by Moris Moreno

Role model


Todd: The late Zaha Hadid
Rob: Anyone with the passion to fully pursue who they are and what they prefer
Both: Auntie Mame as played by Rosalind Russell

Necessary extravagance

Todd: A nice car

Rob: Business class airline seats (at least!)

Secret vice

Todd: a good wine

Rob: spending as much time as possible bicycling outdoors

Hidden talent totally unrelated to design

Todd is a yogi and swimmer

Rob is a deep house music connoisseur

Go-to color scheme

Todd: Greys and blues

Rob: Pale grey
DISCOVER BROWN DAVIS'S INCOLLECT PICKS



BAROVIER & TOSO

Pair of Large Clear Murano Glass Chandeliers, 1970s

D'LightUs




GEOFFREY DORFMAN

Azure Gate

Lawrence Fine Art



MARCO ZANUSO — ARTFLEX

Lady Chair by Marco Zanuso for Arflex in New Upholstery

Original in Berlin




SILAS SEANDEL

BRONZEFORMS II

Silas Seandel
Tell us something about you that is not in your bio.
Rob and Todd are like yin and yang when they design together — complementary opposites, energy and synergy through juxtaposition. The process always leads to new creative solutions.
What is your dream project?
We recently completed a dream project where the client recognized the home as art and pushed us to blur the boundaries between art, architecture, interior and landscape design. We created an original plaster ceiling of alternating square planes as well as a highly polished stainless steel staircase with wood treads.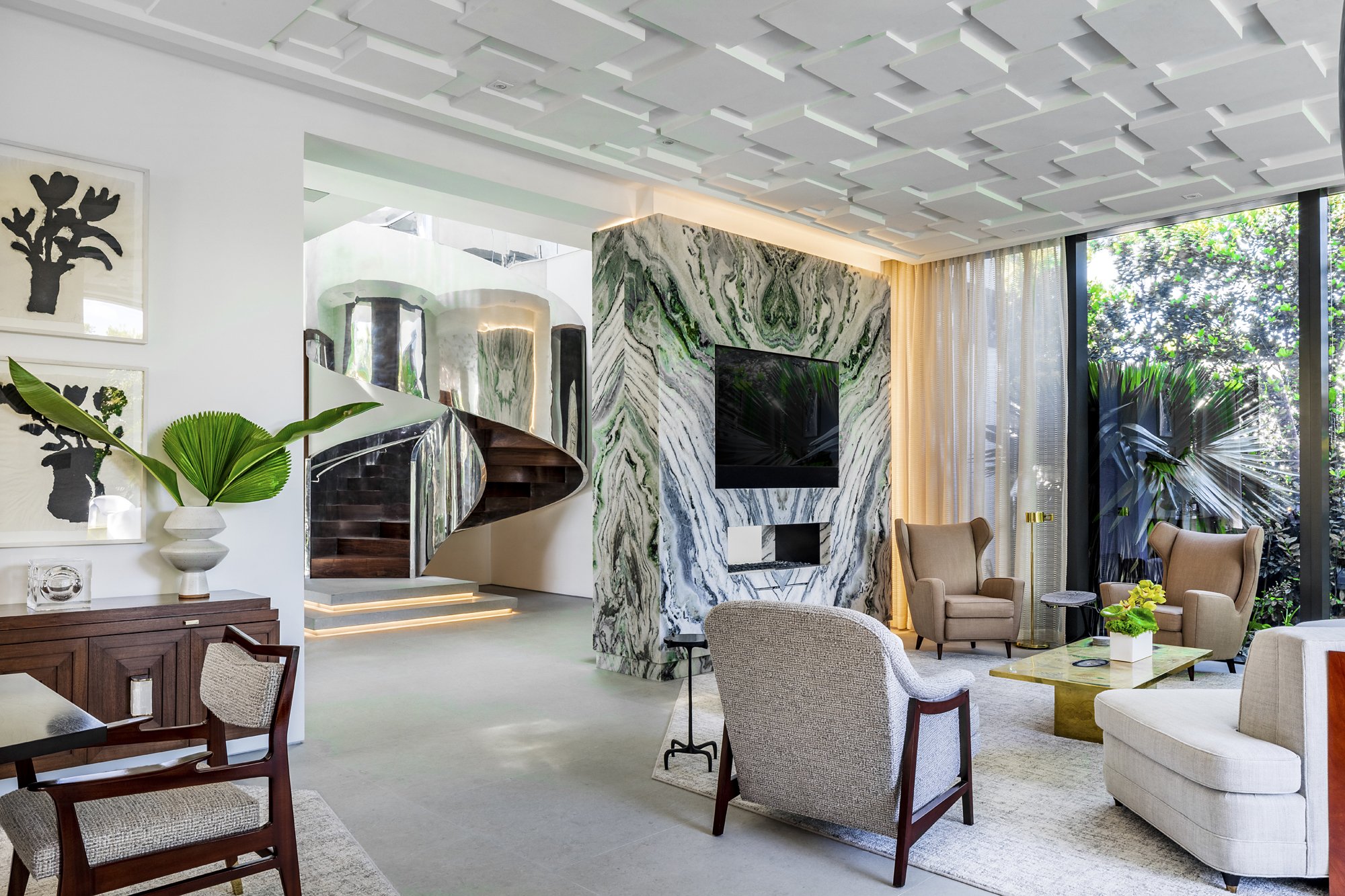 A Dream Project Brown Davis created this Miami Beach house — architecture, interior design and landscape architecture — for longtime clients who had differing wishes: an adventurous husband who requested "things I haven't seen before," and the more traditional wife, whose taste leaned toward the warmth of classic decor. Throughout, rich woods and a subtle textile palette are juxtaposed with boldly executed elements. Organic shapes and patterns — the curvilinear staircase, the flowing veins of the Quartzite wall, are contrasted with geometrics shapes and patterns — the three-dimensional puzzle pattern on the ceiling, the shaped rugs, the stepped detail on the hanging wall cabinet, and combine to create a dynamic flow. Above: A sweeping mirror-polished stainless steel staircase was inspired by the curves of a Nautilus shell, with two LED-lit platforms leading up to a flight of black walnut stairs. A feature wall clad in dramatic bookmatched slabs of Quartzite with a see-through fireplace tethers a seating group composed of back-to-back sofas designed by Brown Davis, a vintage etched brass coffee table by Armand Jonckers, and a pair of vintage 1940s Italian lounge chairs. The plaster block-patterned ceiling is an original design by the duo, as are the polygon-shaped rugs. Below: The dining area is illuminated by a quartet of vintage 1960s topaz-toned Mazzega Murano chandeliers above a bespoke Divine dining table by Brown Davis for Keith Fritz Fine Furniture. The hanging buffet is also a custom piece by the pair, and was designed to double as a workspace for the wife. The Modernist-inspired mahogany dining chairs with distinctive brass sabots are from Studio Van den Akker.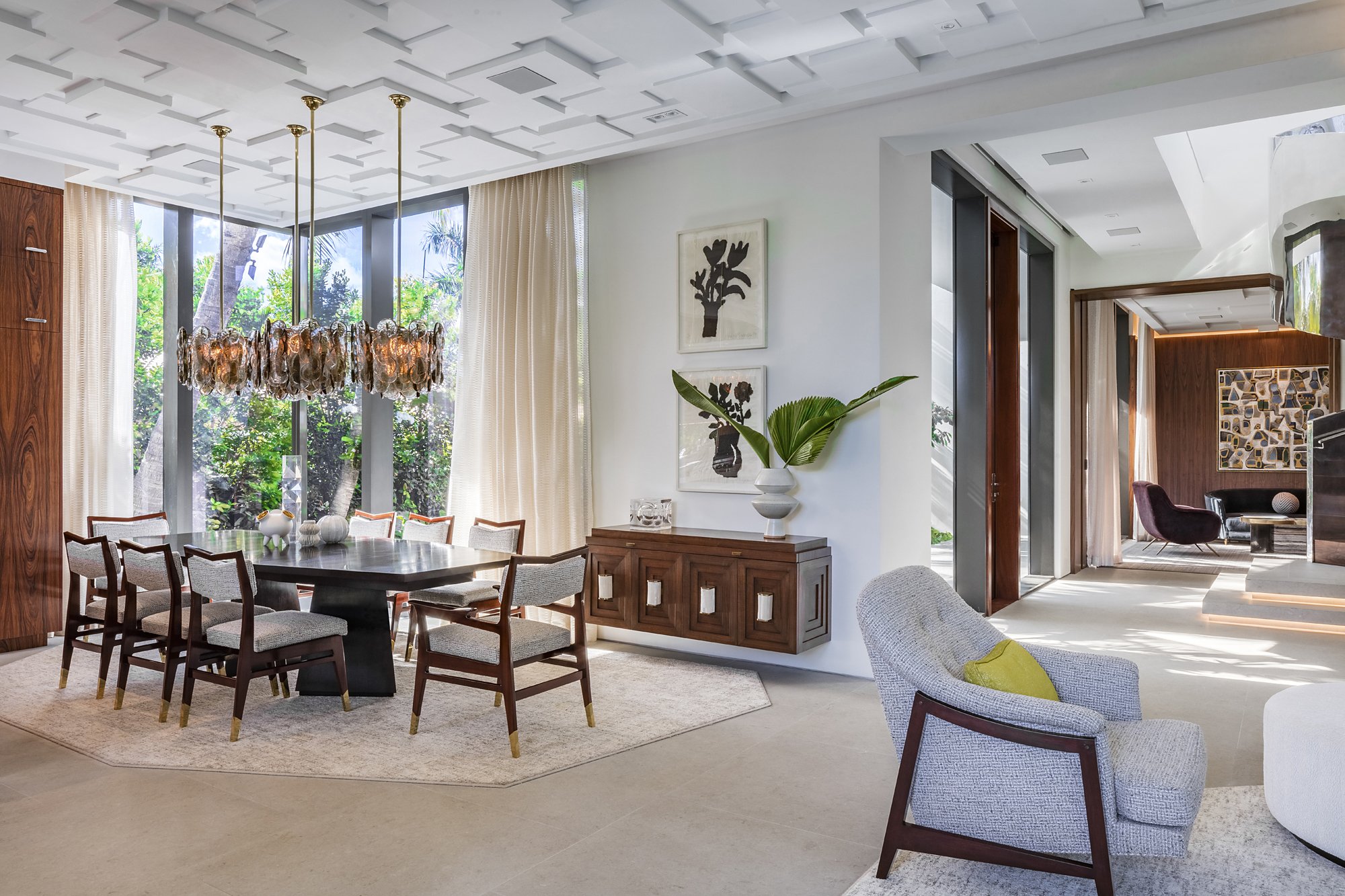 SHOP BROWN DAVIS'S INCOLLECT PICKS



MILO BAUGHMAN (attributed)

Modern Milo Baughman Floating Credenza

Castle Antiques & Design




GIO PONTI – DASSI ET FIGLI

Elegant wing back chair

Portuondo



ATELIER STEFAN LEO

Tombos | Black Coffee Table

Carlyle Collective




MILO BAUGHMAN – THAYER COGGIN

Milo Baughman Semi-Circular Sofa with Rosewood Tables

circa20c
| | |
| --- | --- |
| | |
| | A richly colored and handsomely detailed bespoke dining table from the Brown Davis Interiors Collection, crafted by Keith Fritz Fine Furniture. Todd and Rob designed 14 pieces for the line, featuring a range of tones from vibrant to subtle, as well as highly figured woods. |
What excites you most about the design process?
We love the creative process. Creating designs and using materials to come up with original solutions is very exciting. Todd adds, "We're always looking to create something unique, something we haven't seen before. This is how we came up with our colored wood concept for our furniture line with Keith Fritz Fine Furniture."
How does a design project start for you? Is there a particular element that that inspires the whole project?
The client is the original inspiration. Our projects are all bespoke and are designed around the client's requests and desired design direction.





Rob's childhood home on the Potomac River was the setting for the 1958 Sophia Loren/Cary Grant romantic comedy

Houseboat.



What sort of house did you grow up in?
Todd grew up in an Eichler house in Southern California and a mid century contemporary home in the Washington DC suburbs. Rob grew up in a house named Seven Oaks in Northern Virginia, a grand traditional home on the Potomac River. It was the setting for the movie Houseboat starring Sophia Loren and Cary Grant. Todd notes, "I think the combination of our influences is what has helped develop our shared aesthetic."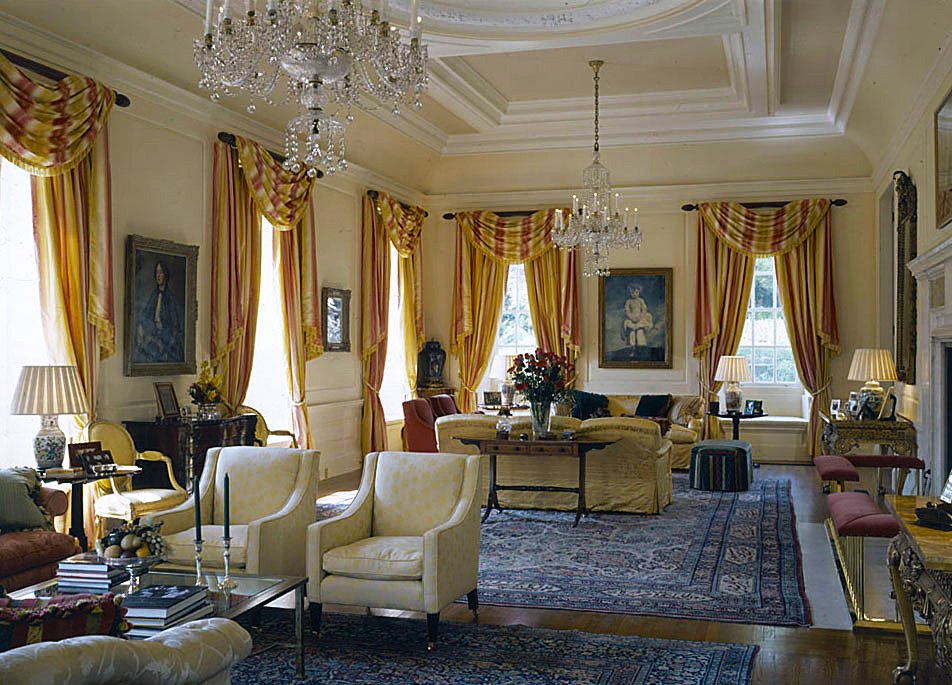 Refreshing a Lutyens Masterpiece Todd and Rob were introduced to the British ambassador's wife by their neighbor, Georgetown social powerhouse Susan Mary Alsop, which lead to a commission to refresh the British Embassy residence designed by Sir Edwin Lutyens in 1928. Both partners were trained in the classical style, making them perfectly suited for the task, and although the interiors honor a traditional aesthetic, they are enlivened by an updated, more luminous color scheme. In the formal drawing room, Brown and Davis balanced richly layered formal curtains with a light, fresh palette of soft yellow and muted copper, rather than the traditional jewel tones one might expect. Walls were painted with a subtle strie effect, and the lovely plaster ceiling details, previously a uniform chalk white, were highlighted with a combination of paints and glazes in beige, soft yellow and creamy white.

SHOP BROWN DAVIS'S INCOLLECT PICKS



English Regency Rosewood Writing Table circa 1820

Silla, ltd.




An Early George II Walnut Settee

Wick Antiques LTD



WILLIAM KENT (attributed)

Important George II Period Giltwood Console/Sidetable
of Immense Proportions

Michael Lipitch Ltd




A Tortoise Shell Octagonal Mirror with Applied Bronze Putti

L' Antiquaire & The Connoisseur, Inc.





Bluer than blue — the mesmerizing velvet-like surface of Yves Klein's

La Vénus d'Alexandrie (Vénus Bleue)

was achieved by the artist's patented pigment IKB (International Klein Blue) and synthetic resin on plaster. Like his ultra-chic cocktail tables, the sculpture was designed but not produced until after his death in 1962, underscoring Klein's legacy as one of the earliest conceptual artists.

Name an architect, artist or designer, living or dead, you'd love to collaborate with and why?
When we did the renovation and redesign of the British Embassy Residence we gained great respect for Sir Edwin Lutyens. He played with traditional architecture in unique and original ways. We would also have loved to work with the late Zaha Hadid. Her sensuous and fluid forms are mesmerizing.
What is your favorite object in your home, and how and when did you acquire it?
A sculpture by Yves Klein, Venus Bleue, ca. 1962. We acquired it from a woman who was selling her home in Palm Beach.
What is your favorite part of the install process?
When everything works out just as planned — or better! Despite all the computer-aided tools that we have at our disposal, there is nothing like seeing the installation in person. The completion of the first day of an installation is the most rewarding.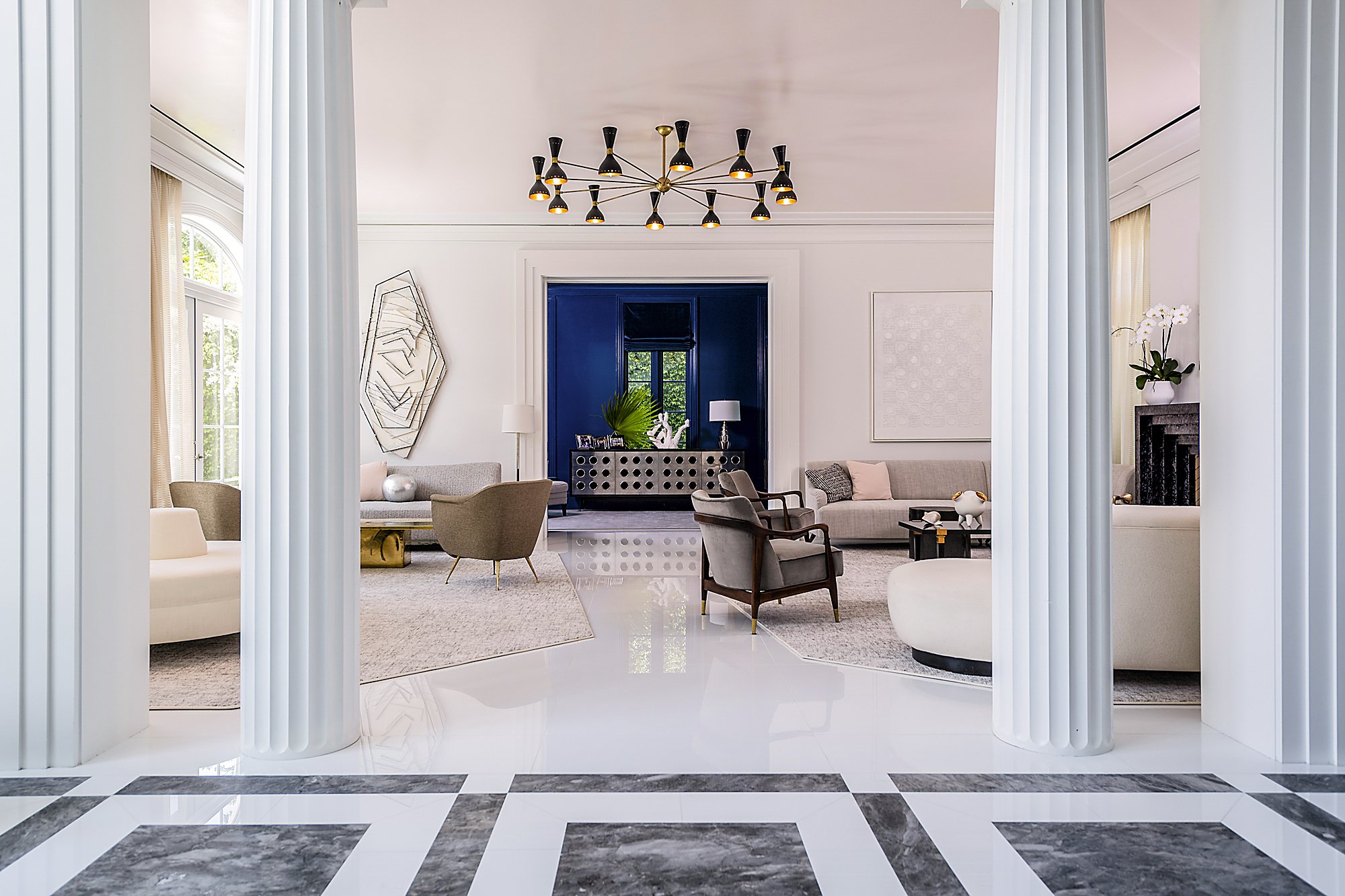 Setting the Stage A pair of imposing fluted columns creates a sense of anticipation at the entrance to the sitting room of a grand residence in the Sunset Islands of Miami Beach. A beachy color palette of cream, taupe and sandy beige and a ceiling lacquered in delicate shell pink gives way to an intensely pigmented cobalt blue in the adjoining room. Vintage pieces, including a 12-arm Stilnovo brass and black lacquer chandelier and Vladimir Kagan's curvy Cloud sofa add midcentury flavor that combines artfully with custom furnishings created by the designers. Photos by Nick Garcia


SHOP BROWN DAVIS'S INCOLLECT PICKS



REGIS ROYANT

Huge Sunburst Mirror Designed by Regis Royant

Regis Royant Gallery




The Charles Club Chair

Van Den Akker Antiques & Mid Century Modern – Studio Van den Akker Custom



THE MIDMODERNIST CUSTOM

Eight-Arm Brass Chandelier, Black Heads,
Gold Inside in Stilnovo Style

The MidModernist




JEAN-LUC LE MOUNIER

Jean-Luc Le Mounier, Hamada Cabinet, FR, 2019,
Offered by TODD MERRILL STUDIO

The Salon Art + Design 2019 Preview







Todd and Rob are infinitely inspired by Miami's dazzling starchitecture. Left: One of Zaha Hadid's last projects before her untimely death, One Thousand Museum, photo courtesy Zaha Hadid Architects Right: Foster & Partner's Faena House, photo courtesy Dezeen
Where have you been, or what have you seen recently that you know will influence your work?
Being in Miami and seeing all of the great starchitecture is infinitely inspirational. Additionally, the international influences of Latin America and Europe have influenced our east coast/west coast design sensibility.
Do you have a signature element — something you always include when styling an interior?
Our motto is "Comfort is the Greatest Luxury." We always strive to have every interior feel appropriate and comfortable no matter the function or formality. This starts with creating the appropriate architecture and then the furnishing layout. Both of these set the stage for our interiors.
Contemporary Art Brown Davis provided the complete ground-up package — architecture, landscape architecture and interior design services — for a contemporary white stucco house in Miami Beach which, inspired by their long-time clients' trust and appreciation, evolved into a work of art. Shown here, the grand entry facade is a composition of unique custom features that distinguish the project. At center, a 14-foot-tall sculptural gate commissioned from artist Zachary Oxman opens to a spacious entrance courtyard and rear garden. A section of wooden vertical louvered panels filter the strong Miami sunlight and screen a bank of clerestory windows in the master bathroom. Strict zoning codes governed the footprint of this city lot, so the team designed an ingenious solution for the garage that is both beautiful and practical. The double height wooden door is one car wide, but is fitted with a lift that houses two cars, one atop the other. The emphatically horizontal pattern of the door balances its overscale height and contrasts with the vertical screen. The mix of finishes, including a sleek contemporary stainless steel and glass balcony, imbue the structure with a warmly nuanced design pedigree.
If you weren't a designer, what might you be?
Todd would love to be a singer but can't sing. Rob would like to be a professional boxer.
Tell us what you love about Incollect and what one can expect sourcing with us.
We love all the amazing finds and the ability to sit at our computer at any time and source products.