Designer QnA: Sasha Bikoff on her design "attack plan" and mixing it up with Dame Zaha Hadid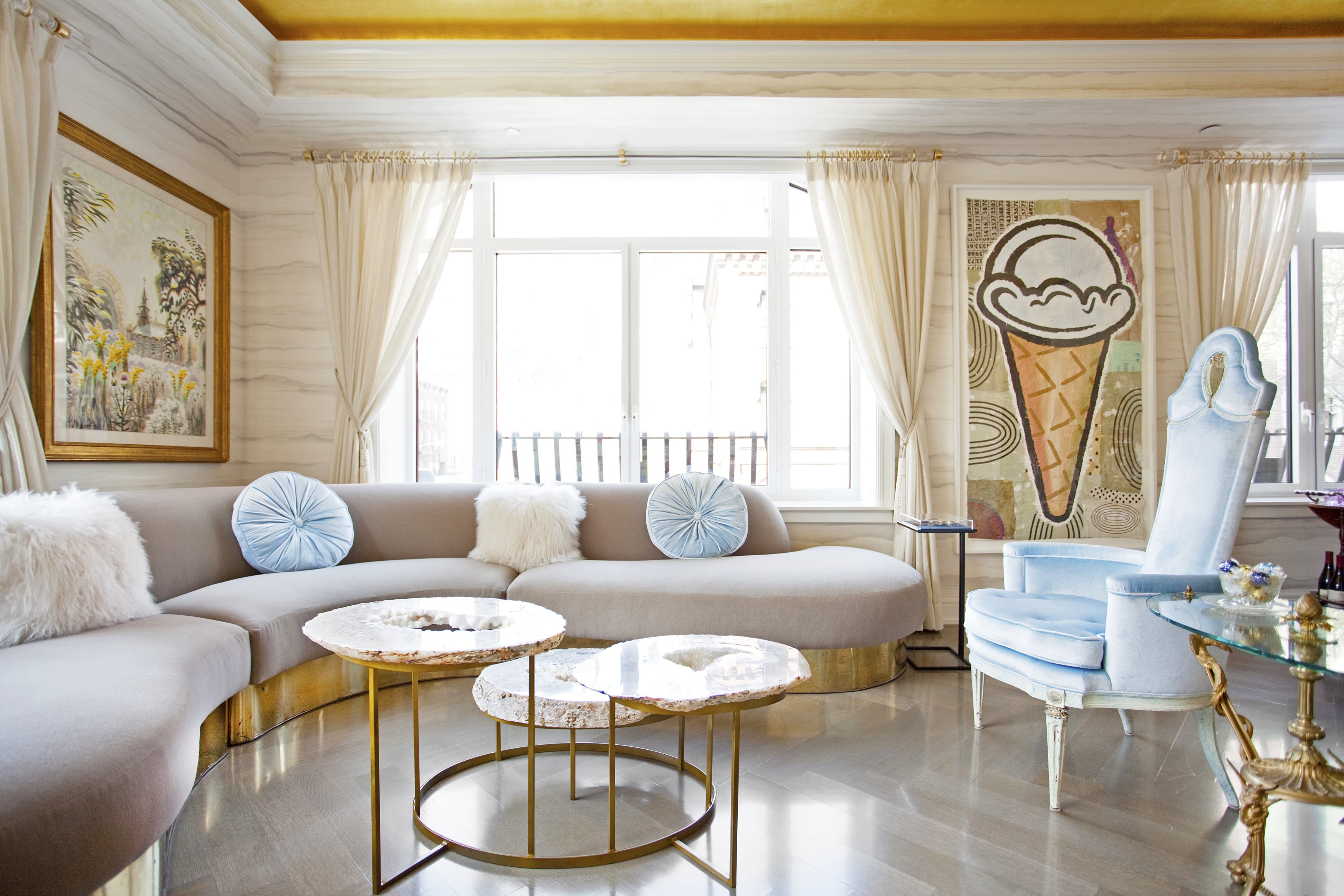 An UES living room with a macaron-like color palette. Creamy taupe mohair covers a 1970s Milo Baughman curved sectional; ice blue velvet on a Dorothy Draper chair. The walls are clad in Fromental hand-painted silk in a pattern of gently undulating bands, creating a sense of movement through the space, and a gold-leaf ceiling provides Sasha-requisite sparkle. A Tommy Mitchell shadowbox cocktail table is filled with gilded lily of the valley, and the three-tier coffee table is composed of agate specimens with a hand-rubbed brass frame. Donald Baechler's Ice cream cone figures prominently, contributing elements of whimsy, Pop Art and bold graphic appeal.
New York-born interior designer Sasha Bikoff is known for her balanced understanding of design, flawless execution, and technical knowhow sculpted from her vast worldly exploits and experiences. Bikoff's style is heavily influenced by the multicultural flavors of her hometown, New York City, and from her experiences traveling abroad.
| | |
| --- | --- |
| | |
| | Sasha Bickoff |
Bikoff studied at George Washington University and the American University in Paris with a background in Fine Arts and Art History. Upon graduation, she began her career at Chelsea's Gagosian Gallery where she worked for three years before establishing her own interior design firm, Sasha Bikoff New York.
Bikoff freshly mixes the rich materials and bodily shapes of Italian and French mid-century design with the fun pastels and colorful vibrancy of Art Deco Revival and Space Age design — a combination that highlights the best of the best from the coveted aesthetics of New York, the Hamptons, Miami, Palm Beach, and Palm Springs.
Using a keen understanding of design and culture, Bikoff creates spaces based on her clients' passions and inspirations. For Bikoff, interiors represent more than just living spaces: They evoke a distinguished lifestyle, offering individuals the unique opportunity to turn their homes into an eclectic, creative oasis and a place they can truly call their own.
Sasha's exuberant joie de vivre and her sophisticated aesthetic, molded from a whirlwind of influences and experiences, is vividly expressed in her "Incollect 100" — a personally curated assemblage of favorites. A tour of her picks is a veritable kaleidoscope view of design movements, with a slew of styles ranging from architectonic to zingy, but the collection carries her personal stamp — fun, daring, sophisticated and uber chic. She chose lively patterned pieces with Op Art style: Again & Again 's Nigerian hand beaded tribal armchairs, a vintage 1960s Verner Panton/Louis Poulsen-designed pendant light with undulating waves of yellow and orange from Wyeth, and a stunning 1980s "Mille Fiori" side table by Nicola Moretti, offered by Bernd Goeckler Antiques. A dash of humor is often interjected into Sasha's interiors by way of whimsically shaped pieces such as the "Joe" baseball glove chair from JF Chen, Salvador Dali's Mae West Lips Sofa from Royle-"Daniel" and Hubert Le Gall's Baleine whale-tail chair from Twenty First Gallery. The reemerging Memphis Design Movement has caught Sasha's eye recently, and Galerie Sommerlath's Harry Siegel-designed color-block sofa and Lebreton's Plexiglas table with multicolor legs by Jean-Claude Farhi may soon accent one of her interiors.
DISCOVER SASHA BIKOFF'S INCOLLECT FAVORITES



MARGE CARSON

Hollywood Regency Tall Wingbacks in the Style of Marge Carson

Again & Again




MAISON HONORÉ PARIS

Lightning Coffee Low Table Brass, France, 1980s

Stanislas Reboul



VLADIMIR KAGAN

Curved Sofa on Brass Bases by Vladimir Kagan

Stamford Modern




LUIGI CACCIA DOMINIONI

Pair of Pink Murano Glass Italian Lanterns, 1950s

D'LightUs
| | |
| --- | --- |
| | |
| | Inspo by Mother Nature; photo by George Bostian |
Tell us something about you that is not in your bio.
Being by the water and nature is what really cleanses my mind and allows for ideas and inspiration to sink in to my interiors. I love to surf, go fishing, swim, and take hikes. My color palette comes from my surroundings. I take inspiration from how they appear in nature, and I apply those schemes to the color palettes of my interiors.
What excites you most about the design process?
On my phone I keep albums of fabrics, furniture, and lighting that I love from all different styles and time periods. I get really excited when I have a job and am able to go back to my albums to use those images as inspiration.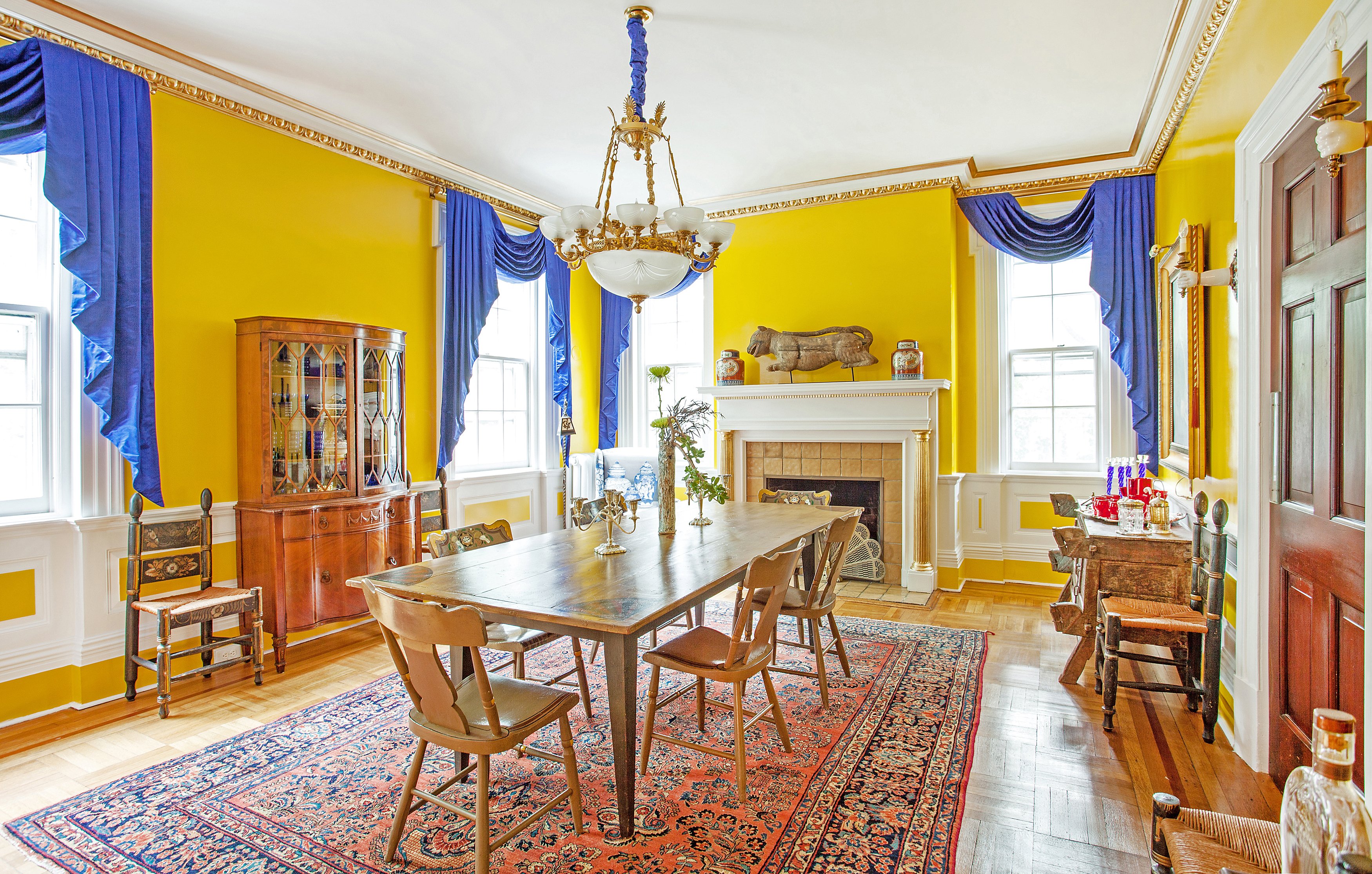 Sasha's inspired color choices breathed new life into the dining room of a 1909 Georgian mansion, with saffron yellow walls, gilded egg-and-dart molding and sapphire jabot and swag curtains. The rich blue hue was selected to reference the client's collection of blue-and-white china and cobalt glass pieces, displayed in the antique serpentine-front china cabinet. Along with special new purchases, including the rustic paint-decorated dining table paired with painted chairs, Sasha "shopped" the client's collection of eclectic accessories, selecting a carved wooden folk art tiger for the mantel flanked by a pair of stout ginger jars.

SHOP SASHA BIKOFF'S INCOLLECT FAVORITES



Set of Eight Chinoiserie Blue Lacquered Dining Chairs

Again & Again




Pair of Large Louis XV Style Gilt Bronze Lanterns, 19th Century

Julia Boston Antiques



Extraordinary Massive Mahogany Table
in the Style of Paolo Buffa, 1950s

Galleria Veneziani s.r.l.




MARCO ZANUSIO

Pair of Armchairs Mod Lady Designed by
Marco Zanuso and Edited by Arflex

L.A. Studio
| | |
| --- | --- |
| | |
| | Dame Zaha Hadid; photo by Philip Sinden for Harper's Bazaar |
Name an architect, artist or designer, living or dead, you'd love to collaborate with and why?
I would have loved to collaborate with Zaha Hadid. I love her futuristic style and how there is a contemporary spin to it. I would come in and add a 1960s space age flair to it. Plus, I love working with women in the industry.
How do clients push you to think outside of the box and challenge you?
Some clients are very impassioned and are immediately drawn to certain time periods and styles. Other clients who come from different backgrounds and ethnicities want to incorporate their cultures into their interiors, which I find really inspiring. When they express a desire for their homes to be a reflection of who they are, their culture and family history, and have carpets or antiques they'd like to use, it's fun to work a design around those treasured family heirlooms.



Left: Sasha's showstopping staircase design for Kips Bay 2018 displayed the boundless creativity that is a hallmark of her work. Undaunted by the limitations of the space, and inspired by the energy and enthusiasm of the kids of Kips Bay Boys and Girls Club, she visualized dancing up and down the stairs, and set to work creating a party room like no other. 1980s Memphis Milano patterns combined with a 1980s Miami Art Deco Revival color palette subbed in for the primary colors typically associated with Memphis ensured that Sasha's touchstone pinks and greens would be much in evidence. She worked with The Rug Company to create carpeting and kindred spirit George Venson of Voutsa for the wallcoverings. Then came judicious layering of fanciful sconces, mirrors, photos of celebrities and here, the Ultrafragola Mirror by Ettore Sottsass, an iconic period piece. Photo by Nickolas Sargent. Right: A playful design mashup of the Studio 54 era and Miami Beach pastels with notes of whimsy, a Bridgehampton beach house living room made for entertaining, with Karl Springer games table and Charles Hollis Jones chairs of Lucite, with leatherette seats and chrome casters. The artwork is a selection of vintage illustrations from a book Sasha found at the Brimfield Market.
SHOP SASHA BIKOFF'S INCOLLECT FAVORITES



A.V. MAZZEGA

A.V. Mazzega Pendant Light made in Venice 1970

Fred Silberman




HARRY SIEGEL

Memphis Inspired Sofa by Los Angeles Designer Harry Siegel

Galerie Sommerlath



GIO PONTI

Mulitcolored Murano Glass Chandelier in the Style of Gio Ponti

Pegaso Gallery Design




Shell Motif Dining Chairs with Blue Upholstery, Set of Six

Galerie Sommerlath
| | |
| --- | --- |
| | |
| | Campana Brothers Pink Zig-Zag Chair |
What is your favorite object in your home, and how and when did you acquire it?
My favorite objects in my home are my Campana pink plastic dining chairs. They are like works of art and are actually very comfortable. They have this asymmetrical zigzag pattern suspended on a steel frame.
How does a design project start for you? Is there a particular element that you always start with that inspires the whole project?
I attack a project as a do when I paint a painting. It's like a blank canvas. First I work with the background. I get my background color palette ready. In an interior this translates to floors, walls and ceiling. Then I build up on the canvas and add texture, pattern, furniture, and different materials.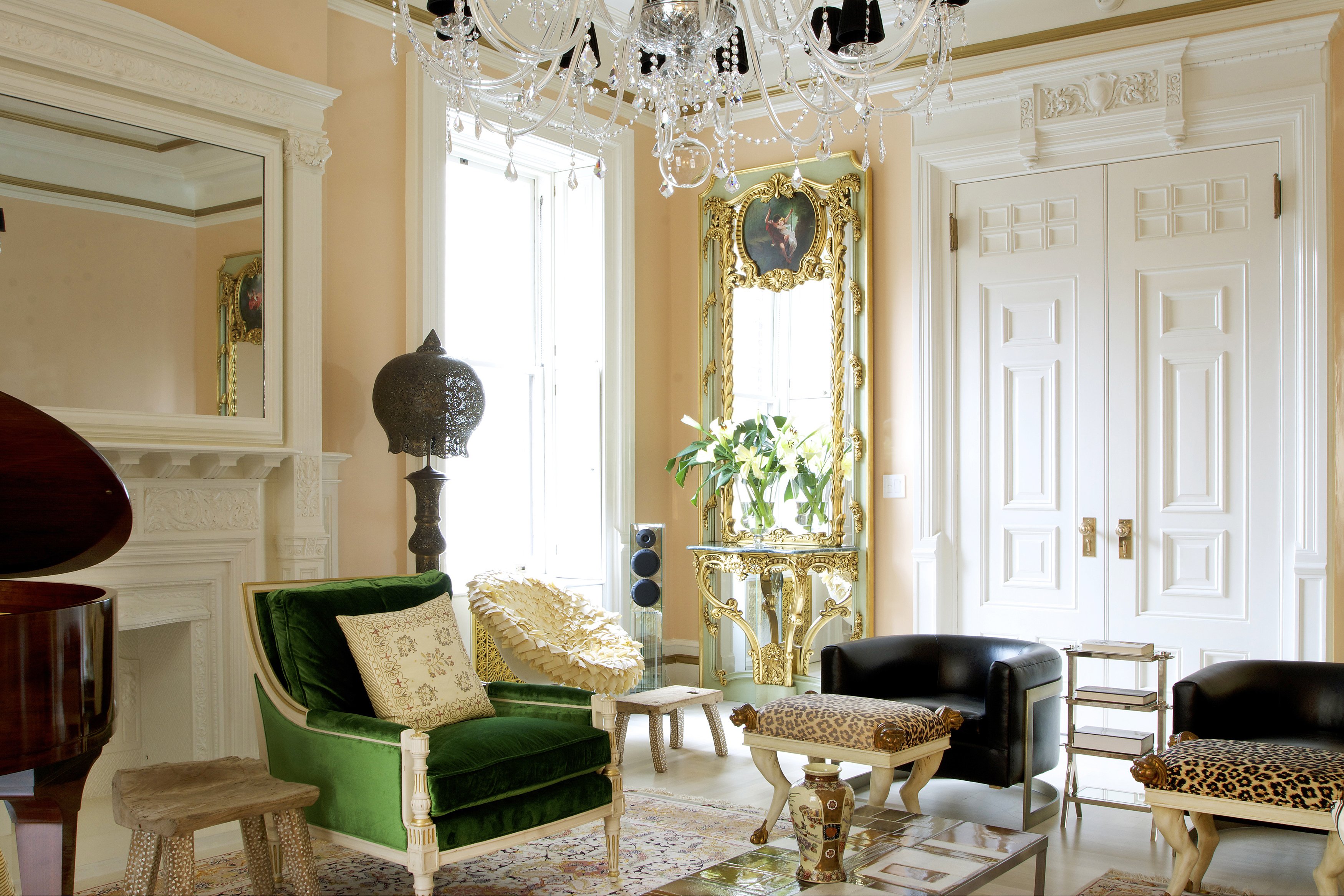 An apartment in the legendary Dakota building was designed for her very first client, her late mother, a Persian-born, Sorbonne-educated, Studio-54 habitué ballerina and classical pianist. Sasha sought to capture her mother's personality and aesthetic; no small undertaking given list of her attributes! Her riff on the classic Palm Beach color combo of pink-and-green: delicate shell-pink lacquered walls with mint green and gilt 18th-century trumeau mirrors and and an emerald silk velvet upholstered bergère. The pierced bronze floor lamp is Moroccan and the silk Tabriz rug is a family heirloom. A nod to 1970s style, the vintage black leather and chrome Milo Baughman are a sleek and gutsy contrast to the more delicate pieces, and are paired with leopard-print upholstered stools.
SHOP SASHA BIKOFF'S INCOLLECT FAVORITES



Multicolored Venetian Murano Glass Chandelier

Lomomomo




MILO BAUGHMAN

Pair of Milo Baughman Steel Wrapped Swivel Chairs 1970s

Talisman London



COCO CHANEL

Coco Chanel Wheat Sheaf Coffee Table

Goldwood Interiors




GROSFIELD HOUSE

Pair of Silvered Chairs by Grosfeld House

Full Circle Modern LLC
| | |
| --- | --- |
| | |
| | Photo by Sam Dobrow |
What is your dream project?
Redoing an Art Deco revival hotel on Ocean Drive in Miami.
What is your favorite part of the install process?
Everything is visualized in my head, but when it all comes to life and it looks better than I had imagined I get so happy. I strive to create unique interiors that are not the norm, so when a space reveals itself and it's like nothing you have seen before, it's a really special moment for me.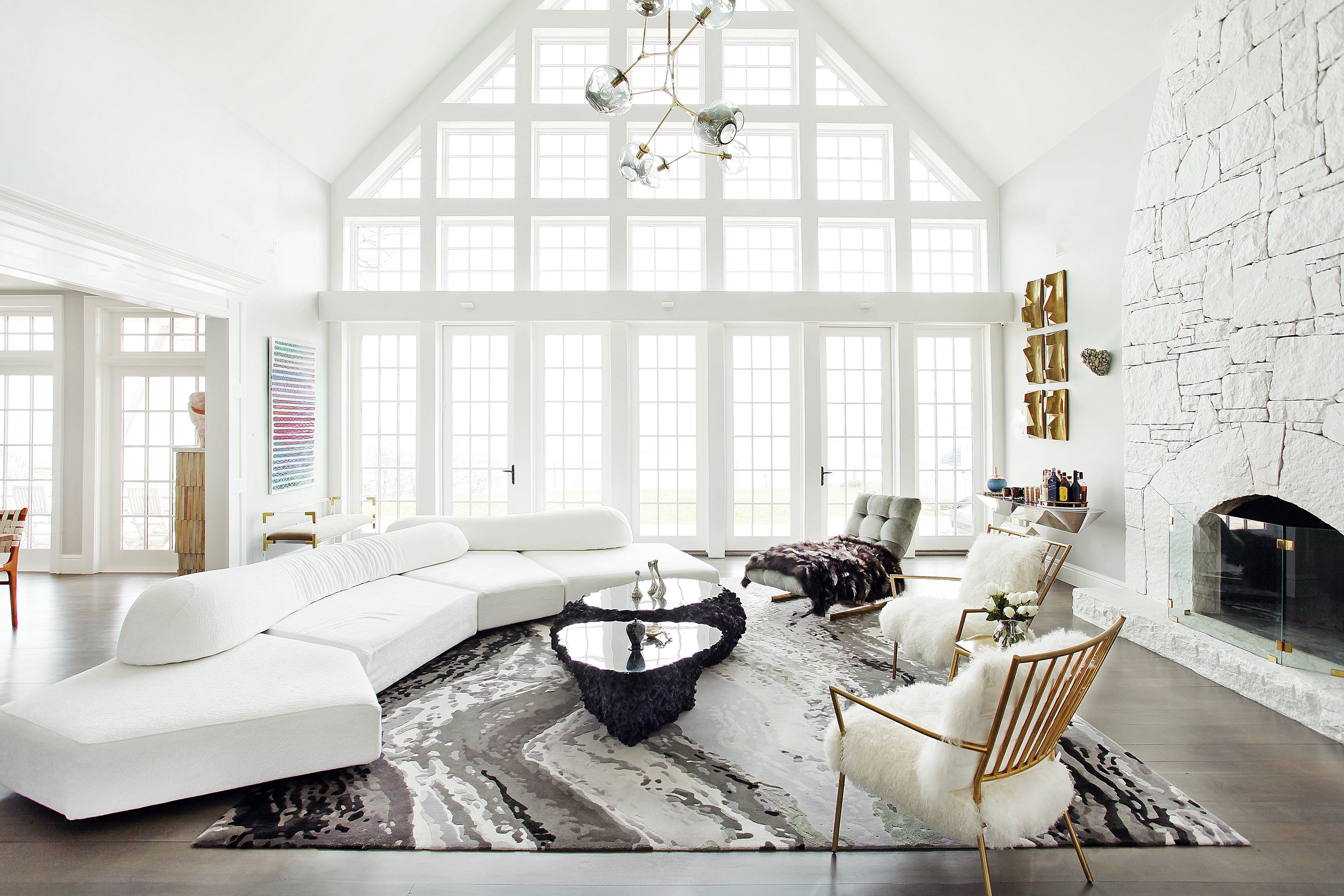 The mandate: transform a typical contemporary country home with massive stacked stone fireplaces, heavy moldings and pockets of dark, dull space into a chic, glamorous flowing expanse. The clients wanted a home infused with their fashion-forward city aesthetic that would also serve as a setting to display the artist wife's abstract paintings. Sasha answered with a contemporary, edgy take on a Hudson Valley getaway that references the surrounding scenic beauty in subtle ways. Painting the fireplace created the effect of abstract sculpture while retaining the stone's original surface. The rug is patterned after a pebbled river bed, the craggy-textured coffee tables are formed from volcanic pumice stone, and a pair of armchairs offer repose on cloud-like poufs of Tibetan lambswool. The chaise is vintage 1970s Milo Baughman and is draped with a custom silver fox throw; a sectional sofa by Francesco Binfaré encloses the seating group. Lindsey Adelman's Atomic Branching Chandelier adds architecture and volume while keeping a light, spacious feeling. At left, a painting by the client provides the singular chromatic note.
SHOP SASHA BIKOFF'S INCOLLECT FAVORITES



Chic Pair of Sling Chairs in Steel with Cow Hides 1963

Lobel Modern, Inc.




Spiraling Chandelier, Italy, 1970s

Bernd Goeckler Antiques



DIRECTIONAL

Monumental Serpentine Sofa by Directional

Again & Again




JEAN CLAUDE DRESSE

Belgian Post-War Design Round Coffee Table

Newel
Do you have a signature element — something you always include when styling an interior?
I always add vintage or antique to every interior. Usually it's an even mix — if the couch is new and custom, then the coffee table will be vintage.
Tell us what you love about Incollect and what one can expect sourcing with us.
I prefer sourcing online because it saves time and I can work on multiple projects at once. Incollect allows me to do my job in a more efficient way.