Joe Nahem: Designer with a Vision
One of our top picks for a design book to savor this summer is Joe Nahem's
Fox-Nahem, The Design Vision of Joe Nahem. We recommend you set aside
an afternoon or evening, grab a reviving beverage, position yourself in a cool
spot, and be prepared to swoon. It's that stunning . . .
| | |
| --- | --- |
| | |
| | Joe Nahem. Photo by Josh Gaddy |
Joe Nahem has often said that he does not have a "style," and the wide-ranging variety and versatility of his projects bears witness to that statement. But he does have a vision — which is evidenced by the images in his first book, Fox-Nahem, The Design Vision of Joe Nahem. The Joe Nahem vision depicted in his book is a wondrous bespoke amalgam of texture, color, light and shape. No surface is unconsidered: ceilings are covered in whitewashed barnwood, or festooned with a custom-commissioned ceramic porcelain detail, or reclaimed wood sprayed with a warm metallic finish. Nahem-designed rugs don't just lie on the floor and look beautiful, they actively support the design; in one room, a custom lacy silk web pattern echoes a hypnotic mandala painting by Ryan McGuiness; in another, Joe designed a meandering, curvy edge to offset the dominant rectilinear structural elements in the room; and in a third, Nahem custom-tailored the pattern to morph as it moves through the space, strongly apparent in some areas, and faded to monochromatic in others, directing the ebb and flow of a viewer's eye. In one particularly cozy bedroom, the rug creeps partway up the walls to create a luxurious cocoon — hygge and then some! Walls get the full treatment as well: heavy oak woodwork is stripped, raked and cerused, creating a lighter, more contemporary look; or covered in whitewashed knotty pine or limed cypress; there are walnut and bronze mesh screens in a den; intricately carved Moroccan plaster in a bathroom; or perhaps most surprisingly, undulating molded Corian in an all-white entry, which transformed the simple space into a contemporary fantasy. Upholstery is equally sumptuous, to the extent that you may have to restrain yourself from stroking the pages of the book! Furnishings in a Nahem-designed residence run the gamut, from precious antiques, the best vintage midcentury, bespoke pieces artfully designed by Joe and his firm, and contemporary works commissioned from the design masters of today.
| | |
| --- | --- |
| | |
Fox-Nahem has been fortunate enough to be engaged by clients with stellar art collections, and with Joe they are in knowledgeable and appreciative hands. Joe's brother is renowned gallerist Edward Tyler Nahem and both Nahem brothers have long been ardent collectors. Joe was quoted in a recent interview, "When I was a young adult and my friends were out at clubs doing cocaine, I was going to Phillips and bidding on Warhols!" One example of his deft handling of masterworks is manifested in an exceptionally warm and expressive, multi-functional living room hosting what could be an overwhelming group: a Damien Hirst pill cabinet, an Andy Warhol camouflage painting, and works by Richard Prince and Cindy Sherman – all strong and provocative pieces. Nahem designs interiors that are first and foremost homes, rather than galleries, and he creates spaces that highlight and elevate the artwork, but never at the expense of comfort or function.
Perhaps the most appealing aspect for the reader of Nahem's book is the enthusiasm that is exuded from the pages. The excitement is palpable; you can almost feel Joe and his team firing on all cylinders. The results defy expectations and fulfill the goal to surprise and delight, for both his lucky clients and for the fortunate readers of this book.
Photography by Michael Moran
Avid collectors of contemporary art with a focus on challenging and provocative works, Nahem's clients wanted rooms that provided ample opportunity to display their collection. Instead of a traditional dining room layout with one large table encircled by dining chairs, a flexible layout was created that is more in tune with contemporary life. A pair of custom-designed deep brown horsehair banquettes are placed at opposite ends of the room, offering a variety of options for dining and lounging. At left, a dining arrangement that can seat six to eight, with one banquette and a table by French modernist André Sornay, and Eugene Schoen's signature demilune chairs in bleached hornbeam and original white leather. Across the room, a conversation group is composed of the second banquette, a pair of Jean Royère tub chairs and a sheared-mink ottoman and hanging overhead, a vintage Venetian glass chandelier. Installed on horsehair walls that match the banquettes are arresting works by Richard Prince, Andy Warhol, Ed Ruscha and Cindy Sherman. Their highly saturated hues leap off a backdrop that is simultaneously subtle and dramatic.


Photography by Peter Murdock





The sofa was originally designed to feature a lush sheared mink collar, but when Joe saw the untrimmed pelts as a work in progress, the collar became a cape, and this uniquely charming detail a delightful surprise for his fur-loving clients. The chairs are by Paul Evans circa 1970, the polished stainless steel "Ring" table is a 1999 design by Mattia Bonetti and Elizabeth Garouste, and the chandelier is vintage Stilnovo. At left is one of a pair of eighteenth-century Italian consoles. Playful artworks enliven the space: from Korean artist Hyungkoo Lee's Animatus series, Ridicularis, 2008, which appears to be the Disney character Goofy, and above the console, artworks by Jim Lambie constructed with reflective sheets of aluminum with corners bent, like dog-eared pages of a magazine.


Photography by Peter Murdock





A master bedroom with custom, customized and vintage pieces. The bedside tables in black-stained oak and bronze by Mattia Bonetti were produced in a customized size specified by Fox-Nahem especially for this project. The bed was a custom design by Fox-Nahem, fabricated in turned walnut with gilded orbs. Although decidedly contemporary, both pieces have a distinct Jugenstil style, a feeling which is furthered by the vintage Josef Frank "Flora" cabinet, circa 1937, an Arts and Crafts period piece which owes its stylistic roots to the Jugenstil movement.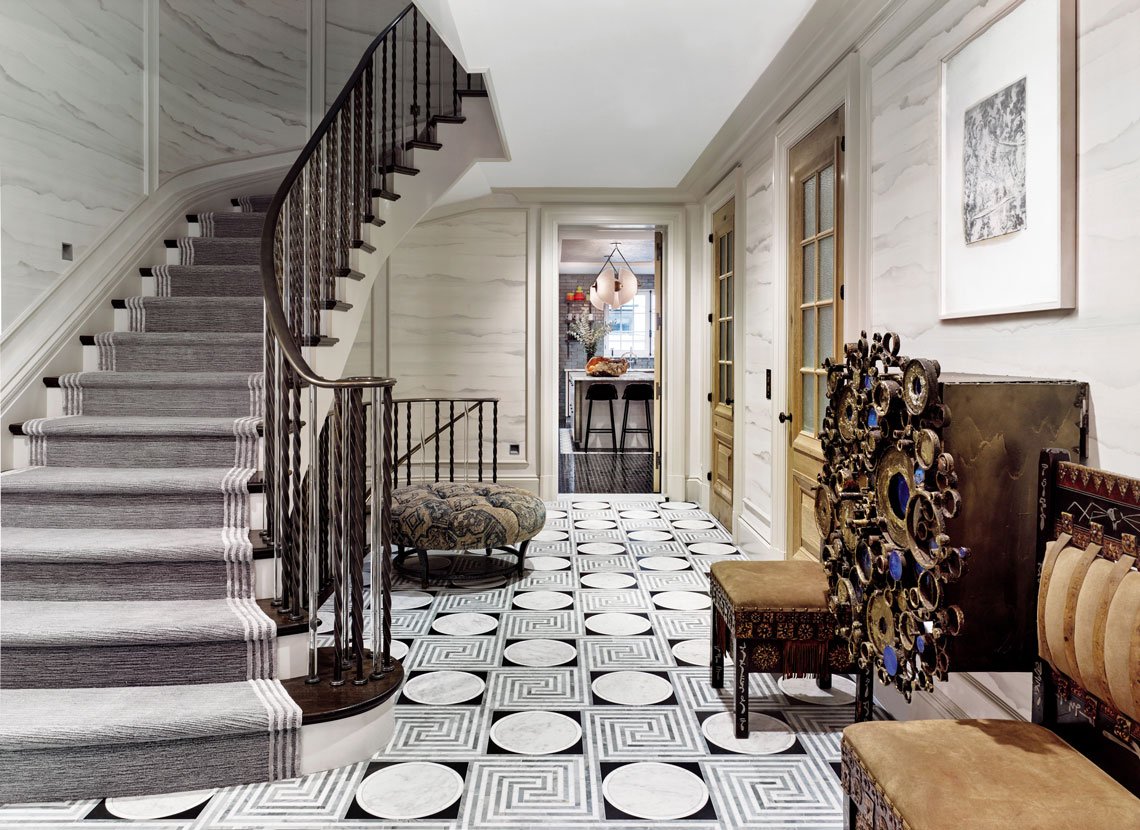 Photography by Peter Murdock
The gut renovation of a decaying Neo-Grec townhouse in a Manhattan historic district opened the door to a reinterpretation of grandeur. Rather than a recreation of historic detail, Nahem infused the interiors of this once-proud structure with unique and magnificent materials and finishes, and with installations and furnishings from premiere contemporary artisans. Author Anthony Iannacci wrote, "In essence, Nahem has created interiors that seem to have the innate capability of self-preservation—details and surfaces of such rigor, one could hardly fathom their removal." Nahem designed a bronze and glass stair rail as a key feature of the home; the stairway runs throughout and is visible from most rooms. Alternating the bronze balusters with glass rods created a free-feeling, light-reflective effect, and nudges the design into contemporary. Panels of hand-painted silk from Fromental, like gently rippling waves, invoke placid movement, a counterpoint to the bold directional thrust of the stone floor's pattern. A pair of chairs by Carlo Bugatti and a wall-hung cabinet by James Bearden are a celebration of historic and contemporary design, respectively, and although produced more than a century apart, appear to tap from the same well of inspiration. A silvery abstract work by Rudolph Stingel hangs above. Nestled in the curve of the stair rail, an ottoman by Nahem and David Gorman invites repose.
| | | |
| --- | --- | --- |
| | | |
| Photography by Peter Murdock | | Photography by Scott Frances and Laura Resen |
| A dramatic entry vestibule with deeply hued walls, contrasting with a light floor and ceiling. Joe uses back-painted glass in areas such as entryways, stair risers and backsplashes where high-gloss lacquer finishes, which are difficult to touch up, would be impractical. The back-painted glass panel, commissioned by Fox-Nahem from Sublime Living, has metallic pigments that enhance reflectivity and add sparkle. Above the console, a bold bejeweled accent — a massive lacquered wood and chiseled glass mirror by Michele Ghiro. Fluttering above, a vintage light fixture by Paavo Tynell. | | The renovation and restoration of a 1904 Stanford White Manhattan townhouse was helmed by Nahem. The grand structure, which had been used as office space, was redesigned to become an exuberant fusion of historic and contemporary. One of only two elements that were able to be restored, the original oak paneling in the dining room channels the formality of the turn of the century. The room is crowned with an elegant eighteenth-century Venetian glass chandelier. Juxtaposed with those talismans of the past, a 1948 midcentury sideboard by André Arbus is placed below a fanciful contemporary photograph by Cindy Sherman. The massive custom-designed dining table is by Nahem. |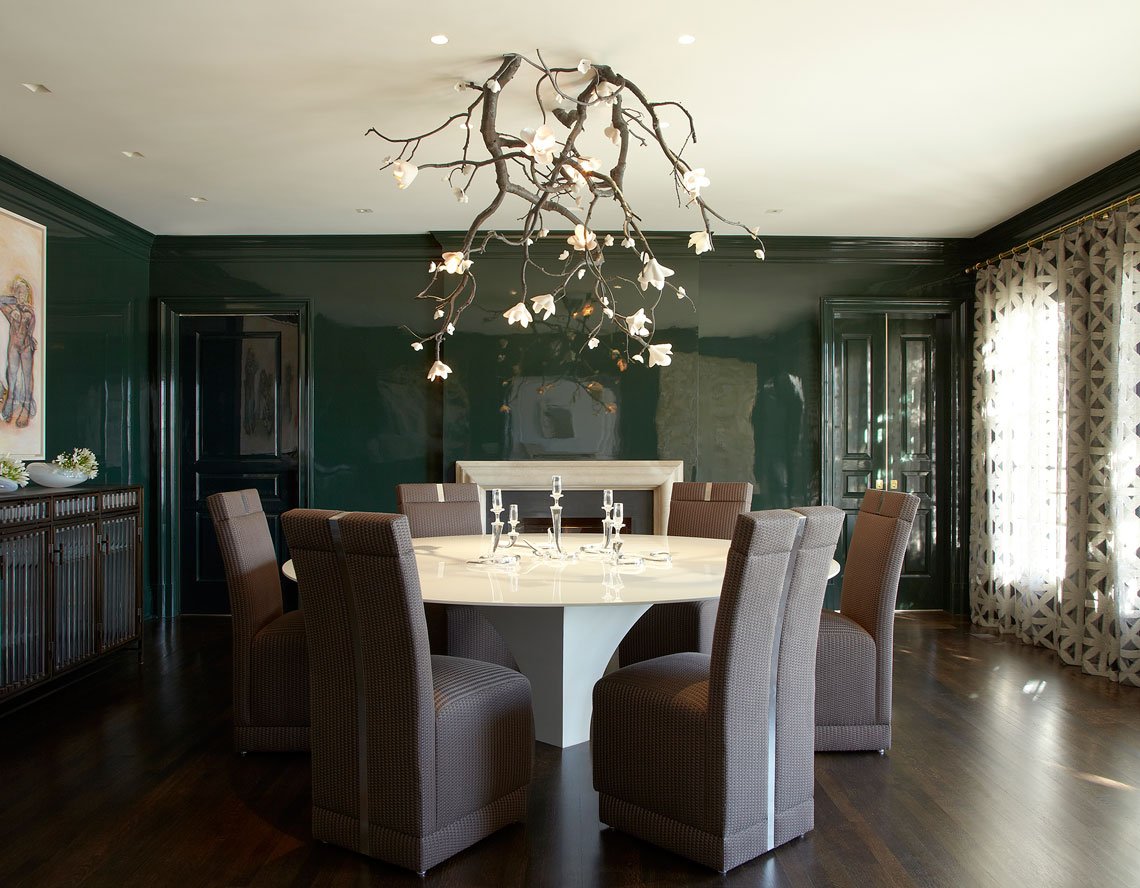 Photography by Peter Murdock
A chandelier commissioned from David Wiseman with bronze branches and lights within porcelain blossoms appears to be growing from the ceiling. Directly beneath is the dining room table, a custom design by Nahem in powder-coated steel, which seems to spring forth, fountain-like, from the floor. The gravity-defying design was made possible by a laborious installation process: the floor was removed, the table bolted to the structure, and then flooring replaced. This technique was adopted from acclaimed designer Joe d'Urso, one of Joe Nahem's mentors. The dining chairs are also a custom design by Nahem.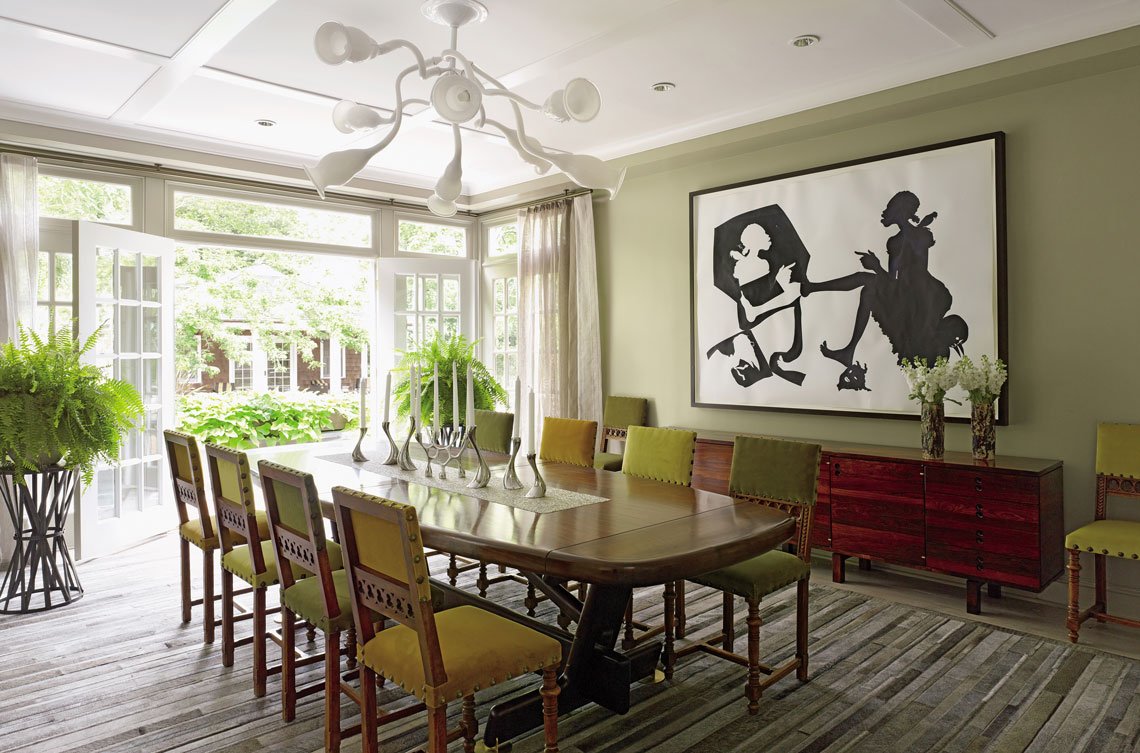 Photography by Peter Murdock
In the dining room of a Long Island retreat, Nahem combined contrasting shapes and volumes for a dynamic result. The room is grounded by substantially structured, earthy pieces: a Brazilian mid-century credenza, an oversized Sergio Rodrigues dining table encircled by Spanish-colonial style dining chairs, and beneath, a cowhide patchwork rug by Martin Patrick Evan. A group of organic-form candlesticks on the table appear to sprout up from below, with the serpentine, branching arms in Jeff Zimmerman's blown-glass chandelier mirroring the sensation from above. Above the sideboard, the sinuous shapes of Kara Walker's silhouette further the effect.
| | | |
| --- | --- | --- |
| | | The Best, or Nothing! Automotive-grade high-gloss silver lacquer was used for the finish of this Nahem-designed dining table, but not just any old kind, this is genuine Mercedes-Benz paint! More metallic magic: the niche at left is lined with plaster mixed with bronze and silver-leaf powder, and the 1950s vintage André Arbus dining chairs are upholstered in leather and Lurex with contrasting horsehair trim. |
| Photography by Peter Murdock | | |
FOX-NAHEM: The Design Vision of Joe Nahem by Anthony Iannacci, forward by Robert Downey Jr., can be purchased directly from the Fox-Nahem website, from Amazon, or support your local bookseller.