Documenting Long Island Artists of the Nineteenth to the Mid-Twentieth Centuries by Joshua Ruff
by Joshua Ruff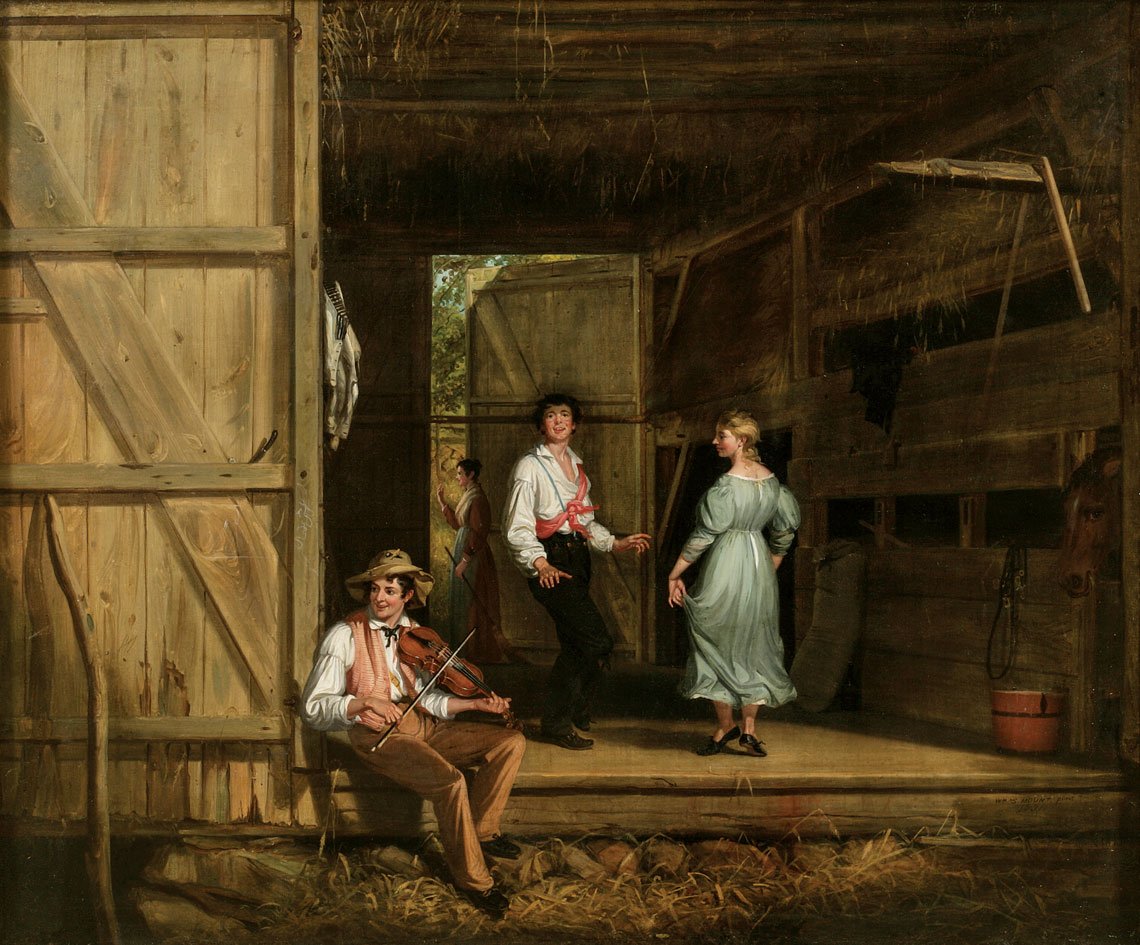 William Sidney Mount (1807–1868), Dancing on the Barn Floor, 1831. Oil on canvas, 25 x 30 inches.
The Long Island Museum of American Art, History & Carriages, Stony Brook, NY; Gift of Mr. and Mrs. Ward Melville.
n the spring of 2022, the Long Island Museum of American Art, History & Carriages (LIM) will publish A Checklist of Long Island Artists of the Nineteenth to the Mid-Twentieth Centuries, a fully-illustrated, full-color 100-page selective and alphabetized checklist of more than 1,000 artists (painters, printmakers, and sculptors) who lived and/or worked on Long Island during the time frame covered by the volume. The project was initiated some thirty-five years ago by Long Island art collector and patron D. Frederick Baker and his late partner, the art historian Ronald G. Pisano. In an era prior to the ease of research done through the internet, Baker and Pisano began assembling a list of artists from across the region, marking down long-forgotten names and discovering unknown works of art, some of which they would also add to their own important collection of American art. Eventually, Baker and Pisano made significant and institution-changing generous donations of art to three separate organizations: The Long Island Museum, in Stony Brook, New York; the Heckscher Museum of Art, in Huntington, New York; and the Chazen Museum of Art, in Madison, Wisconsin. Their digging and list-making continued until Pisano's untimely passing in 2000, which put the project on hold for close to two decades, until Baker approached LIM with the idea of publishing the list in 2019, and the museum began working with him to realize this dream.
Baker's Introduction clarifies the purpose and parameter of the publication. It is, he says, intended as "a quick reference source to identify many significant artists working during these years and, if possible, identify where and when they worked; it is not intended to be a comprehensive listing of every Long Island artist or every titled work produced during the timeframe covered. In some instances, there were artists who are so historically associated with the Island's history (i.e. William Merritt Chase, William Sidney Mount, Thomas Moran, Childe Hassam) that even a partial list of titles and dates of paintings seemed unnecessary. In many cases, however, Long Island location titled and dated works were especially important in understanding the scope of art making on Long Island, even more so for those few artists whose birth and/or death dates could not be found in any of the standard reference books on American artists, or on the internet."
Thomas Seir Cummings (1804–1894), Long Island, 1818. Watercolor, 4-7/8 x 7-1/8 inches.
The Chazen Museum of Art, Madison, WI; Gift of D. Frederick Baker of the Baker/Pisano Collection.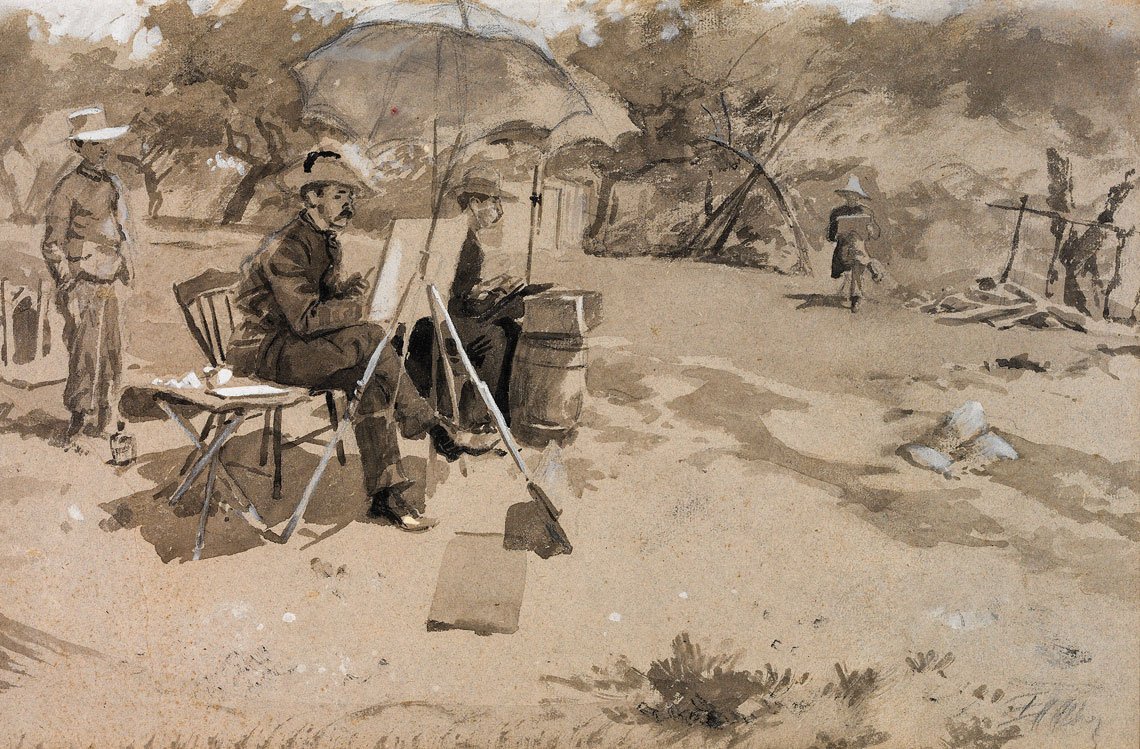 Edwin Austin Abbey (1852–1911), Sketching at Easthampton, 1878. Watercolor and gouache on paper,11-9⁄16 x 17-9⁄16 inches.
The Heckscher Museum of Art, Huntington, NY; Gift of the Baker/Pisano Collection.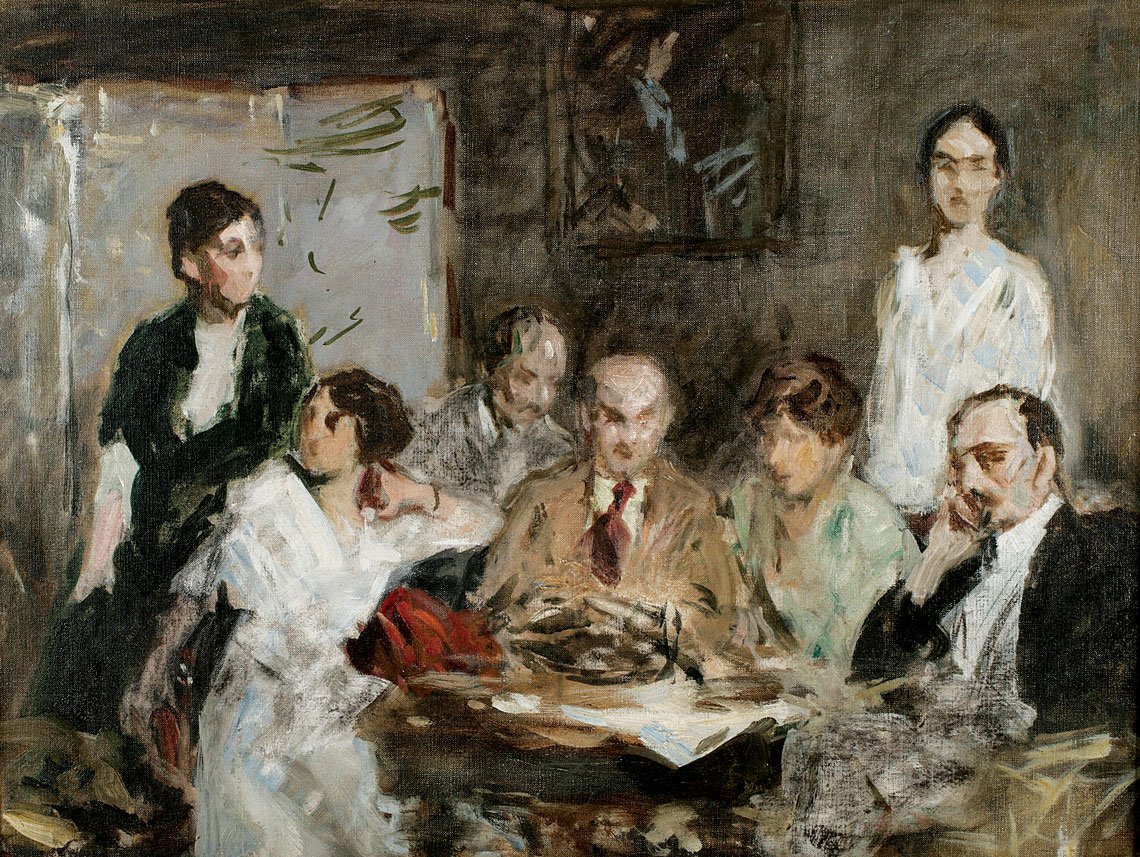 Irving Ramsey Wiles (1861–1948), The Peconic Art Colony, ca. 1912. Oil on canvas, 20½ x 27½ inches. The Long Island Museum
of American Art, History & Carriages, Stony Brook, NY; Gift of D. Frederick Baker of the Baker/Pisano Collection.
A published reference guide of this kind for Long Island is long overdue. While a good body of excellent narrative work exists on many aspects of Long Island's regional art history, including, A Shared Aesthetic: Artists of Long Island's North Fork (Fleming and Evans, 2008), Hamptons Bohemia: Two Centuries of Artists and Writers on the Beach (Harrison and Ayers Denne, 2002), Long Island Landscape Painting, Vols. I & II ( Pisano, 1985, 1990), this will be the first published volume to provide succinct and easy reference information on the broad and sometimes surprising range of artists who have lived, worked, and found inspiration across the entire region, from Brooklyn to Montauk.
Due to its proximity to New York City and its singular coastal beauty spread over 120 miles, the region has long attracted painters, sculptors, and printmakers. According to Baker, "the first foray of an organized group of artists to Long Island was composed of members of the Tile Club (a group which included Augustus Saint-Gaudens, William Merritt Chase, Winslow Homer, Edwin Austin Abbey, and more), who undertook three summer excursions: to East Hampton in 1878, Sands Point in 1880, and Port Jefferson in 1881." However, well before this, artists, both home-grown figures such as the genre painter William Sidney Mount and visiting luminaries, were drawn to the region. After the arrival of regular steamboat service to Long Island's North Shore in the 1820s and the opening of the Long Island Railroad in 1844, possibilities exploded for travel eastward to quaint seafaring villages and the bucolic surrounding countryside.
While a surprising list of well-known artists of the nineteenth and early twentieth centuries are included in this checklist — Frederic Edwin Church, George Bellows, and Georgia O'Keeffe, among others — there are legions of lesser-known individuals who, nonetheless, received outstanding training at schools like the National Academy of Design; the New York Artist's League; the École des Beaux-Arts, in Paris; the Akademie der Bildenden Künste München (the famed Munich Academy); and other fine learning institutions. Prestigiously schooled, they brought their easels and palettes out to paint Long Island's low horizons and rich saturated coastal colors. While other artists made their way to the Hudson River Valley, the great American West, and other destinations, these individuals found inspiration eastward, close to home.
William Merritt Chase (American, 1849–1916), The Big Bayberry Bush (The Bayberry Bush), ca. 1895.
Oil on canvas, 25-1/2 x 33-1/8 inches. The Parrish Art Museum, Water Mill, NY; Littlejohn Collection.
Winslow Homer (1836–1910), East Hampton Beach, Long Island, 1874. Oil on canvas, 10-3⁄16 x 21-11⁄16 inches.
National Gallery of Art, Washington, D.C.; Collection of Mr. and Mrs. Paul Mellon.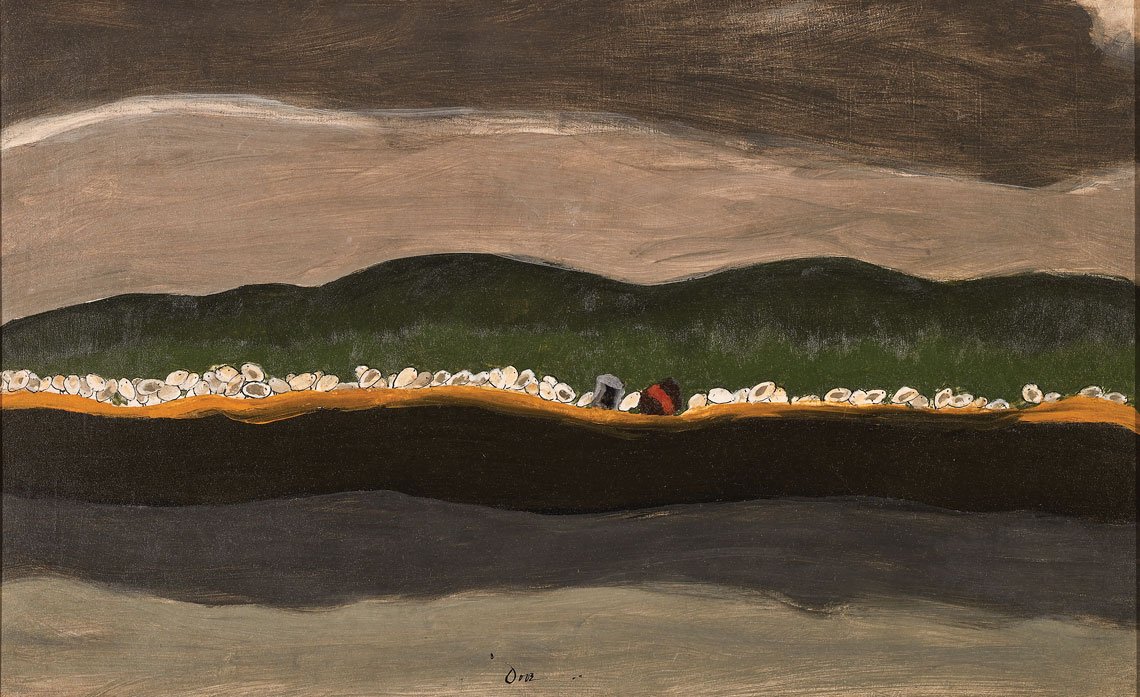 Arthur G. Dove (1880–1946), Sea Gulls, 1938. Oil on canvas, 16 x 26 inches.
The Heckscher Museum of Art, Huntington, NY; Gift of Mr. and Mrs. William C. Dove, in Memory of Dr. Dorothy Loynes.
Their choice was as much about the diverse views and the picturesque, unique clean skies and air of Long Island's East End, as improved transportation infrastructure. Scores of writers and publications described Long Island's East End as rapturously as the new artists painted it. Native son Walt Whitman described it in his newspaper dispatches for various city dailies and gloried at, in his region-boosting poem Paumanok, the "isle of sweet brooks of drinking-water — healthy air and soil." William Cullen Bryant, in Picturesque America (1874), wrote in a vivid pictorial style which echoes many famous paintings, that "the interest of the scene continually varies" on the East End.
Painters had unimpeded access and, at least in the early years, reasonable prices that made extended plein air sojourns possible. The arrival of schools, like William Merritt Chase's Shinnecock School, further encouraged artistic exploration across the region. Chase opened the first plein-air Shinnecock Summer School of Art, located just west of Southampton. The school lasted eleven years until 1902. A number of its students went on to become well-known and their work well-documented.
Another encouraging factor for artists arriving on Long Island in the early twentieth century was the lure of wealthy residents and possible patronage. Between the end of the Civil War and the early days of the Great Depression, more than 1,000 large country houses were built across the area for many of New York's wealthiest families. One such was the glassmaker and artist Louis Comfort Tiffany, whose development of the Tiffany Foundation in 1918, at his 580-acre estate Laurelton Hall, brought many new young artists to Long Island for fellowships. Among the young artists who received Tiffany scholarships were Luigi Lucioni (1922), Paul Cadmus (1925), Ilya Bolotowsky (1929), and Giorgio Cavallon (1929). Artist friends of Tiffany, such as Jane Peterson and Charles Webster Hawthorne, also frequently visited and painted at Laurelton Hall.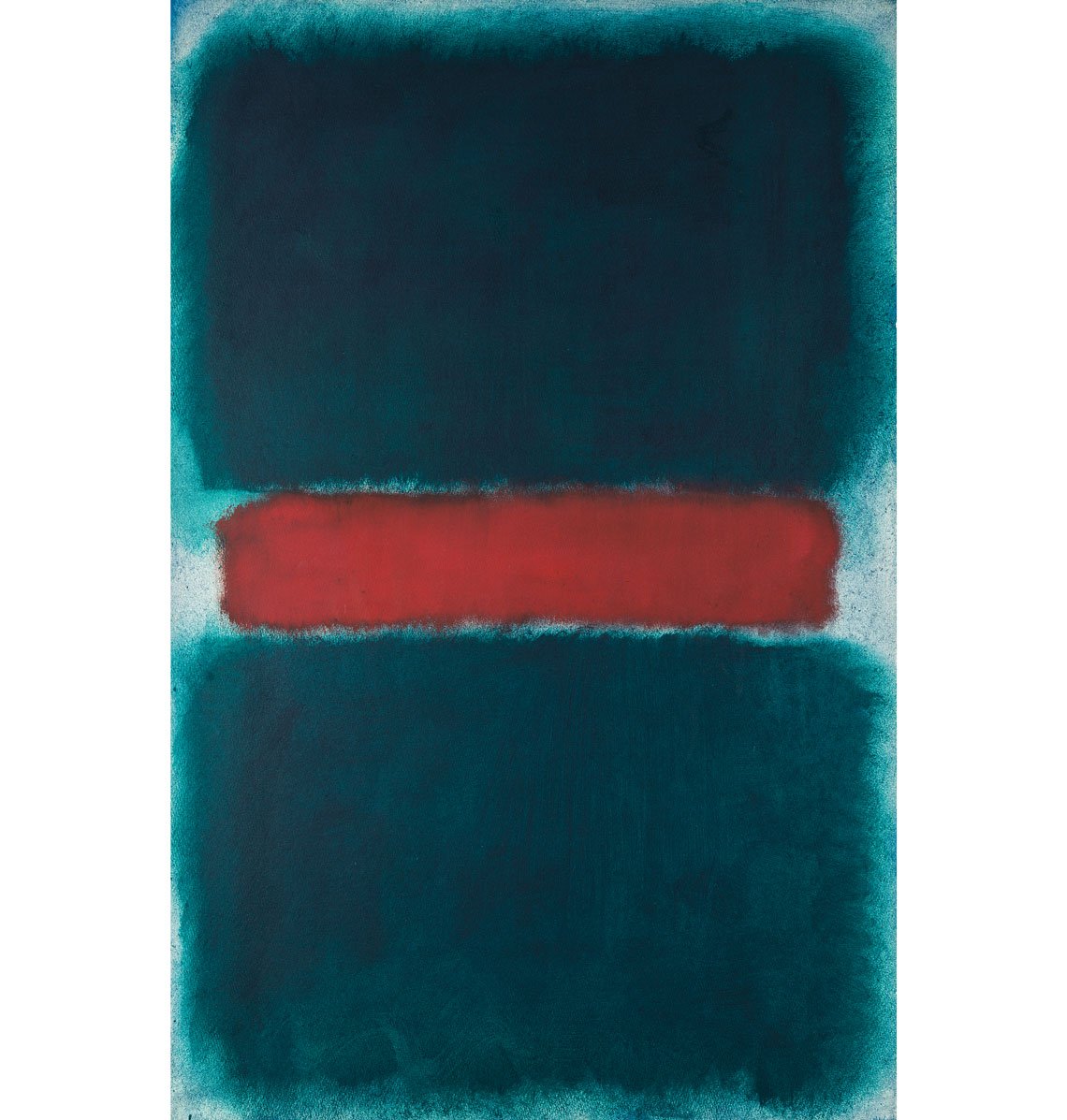 Mark Rothko (1903–1970), Untitled, 1968. Tempera on paper mounted on cotton canvas, 40-1/2 x 26-1/2 inches.
The Chazen Museum of Art, Madison, WI; Bequest of Alexander and Henrietta W. Hollaender.
© Kate Rothko Prizel & Christopher Rothko/Artists Rights Society (ARS), New York.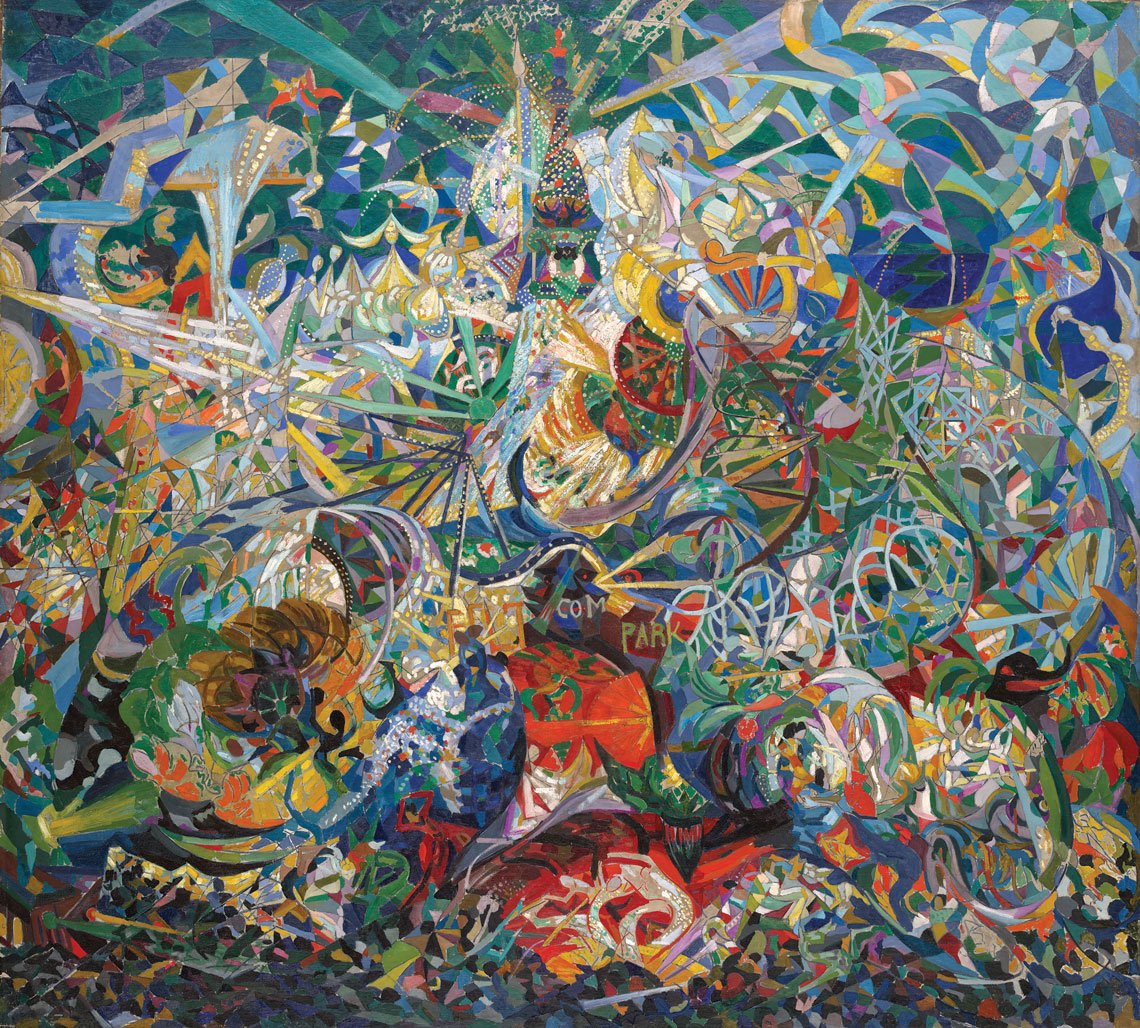 Joseph Stella (1877–1946), Battle of Lights, Coney Island, Mardi Gras, 1913–1914. Oil on canvas, 77 x 84-3/4 inches.
Yale University Art Gallery, New Haven, CT; Gift of Collection Société Anonyme.
| | |
| --- | --- |
| | |
| | Max Weber (1881–1961), White Beach House (House on the Beach), 1942. Oil on canvas, 15-1/8 x 18-1⁄16 inches. The Heckscher Museum of Art, Huntington, NY; Gift of Joy S. Weber. |
Meanwhile, a small number of modernists were gradually coming to explore and paint the western portions of Long Island—John Marin, Georgia O'Keeffe, Arthur Dove, Helen Torr, and Max Weber all created works depicting the region from the 1920s through the early 1940s. Dove and Torr first came to Long Island in the early 1920s and explored the North Shore in their 42-foot houseboat Mona, mooring it in Huntington Harbor for nine years. Influenced by major art movements in Abstraction and Cubism, the couple were among the first artists to devote themselves not just to capturing the scenery but also to the mood of changing weather conditions and the dramatic waterlines amid Long Island's harbors and bays.
As the number and diversity of artists across the region continued to increase during the Great Depression, with WPA-funded projects and important events such as the 1939 New York World's Fair, a significant new chapter was opened during the years just after World War II. A new generation of creative professionals who had trained at the Art Students League of New York and other leading New York academies started summering on Eastern Long Island. Soon, inevitably, some established permanent studios and homes there. Most famously, supported by a loan from Peggy Guggenheim, Jackson Pollock and Lee Krasner moved into their small wood-frame farmhouse on Fireplace Road, in Springs, in the Town of East Hampton. From this modest property, Pollock changed the face of Abstract Expressionism. After his early death in 1956, Krasner made her own significant contributions, working from the same studio space. Many other significant modernist artists followed this road out to the East End: Willem and Elaine de Kooning, Joan Mitchell, Mark Rothko, Perle Fine, Grace Hartigan, Larry Rivers, Jasper Johns, Fairfield Porter, Jane Wilson, Jane Freilicher, among them. The flourishing Hamptons arts scene that was engendered by this group still lives on.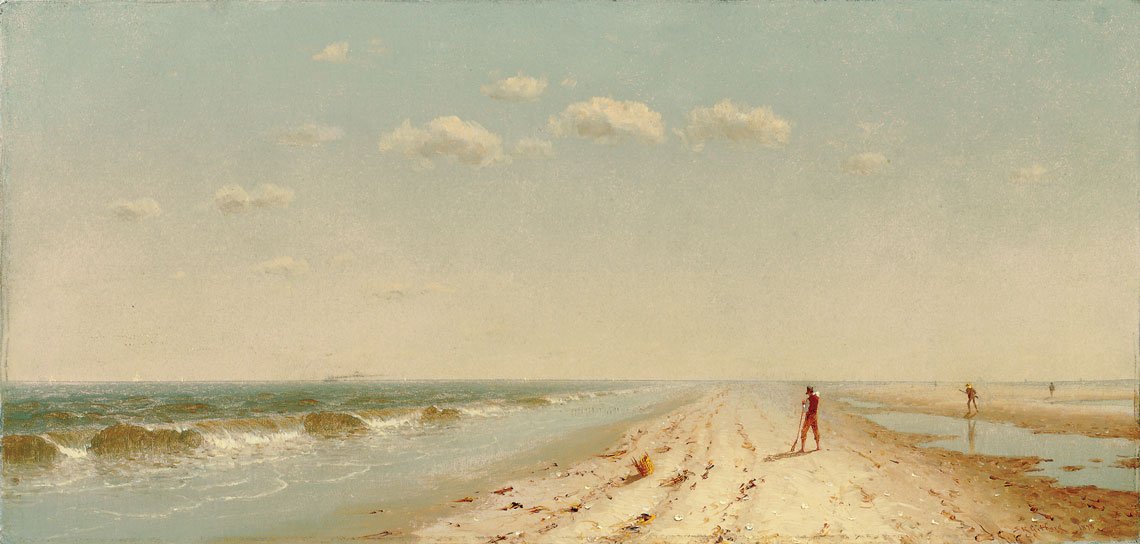 Sanford Robinson Gifford (1823–1880), Fire Island Beach, 1878. Oil on canvas, 13-1/2 x 27-1/2 inches.
Private collection. ©Christie's Images Limited 2005.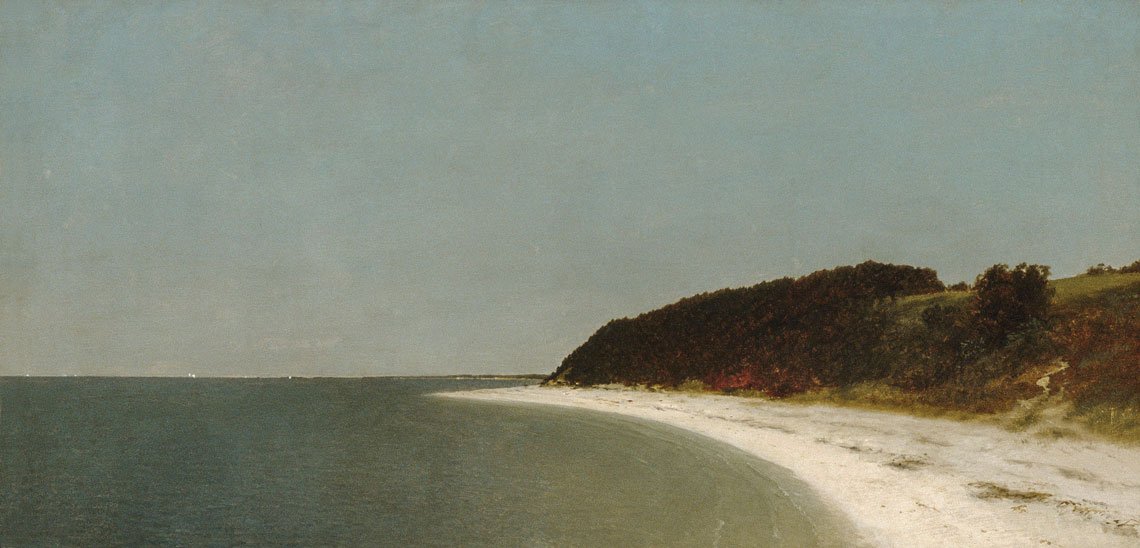 John Frederick Kensett (1816–1872), Eaton's Neck, Long Island, 1872. Oil on canvas, 18 x 36 inches.
The Metropolitan Museum of Art, New York, NY; Gift of Thomas Kensett.
Jackson Pollock (1912–1956), Number 25, 1950. Encaustic on canvas, 9-7/8 × 37-7/8 inches.
Courtesy of Hirshhorn Museum and Sculpture Garden, Smithsonian Institution, Washington, D.C.;
Gift of the Joseph H. Hirshhorn Foundation. © 2021 Pollock-Krasner Foundation/Artists Rights Society (ARS), New York.
Thomas Moran (1837–1926), Stormy Skies, Long Island, 1885. Oil on canvas. 12-1/8 x 28-1/4 inches.
The Heckscher Museum of Art, Huntington, NY; Museum Purchase: Town of Huntington Art Acquisition Fund.
Other postwar developments contributed to Long Island's central importance to the arts world. From a small Victorian cottage on Skidmore Place in Bay Shore, in 1955, Russian immigrant Tatyana Grosman, with her husband, the painter and sculptor Maurice Grosman, launched Universal Limited Art Editions. This enormously influential printer's studio and creative shop expanded in reputation through the work of Larry Rivers, Robert Rauschenberg, Jim Dine, Marisol, Helen Frankenthaler, and others. Also during the postwar years, other arts groups rose to flourish on Fire Island, Hampton Bays, and the Huntington areas.
All of these associations are integral to the great patchwork quilt of Long Island's rich artistic heritage that continues to inform and nourish the present. A Checklist of Long Island Artists of the Nineteenth to the Mid-Twentieth Centuries will provide an important contribution to the understanding and appreciation of this region's outstanding arts communities. It includes a Foreword by LIM's executive director, Neil Watson, an Introduction by Long Island art collector and patron D. Frederick Baker, and an essay that provides context of the Long Island artist communities, as well as providing a profile of the LIM's art collection, by the author of this article, accompanied by a selection of twenty-five color images chosen to represent LIM's collection. The publication will be available at the museum gift shop and website, www.longislandmuseum.org. 
---
Joshua Ruff is a deputy director at The Long Island Museum of American Art, History & Carriages, Stony Brook, NY.
This article was originally published in the 22nd Anniversary/Winter 2022 issue of Antiques & Fine Art magazine, a fully digitized version of which is available at www.afamag.com. AFA is affiliated with Incollect.com.