Donzella is Fired Up About About Ceramics Right Now
Donzella is Fired Up About Ceramics Right Now
By Benjamin Genocchio
Fired Up, An Exhibition of Contemporary Ceramics
Donzella Project Space, NYDC, 200 Lexington Avenue, No. 1509.
Through November 18
"Sensual, totemic, at times surreal" is how Paul Donzella describes ceramic works by six artists in his latest exhibition, Fired Up, at his project space in the New York Design Center. He is spot on, for there is something organic, fleshy, hedonistic and slightly erotic about these forms.
The six contemporary ceramic artists in the show are Chris Gustin, David Haskell, Robbie Heidinger, Lucien Petit, Roseanne Sniderman, and Dena Zemsky. There is a strong aesthetic consonance between the works, so much so in fact the show could be mistaken for the work of one artist.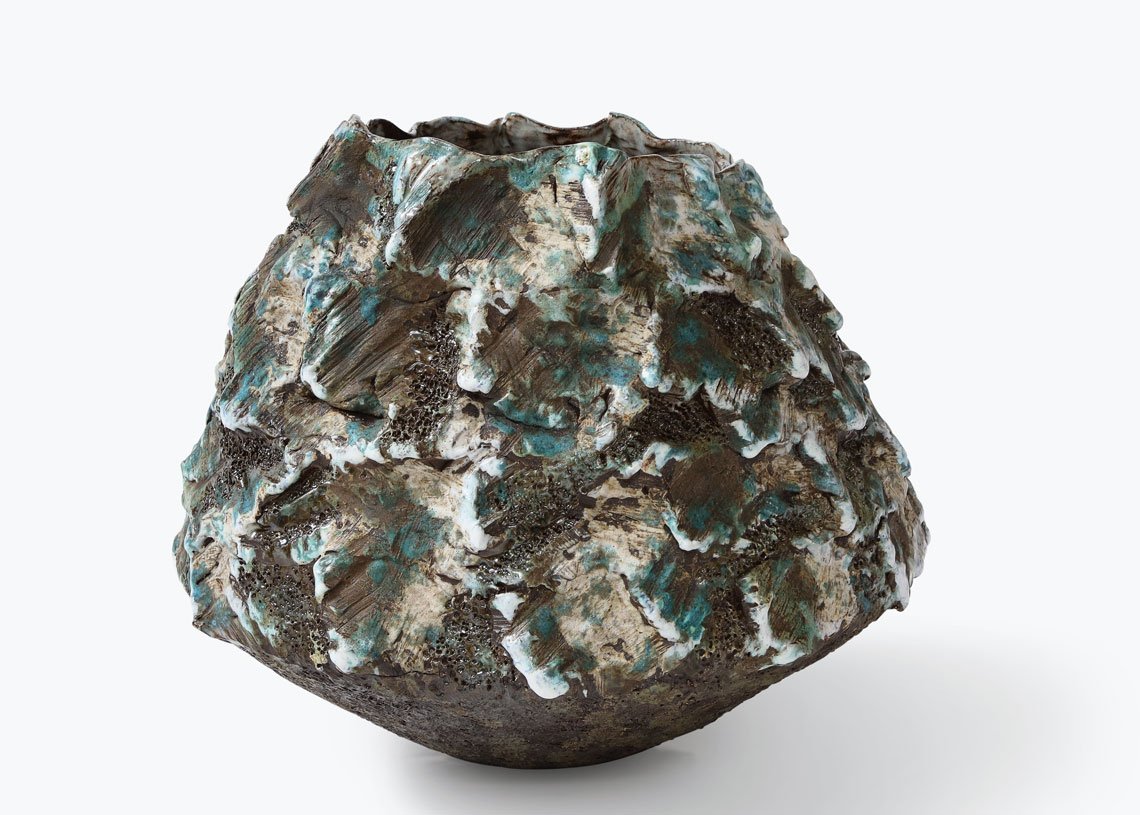 XL Sculptural Vase #5, Dena Zemsky, USA 2022. Glazed stoneware with light blue glazed interior. Artist-signed. h. 12.5" dia. 13"
Donzella selected the pieces from each artist — this is, therefore, a reflection of his taste. Hence the consonance, which extends into other works in his design inventory: a stoneware bowl by Rosanne Sniderman, wood-fired with cream glazes, from 2022, has a similar form to the Ercole Barovier clam shell glass centerpiece bowls from the 1930s and 40s on view in the adjacent gallery.
Donzella says the exhibition reflects his own personal excitement right now with the work the artists are producing. "Having worked with all of these artists for a number of years, witnessing the perpetual evolution of their work has been truly exhilarating. Each one is pushing boundaries, and I am thrilled to present them collectively."



Left:

4 pc. Assemblage Sculpture #4, David Haskell, USA 2022. Abstract sculpture with applied blue & black glazes. Artist-signed. h. 19.5" w. 10.5" d. 9" Right: Kabuto #4, Lucien Petit, France 2017. Glazed stoneware sculpture. Wood-fired. Artist-signed. h. 13.5" dia. 11"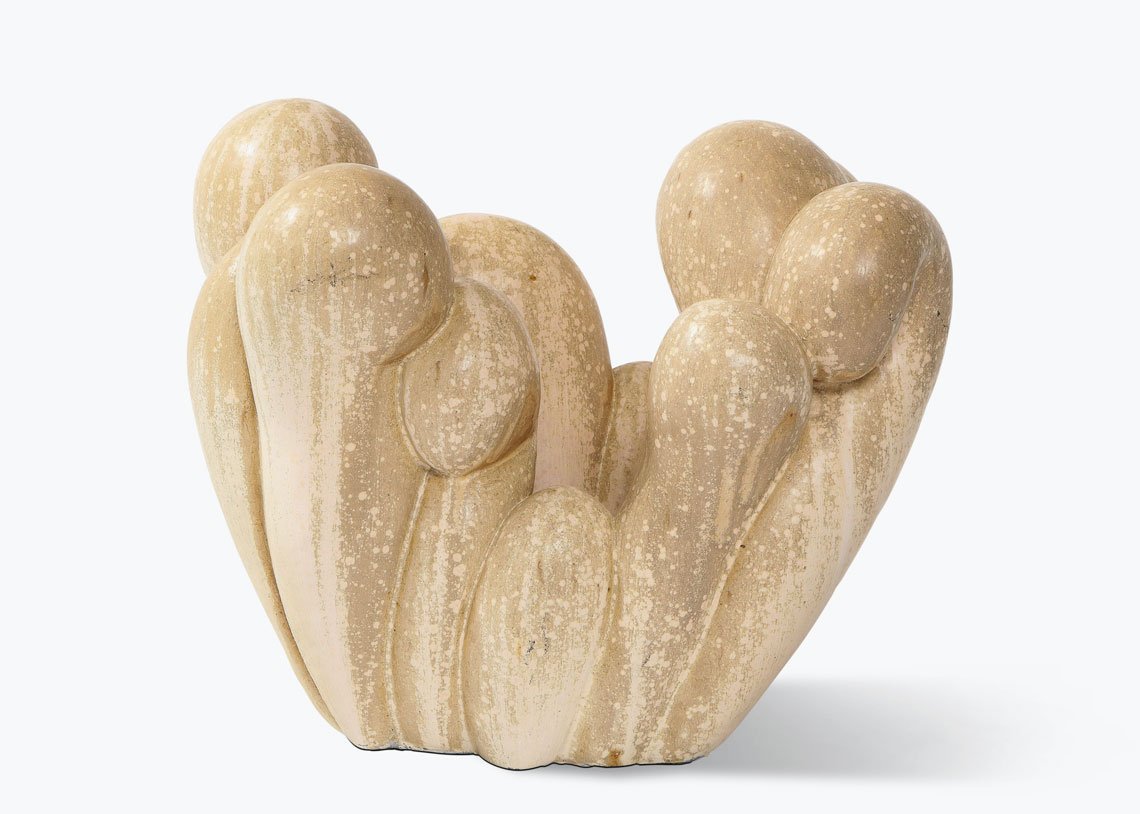 Untitled Bowl #9, Rosanne Sniderman, USA 2022. Stoneware bowl form. Wood-fired with cream glazes. Artist-signed. h. 15.5" w. 18" d. 13.5"
Glazing techniques and color are elements in the works in this show. Earth tones abound especially, such as brown, green, orange, and yellow. This adds to the organic quality of the pieces which are rigorously sculptural and non-utilitarian — even if several of the forms seem to have their origin in utilitarian pottery. Shapes with soft edges, circles, spheres, and ovals especially predominate.
The human figure lurks in the background here as a source of collective inspiration. French artist Lucien Petit makes glazed, wood-fired stoneware sculptures that look like life-size totemic heads while David Haskell's assemblage sculptures are abstract human forms constructed from chunky blocks of clay and then loosely matte glazed.



Left:

Bowl #0210, Chris Gustin, USA 2002. Glazed stoneware. Unique, wood-fired bowl. Artist-signed. h. 17" w. 22" d. 19" Right: Vernal Green Vase #1, Robbie Heidinger, USA 2022. Glazed stoneware. Artist-signed on underside. h. 8" dia. 9.5".
Perhaps most intriguing among the many wonderful forms here is the Big Bubble Bud Vase by Robbie Heidinger, from 2022, made of stoneware with blue, green and light brown glazes. It is a strangely awkward but pleasing form, like a model for molecular biology and yet simultaneously natural and organic at the same time. It is fabulous.
XL Sculptural Vase #5, 2022, by Dena Zemsky, is also a special piece, stoneware with a light blue glazed interior. Her forms are utilitarian in core inspiration but made to look as if they have been chiseled from a stone. The texture is everything, along with her vivacious molten glazes. Her work is original, audacious and fun.