Edward Hopper and the American Hotel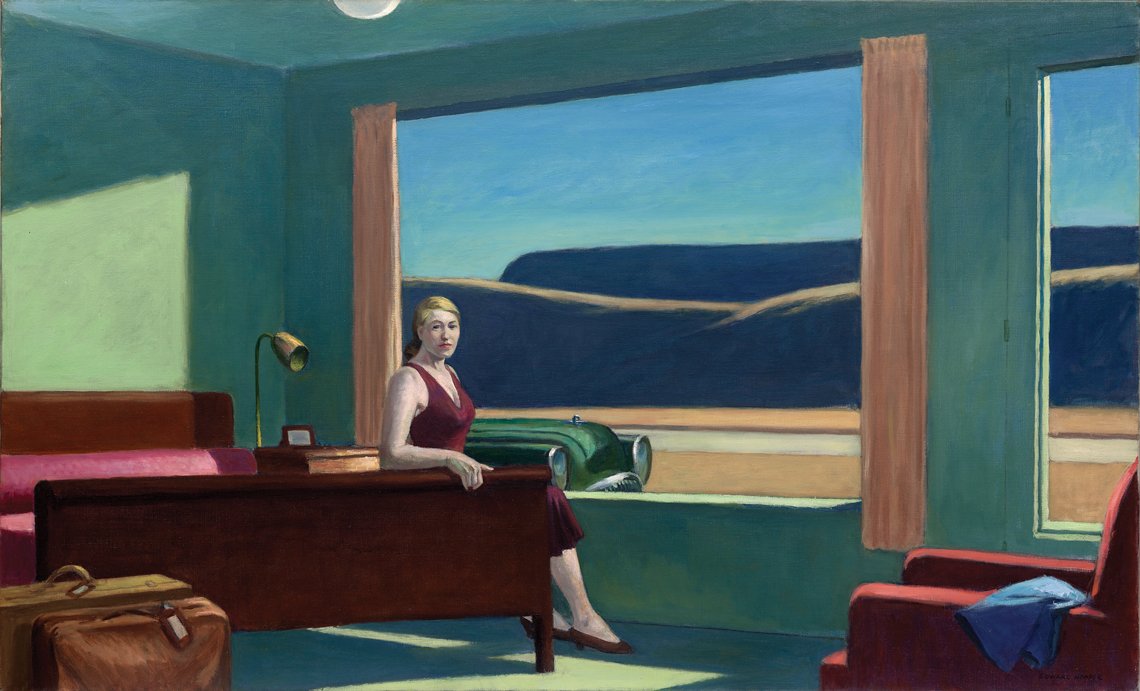 Edward Hopper (American, 1882–1967), Western Motel, 1957. Oil on canvas. Yale University Art Gallery, New Haven, Bequest of Stephen C. Clark, B.A. (1903). © 2019 Heirs of Josephine N. Hopper / Artists Rights Society (ARS), NY.
| | |
| --- | --- |
| | |
| | Edward Ruscha (American, b. 1937), Hotel, 1962. Oil and black ink on wove paper. Harvard Art Museums/ Fogg Museum, Cambridge, Massachusetts, Margaret Fisher Fund (1998.6). © Edward Ruscha, Courtesy of the artist and Gagosian. |
Through February 23, 2020
Virginia Museum of Fine Arts
200 N. Arthur Ashe Blvd., Richmond, VA
For more information, visit www.VMFA.museum or call 804.340.1400
Showcasing more than 60 of Hopper's paintings, drawings, watercolors, and illustrations, this groundbreaking exhibition offers a rare opportunity to see several of the acclaimed American artist's most beloved works in person and in a new context. Edward Hopper and the American Hotel represents the first investigation of the artist's canonical images of hotels, motels and other hospitality settings, thus expanding the terms of alienation and fragmentation in which Hopper's art is often discussed. Also included are 35 works by American artists that similarly explore the visual culture of hotels, travel, and mobility from the early 20th century to the present. The VMFA is the only east coast venue for this exhibition.
The images in the exhibition inform our understanding of a shifting American landscape and America's fascination with the new possibilities of automobile travel and the attendant flourishing of hotels, motels, and tourist homes. Hopper (1882–1967) was not only a frequent traveler and guest of all variety of accommodations, but worked as an illustrator for hotel trade magazines early in his career. Thus, his work offers an insider's perspective into the hospitality services industry during a pivotal moment in its evolution. Exhibition visitors will recognize how hotels and motels—as figurative or metaphorical destinations—have fixed themselves in our experiences and permeated our collective psyche.


Left: Edward Hopper (American, 1882–1967), Hotel Lobby, 1943. Oil on canvas. Indianapolis Museum of Art at Newfields, William Ray Adams Memorial Collection (47.4). © 2019 Heirs of Josephine N. Hopper / Artists Rights Society (ARS), NY. Right: Susan Worsham (American, b. 1969), Marine, Hotel Near Airport, Richmond, Virginia, 2009. Archival pigment print. Virginia Museum of Fine Arts, Richmond, Alden S. Hartman Endowment Fund (2017.117). © Susan Worsham.
The paintings, drawings, prints, and photographs in the exhibition are accompanied by enlightening documents and ephemera that lend a fascinating immediacy, including journals written by Hopper's wife, Josephine "Jo" Nivison—an artist in her own right—when the two took frequent road trips in search of subject matter. A touchscreen map will allow an exploration of the places the couple visited on three road trips from 1941 to 1953, and visitors can enter a three-dimensional model of Hopper's Western Motel, having an opportunity to stay at the museum overnight.
This article was originally published in the Winter 2019 issue of Antiques & Fine Art magazine, a fully digitized version of which is available at www.afamag.com. AFA is affiliated with Incollect.com.