Events of the Week: American Folk Art, Max Ernst, Women Abstract Artists, Gunsmiths, & More
Exhibitions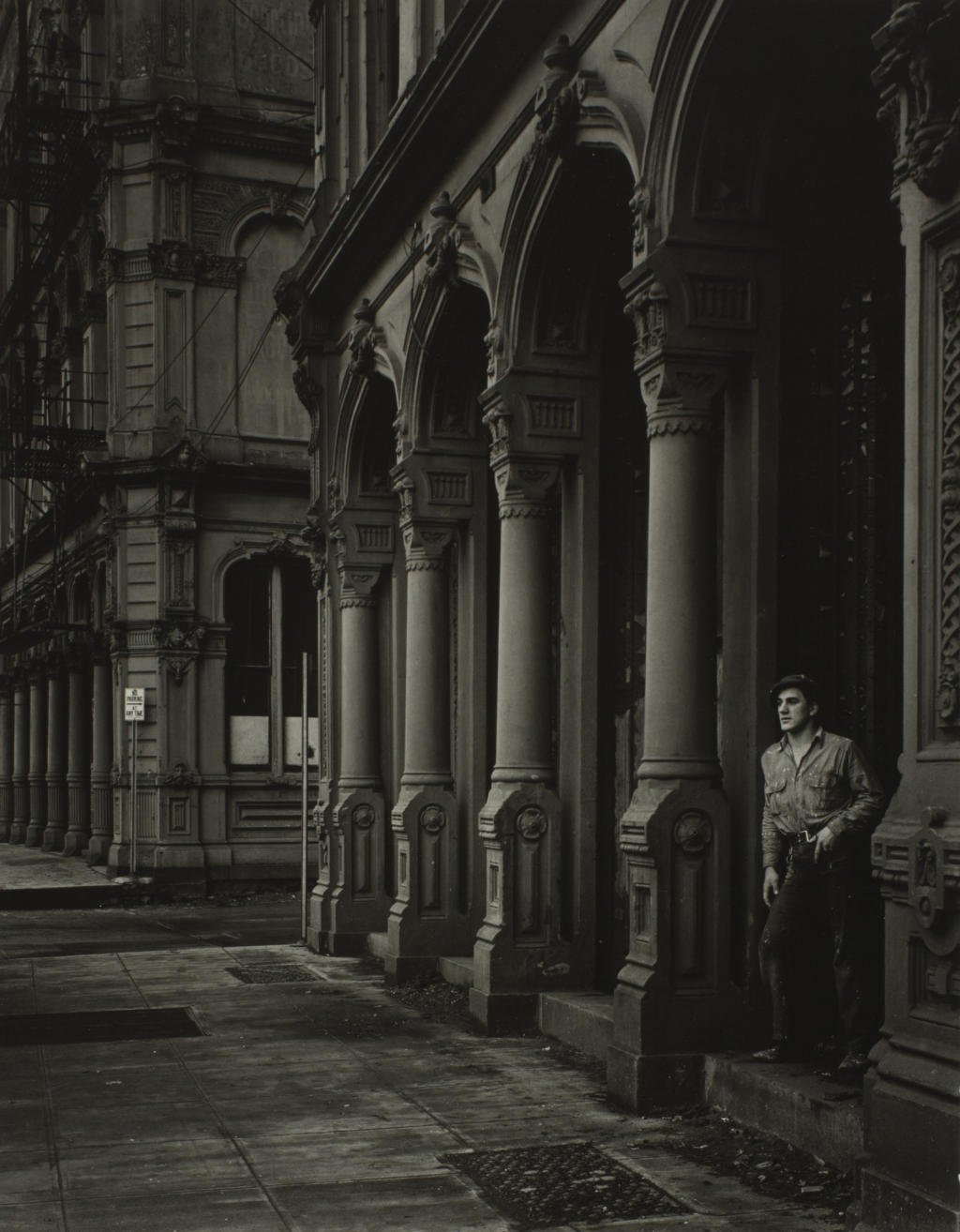 In the Beginning: Minor White's Oregon Photographs
Through October 21, 2018
Portland Art Museum, Portland, OR
Long before co-founding Aperture magazine or establishing the groundbreaking photography program at Massachusetts Institute of Technology, renowned modernist photographer Minor White (American, 1908-1976) moved to Portland, Oregon, where he sowed the seeds of what would become a forceful artistic vision. In the Beginning, an exhibition of White's rarely exhibited early works celebrates the artist's influence on the region, and honors the Portland Art Museum's dedication to acquiring and exhibiting photography as the institution enters its 125th year.
White got his start in Oregon in 1937, after traveling there from Minnesota. He instituted a darkroom, education, and exhibition program at the YMCA, and in 1938 was hired as a "creative photographer" for the Oregon Art Project, a division of the federal government's Works Progress Administration. Charged with documenting the Front Street buildings slated for demolition as well as the waterfront factories, he captured the beauty of iron-front facades, the distinct forms of industrial architecture, and the cultural undercurrents of a city under transition. These photographs hold clues to White's mature modernist approach and in 1942 became the first photographs to be accessioned into the Museum's permanent collection. That same year, the Museum gave White his first solo exhibition and commissioned him to photograph two historic Portland homes. White was drafted into the Army later that spring, and although he never returned to live in the city, his bonds to the community remained strong, resulting in multiple Oregon-based workshops in the 1950s and 1960s. To this day he remains a significant influence on photographic practice in the Northwest and beyond.
Minor White (American, 1908-1976), Arches of the Dodd Building (Southwest Front Avenue and Ankeny Street), 1938. Gelatin silver print. Courtesy of the Fine Arts Program, Public Buildings Service, U.S. General Services Administration. Commissioned through the New Deal art projects, public domain (L42.3.39).

Artful Instruments: Georgia Gunsmiths and Their Craft
Through February 25, 2018
Georgia Museum of Art, Athens, GA
This exhibition gathers a range of early Georgia firearms and related accessories from both private collections and other museums. Like many of the decorative and applied arts in the state, gunsmithing in Georgia has been overlooked except by a devoted group of collector-scholars. As recently as this year, a major collector of material culture in the mid-Atlantic referred publicly to the longrifle forms that were "made as far South as Charlotte, N.C." The Henry D. Green Center for the Study of the Decorative Arts attempts to identify and make accessible art forms that have received less attention in our region. Gunsmithing incorporated many crafts, such as silversmithing, casting and woodworking. Rifles represent the quintessence of craft in 19th-century Georgia, and the objects in this exhibition are some of the finest artistic achievements in the state at the time. Artful Instruments will be on view during the ninth Henry D. Green Symposium of the Decorative Arts (Feb. 1–3, 2018) and will be accompanied by a fully illustrated exhibition catalogue published by the museum.
Magnetic Fields: Expanding American Abstraction, 1960s to Today
Through January 21, 2018
National Museum of Women in the Arts
Washington, D.C.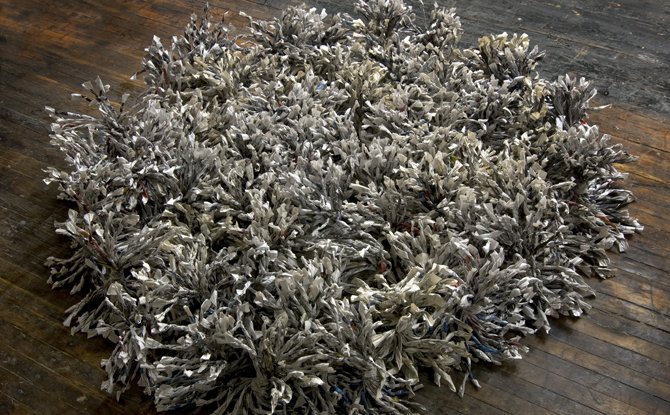 Maren Hassinger, Wrenching News, 2008. Shredded, twisted, and wrapped New York Times newspapers, 8 x 72 x 72 inches. Courtesy of the artist. New York, NY. © Maren Hassinger. Photo by Dan Meyers.
Featuring work by twenty-one artists born between 1891 and 1981, Magnetic Fields places abstract works by multiple generations of black women artists in context with one another—and within the larger history of abstract art—for the first time. Evocative prints, unconventional sculptures, and monumental paintings reveal the artists' role as under-recognized leaders in abstraction.
Artists in Magnetic Fields dispel the notion that figurative art is the only means for visualizing personal experience. The titles of their works and their construction methods evoke intense associations. Mary Lovelace O'Neal's use of allusive titles, such as Racism is Like Rain, Either it's Raining or it's Gathering Somewhere (1993), informs the reading of her monumentally-scaled painting while Maren Hassinger similarly uses socio-politically inflected titles and materials—specifically New York Times newspapers—in her textural floor sculpture Wrenching News (2008).
CLOSING SOON
American Folk Art: Seven Decades of Collecting
Through December 31, 2017
Fenimore Art Museum, Cooperstown, NY
Detail: Samuel Miller, attributed, Picking Flowers, 1840-1850. Oil on canvas, 44 ½ x 27 ½ inches. Fenimore Art Museum, Cooperstown, New York; Gift of Stephen C. Clark (N0255.1961). Photo by Richard Walker.
The Fenimore's remarkable collection of American folk art was originated by Stephen Carlton Clark over seventy years ago and is now regarded as one of the most comprehensive and significant assemblages in the United States. The exhibition includes select items from the collection such as weathervanes, portraits, pottery, and more.
Stephen C. Clark's major purchases from private collections such as those of modernist sculptor Elie Nadelman and the pioneering collector and author Jean Lipman form the core of the Fenimore's folk art collection. In recent years, the collection has expanded to include the works of important 20th-century folk artists such as Grandma Moses and Ralph Fasanella, both on view in the museum's Main Gallery. The works on display in American Folk Art: Seven Decades of Collecting are a representative sampling of 18th- and 19th-century pieces that reflect Cahill's vision of American folk art as a visually powerful and historically important expression of the American people.
Max Ernst: Beyond Painting
Through January 1, 2018
Museum of Modern Art, NYC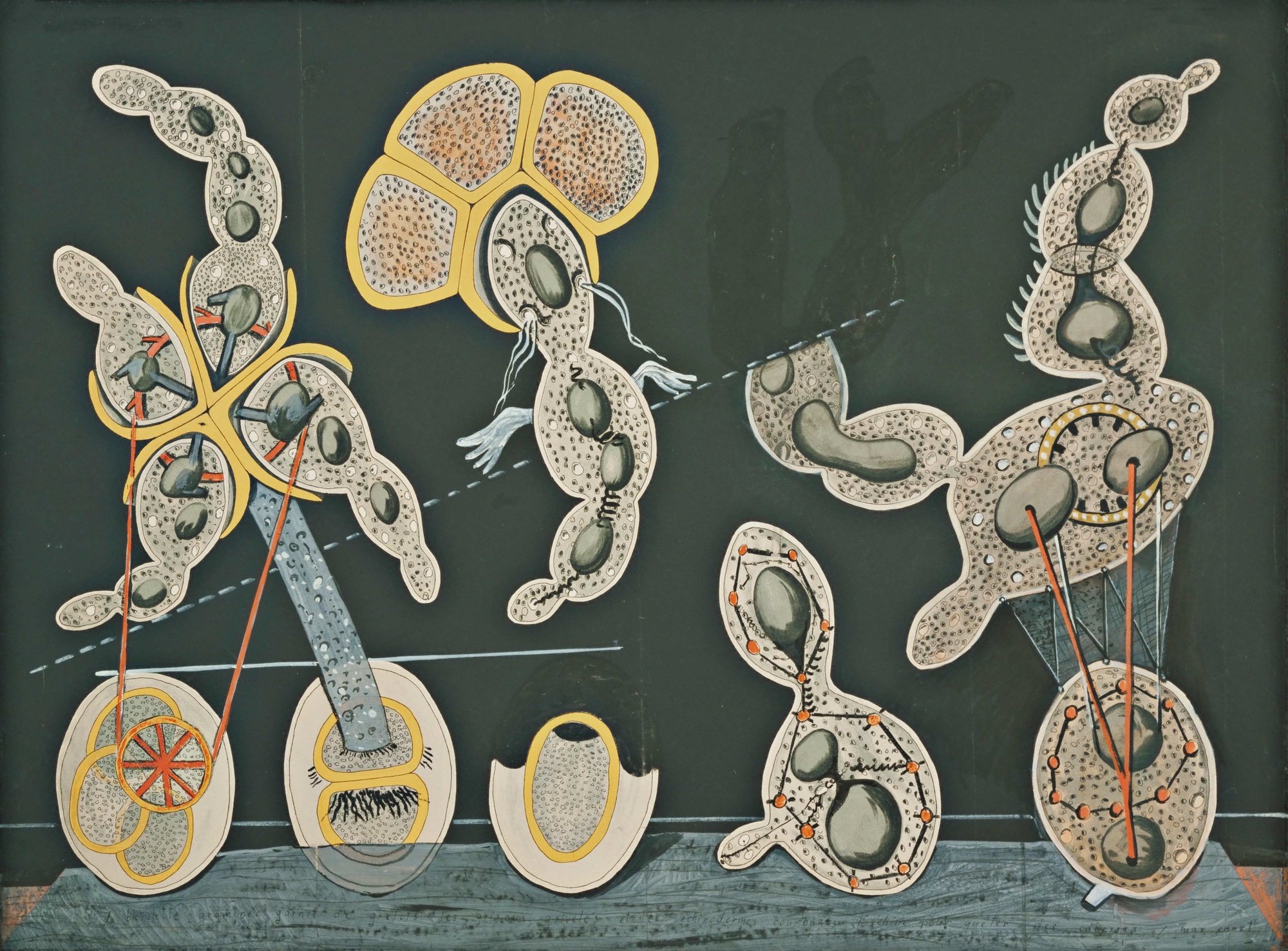 Max Ernst. The Gramineous Bicycle Garnished with Bells the Dappled Fire Damps and the Echinoderms Bending the Spine to Look for Caresses (La Biciclette graminée garnie de grelots les grisons grivelés et les échinodermes courbants l'échine pour quêter des caresses). ca. 1921. Gouache, ink, and pencil on printed paper on paperboard, 29 1/4 x 39 1/4 inches. The Museum of Modern Art, New York. Purchase (1937). © 2017 Artists Rights Society (ARS), New York/ADAGP, Paris. Photo: Robert Gerhardt.
This exhibition surveys the career of the preeminent Dada and Surrealist artist Max Ernst (French and American, born Germany, 1891–1976), with particular emphasis on his ceaseless experimentation. Ernst began his pursuit of radical new techniques that went "beyond painting" to articulate the irrational and unexplainable in the wake of World War I, continuing through the advent and aftermath of World War II. Featuring approximately 100 works drawn from the museum's collection, the exhibition includes paintings that challenged material and compositional conventions; collages and overpaintings utilizing found printed reproductions; frottages (rubbings); illustrated books and collage novels; sculptures of painted stone and bronze; and prints made using a range of techniques. Several major, multipart projects represent key moments in Ernst's long career, ranging from early Dada and Surrealist portfolios of the late 1910s and 1920s to his late masterpiece—a recent acquisition to MoMA's collection—65 Maximiliana or the Illegal Practice of Astronomy (1964). This illustrated book comprises 34 aquatints complemented by imaginative typographic designs and a secret hieroglyphic script of the artist's own invention.