Events of the Week: Bejeweled Timepieces, Photography of Eugene Richards, California Mexicana, Quilts, & More
Exhibitions
Jewels of Time: Watches from the Proctor Collection
Through April 29, 2018
Munson WIlliams Proctor Arts Institute, Utica, NY
www.mwpai.org
The exhibition Jewels of Time explores the aesthetic brilliance and exquisite craftsmanship of beautifully ornamented timepieces. On display are 80 skillfully crafted European examples amassed by brothers Thomas R. Proctor (1844-1920) and Frederick T. Proctor (1856-1929), two of the MWPAI's founders, who accumulated this rare and extraordinary collection during the late 19th and early 20th centuries. This group is selected from the 300 European and American pieces in the watch collection, one of the largest and most important ever assembled in the United States.
Chronicling 300 years of timekeeping, as watches evolved from jewelry and novelty items to precision mechanisms, the exhibition is divided into sub-categories that display the opulence of each piece. The intricate scenes depicted on the repoussé cases of many of the silver and gold
watches, for example, illustrate the pinnacle of metal-smithing techniques. The exquisite collection features highly detailed miniature portraits and still lifes.
Eugene Richards: The Run-On of Time
Through April 15, 2018
Nelson-Atkins Museum of Art, Kansas City, MO
This retrospective exhibition features the work of Eugene Richards (American, born 1944), one of the most respected documentary photographers working today. For almost 50 years, working in the tradition of W. Eugene Smith and Robert Frank, Richards has focused on the diverse, often complex lives of Americans, as well as the ongoing struggles of the world's poor.


Richards's style is unflinching, yet poetic. He brings the lives of ordinary people into focus and tells their stories through his powerful photographs. His projects have explored such complicated terrain as poverty, emergency medicine, drug addiction, cancer, mental illness, the impact of war on veterans and their families, caring for the elderly, and the emptying of the American prairie. Ultimately, Richards's socially-committed photographs illuminate personal struggles that might otherwise go unnoticed, with the hope that his art might spark conversations about how better to care for one another as human beings.
Art of the Ancient Mediterranean: Egypt, Greece and Rome
Currently open
Newark Museum, Newark, N.J.
After 28 years, Newark Museum's Ancient Mediterranean collection is getting a new home. The Newark Museum's classical collection of art from Egypt, Greece and Roman is comprised of nearly 4,500 objects dating from 3000 BC to 600 AD. It was relocated from its original gallery space as part of the Museum's renovation project that includes the relocation and reinstallation of the Arts of Global Africa galleries to flagship space on the first floor.
In the newly designed gallery, everyday objects will tell the stories of three distinct cultures—Egyptian, Greek, and Roman—defined by maritime connections to Africa, Europe, the Near East and Asia. While each culture had its own distinctive values and artistic traditions, all developed in conversation with one another in an early version of a global economy over hundreds of years. The groups of objects illuminate the role of glass-making, sculpture, funerary art, metalwork, and ceramics in homes and temples across the greater Mediterranean region. One of the core themes of the collection is the importance and meaning of materials, from luxury goods made for members of the aristocracy, to more commonplace objects that were part of daily life across empires.
Closing Soon
Casanova: The Seduction of Europe
Through December 31, 2017
Kimbell Art Museum, Fort Worth, TX
https://www.kimbellart.org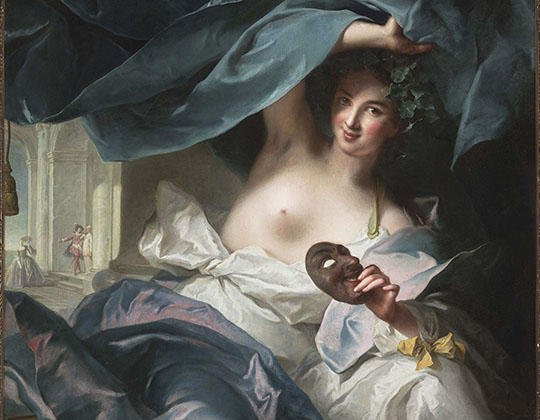 Generally thought of as a charismatic braggart and womanizer whose autobiography was so scandalous that it was placed on the Vatican's Index of Prohibited Books, Giacomo Girolamo Casanova (1725-1798), was, in addition to the above "attributes," a charismatic and witty intellectual who conversed with Voltaire, Benjamin Franklin, and other luminaries of his day. Constantly reinventing himself, Casanova was a spy, alchemist, astrologer, mathematician, traveler, and man of letters who comfortably navigated the social and political landscape of his day (even authoring a proto-feminist pamphlet). He was, in point, a man of the Enlightenment.
During his lifetime, the native Venetian lived in or traveled to many of the principle art centers of eighteenth-century Europe. Taking Casanova as a guide, The Seduction of Europe shows approximately 200 works of art structured around the chronology, geography, and major incidents of Casanova's colorful life, addressing such themes as courtship and seduction, theater, dining, and travel. In addition to paintings, the exhibition includes sculpture, prints, drawings, musical instruments, furniture and decorative arts, some of which are set within vignettes. The exhibition is accompanied by an illustrated catalog published by the MFA, Boston, one of the organizers along with the Kimbell and Fine Arts Museums of San Francisco.
War and Pieced: The Annette Gero Collection of Quilts from Military Fabrics
Closes January 7, 2018
American Folk Art Museum, 2 Lincoln Square, NYC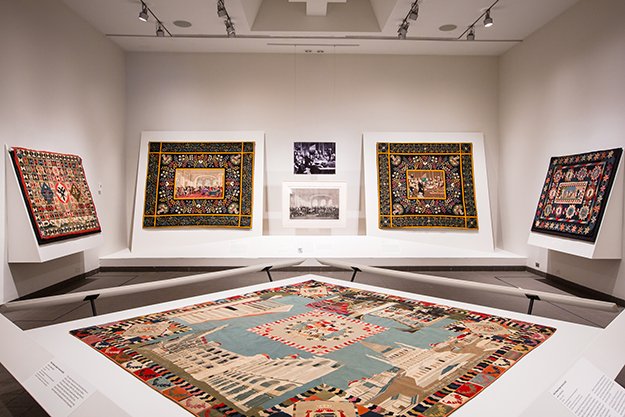 War and Pieced is the first exhibition in the United States to showcase the spectacularly complex geometric quilts made exclusively by men using richly dyed wools derived from British military and dress uniforms. Once termed "soldiers' quilts" or "convalescent quilts," the pieced textiles are most closely associated with the Crimean War as well as conflicts in India, South Africa, and other troubled regions of the British Empire during the nineteenth century. The exhibition further relates these military quilts to an earlier technique of pictorial inlaid or intarsia quilts, made with felted wools during the Prussian and Napoleonic wars beginning in the mid-eighteenth century.
The visual virtuosity of the quilts, often incorporating many thousands of pieces no larger than one-inch square, assumes a deeper emotional resonance as we consider them within the matrix of war and its aftermath. The quilts are drawn primarily from the unparalleled collection of internationally acclaimed quilt authority Dr. Annette Gero, with additional examples from public and private collections, many never before on view. After it closes in New York, the exhibition will travel to the International Quilt Study Center & Museum, University of Lincoln-Nebraska, from May 25-September 16, 2018.
California Mexicana: Missions to Murals, 1820-1930
Through January 14, 2018
Laguna Art Museum
307 Cliff Drive, Laguna Beach, CA
lagunaartmuseum.org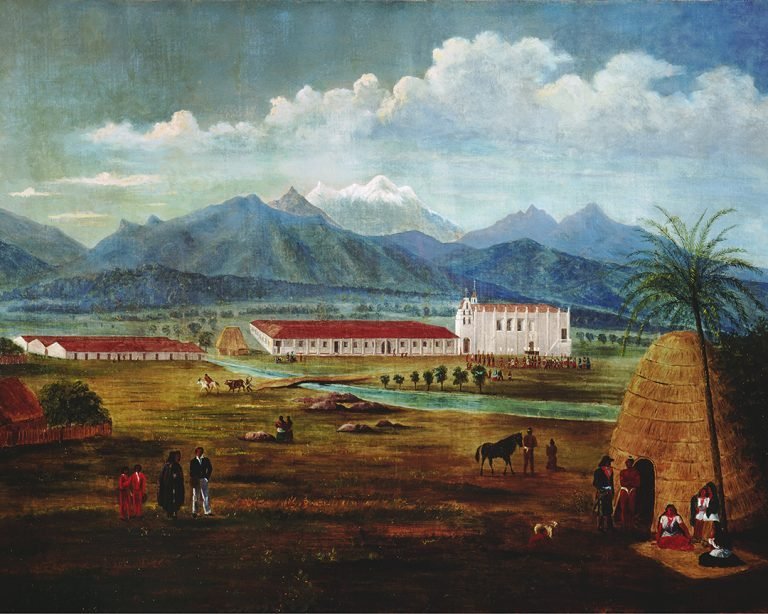 Ferdinand Deppe, San Gabriel Mission, ca. 1832. Oil on canvas, 27 x 37 inches. Laguna Art Museum Collection; Gift of Nancy Dustin Wall Moure.
Since the time when California was part of the United States of Mexico, artistic and cultural exchange between California and Mexico has flourished. California Mexicana highlights former's history through a panorama or works by artists on both sides of the border. Images include scenes of mission and ranch life to the modern art scene.
Part of Pacific Standard Time: LA/LA, an exploration of Latin American and Latino art in dialogue with Los Angeles, taking place through January 2018 at more than 70 cultural institutions across Southern California, the exhibition is the latest collaborative effort designed to celebrate the region's vibrant cultural history.
IN CLOSING
UBS recently released a new report during Art Basel in Miami Beach, December 7-10, 2017, that shows a majority of collectors of fine art view their art collections as a pursuit of passion rather than as an investment. UBS studied the attitudes and behaviors of fine art collectors and found that 65% of investors noted they have never sold a piece from their collection, and 41% confessed they have never had their collection appraised. When it comes to collecting behaviors, art collectors find themselves driven by an appreciation for beauty (71%), a desire to follow their passions (54%) and a wish to support and nurture artists (32%). Moreover, one quarter of investors consider their collections to be priceless, further emphasizing the fact that passion, rather than profit, is a motivating factor.