Events of the Week: Dangerous Women, Fra Angelico, COLLECT Fair, ARCO Madrid, Naples Art, Antiques & Jewelry Show & More
SHOWS
ARCO Madrid: International Contemporary Art Fair
February 21-25, 2018
IFEMA, Feria de Madrid, Halls 7 & 9, Madrid, Spain
http://www.ifema.es/arcomadrid_06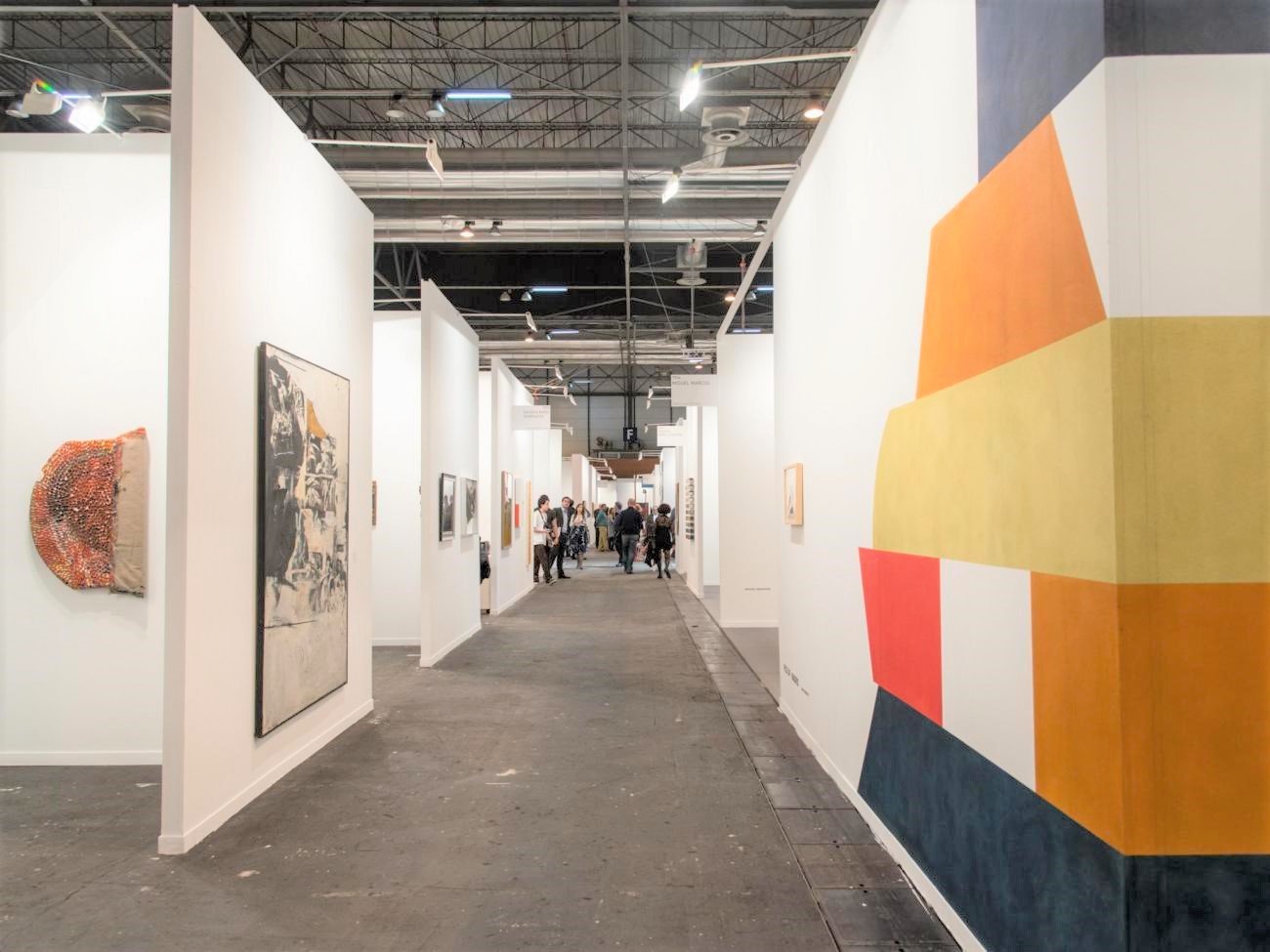 ARCO Madrid 2017. Image courtesy of the show.
A total of 208 galleries from 29 countries will take part in ARCOmadrid 2018, with works that cover the historical avant-garde, the contemporary classics, and modern art. The galleries will display paintings, sculpture, installations, photography, video, new media, drawing and etching. Additionally, the city of Madrid will hold exhibitions in museums and institutions giving special importance to Latin American artists and prominent art collections.
Show activities include a Collectors' Program offering exclusive visits to institutions and private collections as well as privileged access to the Fair. The FORUM offers a place for discussion around current creation and the art market within the international community. Professional Meetings, by invitation, provides curators and art experts an opportunity to exchange experiences and to prospect new proposals.
COLLECT: The International Fair for Contemporary Objects
February 22-25, 2018
Saatchi Gallery, King's Road, London
http://www.craftscouncil.org.uk/what-we-do/collect
No event is more important to the celebration of cutting-edge, museum-quality craft in the UK than Collect: The International Art Fair for Contemporary Objects. For its 14th iteration, the Crafts Council gathers 40 of the most prestigious galleries together to show more than 400 artists, from 13 countries around the world. Filling the entire Saatchi Gallery, these exceptional works span the spectrum of modern craft practice, ranging from innovative studio pottery to bold, large-scale installations that push material boundaries and explore pressing social and environmental themes. Artists span the leading disciplines of jewelry, textiles, ceramics, furniture, metalsmithing, and glass; as well as presenting work in highly specialist areas such as bookbinding, and unusual materials including paper, willow, vellum and lacquer. Says Annie Warburton, creative director of the Crafts Council, "As we look forward to this edition of Collect, the international market for contemporary craft has never been more buoyant. This is reflected in a record number of exhibiting galleries this year."
American Craft Show
February 23-25, 2018
Baltimore Convention Center, Baltimore, MD
https://craftcouncil.org/shows/acc/american-craft-show-baltimore
Among the offerings at the ACC is "Make Room: Modern Design Meets Craft." Image courtesy of ACC.
Attend three days of festivities celebrating all things handmade at the American Craft Show in Baltimore. Shop craft like you've never seen before from more than 650 of the country's top contemporary jewelry, clothing, furniture, and home décor artists. ACC is the largest nonprofit producer of fine craft shows in the US, connecting makers with buyers and educating the general public about craft. Among the ways to experience this at the show is to meet emerging artists at the Hip Pop Emerging Artists' booths on the show floor, where attendees can view contemporary pieces ranging from sophisticated elegance to cutting-edge, and "Make Room: Modern Design Meets Craft," which puts craft into context within room vignettes. Check for wholesale buying opportunities.
Naples Art, Antique & Jewelry Show
February 23-27, 2018
Naples Exhibition Center, Naples, FL
The Naples Art, Antique & Jewelry Show is returning to Naples, Florida, with yet another spectacular showcase of world-class art, antiques, and jewelry offered by exhibitors who hail from across the United States, as well as from European countries including France, Spain, the United Kingdom, and Denmark. As a highlight of the Naples winter social calendar, the annual show brings together many of the world's most celebrated exhibitors, expert collectors, interior designers, and those who appreciate fine art and culture. The location, in the heart of downtown Naples, is close to the famed shopping, dining, and entertainment district on Fifth Avenue and abundant cultural attractions – including museums, theaters, and art galleries.
"We are excited to once again host internationally acclaimed art, antiques, and jewelry dealers in Naples, and to be able to celebrate our charity partner, Avow Hospice, through our show," said Scott Diament, President and CEO of the Palm Beach Show Group, which manages the annual event.
PHOTOFAIRS | San Francisco
February 23-25, 2018
Fort Mason Festival Pavilion, San Francisco, CA
https://www.photofairs.org/san-francisco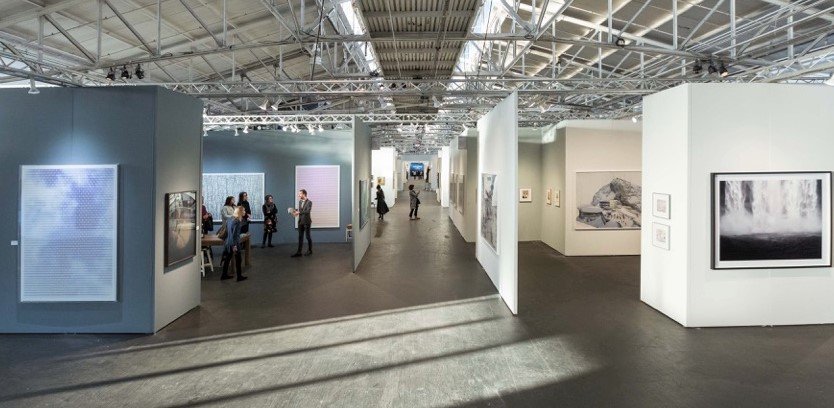 PHOTOFAIRS San Francisco 2017. Image courtesy of the fair.
PHOTOFAIRS | San Francisco is the cutting edge, international, contemporary art fair dedicated to the photographic medium. PHOTOFAIRS is dedicated to presenting fine art photography and moving image art from leading international galleries and their artists. In its highly curated approach, PHOTOFAIRS provides an elegant and vibrant environment for both seasoned and new collectors. In addition, tailored VIP and public programs are designed to create an engaging platform for our international audience.
The fair is divided into two sections: the Main section is comprised of commercial galleries and Platform welcomes galleries that are new to the show. Public programs include "Insights," an exhibition reflecting international trends within photography; "Conversations," are daily panel discussions and talks; and "Staged" explores relationships between photography and other art forms.
OF NOTE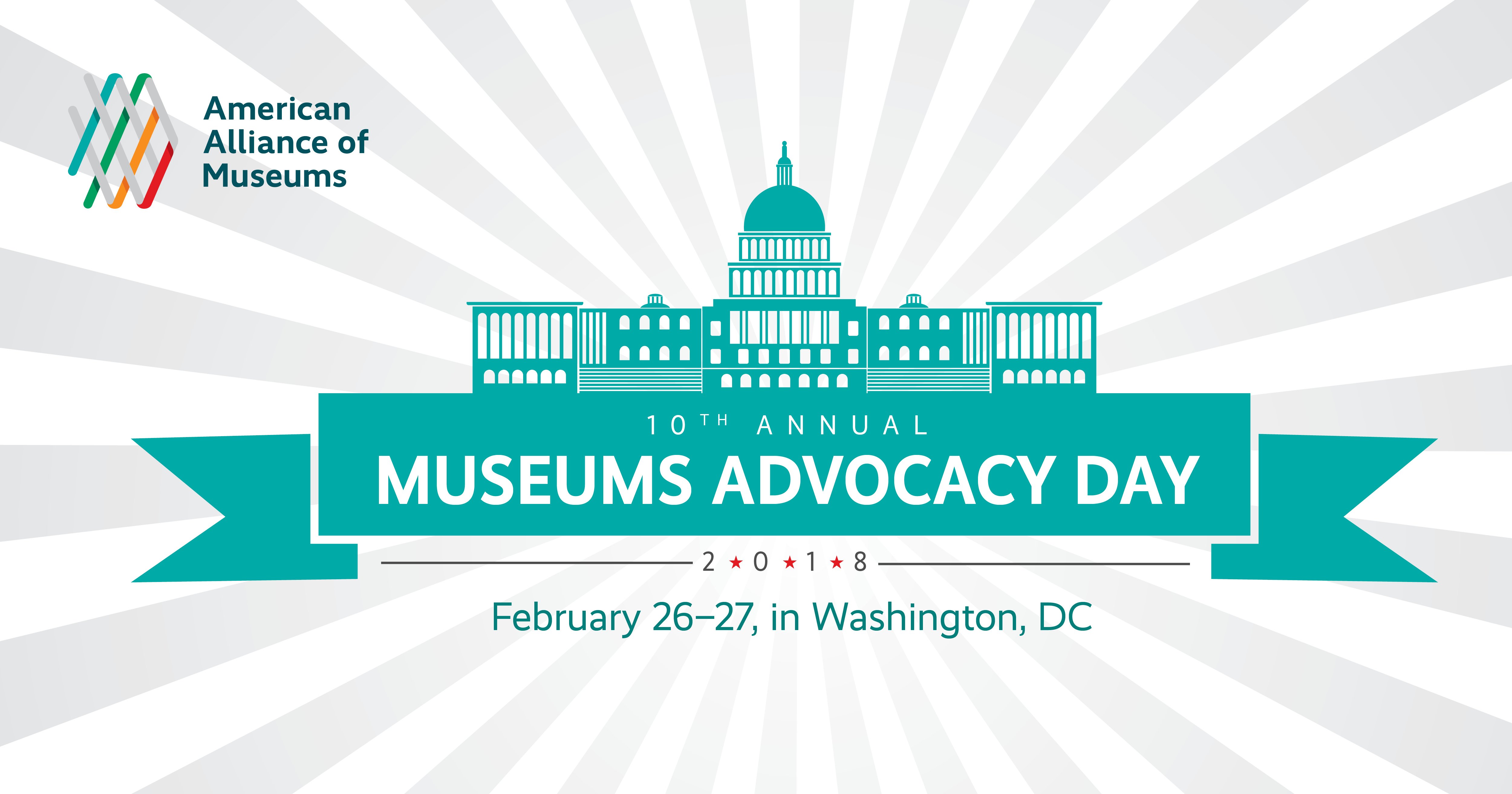 Museum Advocacy Day, February 26-27, 2018, Washington, D.C.
http://www.aam-us.org/advocacy/museums-advocacy-day

Did you know that museums contribute $50 billion yearly to the US economy, they support 726,000 jobs and generate $12 billion in tax revenue? Museum Advocacy Day provides a unique opportunity to make sure legislators know that museums are economic drivers, key providers of education and community anchors. Though registration is now closed, visit the website to access Issue Briefs, Appropriations Letters, Museum Facts, and other useful data including Congressional Contact Information and Legislative Records. Also available are advocacy resources to help you learn how to advocate for the museums and cultural institutions that you love.
EXHIBITIONS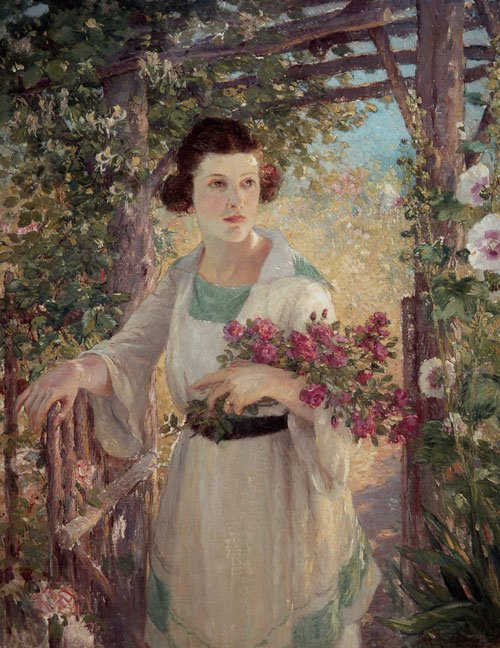 Harmony of Light: Spring of California
February 22-June 21, 2018
The Irvine Museum Collection, University of California
http://irvinemuseumcollection.uci.edu
Harmony of Light comprises a selection of paintings by California Impressionists that show Spring in California from nearly a century ago. Although the year-round mild climate was a key factor in the growth of the Golden State, it was in the Spring that nature put on her most glorious display. Artists whose work is featured in the exhibit include William H. Clapp (1879-1954), French-born Paul de Longpre (1855-1911), Millard Sheets (1907-1989), Maurice Braun (1877-1941), and John Frost (1890-1937).
Colin Campbell Cooper (1856-1937), The Rustic Gate. The Irvine Museum Collection at the University of California, Irvine.

Fra Angelico: Heaven on Earth
February 22-May 20, 2018
Isabella Stewart Gardner Museum, Boston, MA
https://www.gardnermuseum.org
Fra Angelico (Italian, ca. 1400-1455), The Marriage of the Virgin, 1431-1452. On panel, 7 ½ x 9 11/16 in. Museo di San Marco, Florence, Italy. Polo Museale della Toscana. Photo: Scala/Ministero per i Beni e le AttivitA culturali / Art Resource, NY.
One of the most celebrated painters in Western European history, Fra Angelico transformed time-honored traditional tales with sparkling immediacy and renewed relevance. This exhibition, which includes two monumental alterpieces, a series of intricate panels, a triptych, and nine predella scenes, also reunites for the first time Fra Angelico's four magnificent reliquaries depicting episodes from the Virgin Mary's life. In 1899, the Isabella Stewart Gardner acquired one of the four: the mesmerizing Dormition and Assumption of the Virgin. It was the first painting by Fra Angelico to come to America. The other three reliquaries―The Annunciation and Adoration of the Magi, The Coronation of the Virgin, and The Madonna della Stella―reside in Florence. In collaboration with the Museo di San Marco of Florence and with remarkable loans from around the world, this exhibition reveals the creativity and ingenuity of Angelico's sacred narratives.
The Isabella Stewart Gardner Museum will be the sole US venue for this exhibition, which will explore Fra Angelico's talent for storytelling. With remarkable ingenuity and rare technical expertise, he reconceived popular compositions and infused familiar Christian stories with new meaning. His iconic altarpieces and frescoes―painted for two Popes, members of the Medici family of Florence, and the city's merchant elite―transformed Western art. They secured his place in history and forged the future of painting in Italy.

Rome: City and Empire
February 23-May 28, 2018
Frist Center For The Visual Arts, Nashville, TN
http://fristcenter.org
In its exclusive North American venue, Rome: City and Empire, brings more than 200 of the British Museum's most engaging and beautiful Roman objects to tell the dramatic story of how Rome grew from a cluster of small villages into a mighty empire. This marks the first time that art and artifacts from ancient Rome and its empire will be on display at the Frist Center.
The British Museum's exceptionally broad collections—world renowned for its classical antiquities—have enabled the creation of a truly inspiring experience. Visitors will explore how the empire was won and held and learn about the rich diversity of its population. The exhibition is an accessible introduction to the Roman imperial period, yet also provides a depth of material for those with an existing interest in Roman history. Portraits of emperors, military leaders, citizens, and mythological figures, as well as stunning examples of pottery, paintings, jewelry, coins, and other objects, span ten centuries of Roman history and invite fresh ways of looking at the past while offering points of connection between antiquity and today.
Landscape Behind Cézanne
February 24-May 13, 2018
Princeton University Art Museum, Princeton, N.J.
http://artmuseum.princeton.edu
Among the artists exploring radical new approaches to space, brushstroke, and drawing was Paul Cézanne (1839-1906), widely acknowledged to have transformed landscape painting, most radically in his late watercolors. These works do not so much attempt to depict the actual appearance of a scene as to translate it into self-sufficient sequences of patches and lines of a restricted range of vivid colors. This exhibition juxtaposes Cézanne's work with landscapes drawn, printed or painted by earlier artists. The resulting dialogue between images both reveals the extent to which Cézanne employed standard types of landscape depictions―close-up views, woodland panoramas, rocky landscapes, wide vistas, landscapes with buildings―but also suggests how Cézanne goes further, explicitly acknowledging that what is real in art is different and independent from what is experienced in nature. It is not, therefore, an exhibition about causalities, but rather a profound way of illuminating the path of Cézanne's investigation.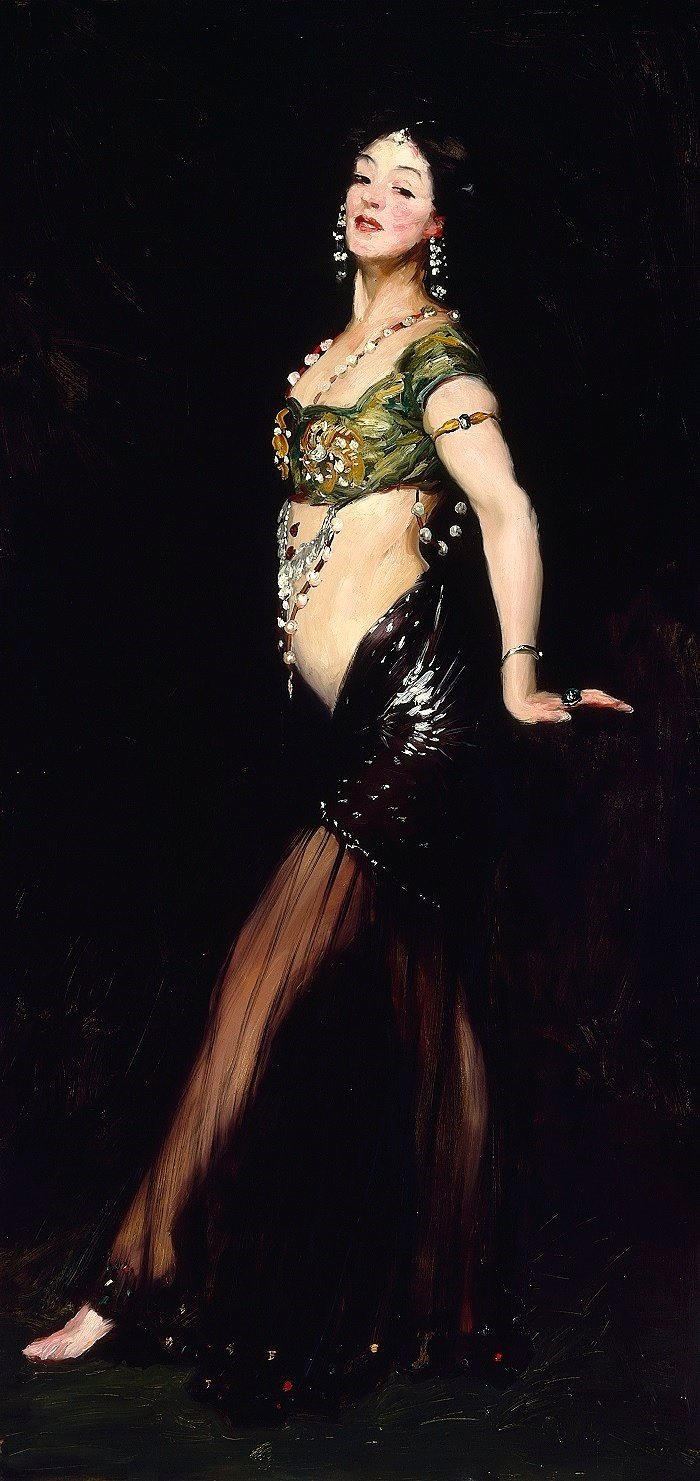 Dangerous Women:
Selections from the John and Mable Ringling Museum of Art
Through May 20, 2018
Patricia & Phillip Frost Art Museum,
Florida International University, Miami, FL
Courageous heroines and deceptive femmes fatales abound in the Old and New Testaments. From Judith to Esther, Salome to Mary Magdalene, Delilah to Lot's Daughters and Potiphar's wife, these women—perceived as dangerous to society—shaped biblical history. Dangerous Women, the timely new exhibition that explores shifting perceptions of these historic characters, whose power to topple the strongest of male rulers made them "dangerous" but whose strength serves as a historical foundation for thinking about contemporary causes (including the "Me Too" movement).
While some were portrayed as paragons of family goodness who saved their people, others were shown as harlots and hussies, purveyors of sin, deadly temptresses and seductresses. Featuring spectacular and thought-provoking Old Master paintings from the John and Mable Ringling Museum of Art, Dangerous Women showcases more than twenty paintings and etchings of women found in the Bible by 16th and 17th century artists, including: Pietro da Cortona, Fede Galizia, Pordenone, Giovanni Andrea Sirani and Francesco del Cairo as well as modern and contemporary works, including the sensuous Salome (1901) by Robert Henri, and Portrait of Mamma Bush (2010) by Mickalene Thomas.
Robert Henri, Salome, 1909. Oil on canvas. John and Mable Ringling Museum of Art.