Events of the Week: ICFF, WantedDesign, OFFSITE, René Magritte, Frank Stella, & More
SHOWS
ICFF
May 20-23, 2018
Jacob K. Javits Convention Center, NYC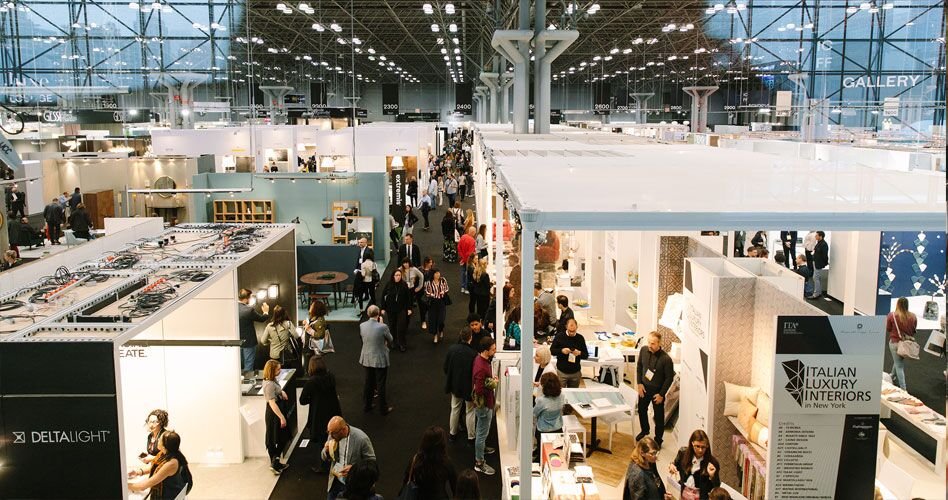 Interested in the hottest trends? What's best and what's next? Then attend the 30th annual ICFF NYC this Sunday through Wednesday as ICFF showcases the newest frontier in contemporary global design. More than 36,000 professionals in the fields of interior design, architecture, retail, distributors, developers, manufacturers, store designers, and visual merchandisers will converge on the Jacob K. Javits Convention Center in Manhattan for this must-attend show. Though the trade has exclusive entry for the first three days, doors open to the public on Wednesday.
As North America's global platform for architecture and fine interior design, the four-day show attracts more than 800 exhibitors from all points of the globe that specialize in high-end luxury design from furniture, flooring, lighting, wall coverings, textiles, and accessories, as well as outdoor furniture and materials for the kitchen and bath. ICFF provides the unparalleled opportunity to shop, compare, and buy innovative products from around the world for the home or commercial interior.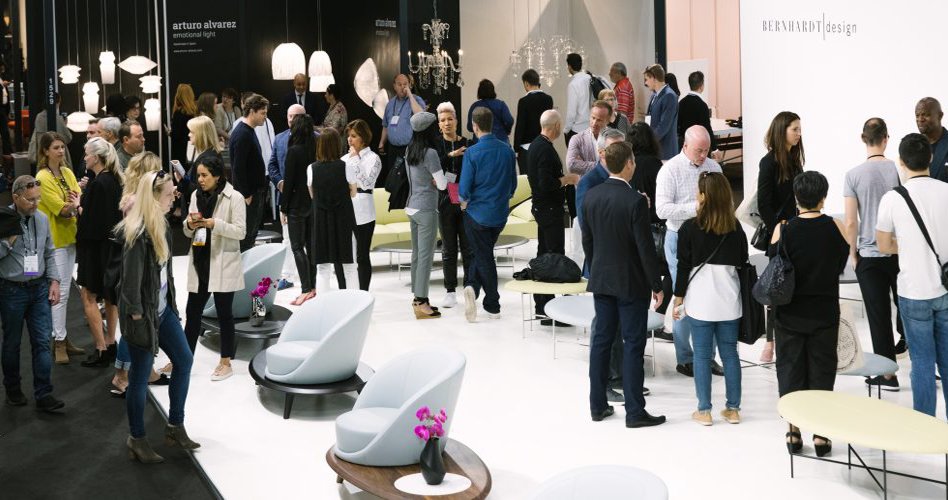 Returning this year is ICFF Studio, a juried competition to bring the next generation of emerging talent to the forefront and help launch careers. Additional draws include Collective Concept @ ICFF (see below) and ICFF Gallery NYC where professionals discover new talent and unique pieces. New major additions to the Fair in 2018 include: Handmade in Germany World Tour, showcasing and array of masterworks from 180 German manufacturers, artisans and designers. VIA's NO TASTE FOR BAD TASTE featuring 40 iconic masterpieces highlighting the very best of French design. The ICFF conference program runs during the length of the show, offering up to three programs a day and covering topics ranging from sustainability and design, decorative lighting design, business development, technologies shaping interiors, and product
\manufacturing.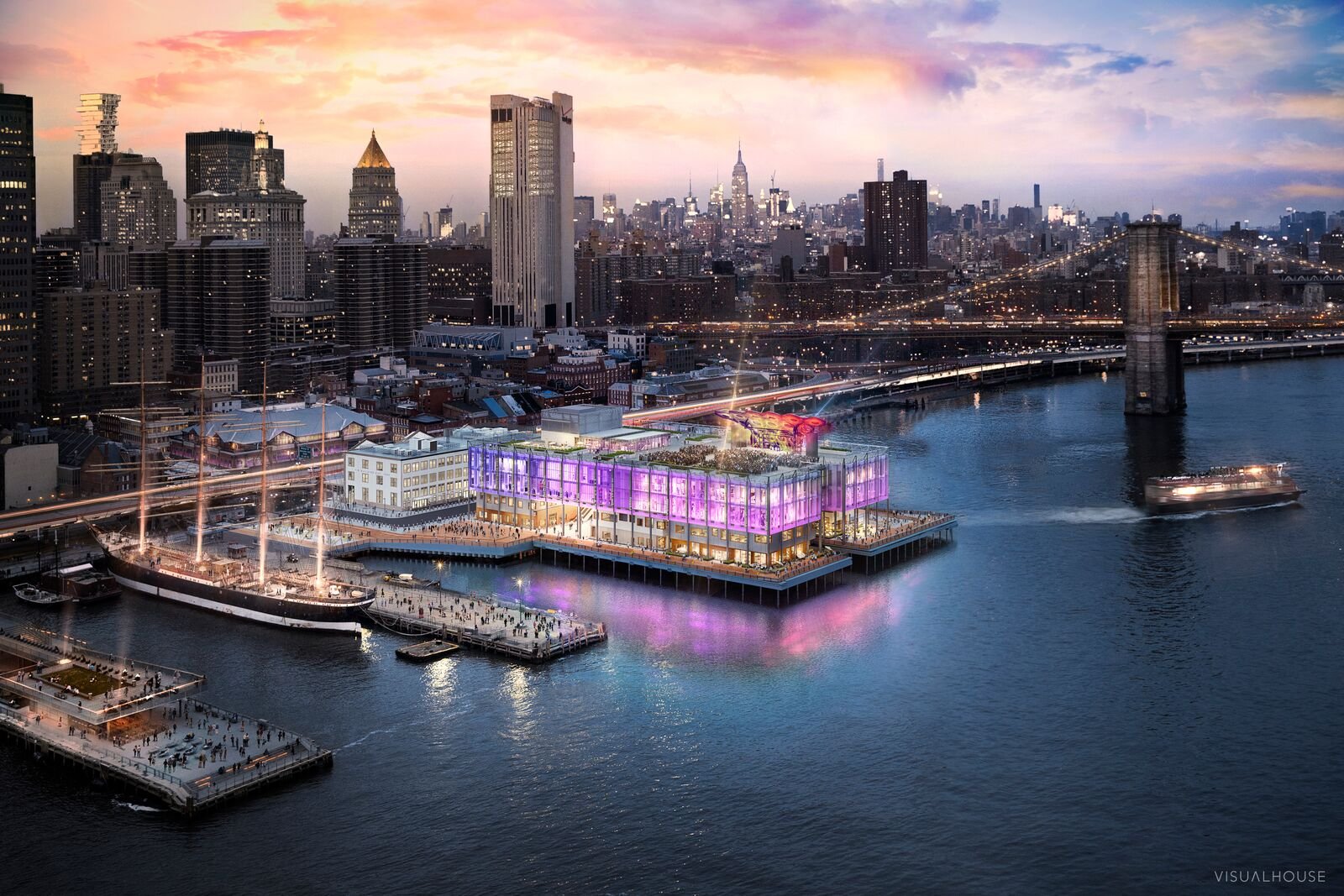 ICFF Opening Party & NYCxDESIGN Awards
May 21, 2018: NYCxDESIGN Awards | 5:00-7:00 PM;
ICFF Opening Party | 7:00-10:00 PM
Pier 17, Seaport District, NYC
http://www.icff.com/spotlights/nycxdesign-awards-icff-opening-party
https://www.nycxdesign.com/nycxdesign-awards
On the evening of Monday, May 21, world-class designers, emerging talents, the largest architectural and interior design firms and design enthusiasts from every discipline will gather to celebrate the very best in design and innovation at the NYCxDESIGN Awards and ICFF Opening Party. For the first time, the event will be held in the new Pier 17 building, the cornerstone of The Howard Hughes Corporation's revitalization of Seaport District NYC.
Now in its third year, the NYCxDESIGN Awards is a highlight of NYCxDESIGN, New York City's annual celebration of design that attracts hundreds of thousands of attendees and designers from across the globe. Taking place this year from May 11-23, NYCxDESIGN showcases over a dozen design disciplines through exhibitions, installations, trade shows, panels, product launches, open studios and more across the city's five boroughs.
Below: Coil + Drift Design is the design studio of acclaimed modern dancer-turned-designer John Sorensen-Jolink. The studio creates luxurious American-made furniture and lighting using brass, marble, resin, and wood, that is designed using the unique spatial awareness of a dancer and choreographer.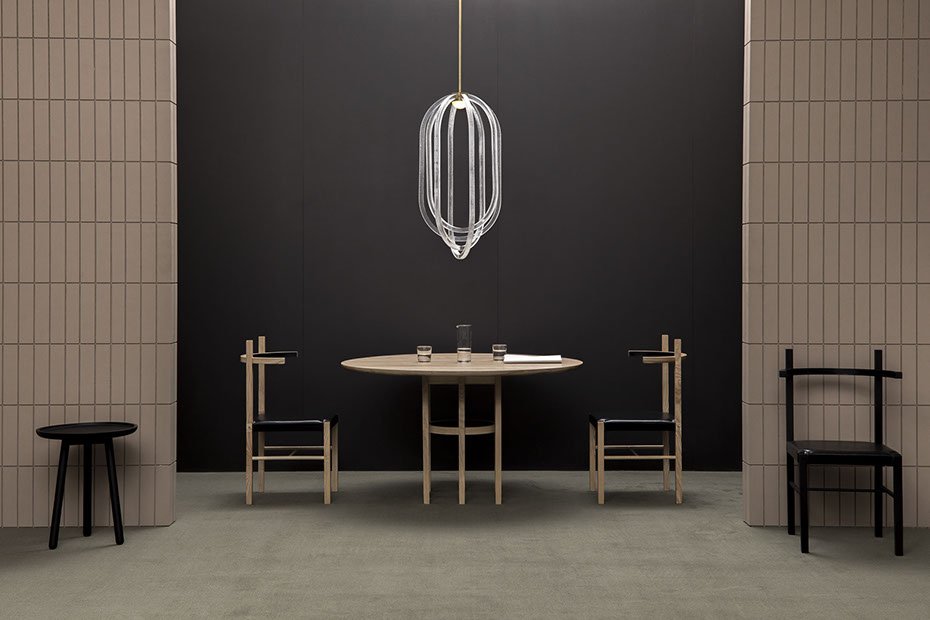 Collective Concept @ ICFF
May 20-23, 2018
Jacob K. Javits Convention Center, NYC
http://collectivedesignfair.com/icff.html
Inaugurated in 2016, Collective Concept began as a capsule presentation within Collective Design fair, where contemporary designers working in lighting, furnishings, ceramics or textiles are encouraged to reveal new thinking or the ideas behind their successful and well-known designs. With the fair's move to March in 2018, Collective has partnered with ICFF to provide a platform for independent designers during NYCxDESIGN from May 20-23―thus the launch of Collective Concept @ ICFF.
Inspired by the process-based explorations that have become a key part of Collective's programming, a handful of established product designers have been invited to share what they consider "inspirational" or "alternative" thinking, revealing a newly conceived product, a revolutionary technology, an unusual pairing of design talents or a unique material used in a thought-provoking way. A curated group of designers will be selected to present in a dedicated section within ICFF.
WantedDesign
Industry City, Brooklyn: May 17-21, 2018
Terminal Stores, NYC: May 19-22, 2018
https://www.wanteddesignnyc.com
WantedDesign is a series of international design events, with two marquee events taking place in Manhattan and Brooklyn during NYCxDESIGN, New York's celebration of global design. WantedDesign aims to provide a platform dedicated to promoting design and fostering the international creative community at large throughout the year. Its mission is carried out by welcoming the design trade and design lovers alike to events, conversations, and partnerships and its yearly programming aims to nurture the dialogue around design in New York City and beyond. WantedDesign's original event location, the landmark Terminal Stores building on 11th Avenue in West Chelsea's Historic District, has become a creative destination for the international design community in May, offering participants and visitors a unique and dynamic experience. Every May, the event serves as a popular and inspiring meeting point for designers, manufacturers, buyers, distributors, craftspeople, students, design institutions, the press and all design lovers.
May 2015 marked the first year for WantedDesign's new, second location: WantedDesign Brooklyn, at Industry City in Sunset Park. Year after year, Industry City has established itself as a vital hub of innovative design in Brooklyn and has become home to more than 100 designers, design brands and makers. This strategic expansion reflects the growing importance of Brooklyn as a destination for multidisciplinary creative thinkers and makers.
Below: With a focus on developing sustainable products with the best artisans in Europe and the US, VISO launches its first collaboration and installation to date, showing in New York City during Sight Unseen OFFSITE by the hand of American industrial and interior designer Giancarlo Valle.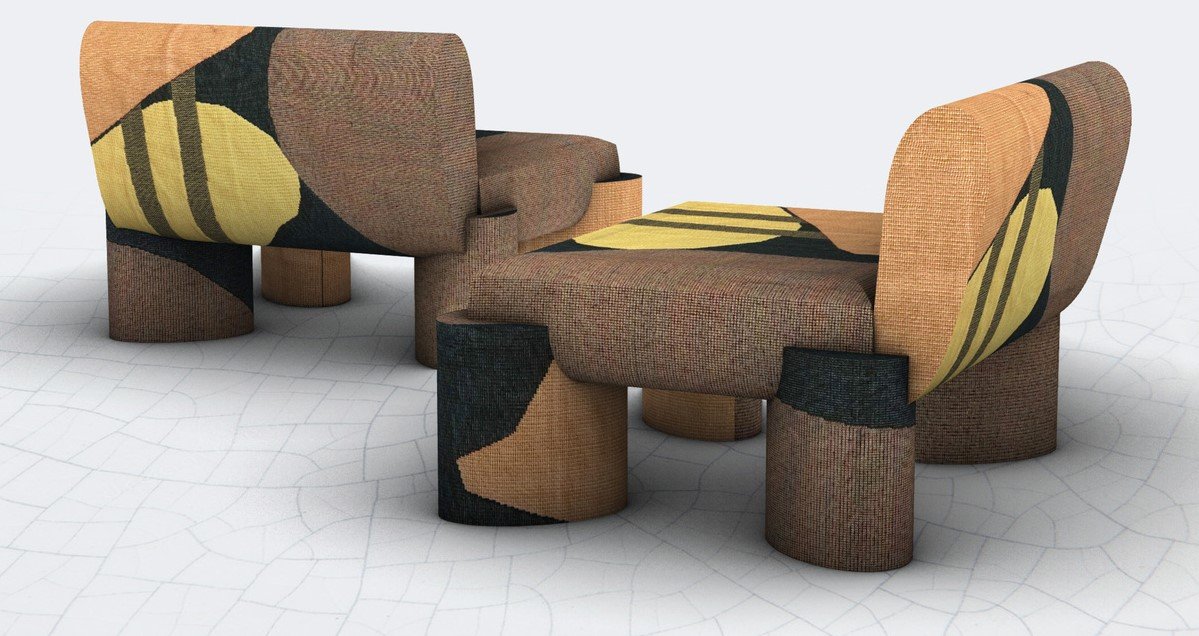 Site Unseen OFFSITE
May 17-20, 2018
201 Mulberry, NYC
https://offsite.sightunseen.com
Sight Unseen OFFSITE is an annual showcase of contemporary design by the best and brightest independent design studios, as well as select forward-thinking brands. In 2018, Sight Unseen OFFSITE will continue its reputation as the most important American platform for independent design. This year's show will incorporate a primary hub space (201 Mulberry) —featuring group exhibitions and Sight Unseen-curated projects focused on the theme of collaboration — as well as venues around Manhattan, from Creatures of Comfort to Coming Soon, launching individual designer collections.
Below: Carved giltwood wall brackets attributed to Thomas Johnson, England, ca. 1760. Courtesy of G. Sergeant Antiques.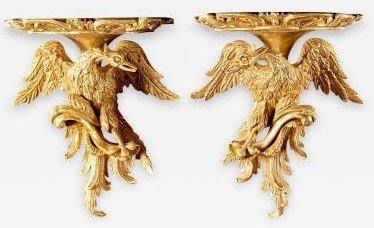 Chicago Antiques+Art+Design Show
May 18-20, 2018
Chicago Merchandise Mart
http://www.chicagoantiquesartdesign.com
The Second Annual Chicago Antiques + Art + Design Show will feature more than 80 premier national and international exhibitors presenting fine antique furniture, decorative and fine arts, antique and estate jewelry, folk art, and antiquarian books from the 17th to 20th centuries, with many of the dealers taking double and triple size booths. The show's keynote lecture will feature Ruthie Chapman Sommers and Nick Olsen; other presentations will feature the restoration of Frank Lloyd Wright's Unity Temple and 200 years of chair design by Driehaus Museum curator Catherine Shotick.
EXHIBITIONS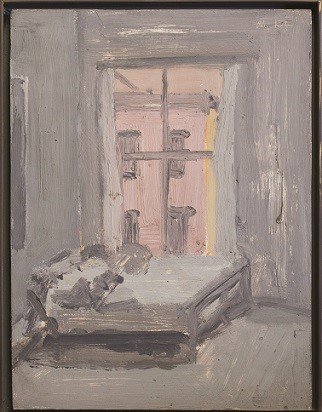 In My Room: Artists Paint the Interior, 1950-Now
May 18-September 30, 2018
Fralin Museum of Art, University of Virginia
http://uvafralinartmuseum.virginia.edu

Landscape painting, a common genre in western painting, is understood as a window onto the world thanks to artist and theorist Leon Battista Alberti and his ideas about the picture plane known as Alberti's Window. After the Industrial Revolution, however, modern art erupted with the interior. Notably, modern artists began depicting windows into other rooms instead of painting views of the outside world.
Artists continued to paint indoor spaces throughout the 20th century for a variety of psychological, interpersonal, and biographical reasons. Architecture, design and the still-life inform the paintings in this exhibition, as does the persistent theme of the artist's studio. The exhibition raises myriad questions upon which to reflect and will address how representations of interior spaces have changed and evolved over time. Also of interest is the question of whether social and political events in the world at large affect representations of a space, or whether the presentation of space is more indicative of the artist's mind or state-of-mind.
Above: Alex Katz, American, b. 1927. Untitled (Interior), 1965. Oil on board, 12 x 9 in (30.5 x 22.9 cm). Bequest of Buzz Miller. The Alan Groh-Buzz Miller Collection, 1999.12.43. Art © Alex Katz/Licensed by VAGA, New York, NY.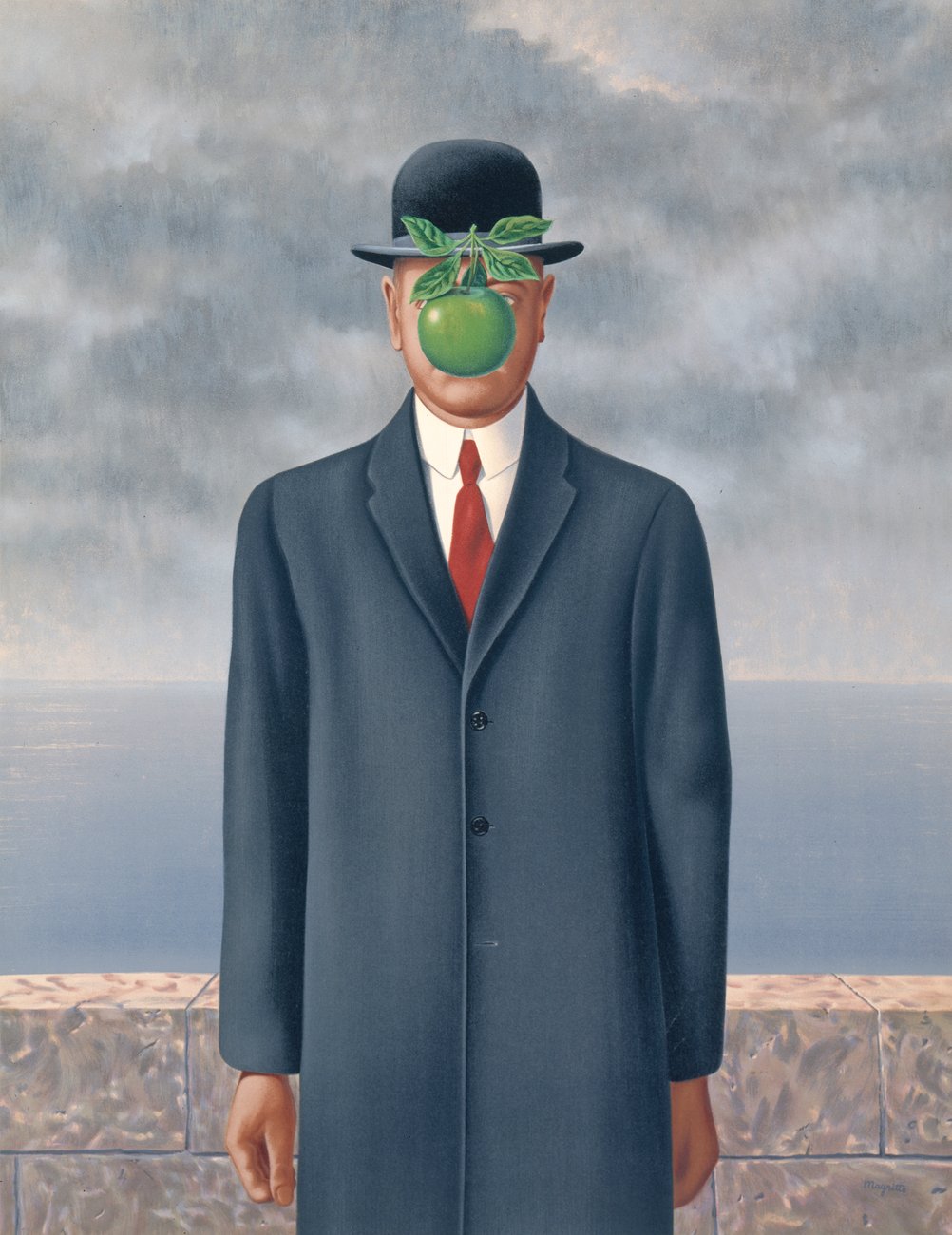 René Magritte: The Fifth Season
May 19-October 28, 20188
San Francisco Museum of Modern Art
https://www.sfmoma.org


René Magritte, the extraordinary surrealist painter, faced a question of conviction in the 1940s. As Europe was overwhelmed by the horrors of World War II, Magritte's production was transforming in ways that surprised even the artist's closest colleagues and advocates. Already in possession of his classic style of painting, honed over the previous two decades, Magritte suddenly began to make images that looked almost nothing like his previous work. In this era of instability and upheaval during the German occupation of Belgium, he questioned the role of art and looked for a new direction and new meanings.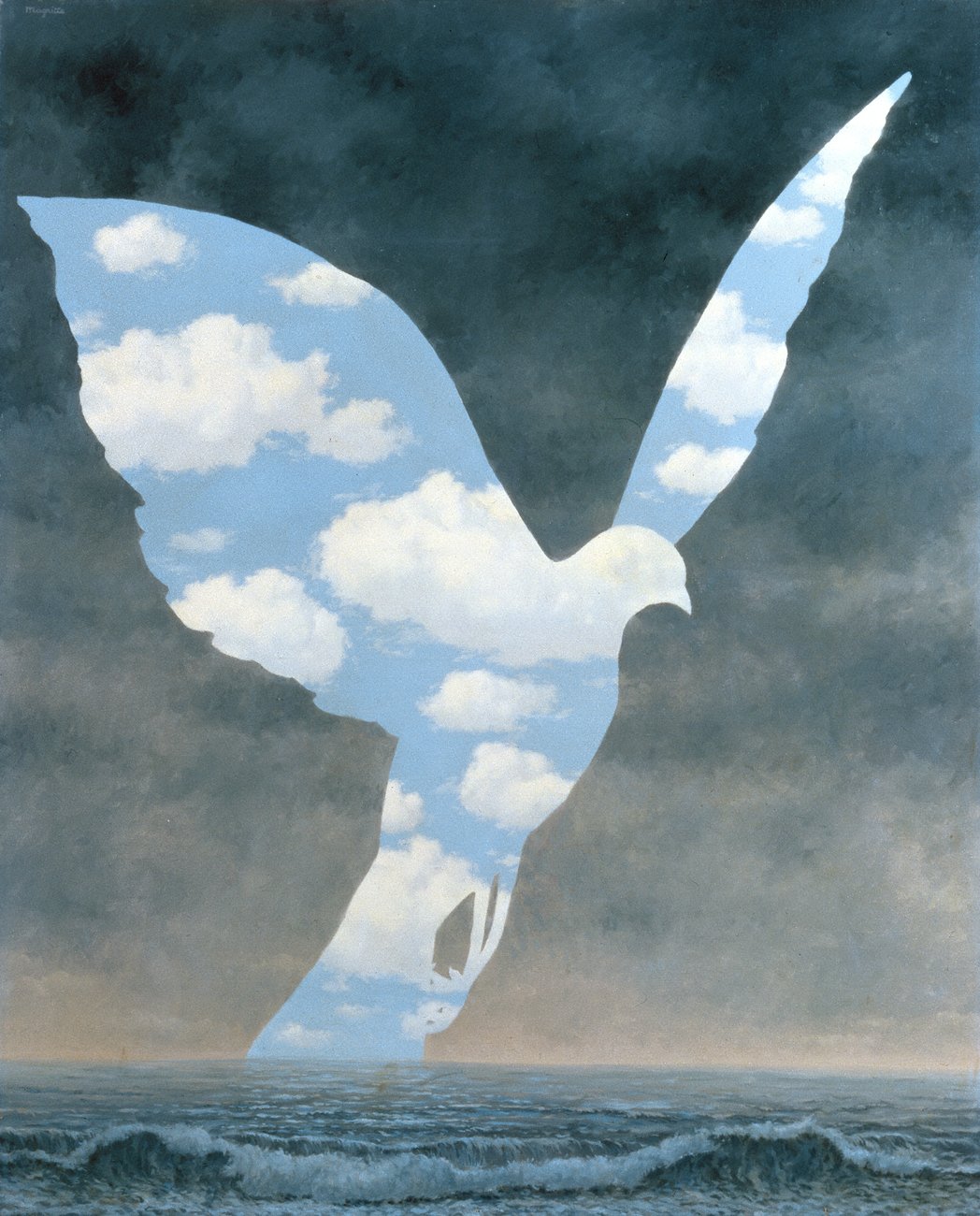 René Magritte: The Fifth Season focuses on the latter half of Magritte's career, from approximately 1943 to 1967, a period of remarkable transformation and revitalization for the artist. With loans from North and South America, Europe and Asia, it is the most complete presentation of Magritte's late work mounted since the artist's death in 1967. With more than 20 artworks being shown for the first time in a U.S. museum, and the first concentrated examination of Magritte's sunlit surrealism and gouaches in this country, it marks a major milestone in the artist's exhibition history.
Images: René Magritte, La grande famille (The Great Family), 1963. Utsunomiya Museum of Art, Japan; © Charly Herscovici, Brussels / Artists Rights Society (ARS), New York. Photo: Banque d'Images, ADAGP/Art Resource, NY.; René Magritte, Le fils de l'homme (The Son of Man), 1964, private collection. © Herscovici, Brussels / Artists Rights Society (ARS), New York. Photo: Banque d'Images, ADAGP/Art Resource, NY.
Frank Stella Unbound: Literature and Printmaking
May 19-September 23, 2018
Princeton University Art Museum
http://artmuseum.princeton.edu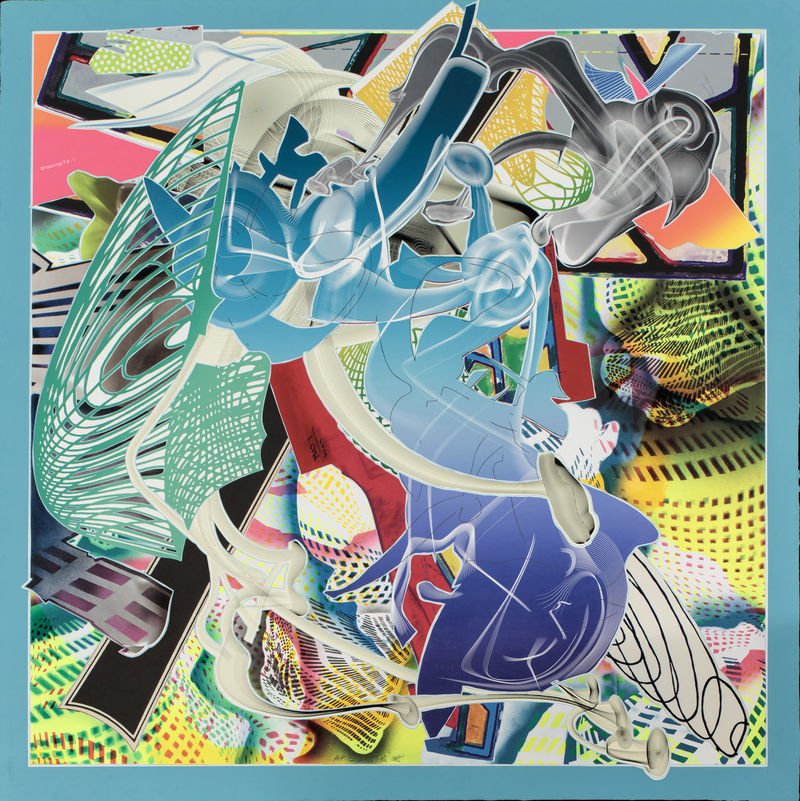 The acclaimed American artist Frank Stella (born 1936) is renowned for his career-long innovations in abstraction in a variety of media. In addition to his early minimalist work from the late 1950s and 1960s and his later efforts to disrupt the accepted norms of painting, Stella made groundbreaking achievements in the print medium, combining printmaking processes, mining new sources for imagery and expanding the technical capacity of the press. "As an artist long devoted to radical experimentation and creative inquiry, Frank Stella is one of the most original practitioners of our time," said James Steward, Nancy A. Nasher–David J. Haemisegger, Class of 1976, director. "The exhibition devoted to these four pioneering print series, and its companion catalogue, allow us at his alma mater to more deeply examine Frank's visionary commitment to printmaking and the ways in which he shapes narrative through abstract means."
Frank Stella Unbound: Literature and Printmaking focuses on a revolutionary period in the artist's printmaking career, between 1984 and 1999, when Stella executed four ambitious print series―each of which was named after a distinct literary work: the Passover song Had Gadya, a compilation of Italian folktales, the epic American novel Moby-Dick and the illustrated Dictionary of Imaginary Places. In the four series titled after these sources, Stella created prints of unprecedented scale and complexity, transforming his own visual language―as well as his working process in all media―and reaching a technical and expressive milestone in printmaking.
Above: Frank Stella, Cantahar, 1998. Addison Gallery of American Art, Phillips Academy, Tyler Graphics, Ltd. 1974-2001. Collection given in honor of Frank Stella/ © 2017 Frank Stella/Artists Rights Society (ARS), New York.
OF NOTE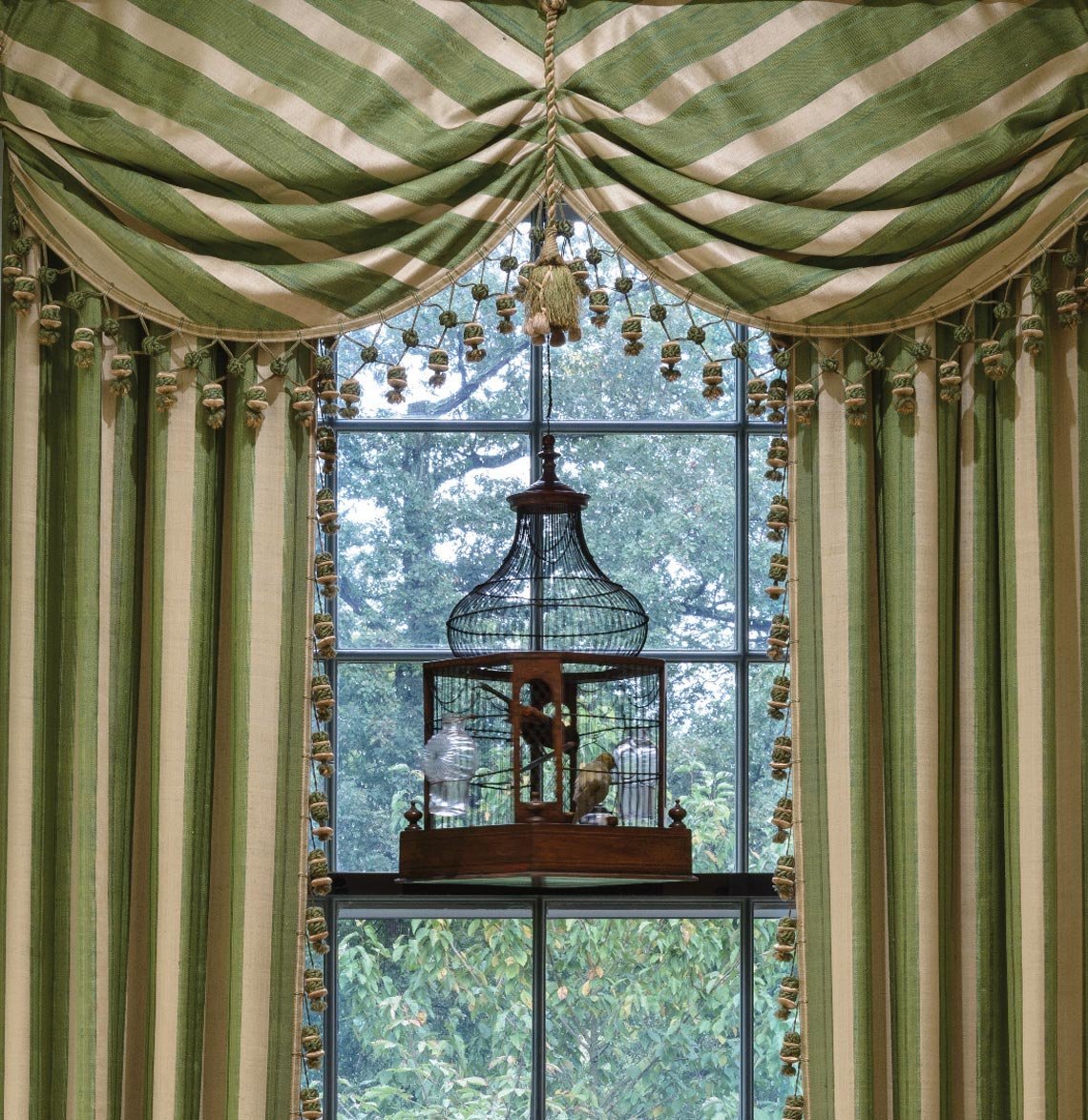 The Properly Dressed Window: Curtain Design Over Time
May 15-16, 2018
Winterthur Museum, Garden & Library
Join designers, visiting scholars, enthusiasts, and Winterthur staff for a two-day program of lectures, workshops, and tours about curtain history and design. Speakers include Barbara Eberlein of Eberlein Design Consultants, NYC designers Ralph Harvard and Thomas Jayne, along with scholars Annabel Westman, Arlene Palmer Schwind, Gail Caskey Winkler, Natalie Larson, and Linda Eaton, Winterthur's director of collections and senior curator of textiles. Included as a Highlight on Incollect.
International Museum Day
May 18, 2018
Hyperconnected museums: New approaches, new public
Click here for a list of participating museums in the U.S.
Click herefor information on the international celebrations
The theme for Art Museum Day 2018 is Hyperconnected Museums, a recognition of the many ways in which museums serve as central points of connectivity within their communities, both online and in person. Last year, 161 museums participated, providing everything from free admission to special programs. Art Museum Day recognizes that museums are often important civic anchors, offering inspiring and educational experiences in ways that make towns, cities, and regions better places for everyone who lives and works there. Hyperconnected Museums also serve as engines for the creative economy, tapping the human creativity embedded in works of art—whether thousands of years old or as recent as 2018—to inspire new ideas and ways of thinking.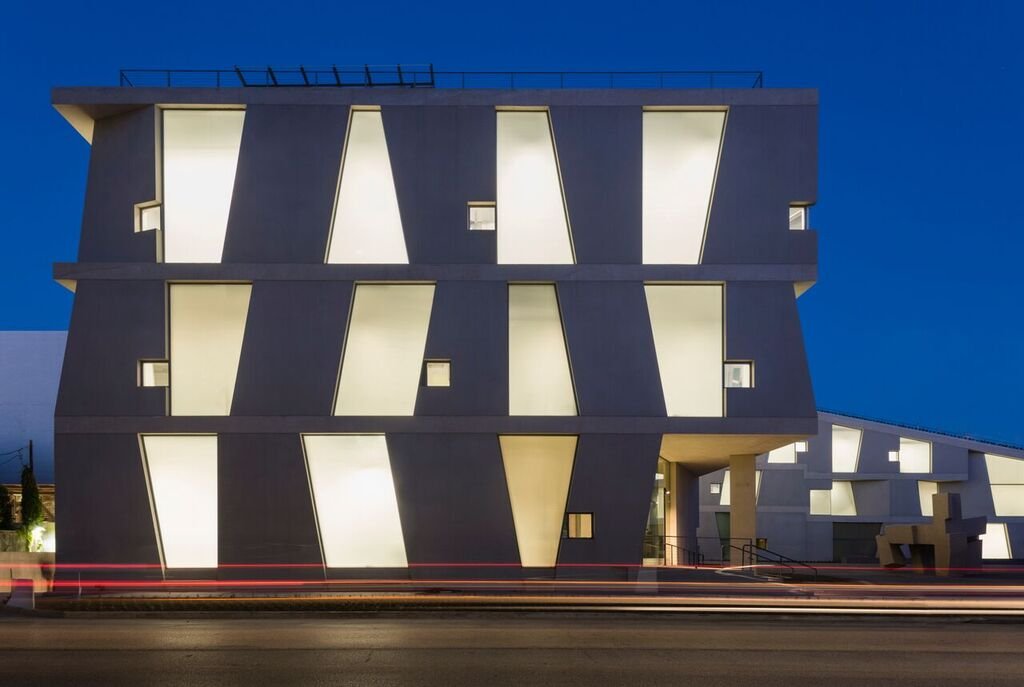 MFAH Inaugurates the Glasell School of Art & Brown Foundation, Inc. Plaza
May 20, 2018
Museum of Fine Arts, Houston
https://www.mfah.org
The Museum of Fine Arts, Houston, today announced that a community day on Sunday, May 20, 2018, will mark the public inauguration of the new Glassell School of Art by Steven Holl Architects and its adjacent Brown Foundation, Inc., Plaza, by Deborah Nevins & Associates, in collaboration with Nevins & Benito Landscape Architecture, D.P.C. The completion of the plaza and the school—the nation's only museum-affiliated art school serving students from the pre-K through the postgraduate level—opens a public gateway to the entire Susan and Fayez S. Sarofim campus. Slated for completion in 2020, the 14-acre redevelopment of the MFAH campus is currently the largest cultural project under construction in the U.S. The project's capital and endowment campaign has reached 90 percent of its $450-million goal; construction costs have been fully funded.
Image: Night view of the Glassell School of Art, west elevation; Photograph © Richard Barnes. Courtesy MFAH.