LEGENDS X, NYCxDESIGN, Thomas Cole, Renoir: Father and Son, & More
SHOWS
LEGENDS X
La Cienega Design Quarter
May 8-10, 2018
http://lcdqla.com/legends-2018
The 10th anniversary of the most highly acclaimed event on the national design calendar opens on Tuesday. LEGENDS, a three-day celebration of design in the La Cienega Design Quarter brings together thousands of tastemakers from the words of interior design, décor, art, fashion, and architecture.
LEGENDS features more than 40 receptions, keynote panels, forums, conversations, cocktail parties, book signings, personal appearances and numerous other opportunities for people to see and engage in a dialogue about design. The theme for LEGENDS X━TODAY'S VISION, TOMORROW'S HOME━will be expressed in the 50+ windows of the member LCDQ shops, showrooms, and galleries, designed by, among others, Ellie Cullman, Suzanne Kasler, Tom Stringer, Beth Webb. Programming is filled with these and other leaders in the world of architecture and design including Barclay Butera, Charlotte Moss, Tichenor & Thorp, and Thomas Jayne, and includes, on May 9 at 3:30 p.m., a twist on the 1960s show, "The Dating Game." Hosted by ALT LA & Remains Lighting, 808 N. La Cienega Boulevard, moderator Analisse Taft-Gersten guides interior designer Shawn Henderson to find his ideal designer match. Other special guests include Robert Stilin, Katie Leede, and Madeline Stuart; Incollect founder John Smiroldo is an underwriter of this event.
NYCxDesign
May 11-23, 2018
Manhattan's five boroughs, NYC
NYCxDESIGN, New York City's annual celebration of design, attracts hundreds of thousands of attendees and designers from across the globe. The event celebrates a world of design and showcases over a dozen design disciplines through exhibitions, installations, trade shows, panels, product launches, open studios, and more. And, like design itself, NYCxDESIGN is everywhere, with events taking place across the city's five boroughs. Brought to life by New York City Economic Development Corporation (NYCEDC) in conjunction with a steering committee of leading members of New York City's design community, NYCxDESIGN highlights the unique creative, cultural, educational, and economic opportunities in New York City.
Unlike many other design weeks, NYCxDESIGN celebrates design across a wide spectrum of disciplines, including architecture, digital and technology, DIY and craft, engineering, fashion, film/TV/media, furniture, graphic design, industrial and manufacturing, interior design, landscape design, lighting, product design, theater, set and costume, and urban design. Most NYCxDESIGN events are free and open to the public; ticketed events are managed by the host/organizing venues so check listings and contact details for events you plan on attending.
OF NOTE
Artisphere
May 11-13, 2018
Greenville, SC
https://artisphere.org
Located in the foothills of the Blue Ridge Mountains, Greenville, South Carolina offers a unique Southern experience. What better place to partake in the cultural explosion that is Artisphere? The 14th Annual Artisphere, consistently one of the top rated Fine Art Shows in the country, received record high 1,163 artist applications for the 2018 event. With 135 exhibitor spaces available, Artisphere is one of the most selective in the country. In addition to the main events, The Emerging Festival Artist Scholarship Program has continued to draw local artists since its inception in 2012.
Alpha Awards
May 14, 2018
The Alpha Workshops
This year's awards event, held from 6:00-9:00 p.m., will honor Alexa Hampton and Adam Sandow. To purchase tickets, click here. Dedicated to creating beauty and changing lives, The Alpha Workshops is the nation's only nonprofit organization providing decorative arts education and employment to at-risk youths and adults with disabilities or other vulnerabilities. The Alpha Workshops proudly serves the LGBTQ, HIV+, and ASD communities of New York City and beyond. The organization was founded in 1995 and modeled on the famed Omega Workshops, the Wiener Werkstätte, the Bauhaus, and the American Arts & Crafts movement.
EXHIBITIONS
Black Out: Silhouettes Then and Now
May 11, 2018-March 10, 2019
National Portrait Gallery, Washington, D.C.

Maibaum by Kristi Malakoff / 20 black paper figures, black foam core, hardware, 2009 / Photo by Kristi Malakoff.
Black Out: Silhouettes Then and Now is the first major museum exhibition to explore the art form of cut-paper profiles in terms of their rich historical roots and powerful contemporary presence. Well before the advent of photography in 1839, silhouettes democratized portraiture. Offering virtually instantaneous likenesses of everyone from presidents to those who were enslaved, silhouettes cost far less than oil paintings and could be made with inexpensive materials. Museums have paid little attention to the art form, but Black Out aims to broaden the traditional American art canon by placing silhouettes—and their subjects—at the forefront. The exhibition, which primarily features works on paper, will also bring together sculptures, prints, media art and mixed-media installations. Ranging in scale from 3 inches to nearly 40 feet, and featuring art from 1796 to today, the exhibition presents around 50 unique objects.
The "Then" portion of the exhibition will focus on those who have been previously "blacked out" in historical narratives by presenting silhouettes of same-sex couples, cooks, activist women, enslaved individuals and disability pioneers. Also on view will be some of the earliest examples of American portraiture by artisans who were otherwise powerless, including those who had been enslaved, such as Moses Williams, or those who were physically challenged, such as Martha Ann Honeywell who cut silhouettes using her mouth. The "Now" portion explores how today silhouettes are no less ubiquitous and can be seen on everything from book illustrations and commercial advertising to the profiles people create on smartphones.
Picturesque and Sublime: Thomas Cole's Trans-Atlantic Inheritance
Through November 4, 2018
Thomas Cole National Historic Site, Catskill, NY
http://thomascole.org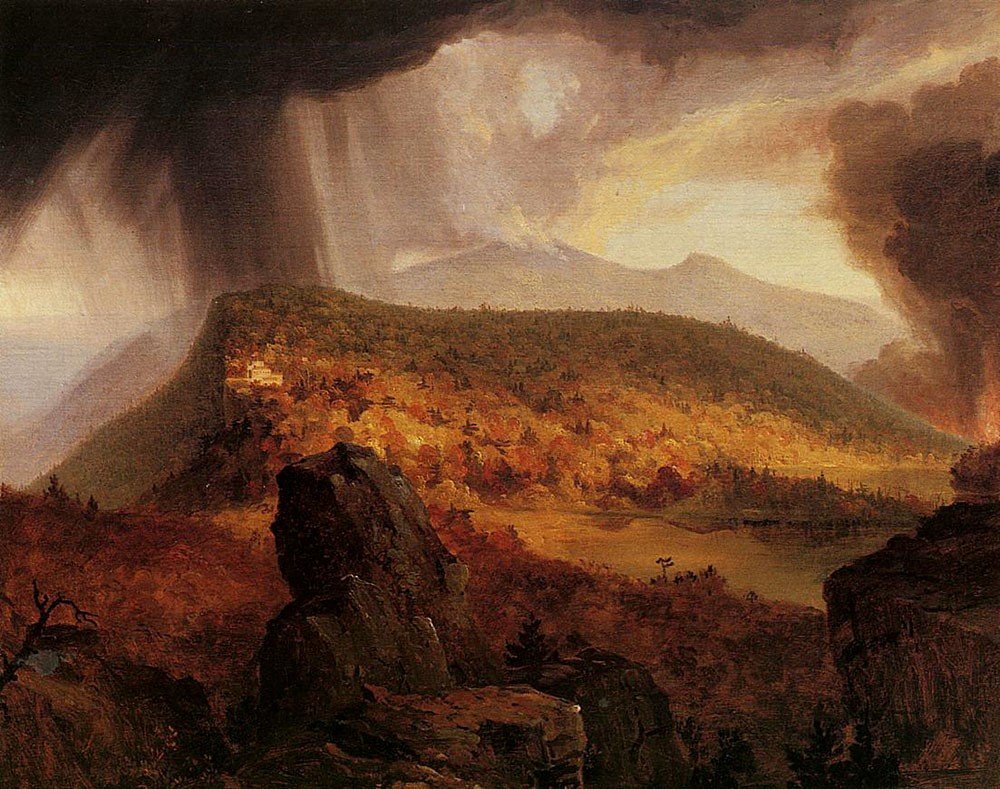 Thomas Cole, The Catskill Mountain House; the Four Elements, 1843-44. Private collection.
To celebrate the 200th anniversary of Cole's arrival from England in 1818, the Thomas Cole Site is partnering with the Yale Center for British Art to present the special exhibition Picturesque and Sublime: Thomas Cole's Trans-Atlantic Inheritance in Thomas Cole's New Studio. This exhibition is designed to complement the major Cole exhibition at the Met and is curated by Tim Barringer, Paul Mellon Professor in the History of Art at Yale; Gillian Forrester, Senior Curator of European Art at the Whitworth Art Gallery, University of Manchester (and previously at the Yale Center for British Art); Jennifer Raab, Associate Professor of the History of Art at Yale; and two doctoral candidates at Yale, Sophie Lynford and Nicholas Robbins.
Picturesque and Sublime will present masterworks on paper by major British artists, including Turner and Constable, together with significant oil-on-canvas paintings by Thomas Cole to demonstrate Cole's radical achievement of transforming the well-developed British traditions of landscape representations into a new bold formulation, the American Sublime.
Renoir: Father and Son/Painting and Cinema
Through September 3, 2018
Barnes Foundation, Philadelphia, PA
https://www.barnesfoundation.org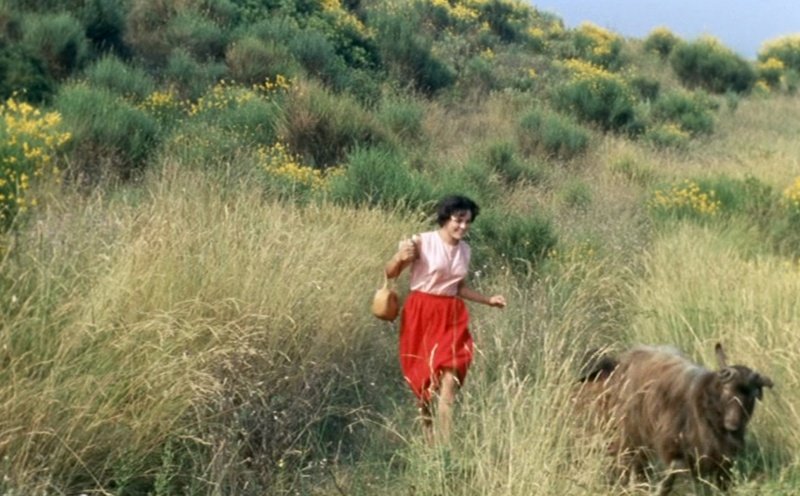 Still frame from Picnic on the Grass (1959), directed by Jean Renoir. © 1959 Studiocanal – All rights reserved. Courtesy The Barnes Foundation.
Barnes Foundation—home to the world's largest collection of paintings by Pierre-Auguste Renoir—is hosting a major exhibition examining the artistic exchange between the renowned impressionist painter and his son, celebrated filmmaker Jean Renoir (1894-1979). Renoir: Father and Son/Painting and Cinema brings together over 120 works, including paintings, films, drawings, ceramics, costumes, photographs, and posters—many never before shown in the US—for an illuminating exploration of Pierre-Auguste's role in his son's oeuvre and the relationship between painting and cinema.
Acclaimed director Jean Renoir is perhaps best known for such films as La Grande illusion (The Grand Illusion) (1937), Partie de campagne (A Day in the Country) (shot in 1936, released in 1946), and La Règle du jeu (The Rules of the Game) (1939), all of which are considered milestones in the history of 20th-century art. Jean Renoir embraced cinema as a genuine form of artistic expression. In Jean's films, as in his father's paintings, the sense of informality or feeling of improvisation was in fact the result of an exacting and deliberate approach. The exhibition is curated by Sylvie Patry, Consulting Curator at the Barnes and Chief Curator/Deputy Director for Curatorial Affairs and Collections at the Musée d'Orsay, and is organized by the Barnes Foundation, Philadelphia, and the Musées d'Orsay et de l'Orangerie, Paris, in collaboration with La Cinémathèque française, Paris.