Exhibitions Not To Be Missed for July 1-8, 2018
QUITE A MASH-UP OF ARTISTIC FORMS AND STYLES THIS WEEK, from delicate examples of Tiffany glass to huge murals and meditations on the passage of time by a variety of contemporary artists.
| | |
| --- | --- |
| | |
| | Louis C. Tiffany, American, 1848–1933, Resurrection (detail), 1899, stained glass window, Gift of Mount Vernon Congregational Church, 1975.99.2. |
Radiance Rediscovered:
Stained Glass by Tiffany and La Farge
June 30, 2018 – Summer 2019
Worcester Art Museum
55 Salisbury Street, Worcester, MA 01609
This exhibition includes paintings, works on paper and even colored glass, but the central works are two stained glass works – Louis Comfort Tiffany's 1899 Angel of Resurrection and John La Farge's 1898 The Pool at Bethesda – that were originally commissioned for Boston's Mount Vernon Congregational Church in the late 1890s. The large stained-glass works were donated to WAM in 1975 when the church vacated its building.
| | |
| --- | --- |
| | |
| Sandro Botticelli (1445-1510), Idealized Portrait of a Lady (Portrait of Simonetta Vespucci as Nymph), ca. 1475. Tempera on panel, 32¼ x 21¼ inches. Städel Museum, Frankfurt (Inv. no. 936). Image courtesy of the Fine Arts Museums of San Francisco. | |
Truth and Beauty:
The Pre-Raphaelites and the Old Masters
June 30 – September 30, 2018
Legion of Honor Museum, Lincoln Park
100 34th Avenue, San Francisco, CA 94121
The Pre-Raphaelite movement in England was an odd, short-lived fad among certain artists and critics that didn't lead to anything else, in the way that Impressionism led to Pointillism or Surrealism influenced abstract expressionism. The idea was that art needed to get back to something pure, so let's revisit the themes, styles and working methods of the early Italian Renaissance, identified most clearly with the artists who came before Raphael. John Everett Millais (1829–1896), John Roddam Spencer Stanhope (1829–1908) and Dante Gabriel Rossetti (1828–1882) were among the leading British artists taking this strange trip, egged on by critics John Ruskin and Walter Pater. The Legion of Honor pairs these and other 19th century artists with the Renaissance painters — Perugino, Botticelli and Veronese, among them — whose work and style they sought to emulate.
Click to read the full article on Incollect here.
| | | |
| --- | --- | --- |
| | | |
| Lily Simonson in her Oakland, CA studio. Courtesy Marcia Simonson 2018. | | Painting on the ship. Studying and painting live riftia tubeworms alongside Peter Girguis and KT Scott labs, aboard the research vessel Atlantis at the East Pacific Rise. Photograph courtesy Juliana Leonard 2016. |
| | | |
| Lily Simonson scuba diving beneath the 6-foot layer of ice that covers McMurdo Sound in the Antarctic Ocean. Video still courtesy Rob Robbins 2014. | | Party of Yetis, painting by Lily Simonson. Copyright Lily Simonson. Image courtesy Harvard Museum of Natural History. |
Lily Simonson: Painting the Deep
June 30, 2018 – June 30, 2019
Harvard Museum of Natural History
26 Oxford Street, Cambridge, MA 02138
This is BIG art, six mural-sized paintings made from luminescent pigments that create an immersive visual experience in which light and color materialize out of a sea of darkness, giving form to a hidden alien universe. California artist Lily Simonson's work was inspired by explorations of deep-ocean life made in collaboration with Harvard University professor Peter Girguis. Simonson embeds with researchers aboard ocean-going science vessels bound for the deep sea in search of extreme life forms and places. Working with scientists, Simonson studies and sketches organisms brought aboard the ship and those observed in the deep ocean with underwater vehicles.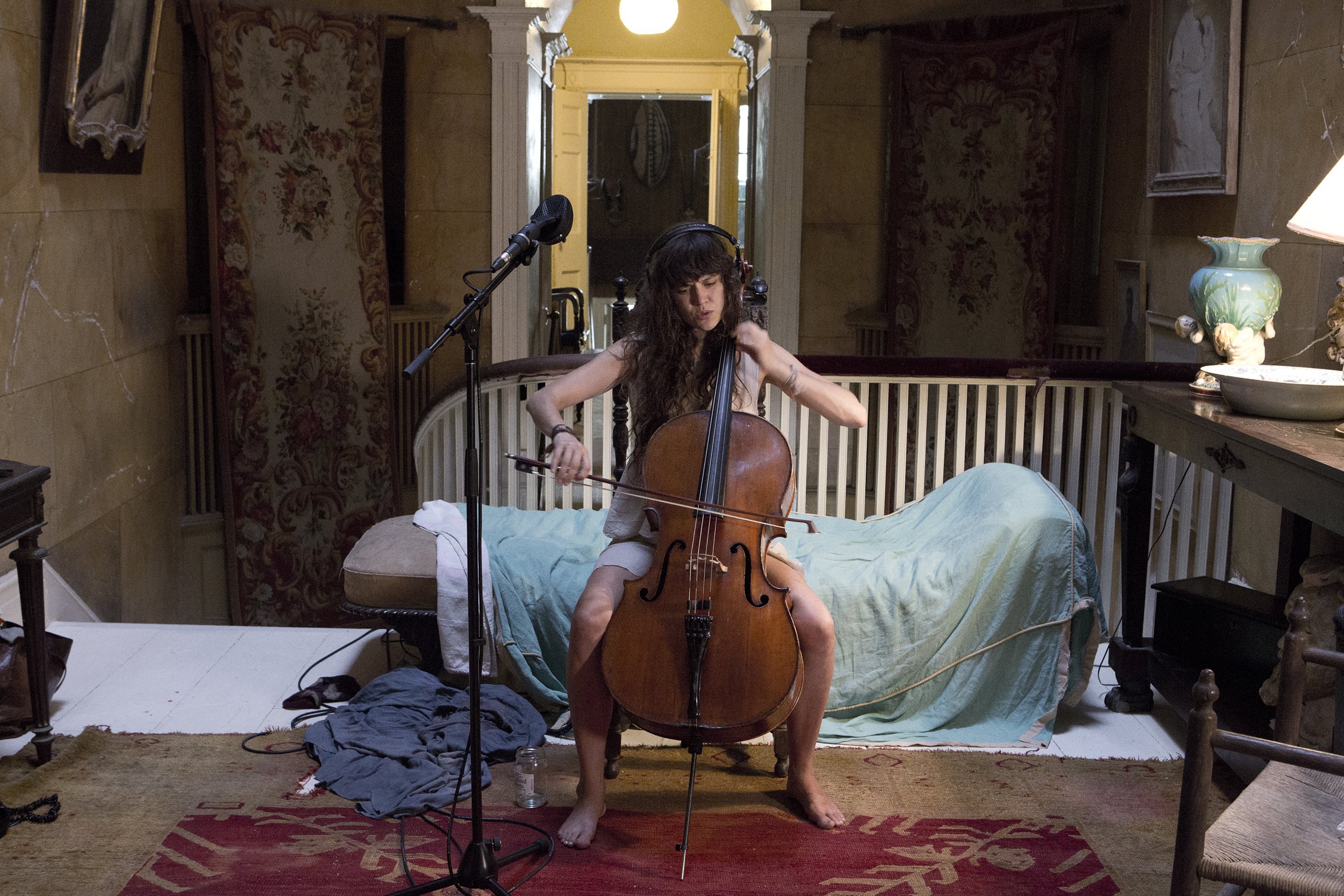 Ragnar Kjartansson's, The Visitors (2012), a nine-channel HD video projection.
A Journey That Wasn't
June 30 – Early 2019
The Broad
221 South Grand Ave, Los Angeles, CA 90012
This from-the-collection exhibition of 50 or so artworks (painting, sculpture, photography, film and installation) focuses on how contemporary artists explore the passage of time. Among the featured artists are Bernd and Hilla Becher, Gregory Crewdson, Andreas Gursky, Elliott Hundley, Pierre Huyghe, Anselm Kiefer, Ragnar Kjartansson, Sherrie Levine, Glenn Ligon, Sharon Lockhart, Paul Pfeiffer and Ed Ruscha. The title for the exhibition comes from Pierre Huyghe's 2006 multi-media work A Journey That Wasn't, which was based on a trip the artist took to Antarctica in search of an elusive and rare albino penguin, later restaging the search as a performance of music and light in New York's Central Park.