From Where I Sit: Permanent Collection Seating
Seating furniture is a relatively recent phenomenon in the history of humankind. In fact, it wasn't until ancient Egypt that chairs were introduced as a way to elevate rulers above their subjects. Since that time, seating furniture has undergone countless evolutions, largely propelled by new materials, production methods, technological advances, and innovation applications. And while the basic architecture persists—a horizontal platform that supports our body weight with legs or a base—efficacy remains secondary to creative expression for many artists and designers.
Fuller Craft Museum exhibition From Where I Sit: Permanent Collection Seating celebrates the boundless aesthetic potential of the things upon which we sit. The exhibited items—chairs, benches, and one stool—address both human psychology and innovative artmaking in various ways. Some objects embrace the foundational utility of chairs, while others take a more sculptural approach to blur the lines between form and function. Several works reference the natural world with organic imagery—others conflate Eastern and Western sensibilities through design and narrative references. From Where I Sit also includes communal benches that invite collaboration and conversation between sitters. Fuller Craft Museum is proud to present these remarkable objects from our permanent collection, each one proving that a seat is much more than a tool for sitting.
---
Vivian Beer (b. 1977), Red Rocker No. 2, 2009. Formed and fabricated steel, automotive paint. 28 x 21 x 31 in. Fuller Craft Museum (2009.5).
Born in Bar Harbor, Maine, Vivian Beer is a renowned furniture maker and designer currently based in New Hampshire. Her wildly expressive furniture, constructed in both metal and concrete, conflate the sensibilities of industrial production/design with the aesthetics of contemporary craft and historical ornamentation. For Beer, her sculptural forms represent the power of the decorative arts to activate domestic environments. She explains, "In my studio, form follows imagination and function is a script for where and how we interact with the things we live with."
In 2009, Red Rocker No. 2 was commissioned by Fuller Craft Museum for its permanent collection. With its alluring curves, sleek surfaces, and saturated color, the chair's form radiates the electric energy for which Beer is well known. In discussing the work, the artist linked Red Rocker No. 2 with two seemingly disparate items—hot rods and makeup: "Red Rocker was a hint of subtlety within a not-so-subtle color range. I knew it had to be a saturated red but not quite a 'lipstick' color. I settled on one that is based in a violet range rather than a cadmium red. It is a tonal range that has been used on a number of Chevy 'muscle' show cars. So it's a combination of muscle and cosmetic. Lipstick and muscle cars have a lot in common!"
Beer's work is included in the collections of the Renwick Gallery of the Smithsonian American Art Museum, the Museum of Fine Arts, Boston, the Brooklyn Museum of Art, the Metals Museum, the Currier Museum of Art, and the Museum of Arts and Design. She also has work in the public art collections of Portland, Maine, and Cambridge, Massachusetts. Beer holds an undergraduate degree from Maine College of Art and an MFA from Cranbrook Academy. She has held numerous residencies, including at the Penland School of Crafts, the State University of New York at Purchase, and the San Diego State University. She was a 2014 recipient of an Artist Research Fellowship at the Smithsonian National Air and Space Museum, and the winner of Ellen DeGeneres' Design Challenge in 2016.
---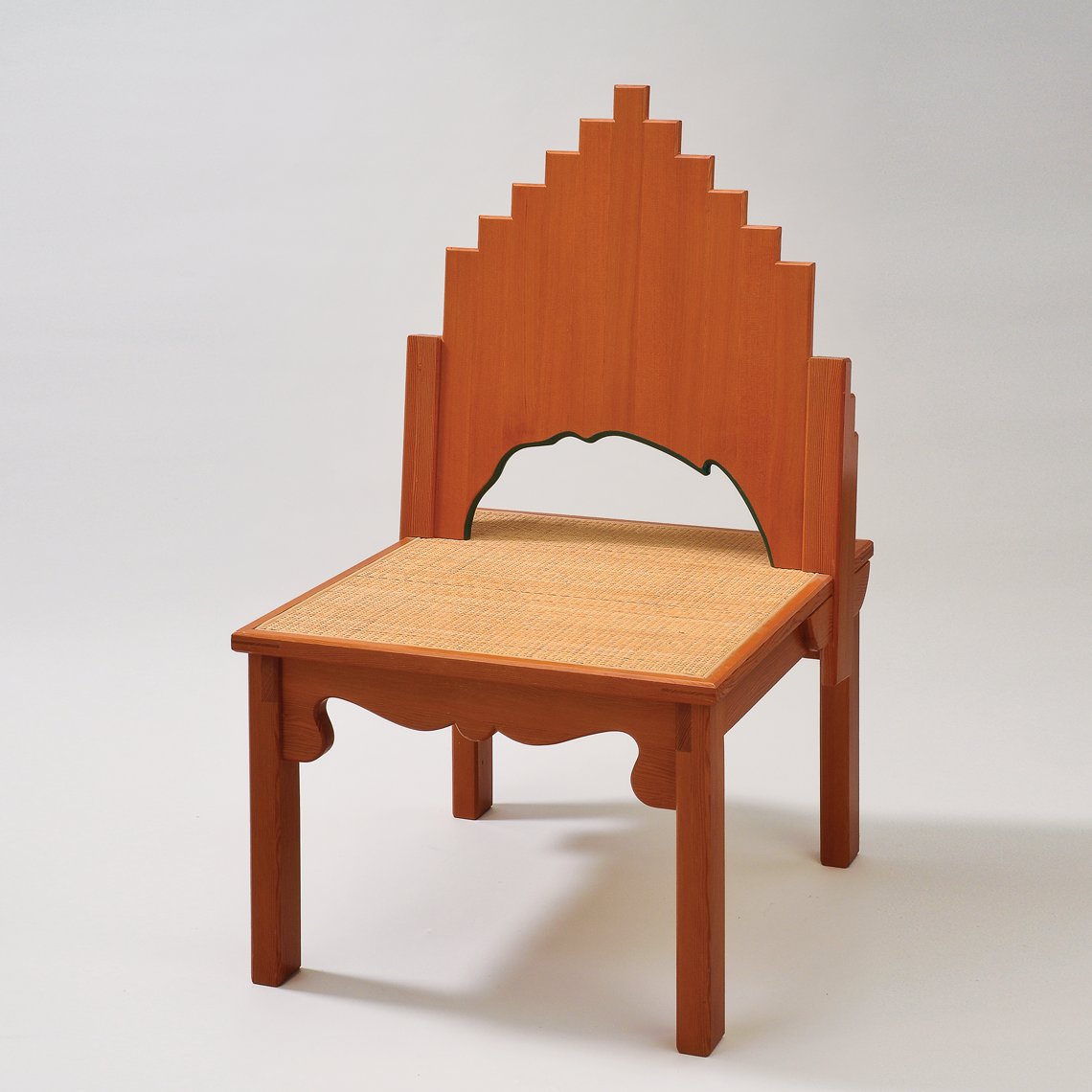 Garry Knox Bennett (b 1934), Chinese Platform Chair, #3: Late Oaktown Dynasty, 2004. Douglas fir, gouache, beads, 23K gold leaf, and machine-caned seat. 43½ x 24 x 24 in. Fuller Craft Museum (2009.12).
Garry Knox Bennett is a celebrated American woodworker, furniture maker, metalworker, and artist, best known for his whimsical and inventive forms that incorporate unusual materials and designs. He champions furniture for its ability to convey an idea, rather than to demonstrate exacting technique and traditional forms. Although a superb craftsman, message is central to his oeuvre, which often encompasses various eclectic materials. His best-known work remains his iconic 1979 Nail Cabinet. Initially a marriage of impeccable skill and exotic wood, the cabinet became a deliberate denunciation of precious technique when Bennett intentionally hammered a bent nail into its front.
Bennett's Chinese Platform Chair #3: Late Oaktown Dynasty is one of fifteen works in his Oaktown series, named for the local moniker of Oakland, the city in which Bennett's long-established studio is located. The chair's inspiration is rooted in Bennett's research for a 2006 Peabody Essex Museum exhibition on Chinese furniture. Attracted to the design aesthetics of Chinese furniture—and the culture's reverence for the natural world—Bennett included related references of his own, including mountains running along the top of the seatback and a cloud cut-out at its base. What's more, the ample proportions of the horizontal platform allude to China's cultural preference for squatting or sitting cross-legged on the floor or upon a low platform chair.
---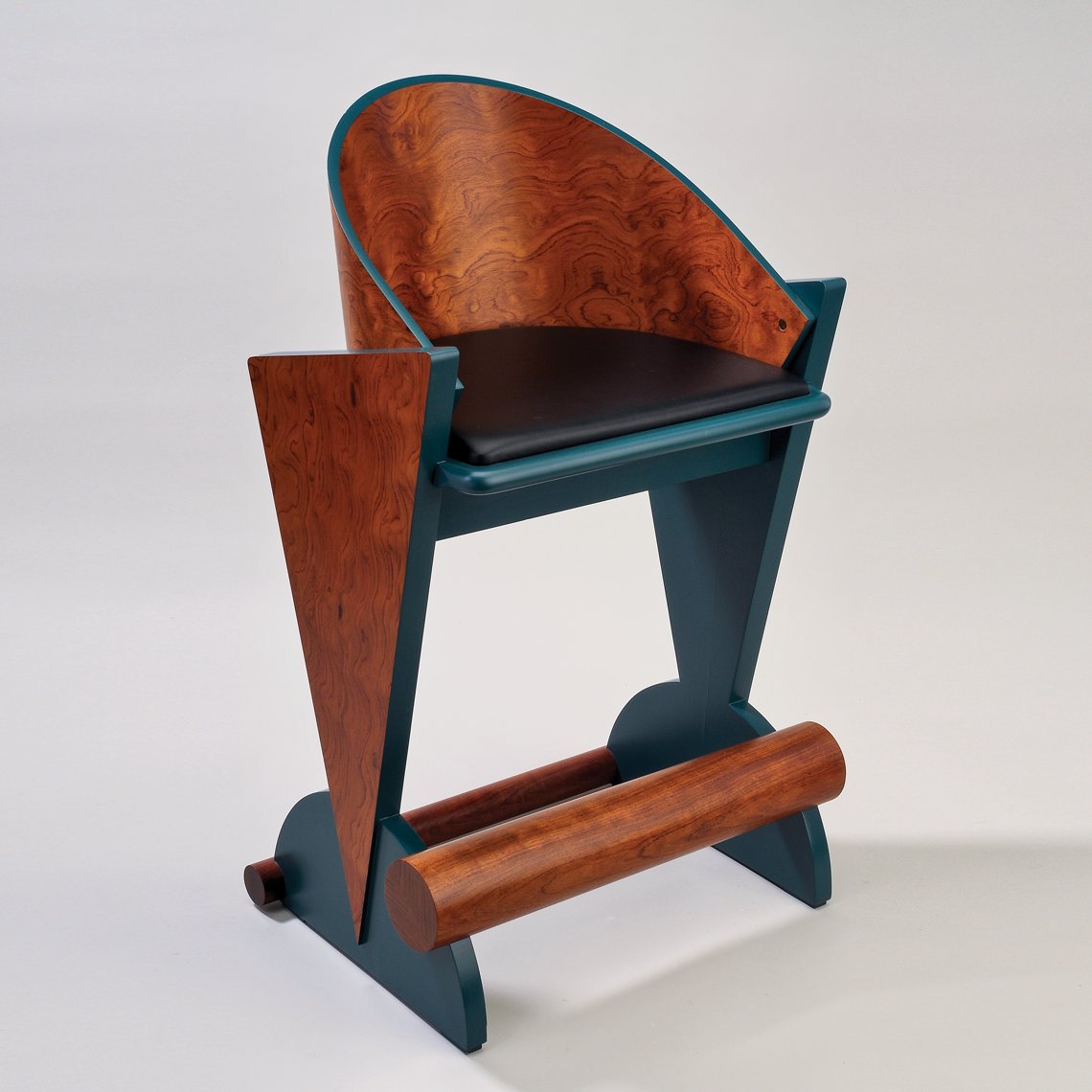 Dale Broholm (b. 1956), Stool, 1986. Bubinga wood, plywood, paint, lacquer, and leather. 36½ x 22⅝ x 16½ in. Fuller Craft Museum (2010.17).
A 1984 graduate of Boston University's Program in Artisanry, Dale Broholm has been designing and making custom furniture for more than thirty years. He is interested in the influence of historical and scholarly research on furniture design, as well as the post-modern aesthetic of hand-hewn craft combined with computer-aided technology. Additional inspirations include geometric shapes, the natural beauty of exotic hardwoods, and Eastern and Western architectural forms. In Stool, Broholm's refined approach conflates exaggerated abstraction with the functional foundation of bent plywood to evoke an Art Deco sensibility.
Dale Broholm is a Senior Critic in the Department of Furniture Design at the Rhode Island School of Design (RISD). His work as a furniture designer has been featured in numerous collections and publications, and he has spoken on furniture design at workshops and conferences around the world.
---
Mark del Guidice (b.1954), Wabi-Sabi Bench, 2002. Pearwood, basswood, paint, and varnish. 18¾ x 55 x 18 in. Fuller Craft Museum (2005.6).
Mark del Guidice is a well-established, Boston-based furniture maker who works in sculptural furniture traditions, combining form and function in his highly personal works. Process is central to his methodology, with careful attention paid to all steps of the creative process, from the original design concept, to sketches, model making, and mockups, to the execution of the final work. His expansive practice incorporates a range of forms, woods, and surface ornamentation, including incised markings on fine woods, meant to evoke a personal response from the viewer/user.
Del Guidice has found great satisfaction in linking disparate elements, as seen in his Wabi-Sabi bench. Bringing together a pearwood seat and basswood supports, it is centered on wabi-sabi, a Japanese worldview that suggests there is beauty in transience and imperfection. The seat carvings represent this philosophy, and the end hieroglyphs feature the words "unique," "lucid," and "flow." Through his symbolic rendering of the form, Del Guidice invites the viewer to experience a functional object in a new way.
---
Thomas Loeser (b. 1956), Rocking Bench, 2003. Mahogany, milk paint. 17 x 59 x 19½ in. Fuller Craft Museum (2013.7.18).
Tom Loeser is a renowned furniture maker who crafts lively designs using traditional woodworking skills. He often paints and carves graphic elements into his work, such as stripes and lines, to help direct the viewer's gaze around the object. To describe his design approach, he states, "I look at how objects are used, and then try to reinvent new visual forms that turn the historical approach to function, inside and out or upside down or backwards. My goal is to captivate the user with new possibilities."
In much of his practice, Loeser investigates the impact of human interactions—how they begin, what keeps them going, why they stagnate. For example, his vibrant Rocking Bench requires two or more people working together to achieve a rocking motion. Bodies must mirror each other and move in concert to successfully activate the work.
---
Robert March (b.1950), High Back Rocking Chair. Cherry. 45 x 28 x 43 in. Fuller Craft Museum (1984.2.2).
One of the most significant influences on Robert March's career has been the furniture of the Ming Dynasty, China (1368–1622 ACE). After receiving a BFA in Industrial Design from Rhode Island School of Design (RISD) in 1973, March continued his education in the woodworking and furniture design program at the Rochester Institute of Technology (RIT). His master's thesis at RIT, completed in 1977, examined Asian woodworking and how the processes and design aesthetics of traditional Asian woodworking could be applied to modern furniture. In his High-Back Rocking Chair, March has taken the traditional rocking chair and infused it with Chinese elements, including the use of precious woods, the classic curved seat back and the crest rail form, which echoes a Torii gate, used to mark the entrance to a sacred place in Asian cultures.
March is a former furniture department head and instructor at Worcester Center for Crafts. He also has had teaching assignments at Boston University's Program in Artisanry and at RIT. Over the last forty years, March has exhibited his work in galleries and museums nationwide.
---
Kristina Madsen (b.1955), Window Seat, 1984. Paduka, holly. 33 x 53 x 14 in. Fuller Craft Museum (1984.2.1).
Kristina Madsen was inclined toward handwork at an early age, learning quilting, lace making, and sewing as a young child. What she couldn't have known then was that these skills and handwork would lay the foundation for her successful career as a furniture maker and designer. After graduating college, Madsen discovered furniture making at David Powell's Leeds Design Workshops, in Easthampton, Massachusetts. She studied under Powell for four years before becoming an instructor herself and later launching her own furniture-making business.
Today, Madsen conflates traditional and contemporary modalities in her work along with influences of historic architecture and furniture design. Her Window Seat bench—an interpretation of early nineteenth-century window seats—demonstrates her thoughtful integration of exotic woods in intricate patterns and features her characteristic delicate approach and fluting motifs. Further inspired by the carvings and patterning of Fiji, Madsen scoops out grooves in the wood before cutting the board and reassembling the pieces into a pleasing design.
Between 1991 and 1992, Madsen was able to study in Fiji with master carver Makiti Koto, with support provided by a Fulbright grant. This formative experience yielded the tools and training necessary for Madsen to expand her practice and accomplish her creative goals. Madsen has exhibited across the country, and her work can be found in many public and private collections. She has received several awards, including a National Endowment for the Arts Craftsman's Fellowship in 1981; a Fulbright grant in 1991; the New England Foundation for the Arts Regional Fellowship for Visual Artists in 1997; and the Furniture Society's Award of Distinction in 2020.
---
Jay Stanger (b. 1956), Arched and Animated, 1994. Anodized aluminum and dyed wood veneers. 52 x 27 x 25 in. Fuller Craft Museum (2012.6).
In the mid-1970s, Jay Stanger attended the School of American Crafts at Rochester Institute of Technology, where he studied with William Keyser. He spent the following two years under the tutelage of David Powell at Leeds Design Workshops in Easthampton, Massachusetts. Stanger furthered his training at Boston University's Program in Artisanry under Jere Osgood and Alphonse Mattia. Stanger has since become known for his use of bold colors and geometric shapes, as evidenced in the tour de force Arched and Animated.
For the chair's marquetry, Stanger was inspired by Abstract Expressionist art, specifically those painters who worked on monumental canvases, only to edit and frame smaller portions of the larger plane. Adopting this technique, Stanger created the two-dimensional images on the back and seat of the chair to represent the tumult of everyday life. 
---
The exhibition, From Where I Sit: Permanent Collection Seating, is on view at Fuller Craft Museum through February 20, 2021. For information, visit fullercraft.org or call 508.588.6000.
---
Beth McLaughlin is artistic director and chief curator at Fuller Craft Museum, Brockton, Massachusetts.
This article was originally published in the Winter 2020 issue of Antiques & Fine Art magazine, a fully digitized version of which is available at www.afamag.com. AFA is affiliated with Incollect.com.