Furniture and Fraktur of the Mahantongo Valley by Lisa Minardi
by Lisa Minardi
Some of the most iconic examples of Pennsylvania German folk art originated in a remote, mountainous region of central Pennsylvania known as the Mahantongo Valley. Located just east of the Susquehanna River along the border of Northumberland and Schuylkill counties, this area was settled primarily by Lutherans and German Reformed beginning in the late 1700s. Although it is often assumed that the valley was isolated by its rugged terrain, the furniture and fraktur made and owned by its inhabitants suggest otherwise. The Dietrich American Foundation owns four major examples of Mahantongo Valley furniture, three of which are on long-term loan to the Center for Pennsylvania German Studies in Trappe, Pennsylvania.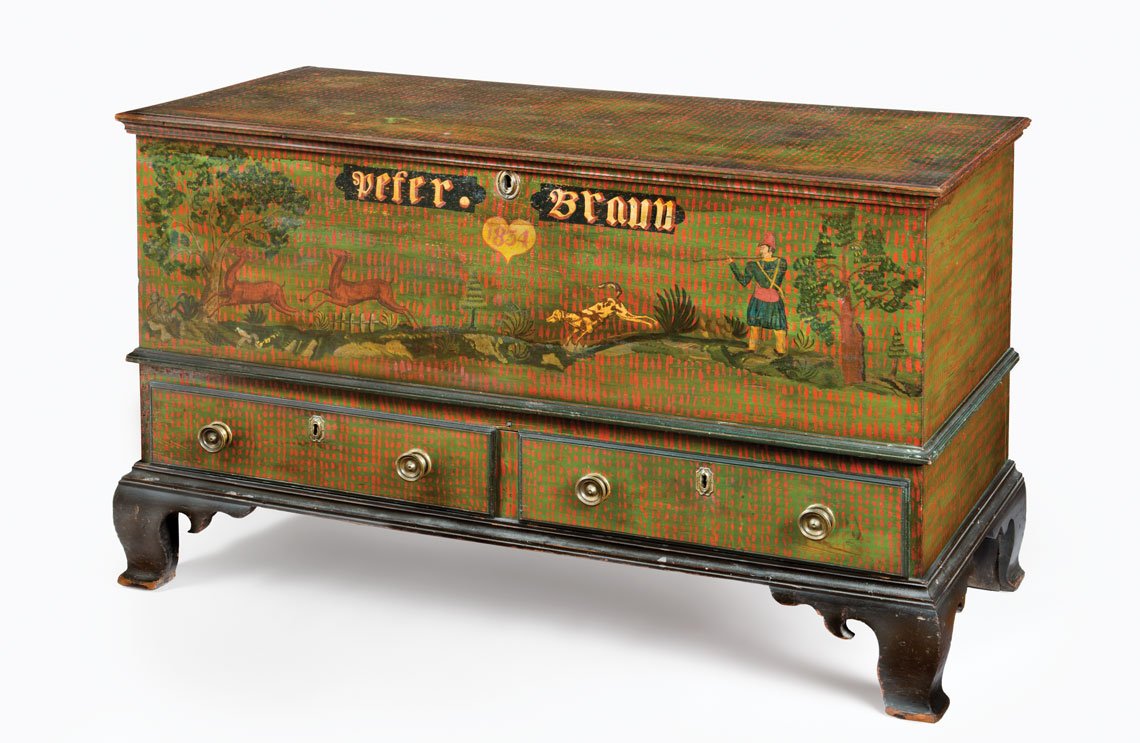 Fig. 1: Chest made for Peter Braun. Northumberland County, Pa., 1834. Hard pine, yellow poplar, eastern white pine, paint. H. 29½, W. 48⅝, D. 22½ inches. The Dietrich American Foundation (8.2.4.1180). Photo by Gavin Ashworth.
Chest Made for Peter Braun
Painted across the facade of this chest is a most unusual scene—at the right, a hunter aims his gun at two leaping deer, which are being chased by a dog (Figs. 1, 2). Trees, rocks, rolling hills, and a picket fence provide a serene backdrop to the action-packed foreground; across the top, bold yellow letters with red accents on a striking black ground announce the name of the chest's owner, Peter Braun, and date of its manufacture, 1834. On the back, the decorator tested out the stippling technique he would then use to embellish the visible sides of the chest, executed in red to contrast with a green background (Fig. 3). Affixed to the back is also an old label from antiques dealer A. H. Rice of Bethlehem, Pennsylvania, who in 1926 advertised this chest along with ten other pieces of Mahantongo Valley furniture, boasting that he had personally collected them "in Remote Sections of Pennsylvania."  Earlier that year, Rice had also exhibited three of these pieces—including the Braun chest—at the Sesqui-Centennial International Exposition in Philadelphia, whose purpose was to commemorate the 150th anniversary of the Declaration of Independence.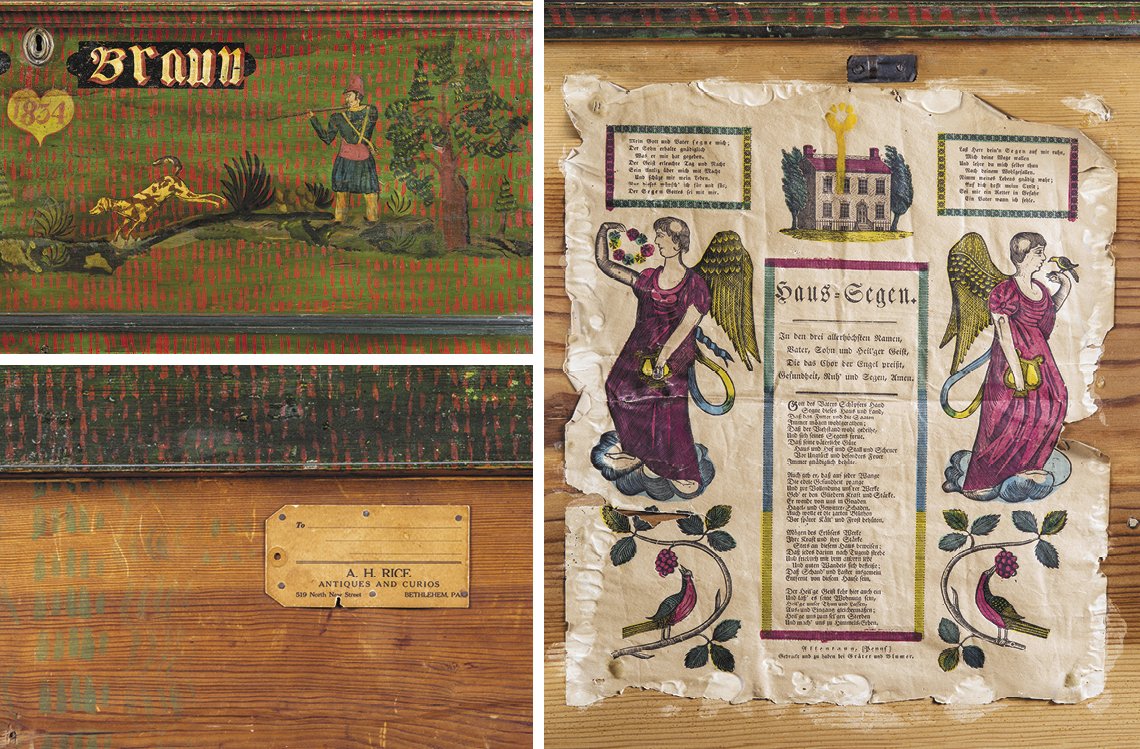 (clockwise from upper left) Fig. 2: Detail of the chest illustrated in figure 1. Photo by Gavin Ashworth. Fig. 4: House blessing inside the chest illustrated in figure 1. Printed by Augustus Gräter and Alexander Blumer, Allentown, Lehigh County, Pa., ca. 1832–3. Photo by Gavin Ashworth. Fig. 3: Label on back of the chest illustrated in figure 1. Photo by Gavin Ashworth.
Despite Rice's emphasis on the remoteness of the Braun chest's origins, a house blessing on the underside of its lid challenges that notion (Fig. 4). Made just a year or so before the chest, this broadside was printed in Allentown, Pennsylvania—more than eighty miles east of the Mahantongo Valley. There are also many other examples of birth and baptismal certificates filled out for Mahantongo Valley families that were produced by printshops in Reading, Harrisburg, Lebanon, and other urban centers (see fig. 6). A strong indication that the broadside is contemporary with the chest is the yellow rosette at the top of the paper, made by the same stamp used to decorate other Mahantongo Valley furniture (see figs. 5 and 8).
The chest's owner, Peter Braun (1811–1878), was the son of Michael and Catharina (Scherer/Shorry) Braun. Furniture made for three of Peter's siblings is known to survive, including a kitchen cupboard made for Rebecca Braun in 1828; a chest made for Andreas Braun in 1829; and a chest made for Michael Braun Jr. in 1831. A single workshop is probably responsible for making these four pieces of Braun family furniture; most likely, they were made by Michael Braun Sr. and/or his son John Brown (b. 1808). Both were carpenters and joiners; John also worked as a weaver and house carpenter.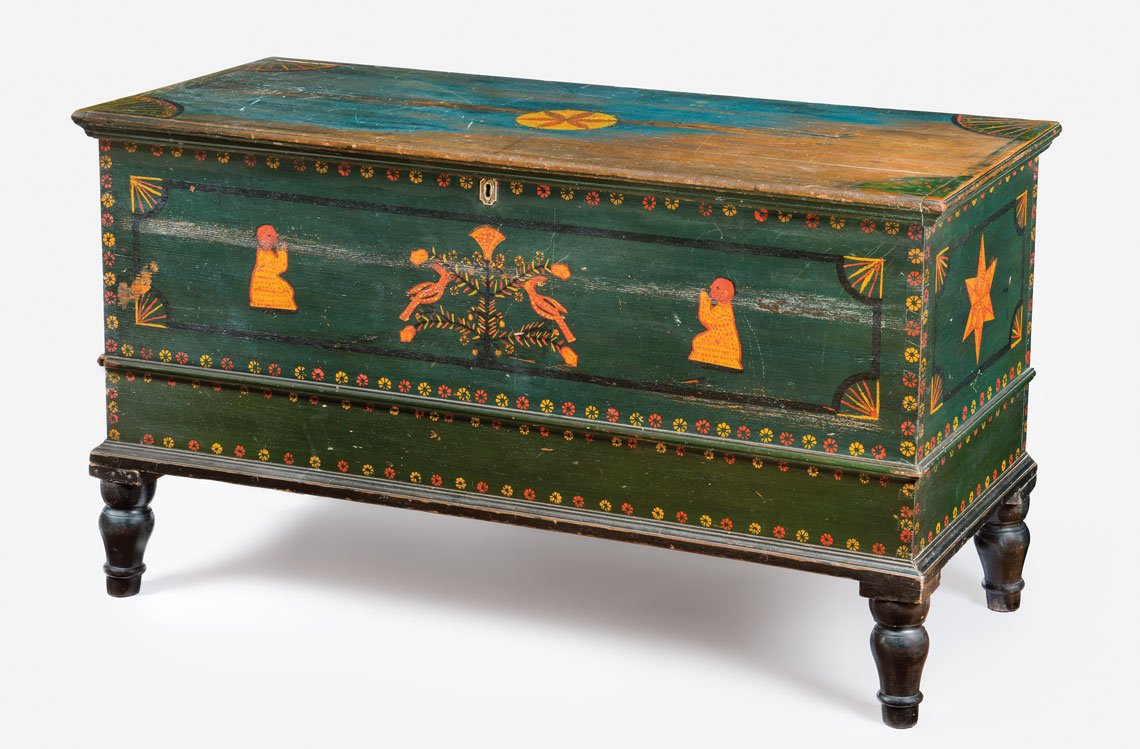 Fig. 5: Chest owned by Sara Hefer, attributed to Johannes Mayer (1794–1883). Upper Mahanoy Township, Northumberland County, Pa., ca. 1830–35. Hard pine, walnut, yellow poplar, paint. H. 27½, W. 49, D. 21¼ inches. The Dietrich American Foundation (8.2.4.1232). Photo by Gavin Ashworth.


(left to right) Fig. 6: Birth and baptismal certificate for Catharina Meyer, printed by Joseph Schnee, Lebanon, Pa., ca. 1813. Watercolor and ink on laid paper. H. 12½ x W. 15½ inches. Private collection on loan to Historic Trappe. Photo by Michael E. Myers. Fig. 7: Writing inside the chest illustrated in figure 5. Photo by Gavin Ashworth.
Chest with Praying Children
This chest is one of at least five known examples decorated with images of children kneeling in prayer on the facade (Fig. 5). All are constructed with chunky, turned feet that are slightly canted due to the use of wedge-shaped blocks pegged onto the bottom of the chest. The feet are then attached through a hole in the blocks and screwed into the bottom board with long, threaded wooden dowels. Sometimes the dowel's tip pokes through the bottom board of the chest and is visible within the main compartment; otherwise, this method of attachment is invisible once the feet are installed. This is an unusual construction feature rarely if ever found on other groups of Pennsylvania German chests; the only other furniture made in southeastern Pennsylvania that consistently have feet attached with wooden screws is a group of tall chests linked to Quakers in Chester County as well as Frederick County, Maryland.
This chest was most likely made and decorated by Johannes Mayer (1794–1883), a carpenter, joiner, and turner who lived in Upper Mahanoy Township, near the Northumberland–Schuylkill County line. The molding around the chest lids is identical to woodwork in Mayer's own home, as well as molding planes that he once owned. Moreover, the painted decoration on these chests appears to be by the same hand as that on a chest of drawers dated 1829 and signed "John Mayer" twice on one of the drawer dividers. Further solidifying the attribution of this chest to Johannes Mayer is the recent discovery of his daughter Catharina's birth and baptismal certificate, a printed form decorated with images of praying children to either side of the main text block (Fig. 6). Although this print source has previously been noted, this is the first evidence that Johannes Mayer himself was in possession of an example. The image of the praying child on the fraktur is itself derived from a famous painting by Sir Joshua Reynolds, The Infant Samuel, exhibited at the Royal Academy, London, in 1776. Reexamination of this chest also led to another new discovery—the name "Sara Hefer" written in German script on the back in a red pencil or crayon (Fig. 7). She is most likely the original owner, although thus far a positive identification has not been made.





Fig. 8

: Chest of drawers, attributed to Johannes Mayer (1794–1883). Upper Mahanoy Township, Northumberland County, Pa., 1833. Yellow poplar, pine, paint. H. 49½, W. 43⅝, D. 21½ inches. The Dietrich American Foundation (8.2.3.1233). Photo by Gavin Ashworth.



Chest of Drawers
With more than thirty examples known to survive, chests of drawers such as this example (Fig. 8) are one of the most common types of Mahantongo Valley furniture. Most examples have either turned wooden or brass knobs; the Dietrich Foundation's chest of drawers recently had period-correct brass knobs installed to replace inaccurate glass knobs of a later date. Dated 1833 at the center front of the top board, this chest of drawers is closely related to the only known signed example by Johannes Mayer. Both are comprised of four graduated drawers with sturdy, rail-and-stile construction. The feet are turned extensions at the bottom of the stiles, a more slender version, with the same profile as the chunkier turned feet on chests such as the one illustrated in figure 5. The vivid yellow and green painted decoration on this chest of drawers and other Mahantongo Valley furniture reveals that local craftsmen swiftly adopted the use of chrome yellow and, by mixing it with Prussian blue, chromium oxide green. As chrome yellow did not become commercially available until about 1818 (following the discovery of major chromium mines near Baltimore), dated furniture such as this 1833 chest of drawers helps to document how quickly it came into use even in rural areas such as the Mahantongo Valley.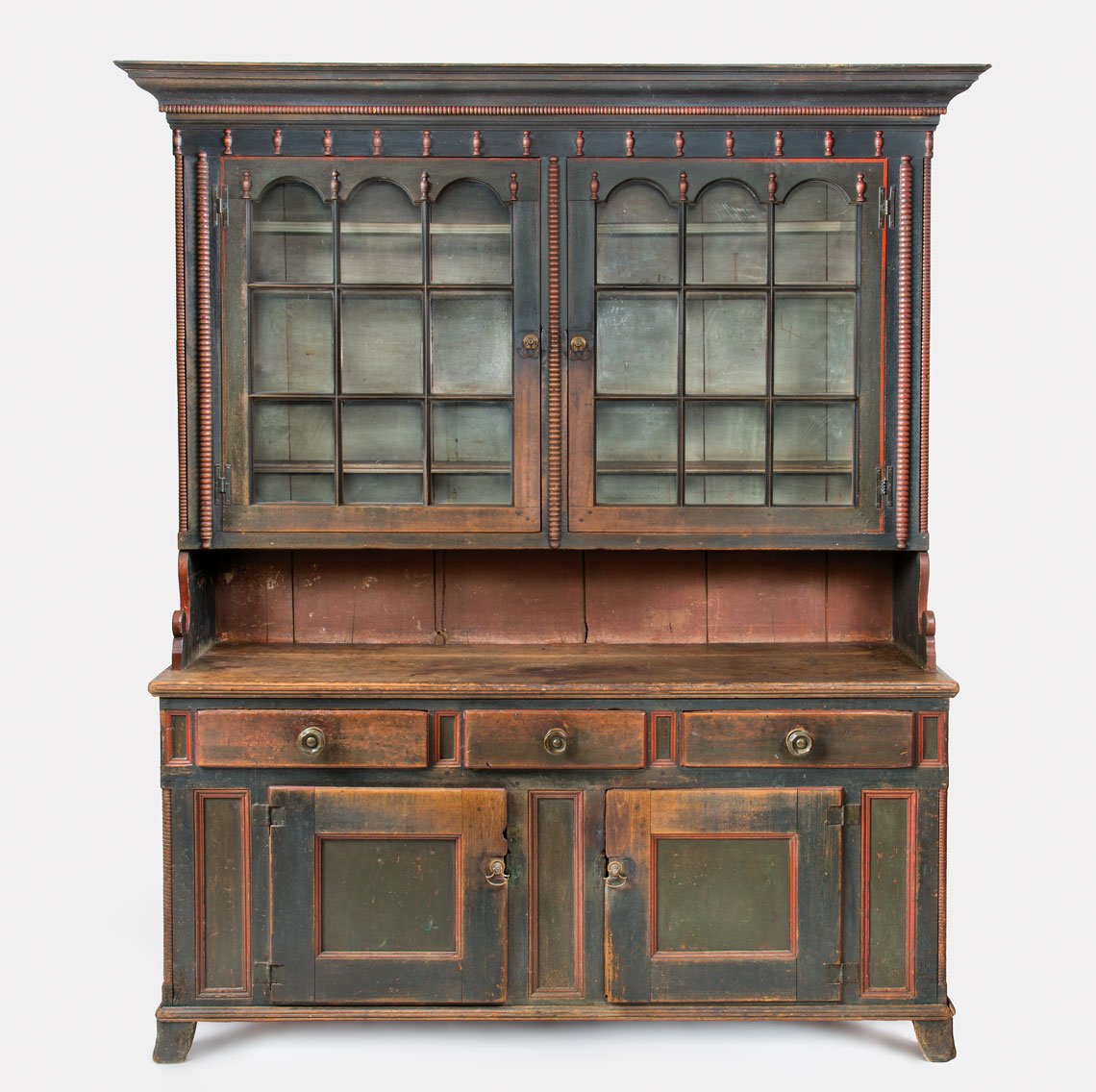 Fig. 9: Kitchen cupboard. Northumberland County, Pa., 1820–1840. Yellow poplar, eastern white pine, hard pine, paint. H. 81¼, W. 69⅞, D. 20⅜ inches. The Dietrich American Foundation (8.2.6.1274). Photo by Gavin Ashworth.
Kitchen Cupboard
The Dietrich Foundation also owns a rare Mahantongo Valley kitchen cupboard, also known as a kitchen dresser (Fig. 9). It is the most elaborate example of this form known, with a pair of triple-arched glazed doors and twenty-two boldly turned half-spindles applied across the facade. The countertop is attached to the upper section and sets on top of the base section—a distinctive feature of Mahantongo Valley kitchen cupboards. Nearly all other Pennsylvania German kitchen cupboards are constructed with the countertop affixed to the base section; the top then sets down into a groove. The latter can more readily tip over, particularly when both of the upper doors are open, whereas the Mahantongo Valley examples are much more stable. The interior of the upper section contains four shelves that would hold an ample quantity of ceramics, glass, and other household items.
With their use of bold imagery and a vibrant palette, the Mahantongo Valley's furniture makers and decorators took some of the most common forms of household furniture and turned them into extraordinary works of art. Additional examples of this furniture are in the collections of the Abby Aldrich Rockefeller Folk Art Museum of Colonial Williamsburg, American Folk Art Museum, Barnes Foundation, Metropolitan Museum of Art, Philadelphia Museum of Art, and Winterthur Museum. 
This article is the sixth in a series featuring the Dietrich American Foundation's collection, intended as a type of crowd sourcing exercise, where responses and information shared by readers can inform the research. New information will be provided over the course of the series. Contact details are in the author bio below. For information about the Dietrich American Foundation, visit dietrichamericanfoundation.org.
---
1. Henry M. Reed, Decorated Furniture of the Mahantongo Valley (Lewisburg, Pa.: Bucknell University Press, 1987).
2. The Magazine Antiques 10, no. 6 (December 1926): 426–427.
3. Wendy A. Cooper and Lisa Minardi, Paint, Pattern & People: Furniture of Southeastern Pennsylvania, 1725–1850 (Winterthur, 2011), 162–163.
4. For an image of the signed Mayer chest, see A Shared Legacy: Folk Art in America (New York: Skirra Rizzoli, 2014), 240–243.
5. Mary Hammond Sullivan and Frederick S. Weiser, "Decorated Furniture of the Schwaben Creek Valley," in Ebbes fer Alle-Ebber, Ebbes fer Dich: Something for Everyone, Something for You, ed. Frederick S. Weiser, Publications of the Pennsylvania German Society, vol. 14 (Breinigsville, Pa., 1980), 387.
6. Cooper and Minardi, Paint, Pattern & People, 96; with thanks to Jennifer L. Mass for this information.
---
Lisa Minardi is the executive director of Historic Trappe and a contributing author to In Pursuit of History: A Lifetime Collecting Colonial American Art and Artifacts, ed. H. Richard Dietrich III and Deborah M. Rebuck (Yale University Press for the Philadelphia Museum of Art and Dietrich American Foundation, 2019). Please send comments/queries to info@historictrappe.org.
This article was originally published in the Summer 2021 issue of Antiques & Fine Art magazine, a fully digitized version of which is available at www.afamag.com. AFA is affiliated with Incollect.com.