Galerie Gosserez Celebrates a Decade of Groundbreaking Collectible Design 2010-2020
September 5 – October 10, 2020
3, rue Debelleyme - 75003 Paris
Galerie Gosserez is pleased to announce its tenth birthday — a time to celebrate! A not-to-be-missed exhibition, opening September 5 and running through October 10, 2020, will mark this occasion, presenting a unique selection of new pieces from the designers represented by the gallery.
Since its beginning in 2010, Galerie Gosserez has offered exquisite luxury furniture that bridges the space between art, design and sculpture. The gallery promotes the groundbreaking work of these artists to an international audience looking for exclusive contemporary pieces that mix style, innovation and expressiveness with functionality and comfort. Reinterpreting the concept of furniture and at the same time drawing on the skill and knowledge of fine furniture-making craftsmanship, the artists of Galerie Gosserez produce unique pieces that combine creativity and avant-garde style within the great tradition of excellence in decorative arts.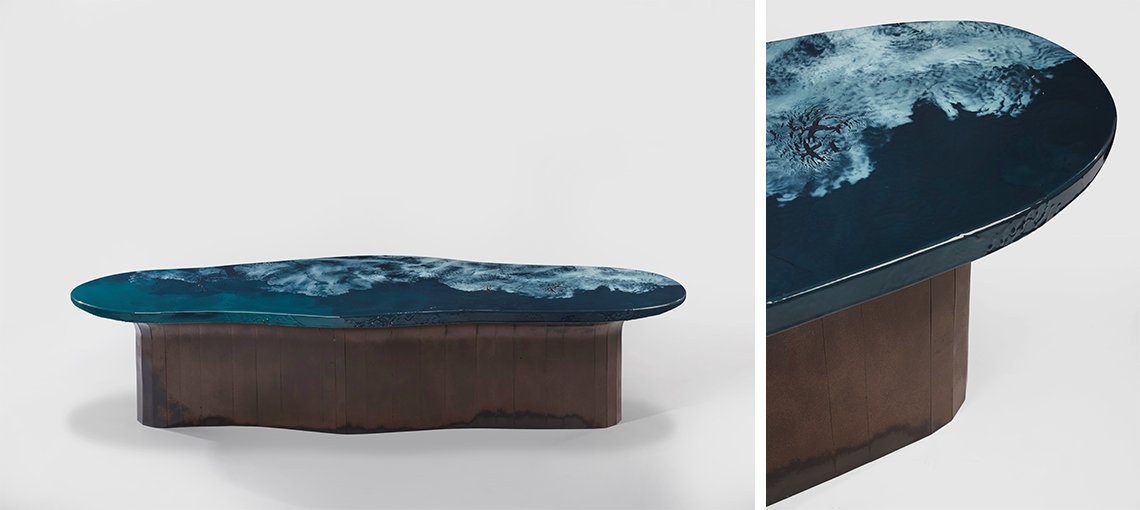 Inaugural pieces from
Damien Gernay's
new collection, which will be shown for the first time at the exhibition. The Amalgame collection will be an ongoing creative statement, with new releases in upcoming months. Above, Bench Amalgame, and below, Console Amalgame, both of enameled steel. Gernay's highly experimental works reflect the paradox of control and spontaneity; errors are embraced and assimilated, so that each piece is unique. Photos: Thierry Depagne
| | |
| --- | --- |
| | |
| | Marie-Bérangère Gosserez, founder and director of Galerie Gosserez. Photo: Ludovic Maisant |
In order to look back at the first decade and offer a glimpse of the next 10 years, Galerie Gosserez has commissioned new orders from artists and designers with whom they have collaborated over the years, as well as work from new artists that will be exhibited for the first time in Paris. Damien Gernay and Elise Gabriel (together with her partner Bertrand Gravier) will both inaugurate their new collections for the gallery. Valentin Loellmann, Marei Rei and Valérie Jolly will each present a new exclusive piece created for the occasion. And last but not least, new, emerging artists Roxane Lahidji, Diane de Kergal and Lukas Cober will debut their first pieces for Galerie Gosserez.
With this anniversary exhibition, Galerie Gosserez proudly presents a specially curated mix to honor the best from past years, while keeping focused on the future.
We spoke with Marie-Bérangère Gosserez, founder and director of Galerie Gosserez, and she shared her reflections on the evolving contemporary design scene and the mission of her gallery.
Why buy contemporary design from a Parisian gallerist like yourself today?
Contemporary design has become the XXIst century's style and aesthetic. It's now a global style — its influence is felt everywhere — with Europe setting the trends, and Italy, France and Holland at the forefront. In recent years, Paris has experienced an enormous surge in design "consciousness," with 3 key catalysts coinciding to develop a primary scene for contemporary design and furniture: first a generation of very talented interior designers — for example, Studio KO, Caroline Sarkozy and Clements Design — whose work resulted in a French style that enjoys great success and new commissions worldwide; second, a constant interaction in Paris between fashion, contemporary art and the decorative arts, recalling what happened in Paris in the '30s between "Arts Déco" with its streamlined style, cubism in art and haute couture houses of the time. Lastly, in Paris there is a rare eco-system that unites public institutions, private collectors and donors with a myriad of smaller players, forming a fertile ground for creation, in which Galerie Gosserez participates. Paris is a global city, and it has become even more desirable and attractive over the recent years with priority given to improved accessibility, urban redevelopment and a greater focus on conviviality and outdoor social life. It's also one of the few cities in the world where we gallerists can rely on a local pool of design lovers, connoisseurs and regular buyers.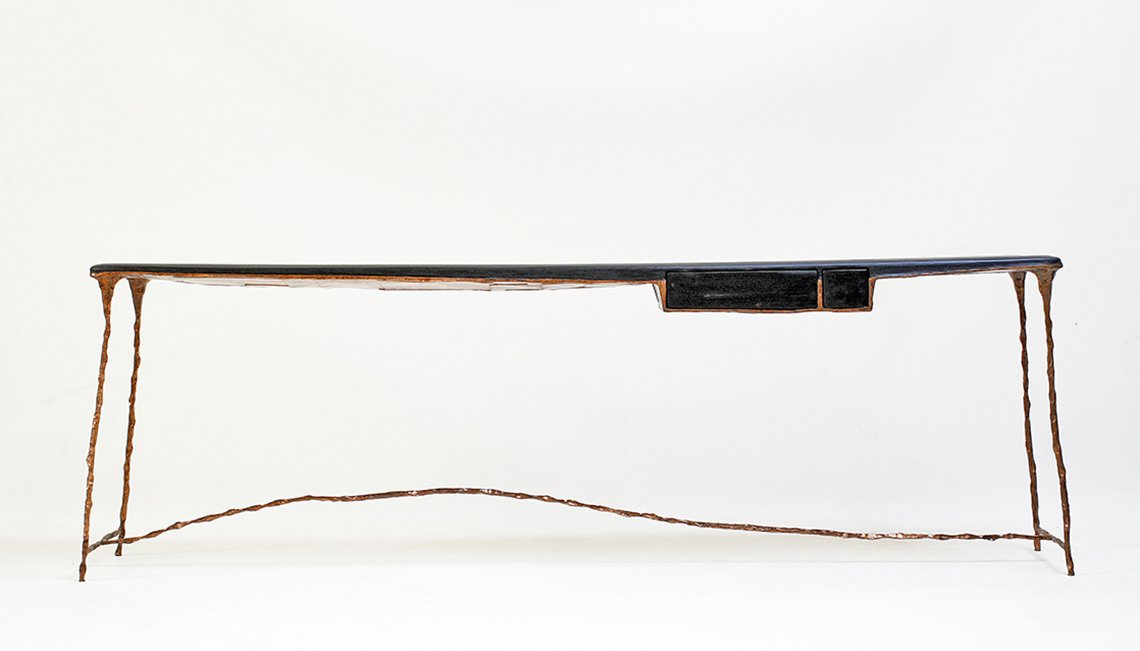 The elegant and poetic Spring/Summer console by
Valentin Loellman
stole the show at PAD London 2013.


Valentin Loellmann, Curved desk in charred oak and brass, designed expressly for the gallery's anniversary exhibition. Valentin Loellmann was one of the very first artists to be represented by Galerie Gosserez, and a decade later, he has become known worldwide, earning a string of prestigious awards for his work. The artist never sketches his designs before beginning – his creative process, he says, is rhizomatic, emanating from an unstructured point and meandering in a self-determined fashion to develop into a form that is continually evolving, until completion. Photo, Jonas Loellmann
What have been some of the key dates for Galerie Gosserez over the last 10 years?
In 2010, my encounter with Valentin Loellmann, he then just graduated from Maastricht Art School, and he is now recognized all over the world.
In 2012, the first attendance of Galerie Gosserez in an international art fair : PAD Paris, followed by Art Basel, PAD London, and Dubaï Design.
In 2013, the international award for best contemporary piece at PAD London, for the spectacular Spring/Summer console by Valentin Loellmann.
And over the last 10 years, the acquisition of our pieces by some of the most demanding private collectors in the world.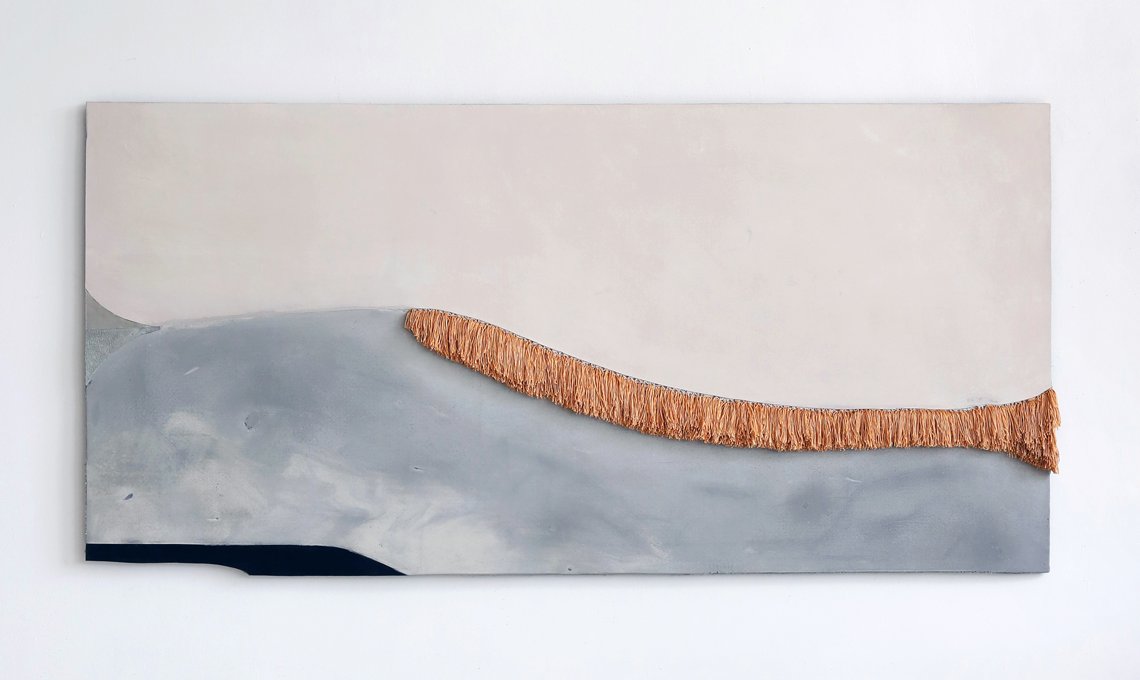 Marei Rei, Tapestry Concrete n17, concrete, silk and leather. The artist, sister of Valentin Loellman, combines traditional weaving techniques and textiles with concrete, to create works of surprising delicacy that celebrate contrasting texture and tonalities. Photo: Jonas Loellman
How has the market evolved over that period ?
The market for contemporary design furniture is now on a par with vintage design: collectors and interior designers like to mix pieces, vintage as an anchor to the past and contemporary as a way to express their personality and stand out from the "classic" crowd. By the same token, contemporary art lovers are more and more aware of contemporary design. That was far from the case 10 years ago when we opened the gallery. One could often see very ordinary interior designs as the setting for contemporary art collections.
Now, art collectors seek pieces of furniture that convey and enhance the contemporary feel of their art collection, and often they do not hesitate to put unique or sculptural pieces at center stage.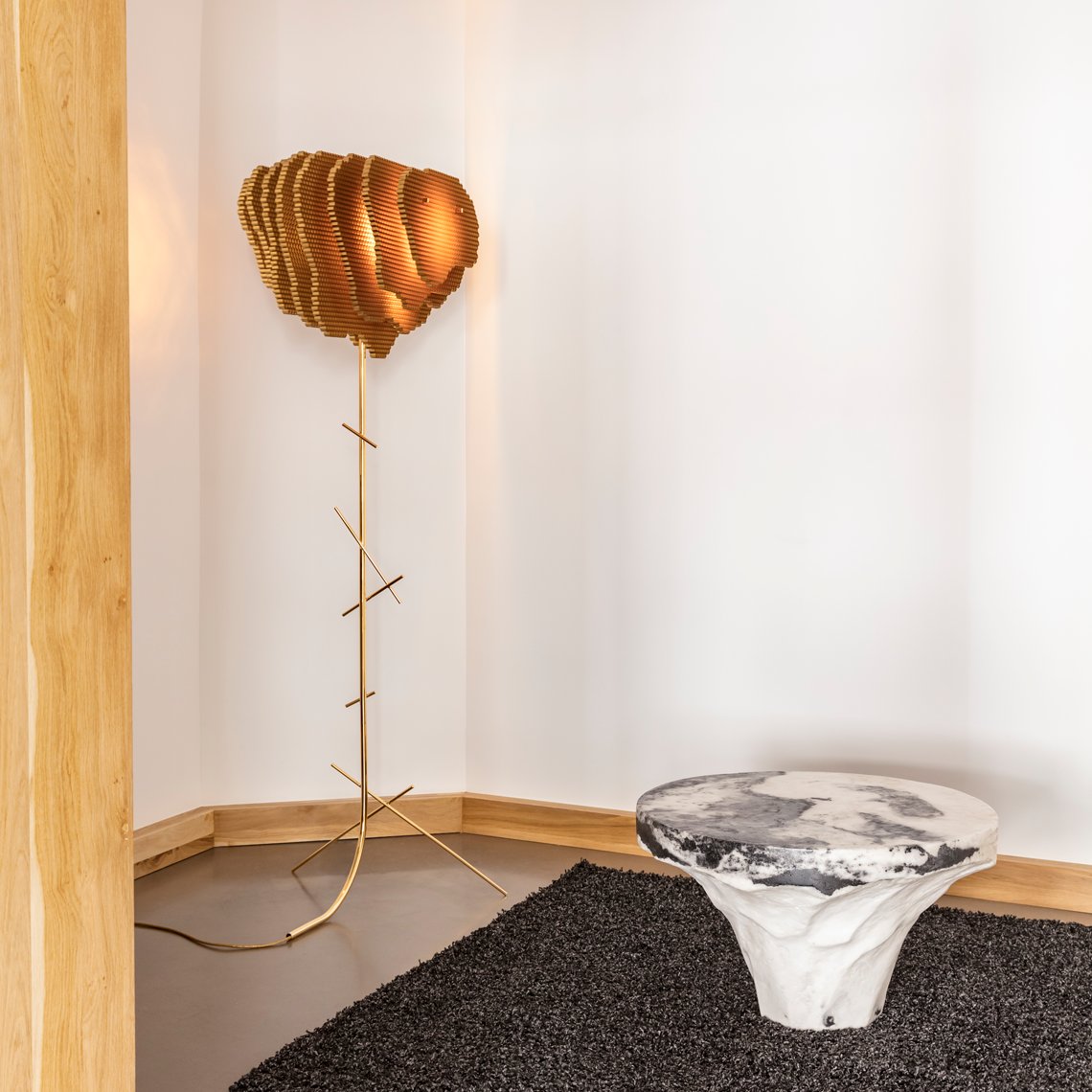 Roxane Lahidji, Marbled Salts Mountain Table, sea salt, vegetable gum, graphite and resin. Vincent Poujardieu, NIDA floor lamp, aircraft aluminum, 24-karat gold, gilded stainless steel. Both alchemist and artist, Roxane Lahidji makes use of salt's unique self-binding properties, reinventing it as a sustainable design medium by mixing it with vegetable gum and tree resin as binders, and graphite to mimic marble.
How has Galerie Gosserez distinguished itself and what have you contributed to further the contemporary design scene?
I'd like to think that Galerie Gosserez created an aesthetic of its own, that its unique sensibility resonates with the taste and needs of a particular set of furniture lovers and collectors. We are proud to give birth to new signatures and typologies and sometimes prosper in broader audience creations and editions, but this is not deliberate. What is really important is that we gallerists, showrooms, design studios and editors contribute to the creation and animation of the contemporary scene in Paris, so that we collectively spotlight Paris as one the main hubs of the world creative stage; that we keep welcoming people from all over the world for major or regular events, and that through that energy and fertile ground, our artists can express themselves, live and grow.



Left: Diane de Kergal, Emergence pendant lights, cotton and silk cocoons. In the southern central French countryside region of Cévennes, where silkworms have been bred since the 13th century, cocoons were hand selected and transformed into the exquisite light sculpture shown here. Photo: Jérôme Galland Right: Lukas Cober, New Wave stool in hand-layered fiberglass and resin. Photo: Lucas Cober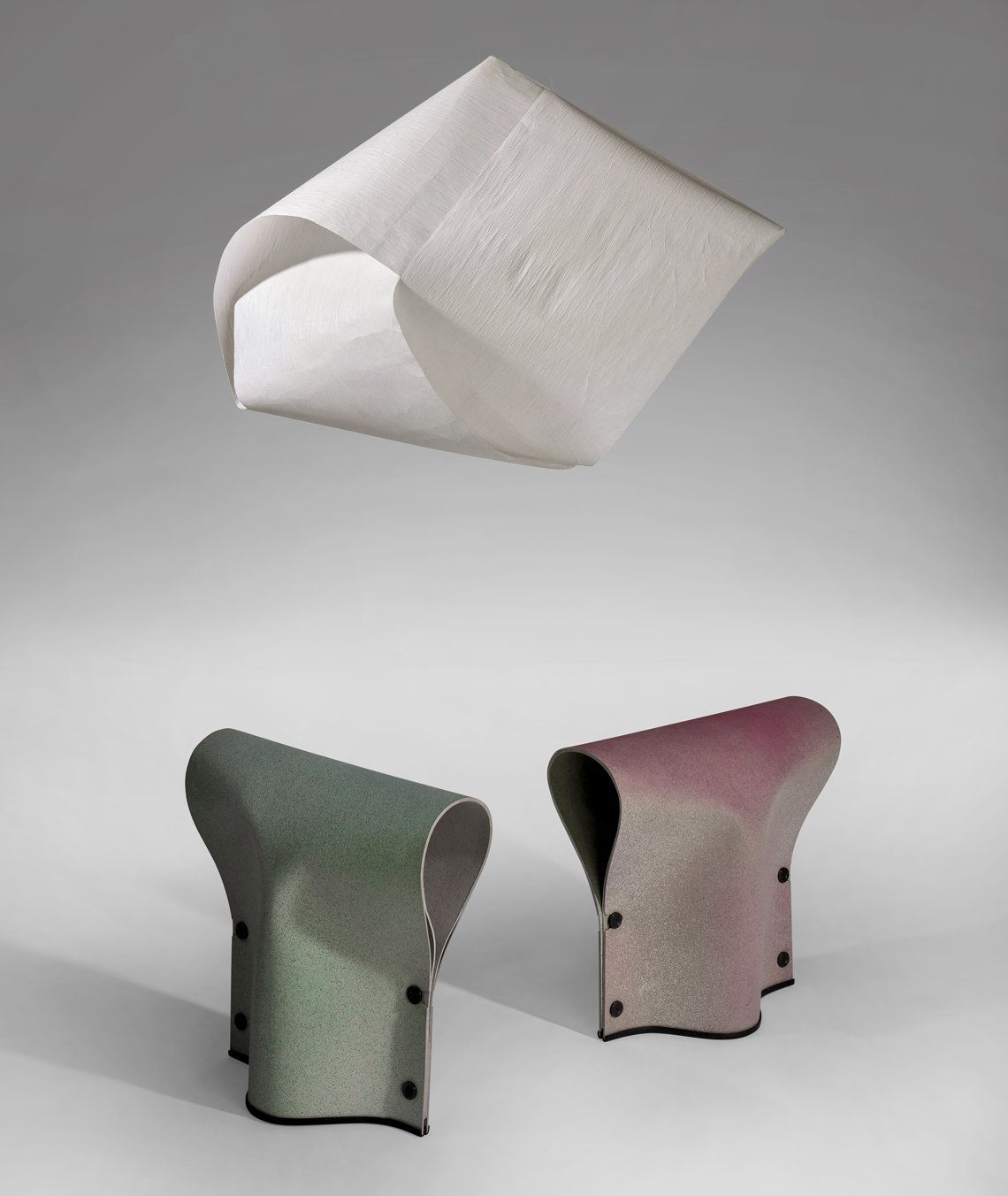 Elise Gabriel & Bertrand Gravier, Osselets (Jacks) stools, Celloderm, Collection Corps Creux. In partnership with the French cardboard company La Cartonnerie Jean, the artists are exploring the creative potential of Celloderm, a high-density cardboard made of sustainable recycled cellulose, with unique plastic, mechanical and flexible qualities. There are five unique designs in the series, which is the first in the Collection Corps Creux. Loop suspended light by
Valerie Jolly,
silk paper.

How do you see the future?
Even though design furniture gallerists don't have the financial surface that contemporary art gallerists have — far from it — I believe the future is ours! Tastes are rapidly changing and tend towards becoming more and more contemporary. The main trend has been vintage furniture from the Fifties, and the trend setters are now moving to pieces from the Seventies. Now that the Fifties are widely re-editioned, "vintage" has become more or less similar to "new." Gone are the days when a Knoll table or Eames chairs were singular. Today, everyone can buy one, in a new edition! So it's all the more vital to be able to propose unique and exclusive pieces to our customers that they can't see everywhere. One must offer something different so that homes have a more personalised look and feel. Character and cachet, that's what our clients seek. It's part of our job as gallerists to advise, to propose, to dare, and guide our customers to acquire pieces that will both distinguish their interiors and become the classics of tomorrow.

| | |
| --- | --- |
| | |
Galerie Gosserez
10th Anniversary Exhibition
September 5 – October 10, 2020
3, rue Debelleyme - 75003 Paris