Golden Treasures Japanese Gold Lacquer Boxes at Thomsen Gallery
Left: Hattori Toshio (b. 1943), Tea Caddy with Wave Decor, 1984. Maki-e silver and gold lacquer on wood with shell inlays. Size: 2¼ x 3¼ x 3¼ in. Right: Takeuchi Kōsai (b. 1944), Tea Caddy with Maple Leaves, 1980s. Maki-e gold lacquer on wood. Size: 2¾ x 2½ x 2½ in.
Design as Beauty and Beauty as Design Define Japanese Gold Lacquer Ware at Thomsen Gallery
By Benjamin Genocchio
Golden Treasures: Japanese Gold Lacquer Boxes
Thomsen Gallery
9 East 63rd Street, New York, through December 16
Japanese gold lacquer ware techniques and design are little known in America — not only is it something difficult to find, especially a certain age and quality, but much detailed knowledge of the processes and techniques used to create these exquisite objects is a requisite in order to know and understand what you are looking at. Here, the pleasure of learning is combined with the pleasure of looking.
The small exhibition of gold lacquer wares currently on display at the Thomsen Gallery in New York provides a wonderfully pleasurable means to learn about this recherché topic. I certainly did, while being completely stunned by the beauty of these design objects and vessels with their gleaming surfaces and interiors of suspended three-dimensional imagery of mountains, blossoms and leaves.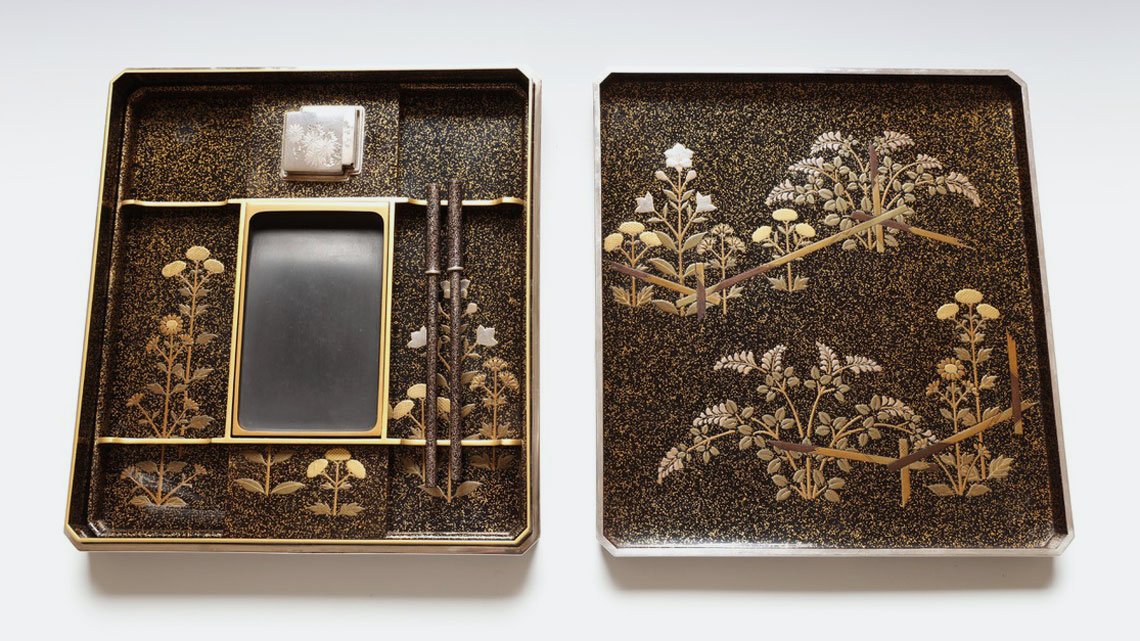 Writing Box with Poem Cards, ca 1900. Maki-e gold lacquer on wood. Size writing box: 2 x 9¾ x 9 in.
| | |
| --- | --- |
| | |
| | Writing Box with Poem Cards, ca 1900. Maki-e gold lacquer on wood. Size writing box: 2 x 9¾ x 9 in. |
In the foreword to the exhibition publication, Thomsen recalls growing up in Japan but not then appreciating the craft and complexity of the myriad techniques developed over centuries by lacquerware artists. He writes, "like their counterparts who worked with ink and brush, [they] embodied the quest for an unavoidably elusive form of perfection. And like their counterparts, they resigned to content themselves with sublime mastery."
All the objects in the show are examples of maki-e, which according to Thomsen "literally means 'sprinkled pictures' and refers to the technique of sprinkling powders of gold and silver onto wet lacquer, a distinctly Japanese tradition that developed in the Heian Period (794–1185)." The luminous, transparent quality of the lacquer is stunning, and an immediate surprise, along with the multi-dimensional quality and layers of the imagery illustrated in gold and silver powders and flakes.
The technique includes not only sprinkling gold and silver powder or flakes onto lacquer but intricately inlaying different varieties of shell and gold foil. "By using a variety of particles and different powder densities, they could create subtle contrasts in color, texture and pattern," he says. "Ultimately, the time, the technical skill and artistry lavished on Japanese lacquerware guaranteed its popularity in Japan and throughout the world."


Left: Document Box with Lotus Flowers and Pods, 1930s. Maki-e lacquer on wood Size 5½ x 16¾ x 13 in. Right: Utagawa Reimei (ac. Showa era), Accessory Box with Azalea and Vine, 1957. Maki-e gold, silver and colored lacquer on wood; silver rims. Size 5 x 13 x 10¾ in.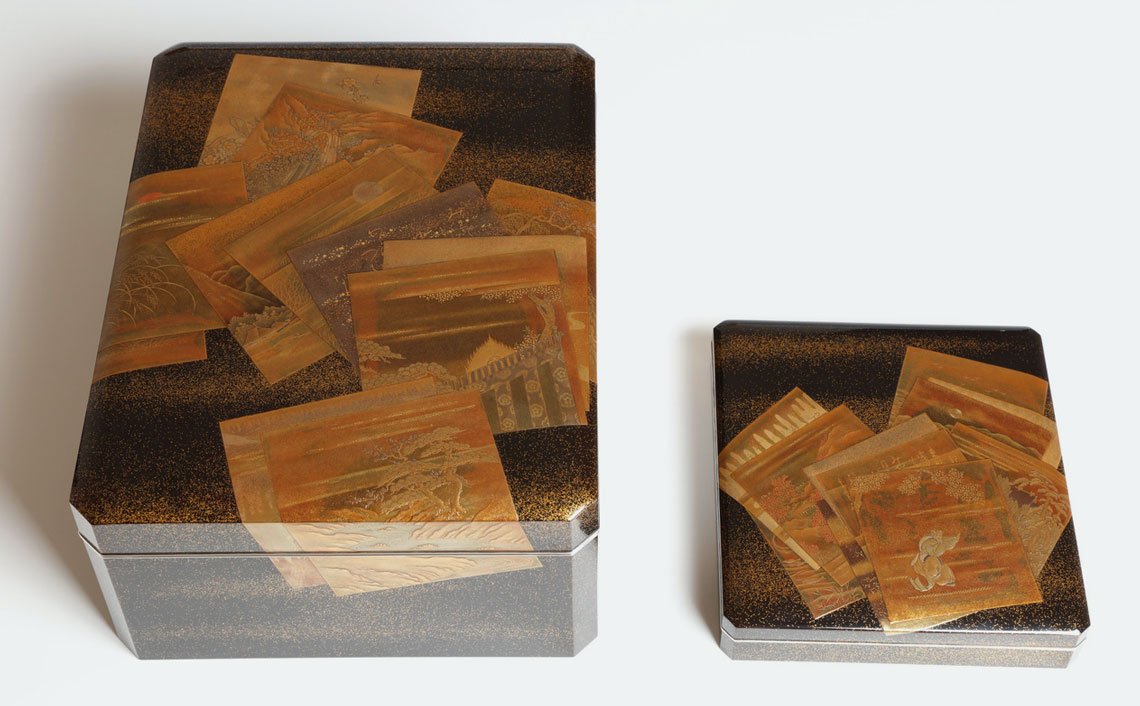 Set of Writing Box and Document Box with Poem Cards, ca 1900. Maki-e gold lacquer on wood Size document box: 6½ x 15½ x 12 in. Size writing box: 2 x 9¾ x 9 in.
| | |
| --- | --- |
| | |
| | Yoshio Okada (b. 1977), "Hovering" Box with Sprinkled Design of Jellyfish, 2020. Maki-e gold lacquer on a wood base with shell inlays. Size 5¾ x 5½ x 5½ in. |
This is not fast design, for fast people, but slow, patient artistry that requires a serene countenance on the part of not only the artists but the viewer. I found myself staring for 15 minutes at a single tiny tea caddy by Takeuchi Kōsai (b. 1944) "Tea Caddy with Maple Leaves," from the 1980s, of maki-e gold lacquer on wood. The design is perfect for the autumn season, depicting falling leaves.
Autumn is a recurring motif in these objects — mostly suzuribako writing boxes and natsume tea caddies, the boxes likely produced as dowry gifts. Then there is also Hattori Toshio's (b. 1943) "Tea Caddy with Wave Decor," 1984, a maki-e silver and gold lacquer on wood object with shell inlays which stands out for its ocean theme but also its glittering luminosity. It is, of course, gorgeous.
It is refreshing to spend time with objects in which artistry and design are all that matter. The criterion for excellence is axiomatic. Thomsen has also included a few contemporary pieces to affirm that this millennia-old medium and art tradition continues, noting that the centers today are primarily in the Kanazawa and Kyoto areas.
These objects are designed as interior decor at the highest level for the most discerning patrons.